Journalists Maria Ressa and Dmitry Muratov win Nobel Peace Prize
The Nobel Peace Prize was on Friday awarded to journalists Maria Ressa of the Philippines and Dmitry Muratov of Russia for their fight for freedom of expression in their countries.
The pair were honoured "for their efforts to safeguard freedom of expression, which is a precondition for democracy and lasting peace," the Nobel Committee said.
Ressa in 2012 co-founded Rappler, a news website that has focused "critical attention on the (President Rodrigo) Duterte regime's controversial, murderous anti-drug campaign," the Nobel committee said.
She and Rappler "have also documented how social media is being used to spread fake news, harass opponents and manipulate public discourse."
Ressa said she was stunned by the news.
"I am in shock," she told a live broadcast by Rappler.
Muratov was one of the founders of the independent Russian newspaper Novaya Gazeta in 1993.
"Novaya Gazeta is the most independent newspaper in Russia today, with a fundamentally critical attitude towards power," the Nobel committee said.
"The newspaper's fact-based journalism and professional integrity have made it an important source of information on censurable aspects of Russian society rarely mentioned by other media," it added.
Kremlin spokesman Dmitry Peskov congratulated Muratov on winning the prize, hailing him as a "talented and brave" person.
"We can congratulate Dmitry Muratov – he has consistently worked in accordance with his ideals, he has adhered to his ideals, he's talented and brave. It's a high appraisal and we congratulate him," Peskov said in a conference call with reporters after the prize was announced.
The more than century-old prize is awarded by the Norwegian Nobel Committee and is worth 10 million kronor (US$1.1 million).
The UN's World Food Programme won the Peace Prize in 2020 for its "efforts to prevent the use of hunger as a weapon of war and conflict".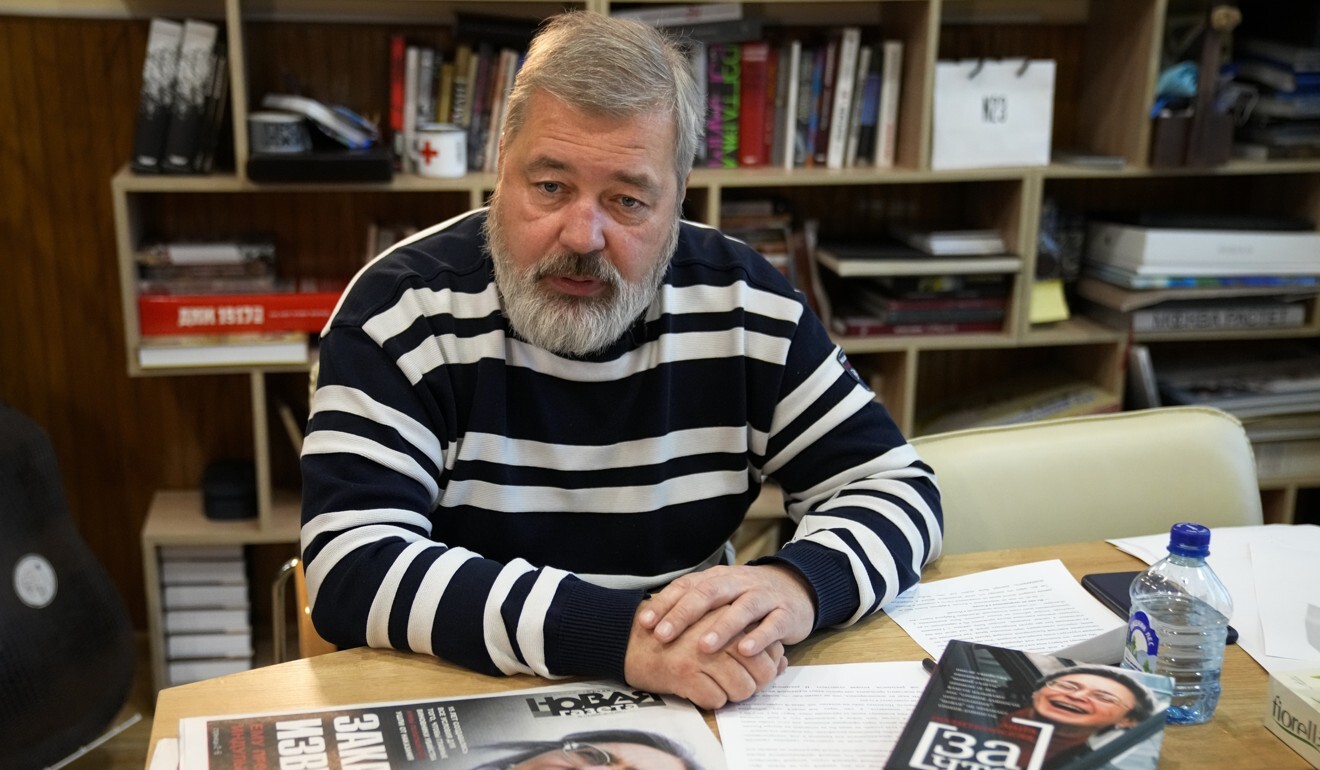 In 2019, Ethiopian Prime Minister Abiy Ahmed won for his work to promote regional peace. Last year, he went to war with rebels in his country's Tigray region, destabilising the Horn of Africa and precipitating a humanitarian crisis.
This year's tally of nominees is the third-highest since 1901. The current record of 376 candidates was reached in 2016.
While the 2020 award was handed out as the pandemic raged, this is the first time the entire selection process has taken place under the shadow of Covid-19.
The Nobel awards in medicine, physics, chemistry and literature were already announced this week in Stockholm. The economics prize announcement is due on Monday.
The Peace Prize is the only Nobel to be awarded in the Norwegian capital, Oslo.
With the exception of economics, the prizes were endowed by Swedish industrialist Alfred Nobel (1833-96), the inventor of dynamite.