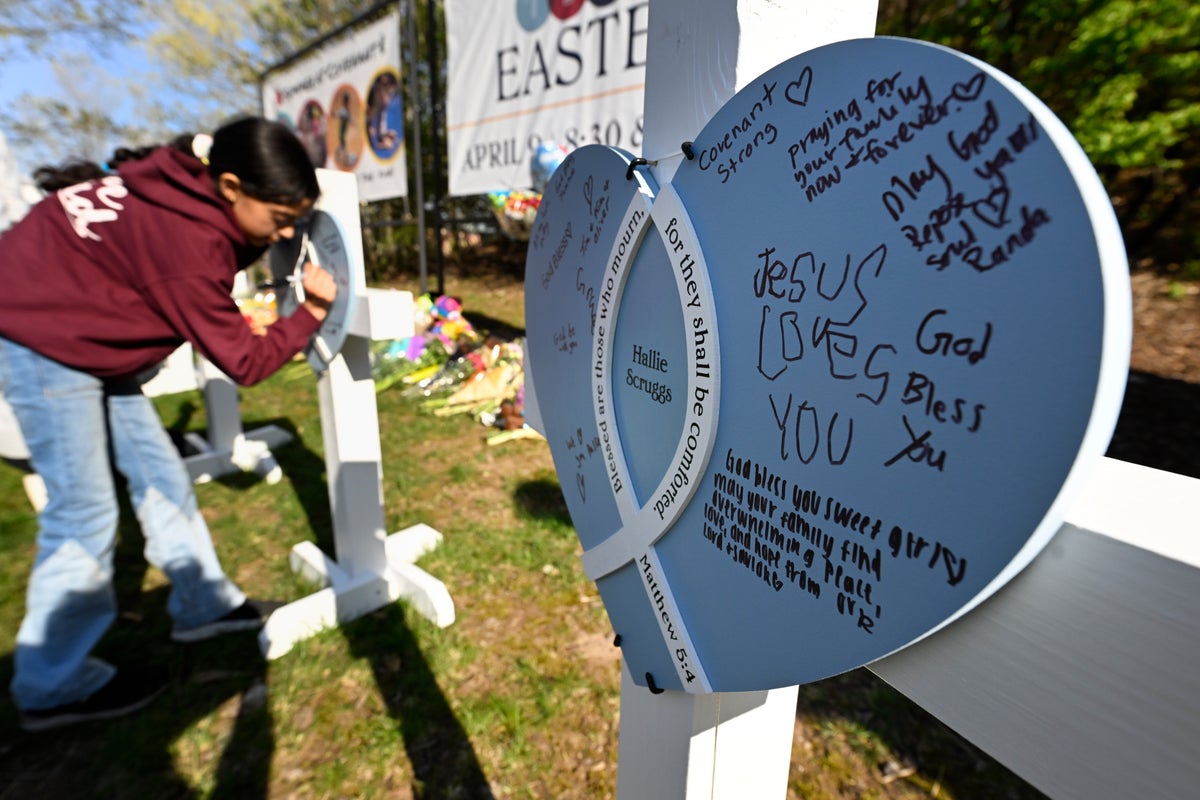 It's Palm Sunday, and across the greater Nashville, Tennessee, region, many Christians headed to worship services grief-stricken and hurting for the lives stolen too soon in The Covenant School shooting.
Their heartsick pastors sought to bring comfort to those seeking answers to unanswerable questions after a heavily armed assailant turned a regular day into a horror story for the private, Christian grade school in Nashville.
On the first Sunday after the attack — and the start of Christianity's most sobering and sacred week — the tragedy could not and should not be avoided, said Pastor George Grant, a local Presbyterian leader with ties to the school and the adjoining Covenant Presbyterian Church.
"We have to engage with what has happened," he told The Associated Press a few days after the Monday shooting. "The Bible calls us to mourn with those who mourn, to weep with those who weep and so we will."
Authorities say a 28-year-old former Covenant student killed six people at the school before being shot and killed by police. In the aftermath, Grant and other clergy decided to make space in their Palm Sunday services for communal grief.
"Any pastor or preacher that's standing up in a pulpit this weekend is doing so as a wounded healer," said Nashville Catholic Bishop J. Mark Spalding, who believes being in community is key at this time. "In tragedies and disasters, many of us can isolate which doesn't help heal as well as reaching out."
Together on Palm Sunday, and in between victims' funerals, their church members lamented the dead: the three 9-year-olds — Evelyn Dieckhaus, Hallie Scruggs and William Kinney — and Katherine Koonce, 60, the head of the school; Mike Hill, 61, a custodian; and Cynthia Peak, 61, a substitute teacher.
While sense can't be made of the senseless, Grant said Christianity offers a message of hope that's even more pronounced on Palm Sunday, which marks the biblical account of Jesus' triumphant entry into Jerusalem before his crucifixion and resurrection.
"Palm Sunday gives us the language and the paradigm to understand that though this tragedy is senseless and afflicting, there is nevertheless hope. There is light for the darkness," said Grant, pastor of Parish Presbyterian Church in Franklin, a city on Nashville's southern outskirts. "There is reason for us to embrace the joys as well as the sorrows of the season."
It's a message he thinks can be healing for Parish Presbyterian's heartbroken church members who are trying to process what happened. Several congregants have belonged to both churches, he said. Grant himself is friends with Covenant Presbyterian's leaders and also served as the church's first adult Sunday school teacher about 30 years ago.
Covenant Presbyterian will be marking Palm Sunday, too, but their service, closed to the media, will take place somewhere other than their building that includes the school perched atop a hill overlooking Nashville's Green Hills neighborhood, said Molly Sudderth, a Covenant spokesperson.
At Woodmont Baptist Church, a couple of miles from the school, the children's choir has been practicing songs, like "Hosanna" and others, for a Palm Sunday performance, said Pastor Nathan Parker. Woodmont Baptist served as a reunification site for Covenant parents and students after the shooting, a task congregants humbly accepted, Parker said.
During Sunday's service, Parker planned to encourage his congregation to think of God's unconditional promise to save them from their sins and death every time they hear the word "covenant." Due to the circumstances created by the shooting, he said he and his staff also have let themselves off the hook in terms of providing showcase Easter week services this year.
"Nobody needs the 'show' this week," Parker said. "This Holy Week, they need the real hope that comes through the Gospel."
Across the street at Woodmont Christian Church, the Rev. Clay Stauffer, the pastor of one of the young victims and several Covenant students who survived, committed to celebrating Palm Sunday while also helping his church family and the Nashville community heal.
"Death and darkness never have the final say," Stauffer said on Friday before he presided over Evelyn Dieckhaus' funeral service. "We're people of the resurrection, and so we have to remember that as awful and as terrible as this has been, there is a lot of good and a lot of light coming from it."
Stauffer said he is not afraid to dive into policy questions related to the shooting, but there will be time for that later. "I don't have all the answers on that, but I just think that whatever we're doing doesn't seem to be working," he said.
For now, he is focused on making sure the affected families in his church know they are not going through this alone.
Stauffer knows one thing for certain: "We need Easter this year. We need Easter."