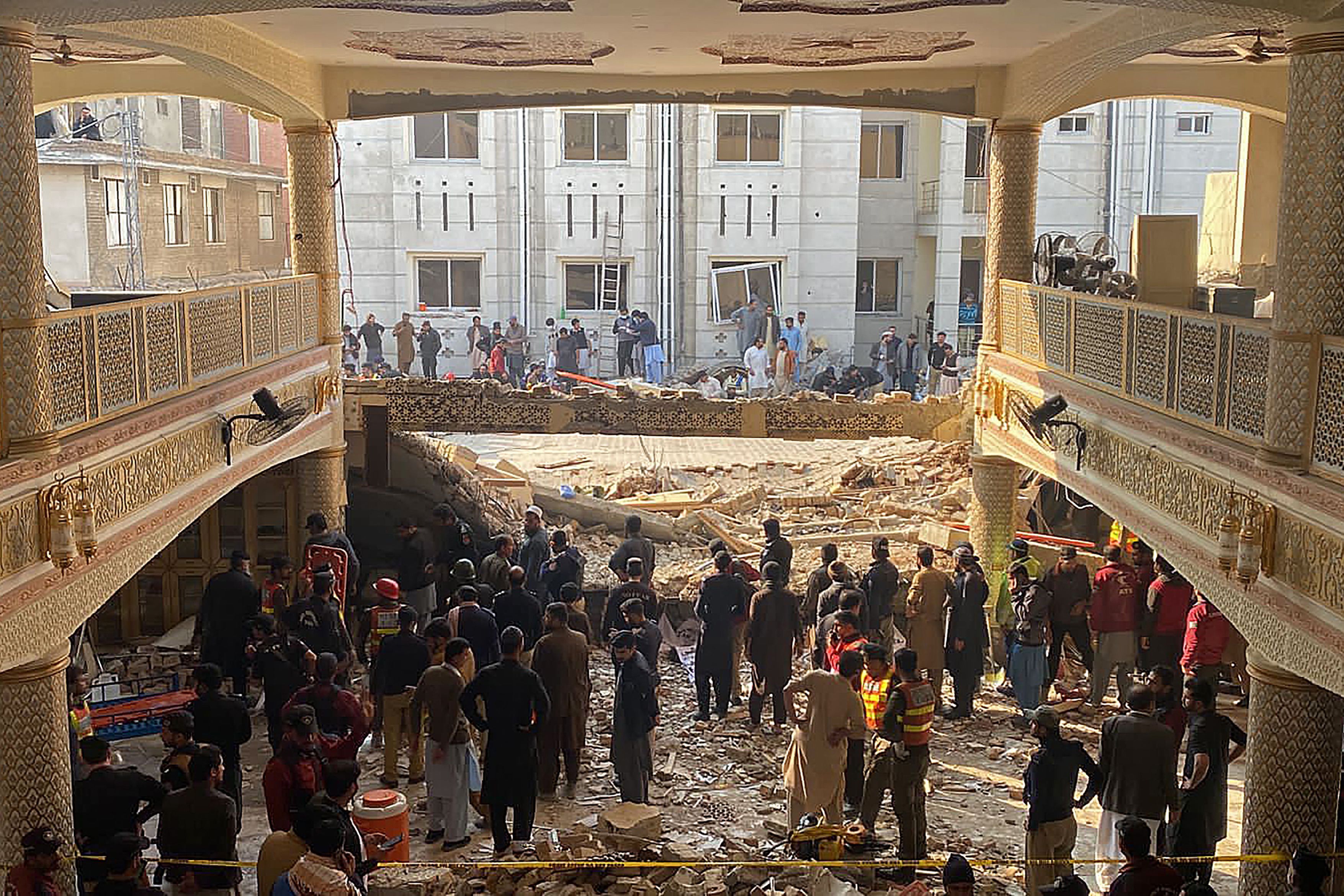 Pakistan's worst suicide bombing in over four years tore through a mosque in a high-security compound in the northwestern city of Peshawar killing at least 92 people and leaving dozens wounded, hospital and rescue workers said.
Rescue workers from the philanthropic Edhi Foundation had counted at least 92 bodies, said Gul Rahman, the city chief at the agency, adding that volunteers were still looking through the debris.
Usually, around 300 to 400 people from different offices gather for prayers each day at the mosque located inside an area where the city's police headquarters and other government offices are located, Peshawar's police chief, Mohammad Ijaz Khan told reporters. The city is the capital of Khyber Pakhtunkhwa province, which shares a border with Afghanistan and has been the scene of some of the worst violence that Pakistan has seen over the last many years. 
The death toll was the highest since a 2018 attack at an election rally by the Islamic State group in the neighboring province of Balochistan that killed at least 159 people. 
After a period of relative calm, there's been a spike in violence in Pakistan since the Taliban seized power in neighboring Afghanistan last year. The Tehreek-e-Taliban Pakistan or TTP, a militant group with links to the Afghan group, ended a cease-fire with the government in Islamabad in November and announced a resumption of attacks across the nation. 
The increasing terror attacks are the latest headache for Prime Minister Shehbaz Sharif as the South Asian nation's economy spirals deeper into crisis amid a shortage of dollars and accelerating inflation, increasing the urgency for the government to secure a $6.5 billion bailout package from the International Monetary Fund. A team from the multilateral lender arrived Tuesday for a loan review after months of delay over the next tranche. 
Part of the country and the northwestern province is "in a state of war," Defense Minister Khawaja Asif told Geo TV in an interview after the blast, adding that he would reach out to the government in Kabul and "ask them to control their allies."
Peshawar was also the scene of a 2014 attack by the TTP on an army school that killed 150 people, many of them children.
The group has denied claim for the latest mosque blast and the Afghan Ministry of Foreign Affairs tweeted a message of condolence.
According to the Islamabad-based Pakistan Institute for Conflict and Security Studies, militant violence spiked by 22% in 2022 compared with 2021.
©2023 Bloomberg L.P.