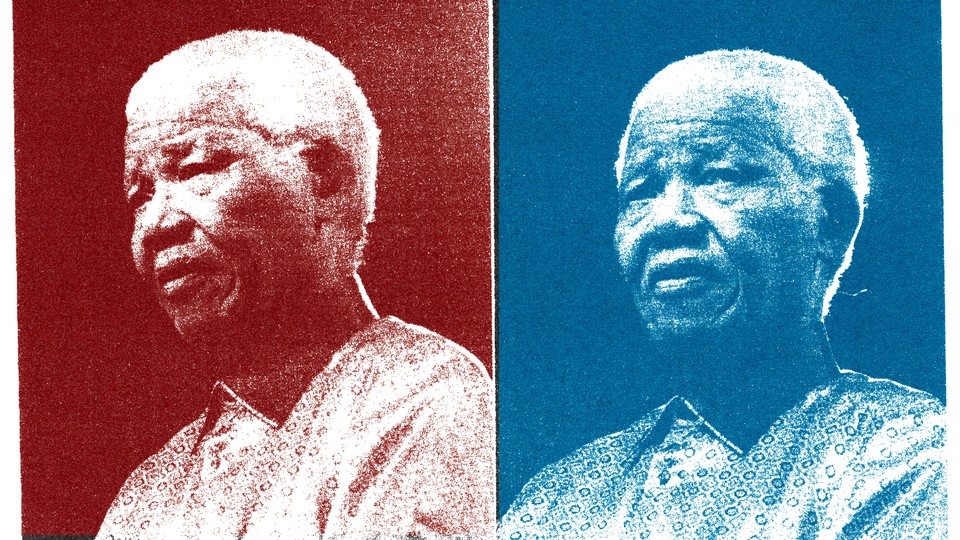 Live to Lead, a Netflix documentary series that Prince Harry and Meghan Markle produced, cites the legacy of Nelson Mandela as its inspiration. Because he was my grandfather, I was contacted recently by an Australian newspaper to comment on this. Call me naive, but I did not suspect that I was being recruited to a press vendetta against the royal couple; I was shocked when my remarks were misused.
My statement of an obvious fact—that their struggles, my grandfather's and Harry and Meghan's, were hardly identical—was turned into a slight against the couple. When I voiced my annoyance at seeing Mandela's name and legacy exploited, that too was taken to be an attack on the documentary and the couple.
This was far from what I'd meant. In fact, I felt dumbfounded and disheartened to see my name, and my grandfather's, used to serve a backlash against Meghan Markle, a woman of color who'd had the temerity to marry into the British Royal Family.
Yes, it upsets me whenever the Mandela name or likeness is used for purely commercial purposes, to sell merchandise without any benefit to the family or the charitable causes he championed. And I will always criticize such cynical profiteering.
That's not what I associate with Harry and Meghan. Indeed, I welcome the inspiration they've taken from my grandfather's legacy for their social activism. I admire them for the courage of their convictions and the good causes they have espoused. Their work resonates with my grandfather's preoccupation with justice and freedom for all.
It touches my heart that what my grandfather achieved decades ago still spurs people to action today, even people at the heart of the Royal Family in Britain. Madiba—Mandela's nickname in Xhosa—is beloved as "the father of the nation" because he proved that an unfailing commitment to love, forgiveness, and reconciliation can turn the odds in favor of peace and justice.
My grandfather was scarcely dead when people started exploiting his legacy. Even at his funeral, South African officials misappropriated millions of dollars earmarked for development work, spending some of it on promotional T-shirts. And so it goes: Every year in South Africa, on Nelson Mandela International Day, clubs use my grandfather's face on flyers to bring people in. All over the world, in fact, people sell T-shirts with my grandfather's face on them—some might call it the price of my grandfather being a global icon, but none of the profits go to support his true legacy.
By contrast, Harry's fascination with the life of my grandfather seems not only sincere but also to go back years. Harry has spoken of meeting my grandfather late in his life, and in 2014, he founded the Invictus Games for disabled former servicemen and women. Invictus, which means "unconquerable," is also the title of a poem, by the British poet William Ernest Henley, that my grandfather used to recite during his 27 years in the apartheid regime's prison.
Mandela spent those years confined to a tiny cell, with no bed and no plumbing, or forced to do constant hard labor—harsh conditions designed to break his resolve. This poem, about the individual's capacity to find strength within to overcome adversity, was a source of solace and hope to my grandfather.
Although the paths that my grandfather and Harry took in life were completely different, I can see how the young prince must also have found the poem a comfort for his sense of isolation within the Royal Family. That it inspired him to create the Invictus Games is a testament to the universal nature of my grandfather's legacy—and Harry was true to that legacy in putting a sports initiative at the center of his charitable work.
In apartheid South Africa, sports were heavily racialized. Rugby, in particular, was notorious because the national team, the Springboks, was all-white. We in the anti-apartheid movement saw rugby as a cultural symbol of white-minority rule.
Then, soon after the end of apartheid in 1994, South Africa was to host the 1995 Rugby World Cup. My grandfather, by then the country's first Black president, saw this as an opening that no one else had recognized. To some dismay among his own supporters, Mandela threw his backing behind the Springboks and sent a message that all South Africans should support the team. This bold move broke the wall between the traditionally all-white team and South Africa's Black communities. It proclaimed once and for all that South Africa was now the multiracial democracy that my grandfather had so long fought for.
The symbolism of unity was crucial in that moment, but, of course, not all of our society's ills could be so easily resolved. Despite real progress in the decades since then, grave inequities persist. In South Africa, entrenched patterns of white racism have not been dismantled. The unemployment rate is still about four times higher for Black residents than it is for white residents; and just 10 percent of South Africans—the majority of them white—own more than 90 percent of the country's wealth. Legal apartheid has disappeared, but economic apartheid upheld by loopholes in the law persist.
Many of the underpinnings of racism and colonialism around the world have not only survived, but been rehabilitated in new and insidious forms. Every year, billions more dollars are transferred out of Africa than are invested in it. Roughly 100 transnational corporations, many of them British, control $1 trillion worth of Africa's mineral resources. The mining operations of these companies leave a trail of social and environmental damage and human-rights abuses.
This pattern of exploitation extends across the global South. According to a report from the Business and Human Rights Resource Centre, since 2015 giant companies engaged in mining, agribusiness, and logging have filed 355 largely frivolous lawsuits that human-rights activists call efforts to "intimidate, bankrupt and silence" those in Latin America and Asia who speak out against such abuses. In Malaysia, for example, European courts are enforcing a $15 billion claim on the developing nation's own oil and gas reserves, based on a century-old treaty dating from the era of colonial control by the British Crown. Western investors in the lawsuit, through the litigation-financing firm Therium, will take the lion's share of proceeds.  
Although the late Queen Elizabeth was a great supporter of my grandfather, and presided over the transformation of the British empire into the voluntary association of the Commonwealth, the Crown's postcolonial power continues to extend throughout the world. By virtue of its nominal claim to countries such as Canada and Australia, the Crown is by far the world's largest landowner, with as much as a sixth of the planet's land area. The Crown is not merely an institution of the British state; it is better understood as one of the world's most powerful transnational corporations.
As the backlash against Meghan Markle illustrates, undermining the legitimacy of this status quo comes at a price. Harry and Meghan's alienation from the Royal Family, their questioning of its values, and their challenging of its institutional racism are seen as an unacceptable affront to comfortable assumptions about the West's achievement of a "postracial" society. By refusing to kowtow, Harry and Meghan became targets for much of the English-language press.
My grandfather's victory over apartheid does not mean that the fight against colonialism and racism is finished. He would want us to learn from him, to use his example to stand against all of the inequities that persist within the laws and institutions of our fragile democracies.
In my case, my grandfather's struggle inspired me to launch a foundation—named after my own father, Thembekile Mandela, who died while my grandfather was in prison—that focuses on health, youth, and women's development in rural villages across South Africa. And that work has in turn inspired countless others to search out the light when surrounded by terrifying darkness.
I count Harry and Meghan among those others, but no one owns Madiba. He is part of the world's heritage. To defeat today's injustices, we need his legacy unsullied by vested interests.