The 151st Open Championship at Royal Liverpool Golf Club got off to a fantastic start, with Tommy Fleetwood, Emiliano Grillo and amateur Christo Lamprecht leading the way on five-under-par.
Rory McIlroy recovered to shoot level par - and will be hoping for a quick start when he begins on Friday morning.
Check out all of the tee times for round 2.
Follow all the action with our live blog and leaderboard below.
OPEN CHAMPIONSHIP LEADERBOARD 2023
OPEN QUICK LINKS
HERE WE GO AGAIN
Good morning. What a long and fascinating day yesterday which has left home favourite Tommy Fleetwood as one of the three leaders, including Emiliano Grillo who tees off shortly at 8.25am. Elsewhere Rory McIlroy is one of the early players on course today at 9.58.
Open organisers have revealed today's pin positions for round two at Hoylake
The pin positions for the second round of The 151st Open. pic.twitter.com/dLl8RxgHVZJuly 20, 2023
Yesterday's pin positions caught out a lot of players on the likes of the sixth and 15th. There looks to be plenty more danger out there in the second round too judging by these. The fourth and 17th caught my eye. 
Opening group prepare to tee off in second round at Hoylake
Interesting first group up today and they should have plenty in common. Rasmus Hojgaard has a twin brother Nicolai in the field and Alex Fitzpatrick, who was three over yesterday, is the younger sibling of last year's US Open winner Matt who is playing this week too. I am interested to see Alex play - I know someone who is a member at the Hallamshire where the Fitzpatrick family play. Apparently as kids Alex was the much better prospect! Matthew Southgate completes the three ball.
Play is underway at Hoylake after Dane Rasmus Hojgaard pulls drive on to 18th fairway 
Could be a mixed weekend in the Hojgaard family as Rasmus tees off seven over while Nicolai is even par. Apparently it is not easy for the Hojgaard family. The parents have admitted it is hard to celebrate if only one of the twins have done well and previous victories have gone without any Champagne popping if the other sibling has struggled. 
Matthew Southgate is playing today looking to make the cut and you may recognise his voice
Matthew Southgate returned to The Open Radio studio today.Just 12 months ago he was commentating on The Open. This week he will be playing for the Claret Jug.Follow The Open Radio all week here 🎙️https://t.co/fg70SNe4mN pic.twitter.com/JBa6PZycUIJuly 19, 2023
You have got to wish Englishman Matthew Southgate well. He is such a massive golf fan, when he failed to qualify for the 150th Open at St Andrews last year, he opted to be a co-commentator where his enthusiasm for the sport flowed through his coverage. This year he is playing and will find out today whether he can continue at the weekend - or perhaps return to the studio. He found a bunker off the first tee and recorded a bogey to move to one over.
Alex Fitzpatrick gives early indication of his strengths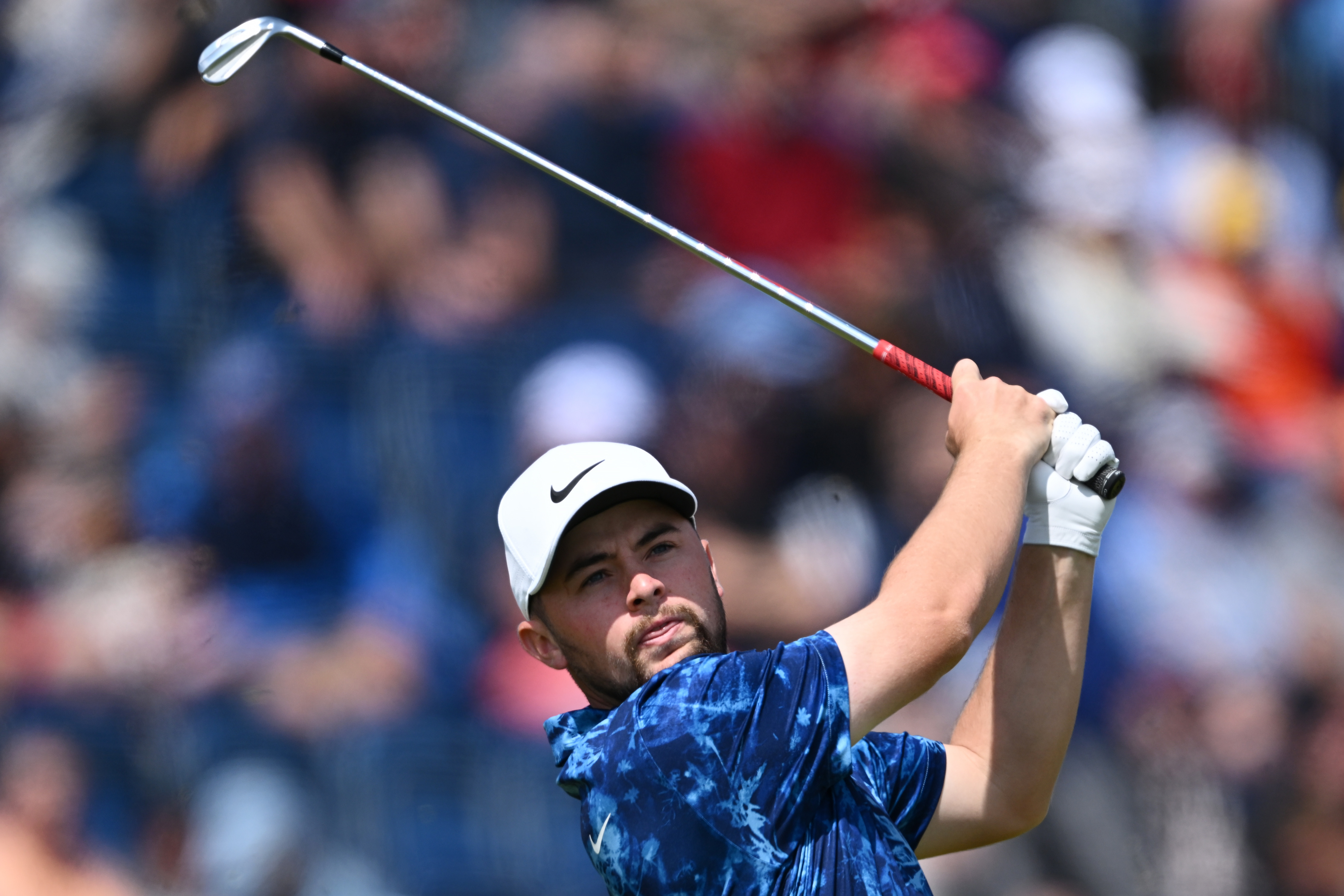 Alex Fitzpatrick is the younger brother of Major winner Matt and is understandably in his sibling's shadow. But he is considered a decent prospect who is known for his razor sharp short game. He illustrated this at the first where he missed the green right but stiffed a delicate chip for a tap-in par. Expect to see more scrambles like this from Fitzpatrick who holed a bunker shot off his knees in qualifying. Alex is three over and on the expected cut line which is expected to be around there
Greens running at same pace as yesterday as play is well underway
Today's greens are running at 10.5 on the stimpmeter which is the same pace as day one. The stimp rating of a putting green is the numerical value that represents how fast the golf ball rolls on the putting surface. At The Open, it's usually between 9.5 and 10.5, while the US Open and Augusta National, for the Masters, tend to have them running between 13 and 14.
Some big names starting to prepare for their tee times 
Nearly an hour to go now until 8.25am when co-leader Emiliano Grillo tees off at five-under alongside Dustin Johnson who is battling to make the cut. Then at 9.47am keep an eye on Justin Thomas. The American and Major winner had an absolute shocker yesterday with an 82 - including a nine at the last when he went out of bounds. What a nightmare - and one to make us Sunday morning golfers feel a little better! But fair play to Thomas who is at least due to return today unlike Taichi Kho who trailed in last at 12 over
Spaniard Adrian Otaegui shot an impressive four-under 67 yesterday and is back in action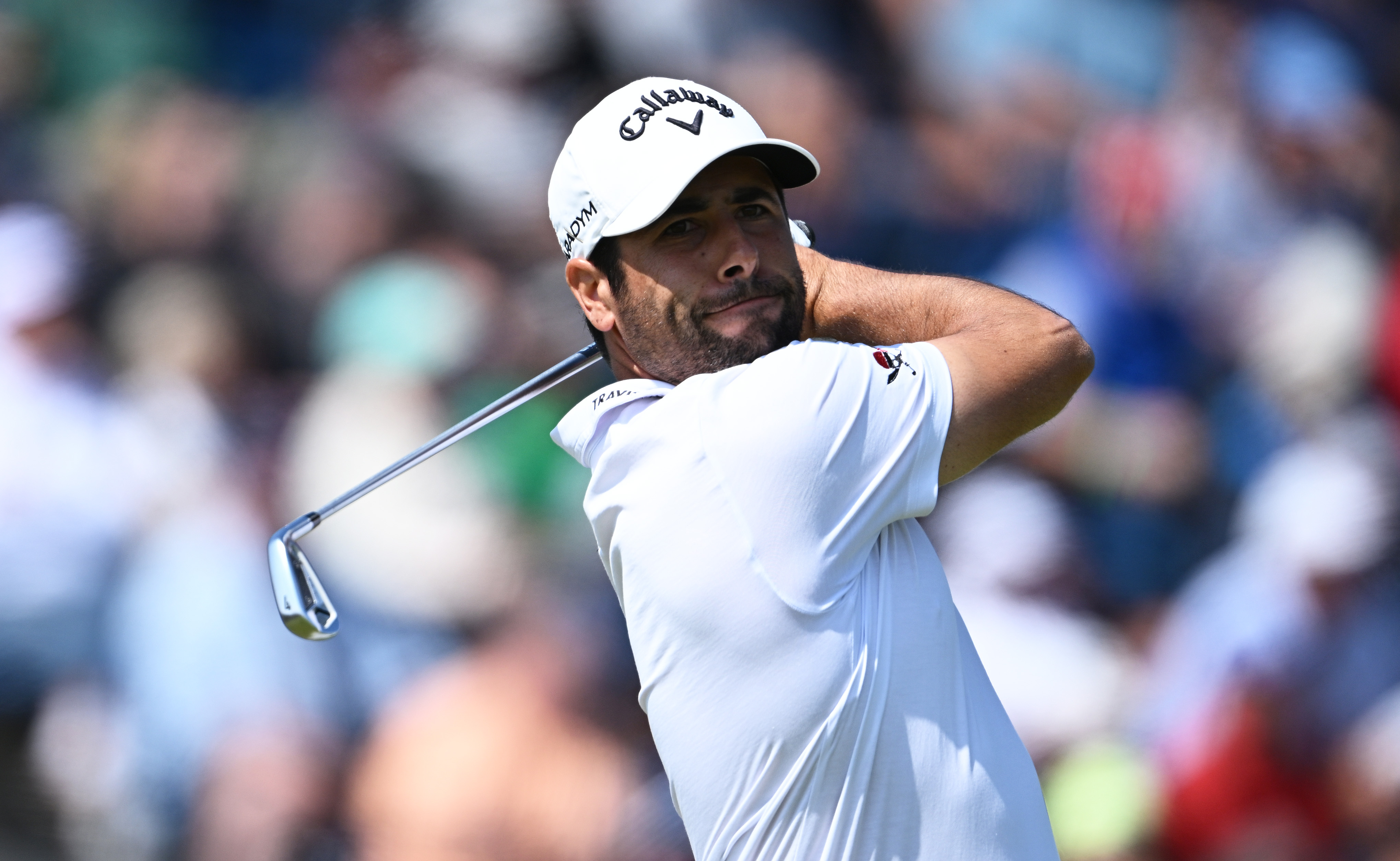 Adrian Otaegui,30, is enjoying a decent season after coming tied second in the  KLM Open on the DP World Tour. He is underway at Hoylake as he looks to build on his opening 67. But he might need his waterproofs today as the clouds get lower as the breeze picks up to 18mph. The Spaniard's mood could darken too after finding the rough off the first tee before pulling his approach left. 
Hoylake's 82 bunkers giving the pros nightmares 
Before the first round, the talk of Hoylake was the course's tricky new 17th hole but chat has since turned to all the bunkers. Apparently this year ahead of round one, Open officials opted to have the sand raked evenly in the traps and hence we saw a lot of pros up against the face in tight spots. On previous occasions, the sand can slope away from the edges into the middle of bunkers to at least filter balls into more playable positions. Reports from the course this morning suggest there has been a change overnight to adopt the latter approach to ensure fewer players are embarrassed in tight spots like yesterday when the sand was so penal
Big-hitting amateur Christo Lamprecht gives fascinating insight into his power play
Christo Lamprecht is tied for the lead in The Open.And his 6'8" frame can generate considerable power.Get an insight into how he works with his ball flights and speeds ahead of his second round.July 21, 2023
Those of you up bright and early yesterday will recall we talked up exciting 6ft8in amateur champion Christo Lamprecht who promptly went out and shot five-under. His power play is astonishing as this clip shows as he smashes drivers with over 300 yard carry with ball speeds over 200mph
Matt Wallace's outfit today is more eye-catching than his golf yesterday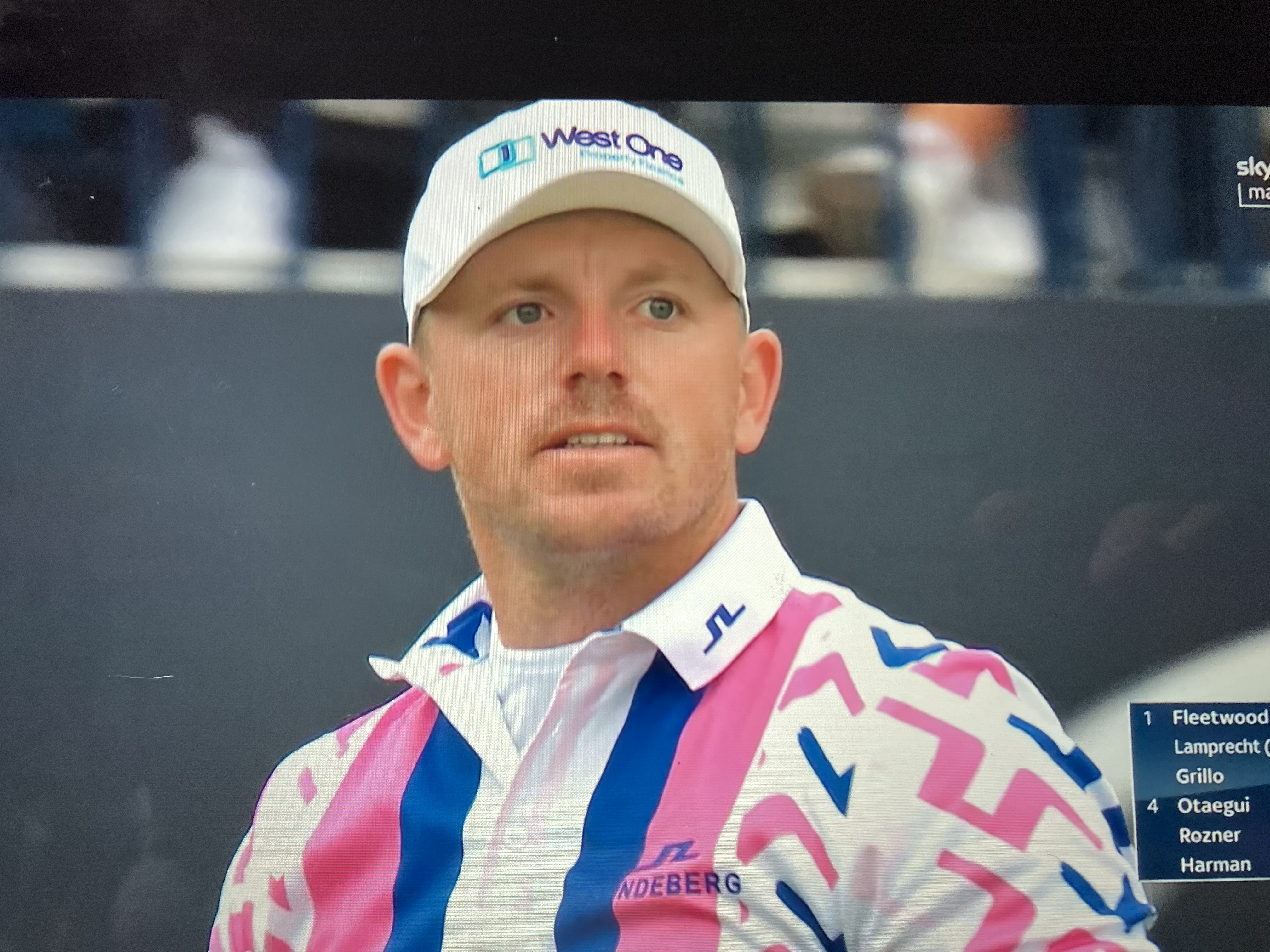 Englishman Matt Wallace carded a four-over 75 yesterday but it doesn't seem to have dented his confidence judging by his outfit today. Wallace faces a battle to make the cut but his loud shirt today suggests he has a bright outlook nevertheless. It even prompted commentators to joke viewers should not to adjust their sets as he just teed off on the first.
New approach to setting up bunkers today is clearly visible on the course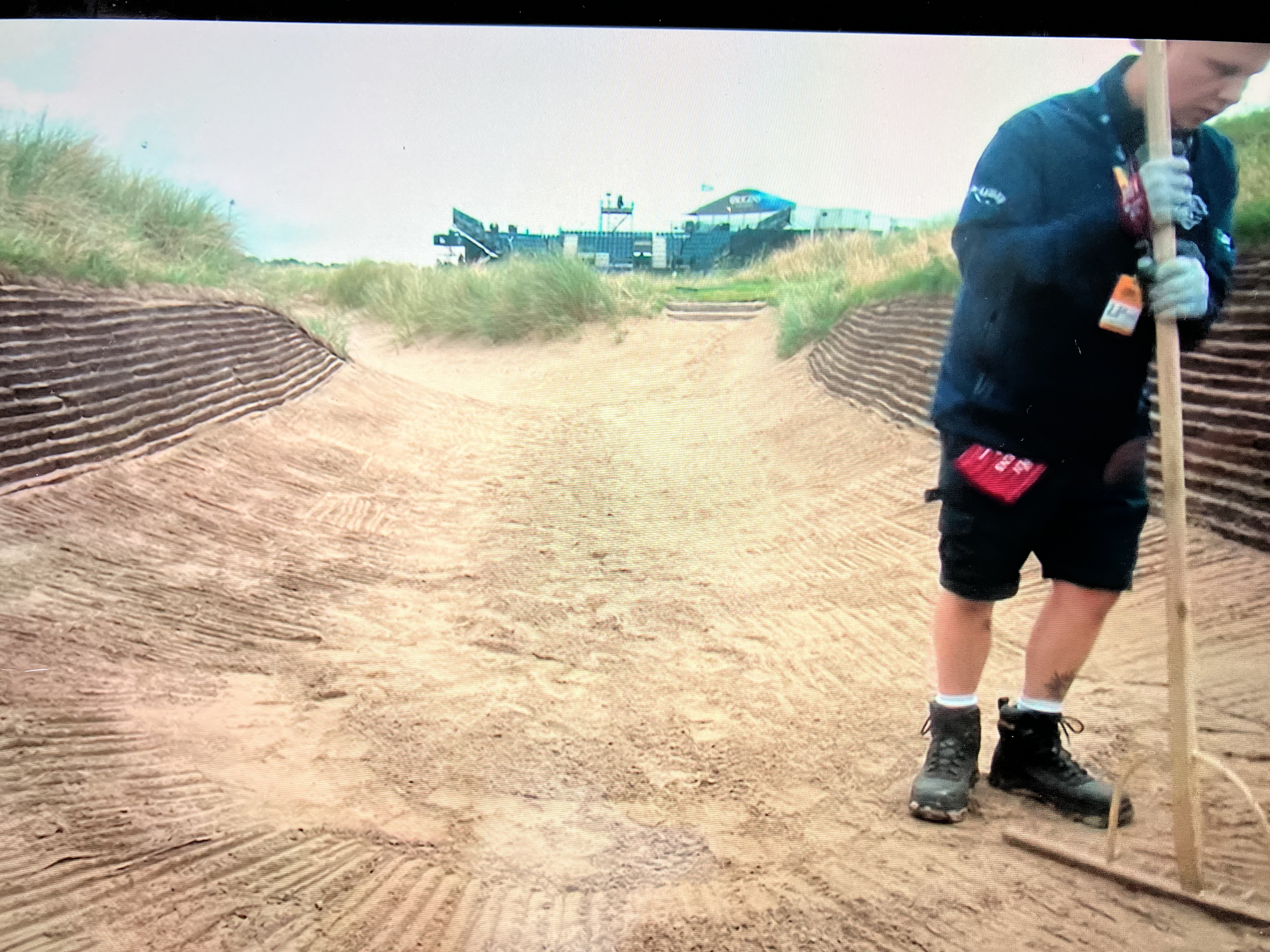 As we were discussing earlier, there has been a significant change in approach overnight to how the course's 82 bunkers are being set up. Yesterday we saw a lot of pros up against the face in nightmare lies. We even saw players putt away from the edge of the bunker to then play out. Today that is less likely to happen as the sand is being raked to slope away from the edges and give the pros a better chance of playing out successfully first time as their ball is likely to be closer to the centre. 
Wallace endures nightmare start after teeing off in garish shirt
Hope Matt Wallace's outrageously loud shirt, pictured previously below, hasn't distracted him from the task in hand. He teed off four over and promptly double bogeyed the first to move to six over as his hopes of making the cut took a huge blow
Adrian Otaegui misses easy birdie chance at the fifth 
Otaegui made a superb par save on the first and has been playing steadily since. His fine approach to six foot at the par five fifth gave him a good birdie chance to move level with joint overnight leader Emiliano Grillo but the Spaniard missed the putt. Grillo opened with a decent up and down himself at the first to save par.
Matt Cradock joins the live blog now as joint overnight leader Grillo gets into bother
Thanks for the interest and views this morning. I am now handing over to Matt Cradock as the big names prepare to tee off in under an hour. Matt will have the latest from Hoylake with Emiliano Grillo looking at a potential double bogey
MORNING ALL!
Good morning everyone, hope you are well! Welcome to the second day of The Open Championship. Yesterday, we were treated to a superb day of action and, beginning Friday, it looks like the wind is up and the rain is in the air, conditions which are associated with a links course! We can't wait and, for the next three hours, I will take you through all the action.
RORY ON THE RANGE
Rory McIlroy is warming up on the range ahead of his second round. Live at The Range. @HSBC_UKJuly 21, 2023
Rory McIlroy is currently warming up on the range. Yesterday, he made a crucial up-and-down from the 18th bunker to post a level-par round of 71. How will he get on today? He tees off at 9.58am, local time
MIXED EARLY SCORES
Looking at the early scores, it seems that players are faring very differently in the conditions. So far, less than 10 players are under-par, with the likes of Matt Wallace, Francesco Molinari and Emiliano Grillo over-par for their day
HARMAN INTO A SHARE OF THE LEAD
Brian Harman carded a four-under 67 yesterday and, on his second hole today, he is back in amongst the birdies, with the American holing a 20-footer to move into a share of the lead with Tommy Fleetwood (2.48pm) and Christo Lamprecht (12.53pm)
GRILLO GOING BACKWARDS
It's not been an ideal start for Emiliano Grillo. After making a double bogey on the second, he follows it up with a bogey at the third. He is three-over through three, with the Argentinian seemingly struggling with his short game...
HARMAN TAKES THE OUTRIGHT LEAD
Back-to-back birdies for Brian Harman at the second and third! The American has come out firing this morning at Royal Liverpool.
TO THE LEFT, TO THE LEFT
Yesterday, it appeared that the first hole was giving a number of players a headache, with many missing left. Today, from the coverage at least, it appears that the theme has continued, as Keegan Bradley hits a huge hook over the onlooking spectators. 
LEVEL-PAR FRONT NINE FOR OTAEGUI
Nine pars to open the second round for Adrian Otaegui. He remains in a tie for fourth and also, I believe, the only man to have every vowel in his surname...
THREE ON THE SPIN FOR HARMAN
This is some start for Harman! After birdies on the second and third, he holes a birdie putt from 17-feet on the fourth to move to three-under for his round and seven-under for the tournament. He leads Fleetwood and Lamprecht by two, with both teeing off later.
BIG NAMES OFF
Viktor Hovland, Tony Finau and Justin Thomas all get their second rounds underway. Hovland, who fired a one-under round yesterday, starts perfectly as he slams his birdie putt in the back of the hole, whilst both Finau and Thomas get up-and-down for their pars.
In the group behind, Rory McIlroy and Jon Rahm boom their drives down the middle of the fairway, with Justin Rose pulling his tee shot fractionally left into the rough. 
BUNKER NEWS
As we mentioned earlier, The R&A have made a number of adjustments to their bunkers after a number of comments from players. In a statement, it read: "We would like to advise you of an adjustment we have made to the way the bunkers are raked overnight." You can check out the full story here.
BIRDIE FOR RORY
Perfect start for Rory McIlroy! Following an excellent tee shot, his approach finds the green and, with an almost dead straight putt, he holes for birdie. Moving to one-under, his playing partners Jon Rahm and Justin Rose both par to remain at three-over.
ALMOST AN EAGLE FOR HARMAN
Brian Harman is on fire! Playing the par 5 fifth, he blazes his approach out left but, with his following pitch, he slams the flag and it almost drops for an eagle. He taps-in for a fourth consecutive birdie and moves to eight-under. He's now three ahead.
TOM KIM UP 70 PLACES
Tom Kim enjoyed a fine week at the Genesis Scottish Open and, this week at The Open, he has carried that form over. Currently, he is four-under through nine, with four birdies in five holes vaulting him into the top-20
HOMA PARS THE OPENER
Max Homa carded an excellent three-under 68 yesterday. His Major record isn't the greatest but, a well-converted par at the opening hole will settle any nerves he has out there. Elsewhere, Brian Harman has just parred the par 3 sixth to stay three ahead.
BOGEY FOR HOVLAND AT THREE
Viktor Hovland fails to get up-and-down at the par 4 third, with his eight-foot putt being dragged left. The bogey moves him back to level for his round, with Tony Finau and Justin Thomas also level after three opening pars.
RORY LOOKING DIALLED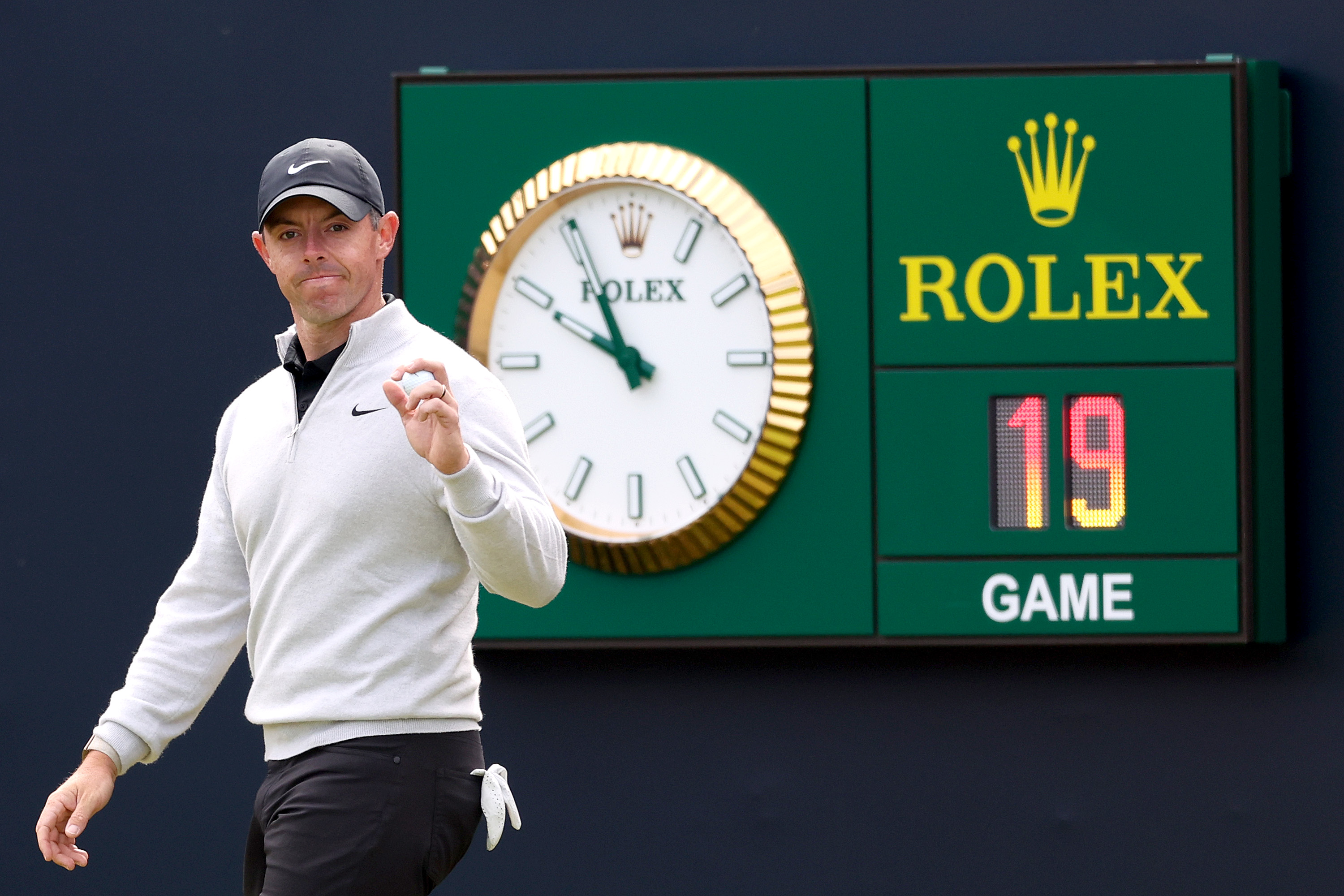 Rory McIlroy looks up for it this morning! After birdieing the first and parring the second, he sticks his approach close on the third, setting up a great birdie chance. In his group, Justin Rose is incredibly unlucky to find a divot from his tee shot, with the Englishman shanking his next. He will have a fair bit of work to do to make the cut at Royal Liverpool.
RORY MISSES
Just as I praise Rory McIlroy's approach into three, he misses... In all honesty, he never looked confident over the ball and, with the miss, he stays at one-under. In the group, Jon Rahm makes par, with Justin Rose making a bogey, despite going out of bounds with his approach
HOVLAND BIRDIE
After dropping a shot on the third, Hovland makes a lovely birdie at the par 4 fourth. He moves back to two-under for the tournament and inside the top 10.
MIN WOO LEE MOVING UP THE LEADERBOARD
Min Woo Lee was fancied as an outside bet this week at Royal Liverpool and, following an eagle and two birdies in his last eight holes, he has moved to two-under and inside the top 10.
BACK-TO-BACK BOGEYS FOR HOMA
After bogeying the second, Max Homa misses another par putt at the third to drop back to one-under for the tournament. In his group, Collin Morikawa is two-over for the day and four-over for the championship, whilst Tyrrell Hatton is one-over for the day and event.
BIG SAVE FOR HARMAN AT EIGHT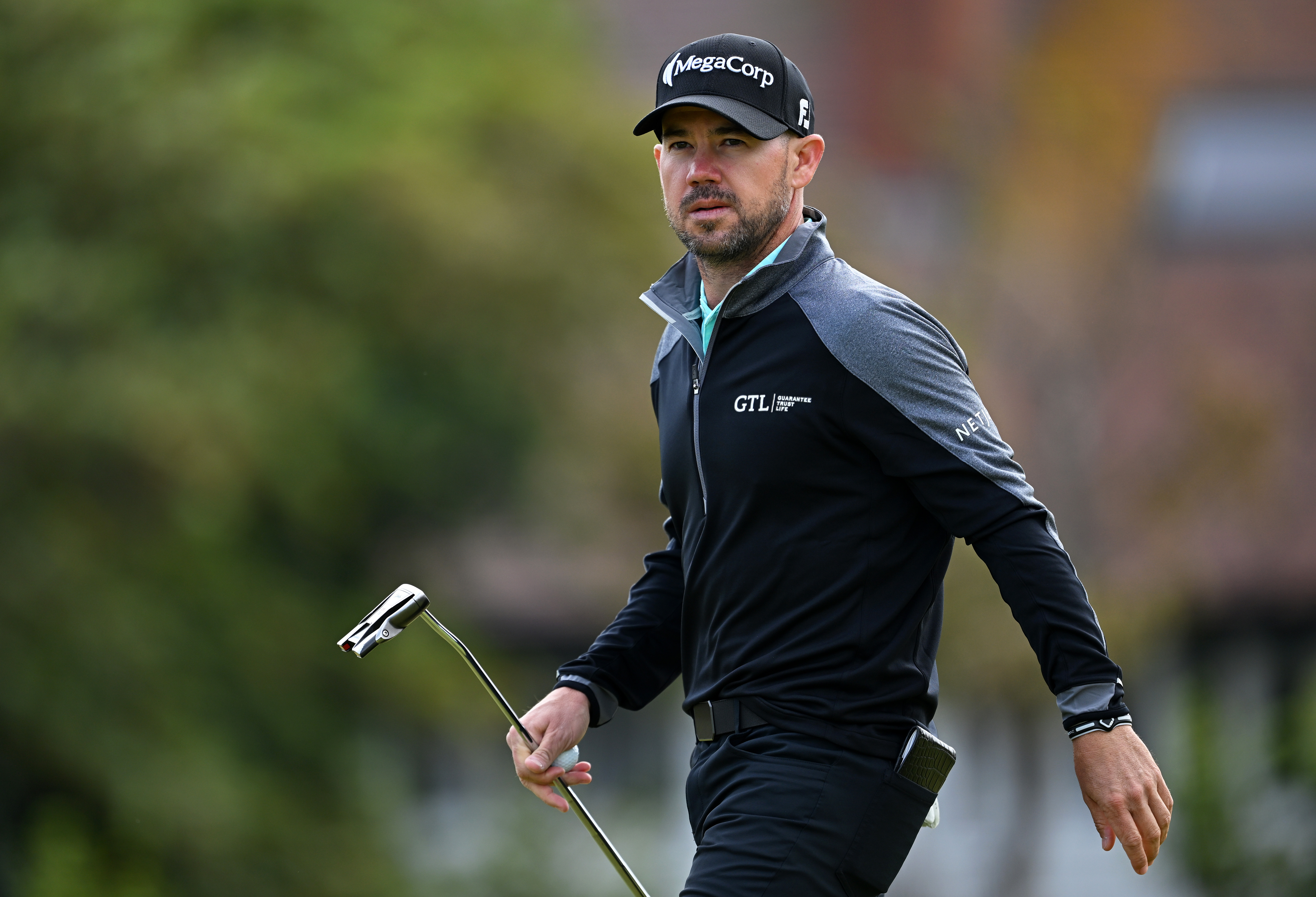 He has looked in control of his game, so far, but, at the eighth, Brian Harman comes up short and is almost stymied by one Royal Liverpool's bunkers. He does hit a good putt from off the green, but needs to hole a seven-footer for his par, which he does superbly. He stays at eight-under and three ahead.
SUPER ROUND, ALEX FITZPATRICK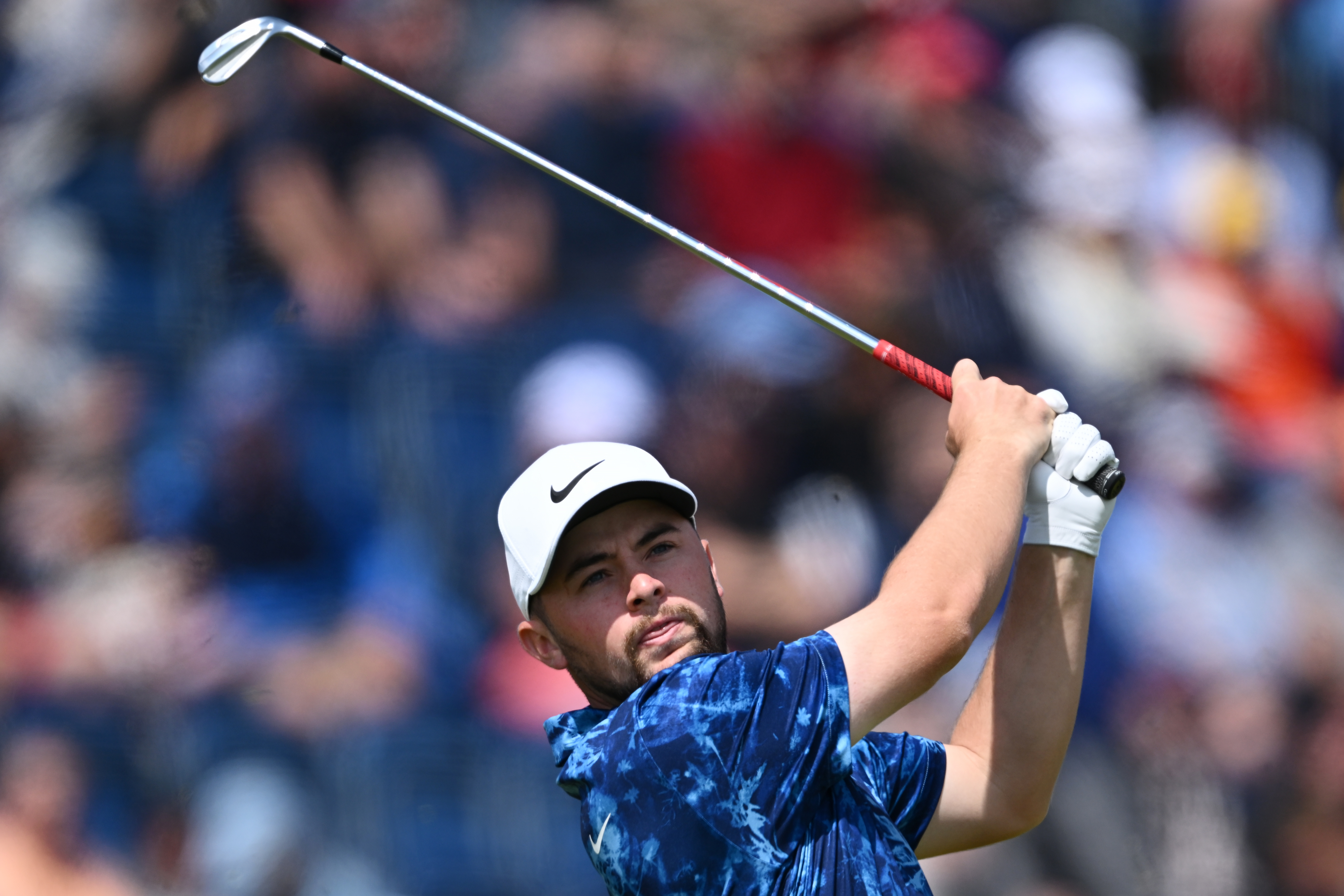 Excellent round from Alex Fitzpatrick, who birdies the 18th hole for a one-under-par round of 70! He currently sits at +2, which is the current cut line, but this is likely to change and get higher as the day goes on. 
His brother, Matt, gets underway at 2.04pm, with the Englishman +1 and needing a solid round to likely join his brother into the weekend. 
BACK-TO-BACK BIRDIES FOR HOVLAND
Viktor Hovland moves to two-under for his round with another birdie at the par 5 fifth. Finding the green in two, his eagle attempt misses by fractions and, after tapping-in, he moves into the top five. Along with Hovland, Tony Finau also birdies to move to one-over, with Justin Thomas still way back on eleven-over-par
STUNNING BUNKER SHOTS FROM MCILROY AND ROSE
McIlroy is making these bunkers look easy 😅 pic.twitter.com/nvMXvbShi5July 21, 2023
Wow! You won't see many better bunker shots than those from Rory McIlroy and Justin Rose! Both men are tight up against the face of the bunker from 30-yards, but the duo manage to stick their shots to inside three-feet. That was majestic! 
TRAVIS SMYTH MAKES A HOLE-IN-ONE
ACE FOR TRAVIS SMYTH!! 🎯 pic.twitter.com/FcsvHIrzePJuly 21, 2023
TRAVIS SMYTH TAKE A BOW! The 17th hole has been heavily talked about prior to The Open and, at 11.30am, we have the first hole-in-one, with the Australian flying his tee shot in for an historic ace!
MATT JORDAN GETS UNDERWAY
He struck the first shot of The 151st Open Championship yesterday and backed it up with a first round of two-under (69). Now, on Friday, home-hero Matt Jordan will be looking for much of the same as he gets his second day underway.
BIG MOVERS
In all of the action, a number of players have made big moves on Friday. Viktor Hovland (-3) is two-under for his round and inside the top 5, whilst Min Woo Lee and Rory McIlroy (-2) are two-under for the day and up 20 places. 
The biggest mover, currently, is Tom Kim (E), who has jumped nearly 60 spots up the leaderboard as he sits three-under for his day, with Brian Harman still leading at eight-under, three shots ahead.
HOVLAND BOGEY
Viktor Hovland's card is certainly looking colourful as he makes a second bogey of the day. So far, the Norwegian has three birdies, two pars and two bogeys to sit at two-under for the tournament. 
In the group behind, Rory McIlroy is at two-under, whilst Jon Rahm has made back-to-back birdies at the fifth and sixth to get back to one-over. Justin Rose is still struggling at five-over.
TROUBLE FOR HARMAN
The American is four-under for his round and eight-under for the tournament but, at the par 4 12th, he has found a fairway bunker. It is unclear as to whether he will need to chip out, with Harman faced with around 150-yards for his second.
TIME TO SIGN OFF
That's my three hours up and it's now time to hand over to Roderick Easdale, who will take you through the next three hours of coverage. Thanks for watching and I will be back with you at 3pm for the afternoon wave!
Seventh par in row for thre-shot leader Harman
Great save on 12. Having had to chip out sideways from that fairway bunker, he missed the green with his 3rd shot on the par 4. But he chips in.
Luck of the draw?
The course is playing a shot harder than yesterday morning. The wind is due to drop in intensity this afternoon. If there is a better half of the draw to be in, it doesn't look like those on course at the moment will be in it. 
"You can't win The Open on Thursday but you can lose it"
This is a well-known saying. But what exactly does that mean in practice? How badly do you have to do in the opening round to put yourself out of realistic contention? Well each of the last 23 Open champions, and 50 of the last 52, were within five shots of the lead after Round 1. Each of the dozen previous winners at Royal Liverpool was within five of the lead after the first 18 holes. To translate this to yesterday's scores, players needed to have gone round in par or better to fit this metric. Forty-six of the 156 golfers did so. 
Or to put it in a more stark way, history suggests that 110 golfers had already lost the Open after day one. Rory McIlroy, Tyrrell Hatton, Min Woo Lee and 12 others just sneaked in to this par-or-better-group; Cameron Smith, Matt Fitzpatrick, Jason Day, Adam Scott and 14 others missed it by a shot.
That par save by Harman on 12
"He's got it going today, hasn't he?"Brian Harman saves par in spectacular style. He stays bogey free. He stays three ahead. pic.twitter.com/1cD9k9hu7uJuly 21, 2023
Luck of the Irish?
Rory McIlroy. having hit his tee shot into rough on the par-3 9th, then hits his chip too hard and too high. But it strikes the flagstick about a third of the way up, which takes the sting out of the shot and the ball plops down on to the green just under 6ft from the hole. Having made two bad shots on a par 3, Rory walks off the green with a par. He is to the turn in 33. 
Nuts to Rory
Blogging journalists are not the only ones who have to work when others are having their lunch. Golfers have to, too. Rory is walking down the 10th fairway feeding himself from a huge bag of nuts.
Homa moving back up
He sinks a 13ft putt on the 9th hole for a third consecutive birdie. He is out in 34 and tied in fourth spot at 4 under. His front nine today had only two pars in it, at 1 and 4.
In defence of the bunkering
There has been much talk about how hard the bunkers could be to play out of on day one, but isn't that the whole point of them? I am enjoying the bunkers on this course because they are often properly penal. At many courses the pros say that they would rather be in a bunker than the rough and that seems wrong. This also leads to water being sploshed around modern designs instead to provide the penal hazard that their bunkering does not. A bunker you can play out from, so it gives you a different challenge during a round. What do you do with a ball in lake? Nothing. You just choose a piece of short grass and drop another ball down on it. 
If you don't want to be faced with a tricky lie in a bunker, there is a quite simple remedy – keep out of the bunkers. Tiger Woods did it after all when his won his first Claret Jug in 2000. And if its good enough for Tiger...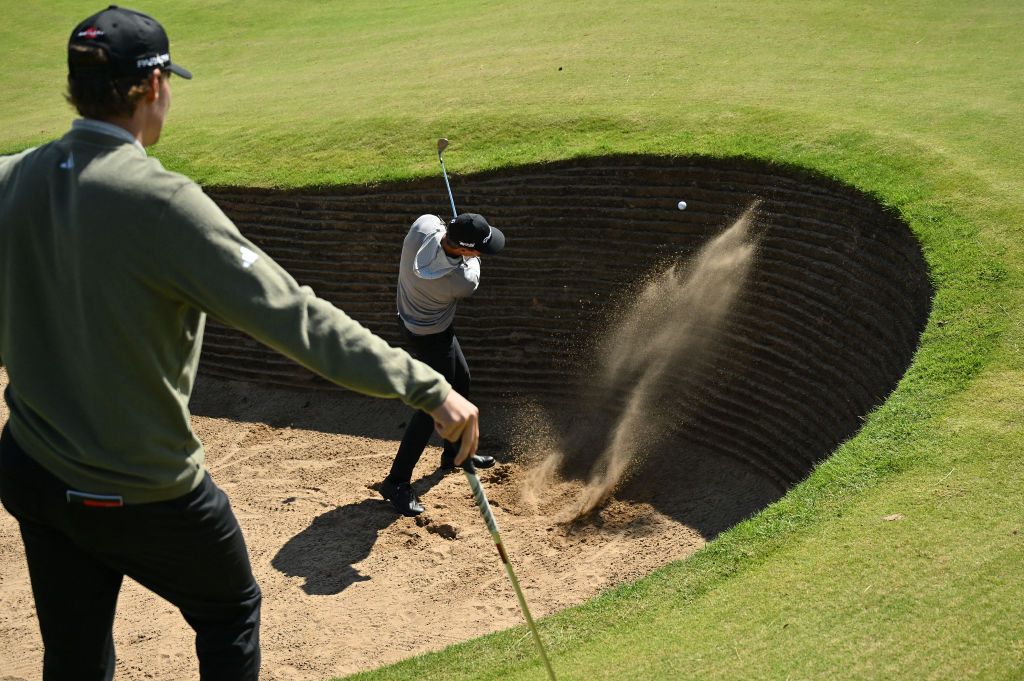 Christo Lamprecht underway in his second round
The South African teed off in second place, three shots behind Harman, and in joint second with joint overnight co-leader Tommy Fleetwood. He misses the fairway with his tee shot, and then misses the green and run-off area with his second. A chip from the light rough sets up a nervous-length putt for par. He misses this when an overly firm putt hits the lip and bounces away. He is now on -4 and among the gaggle in T3.
Who says the 17th is too hard?
The average score on it today so far has been 4.26. But this trio had helped to keep that average down earlier...
Smyth: eagleLangasque: birdieTodd: parGame Five played the 17th in just six shots today 👌#TheOpenJuly 21, 2023
Lamprecht back on the 1st tee  (well, almost)
He tee shot off the 2nd goes a wandering off to the right and about two dozen people join in the hunt for it in the thick rough in front of the 1st tee. Ball is found just in time.
Joint overnight leader Grillo finishes his round
He has shot 74, which included two birdies. He has dropped nine places from the start of play and is now six shots off the lead.
Brian Harman is now in the clubhouse as leader
He holes a 15ft eagle putt on the 18th for a round of 65. He has moved up three places from start of play after a flawless round which involved a string of birdies from the 2nd to the 5th and pars everywhere else until the 18th. He leads by five strokes. His is the lowest round so far today, pipping Min Woo Lee's 68, which has shot Lee up the leaderboard 28 places to T4.
Harman has won twice on Tour – the John Deere Classic in 2014 and the Wells Fargo of 2017. He made his Open debut at Hoylake in 2014, when he finished T26. The next year he missed the cut in all four Majors and the following year he didn't qualify for any of them. Then in his Major return, the US Open of 2017, he finished joint runner-up. He was T6 in last year's Open.
What should we call today?
Saturdays of tournaments are called Moving Day as that is when golfers are said to make their moves to be in position to win on the Sunday. But history shows that winners of The Open rarely come from outside the top 10 on the leaderboard at the end of Friday. So Saturday may be too late and today is the key day? So what should we call Fridays? Getting All Packed Up Ready To Move Tomorrow Day?
Well played!
The best shots from Friday morning. pic.twitter.com/4x2SNUkrmeJuly 21, 2023
Meanwhile in California
When so much club golf is played as Stableford competitions, it may seem odd that so very few professional events use this scoring method. If nothing else, it would add a bit of variety to the tour calendar, as well as making that tour event more relatable to your average club player. 
So hurrah for the Barracuda Championship, a co-sanctioned PGA Tour and DP World Tour event which is going on in California at the moment. It uses a modified Stableford system whereby an Albatross (Double Eagle) = 8pts; Eagle = 5pts; Birdie = 2pts; Par = 0pts; Bogey = -1pt; Double Bogey or worse = -3pts. Seung-Yul Noh eagled all three par-5 holes en route to a tournament record round of 23pts yesterday. The previous best round was 18pts. 
This tournament incidentally, is where 2021 Open champion Collin Morikawa had his first Tour win, in 2019.
Projected cut
It's the top 70 and ties who will make it through to the weekend. Currently T55 is on +2 and T73 is on +3. 
McIlroy bogeys par-5 15th
It is his second bogey of the back nine. His last birdie was on the par-5 5th. He is now level par for the tournament, 10 shots back. 
McIlroy has not won a Major since the 2014 season, when he secured his third and fourth Majors. Has the 34-year-old lost the ability to win Majors or has he merely mislaid it? McIlroy has finished in the top ten 19 times in Majors since the start of 2015, the most by anyone during that period. But he hasn't won any of them. In comparison, the next three with the most top 10s during that period — Brooks Koepka (17), Dustin Johnson (16) and Jordan Spieth (13) — have won 10 Majors between them during those years.
"I'll go read a book"
Asked how he will get ready for the weekend, Brian Harman replied: "I'll practise a little bit and go read a book."
Matthew Jordan out in level par
The hometown favourite bogeyed the 1st, then fought back with birdies on 2 and 4. But another bogey on the 9th sends him through the turn in T9.
Good portent for Fleetwood?
Tommy Fleetwood, who is due out at 2.48pm, tends to get better as Majors progress. Going into this one, he was an aggregate of 15 over par for the first round in Majors since 2021. But in round 2 the comparable figure is only 5 over, and on the weekend it is 10 under.
Just for the record, there have been seven wire-to-wire winners in Open Championship history: Ted Ray (1912, Muirfield), Bobby Jones (1927, St. Andrews), Gene Sarazen (1932, Prince's), Henry Cotton (1934, Royal St. George's), Tom Weiskopf (1973, Royal Troon), Tiger Woods (2005, St. Andrews) and Rory McIlroy (2014, Royal Liverpool).
"It's an amazing hole"
"It's an amazing hole. You can get quite unlucky, make a bogey or a double or a triple in a heartbeat, but with a good shot a birdie is in play," Travis Smyth discussing the 17th. He made a hole in one here earlier today, which he described as "the best shot of my life probably." But that is the end of his tournament as his +8 will be outside the cut.
It's back to Matt
The hardest working man on this blog will now be back in action at the keyboard.
GOOD AFTERNOON
Thanks Rodders! Welcome everyone to the afternoon wave of The Open Championship, where overnight co-leader, Tommy Fleetwood, is underway with the home hero level-par through two holes.
Along with Fleetwood, defending champion, Cameron Smith, also has his day started, whilst the likes of Jordan Spieth, Scottie Scheffler and Brooks Koepka will look to go low this afternoon
HOVLAND MAKES WEEKEND - FINAU AND THOMAS LIKELY TO MISS OUT
Viktor Hovland endured a rather up-and-down second round at Royal Liverpool, with five birdies and six bogeys putting him one-over for the day and level-par for the championship. 
Unfortunately, Tony Finau will be heading back home after carding a four-over 75 and I've got to give a huge shoutout to Justin Thomas who, despite carding an 11-over-par 82 on Thursday, battled back with a level-par round today. Massive respect to JT, who is clearly struggling with his game right now!
McILROY, RAHM AND ROSE IN THE CLUBHOUSE
Both Rory McIlroy and Jon Rahm will make the weekend, with McIlroy one-under and Rahm two-over. Both men didn't have their best stuff, but all can change over the next 36 holes. One player who won't be here the next two days is Justin Rose, who finished six-over-par.
HATTON SHOCKER ON THE 18TH TEE
Tyrrell! After putting his first tee shot out of bounds on the 18th, the Englishman's second ball follows it rather quickly! Hitting five off the tee, he pulls his third drive onto the first hole. He had been -2 on the tee, but will likely be over-par when done on the par 5.
TOMMY JUST MISSES A BIRDIE CHANCE
Tommy Fleetwood (-5) is currently the nearest challenger to Brian Harman (-10), with Fleetwood starting strongly at Royal Liverpool. Making par at the first, he sticks it to 20-feet on the second, but his birdie chance just misses on the left side as he stays at level-par for the day
NINE FOR HATTON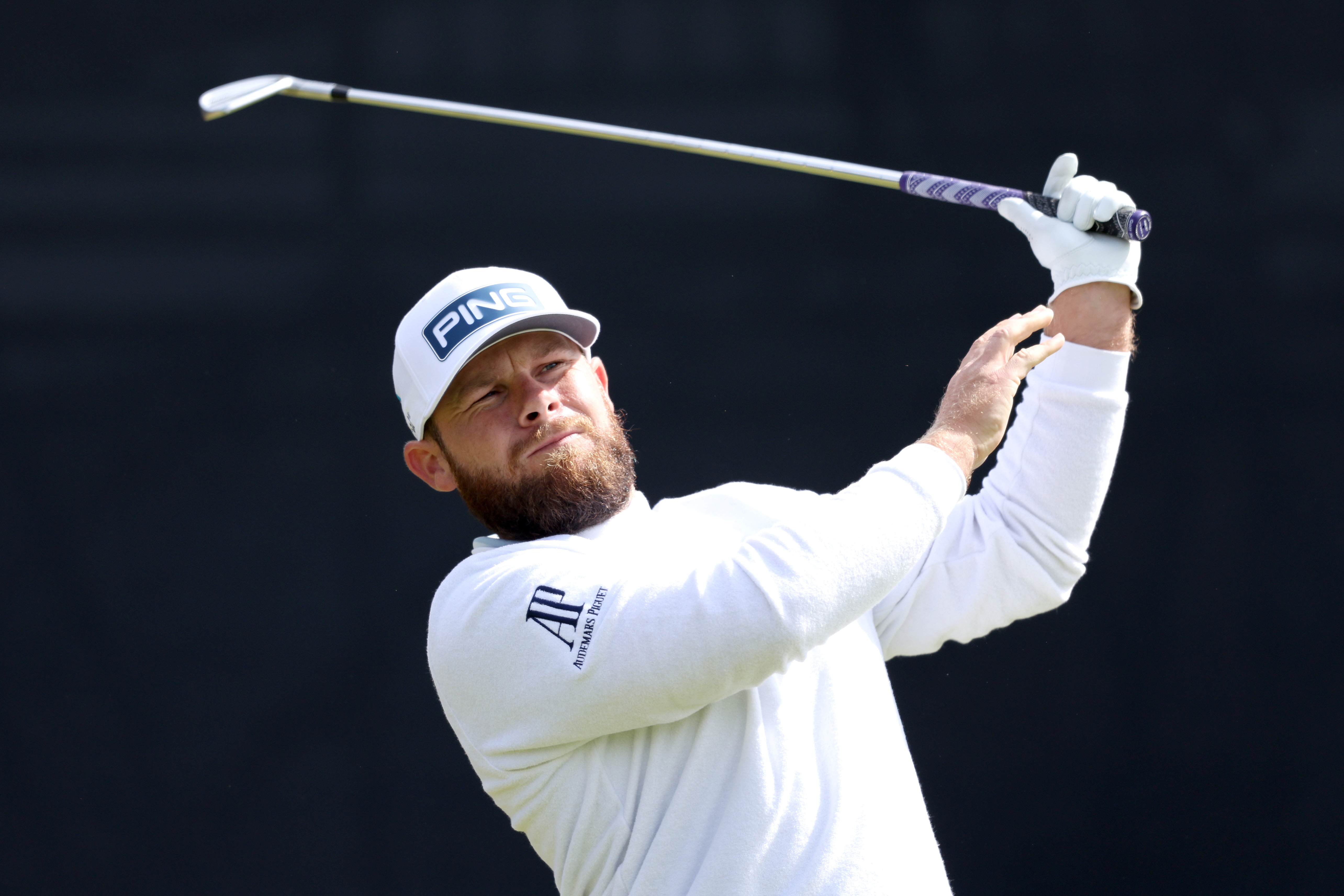 Heartbreaking finish for Tyrrell Hatton who, after sticking his first two drives out of bounds, finishes with a quadruple bogey nine... He goes from -2 to +2, with Hatton now likely out of contention. Along with the Englishman, Collin Morikawa (+5) will probably miss the weekend, with Max Homa (-1) nine shots back.
CUT NOW +3
Still along way to go this afternoon, but the cut line is currently +3. There's time for that to change though, with The Open Championship cut rules explained here.
THE GROUP TO WATCH
Jordan Spieth and Jason Day are both going along very nicely through five holes. Currently, Spieth (-4) is two-under for the round and Day (-2) is three-under, following birdies at the first, third and fifth. Alongside the pair is Matt Fitzpatrick, who has just birdied the fifth to get back to level-par.
DAY TO FORGET
Christo Lamprecht started his day in a share of the lead with Tommy Fleetwood. However, the South African amateur has had a round to forget, with Lamprecht carding a front nine of five-over-par (40). He is currently level for the tournament, so his aim must be to make the weekend.