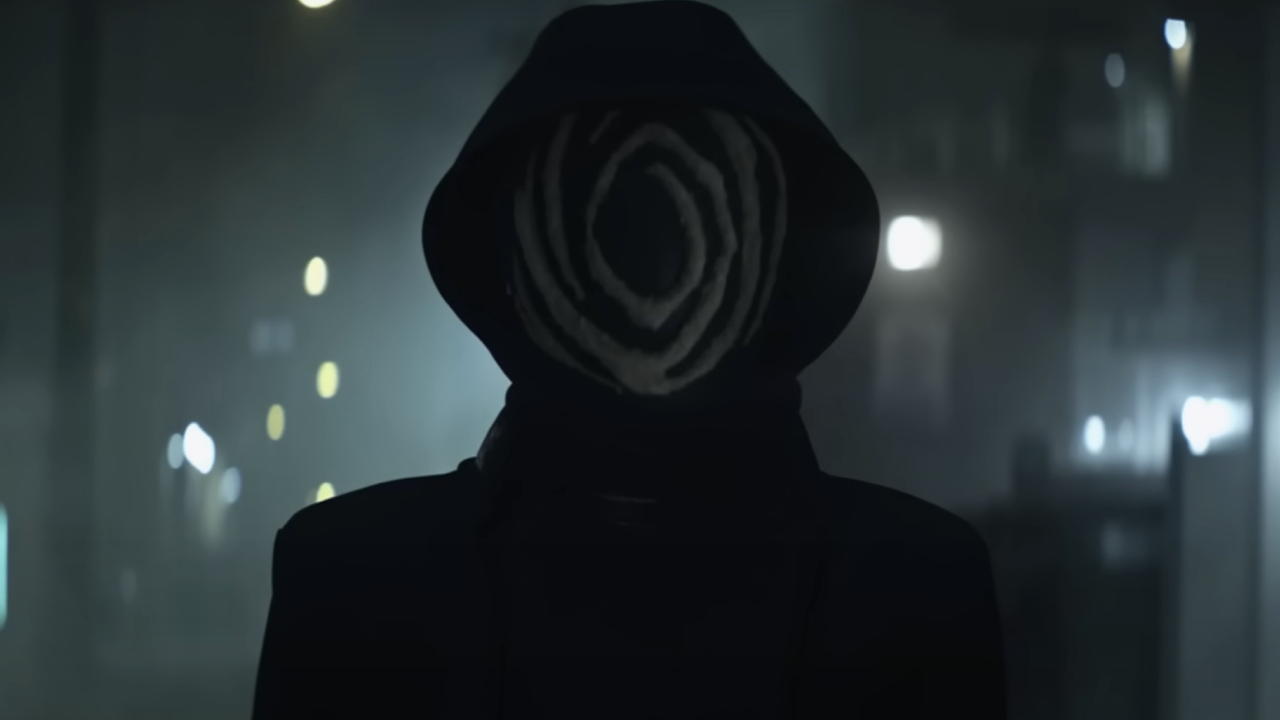 A staple — or, more accurately, a necessity — of comic book art is the use of words like "BOOM!" or "SMACK!" or other words that resemble common and exciting sounds to better immerse the reader in the action taking place. Fans of DC Comics might be familiar with a villain whose entire gimmick revolves around the use of such words — aptly dubbed Onomatopoeia — who recently made a live action debut on the Season 3 premiere of Superman & Lois.
However, the Arrowverse's interpretation of the mysterious criminal is taking things in an almost entirely different direction, with the character's signature costume serving as the most distinct similarity so far. Before we continue to discovery more about this character as the DC TV show's latest season goes on, let's talk about what we can learn about Onomatopoeia from the pages DC Comics — starting with his general goal as a supervillain.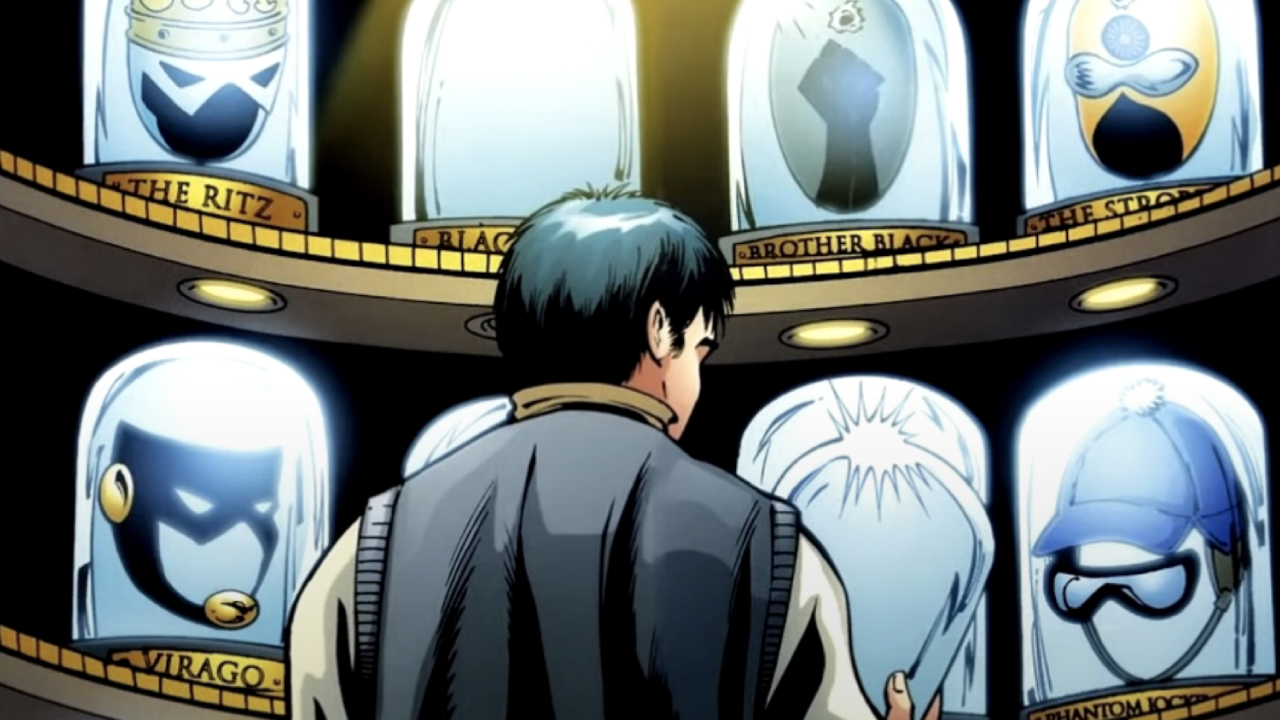 Onomatopoeia Is A Masked Serial Killer Targeting Superheroes
Debuting in Green Arrow Vol #3, Issue #12, in 2002, Onomatopoeia is a character of great intrigue and perplexity, but is driven by an objective that most comic book villains commonly share: defeating superheroes. However, his modus operandi is homicide and his tendency to keep the masks of the costumed vigilantes he has murdered as trophies earns him the title of a serial killer.
It probably goes without saying that he specifically targets superheroes who do not have special powers, which has put him at odds with other physically vulnerable heroes like Green Arrow and Batman, most primarily. Thus, it does seem a bit strange to see Onomatopoeia made into a major enemy for the Man of Steel to take on in Superman & Lois, but we will get to why it makes sense in the Arrowverse soon enough.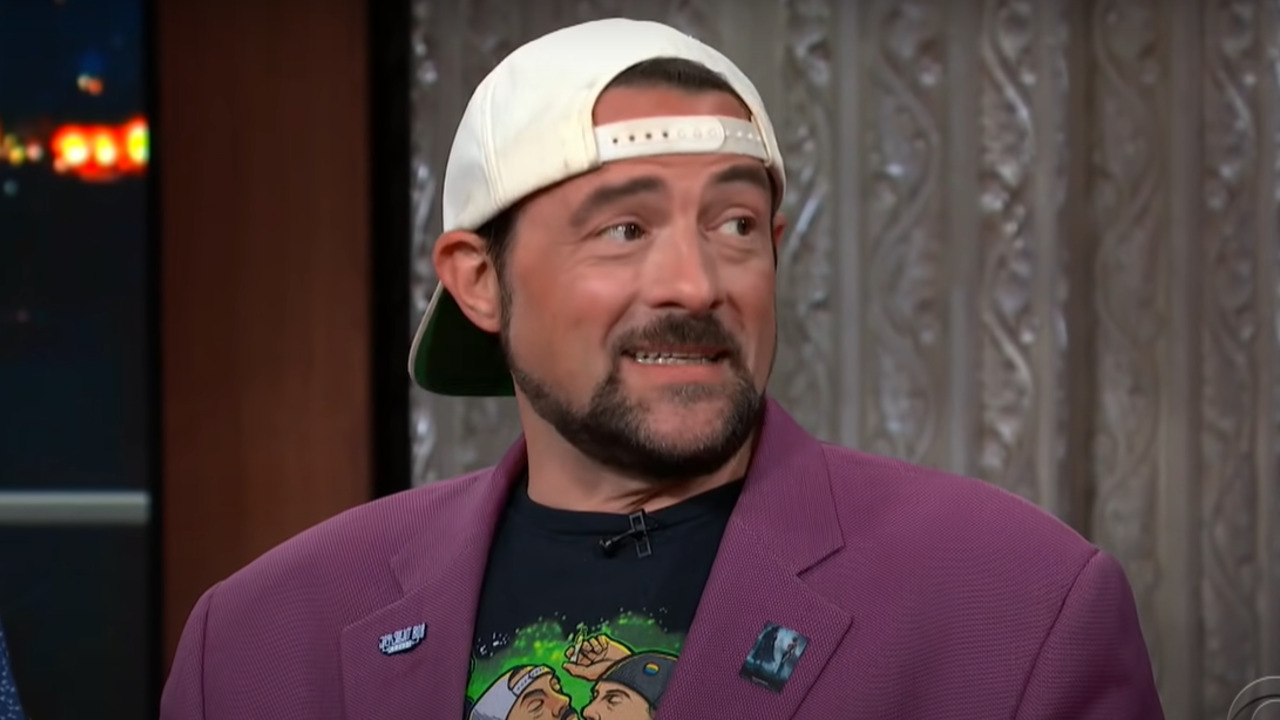 The Villain Was Co-Created By Kevin Smith
Outside of his homicidal acts, mysterious identity, and strange gimmick (more on the latter two later), perhaps the most interesting thing about Onomatopoeia is the person who created the character. Along with artist Phil Hester, the villain is the brainchild of Kevin Smith (yes, that Kevin Smith) — the filmmaker behind movies like the Clerks trilogy, Chasing Amy, and Zack and Miri Make a Porno, to name a few.
Smith has actually been able to bring his comic book expertise to great use in the Arrowverse, having directed episodes of The Flash, as well as Supergirl, and has spoken about his interest in bringing Onomatopoeia to the small screen himself in the past. However, as he revealed in a recent tweet, seeing his character come to life on Superman & Lois was a "complete surprise."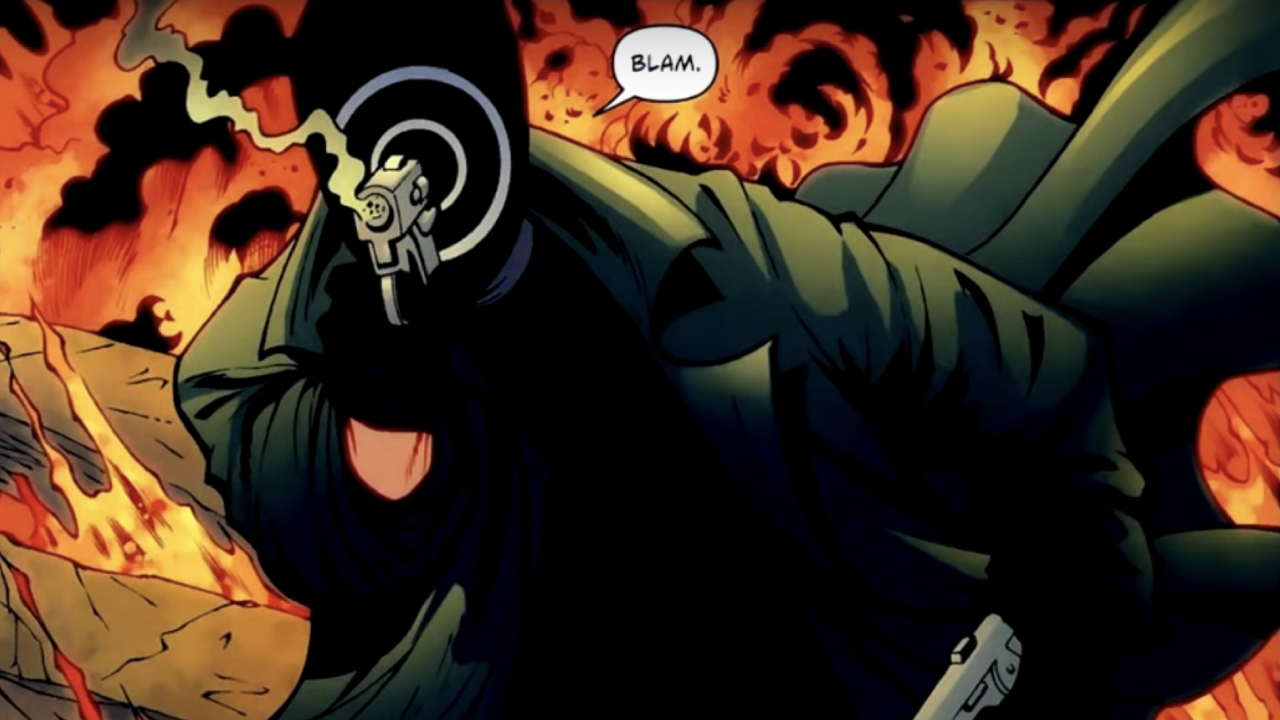 His Name Comes From A Tendency To Speak Sounds Out Loud
The villain's moniker refers to his spoken use of onomatopoeias that associate with his actions, such as in his DC Comics debut when he murders Virago — a vigilante also created by Kevin Smith and Phil Hester — by gunshot after uttering the word "BLAM." In an interview with the Azhrialilu dot Com blog in 2007 (via Wayback Machine), Smith had the following to say about his inspiration for Onomatopoeia and how its unusual characteristics make it a truly definitive "comic book villain":
Smith would later change his opinion about how Onomatopoeia could work in a live-action form when speaking to Den of Geek in 2016. His idea would have been to have the killer present a corresponding onomatopoeia to his victims on a note card before taking their lives, in lieu of speaking it aloud. That is not quite what the makers of Superman & Lois went with for their interpretation, but again, we'll get there.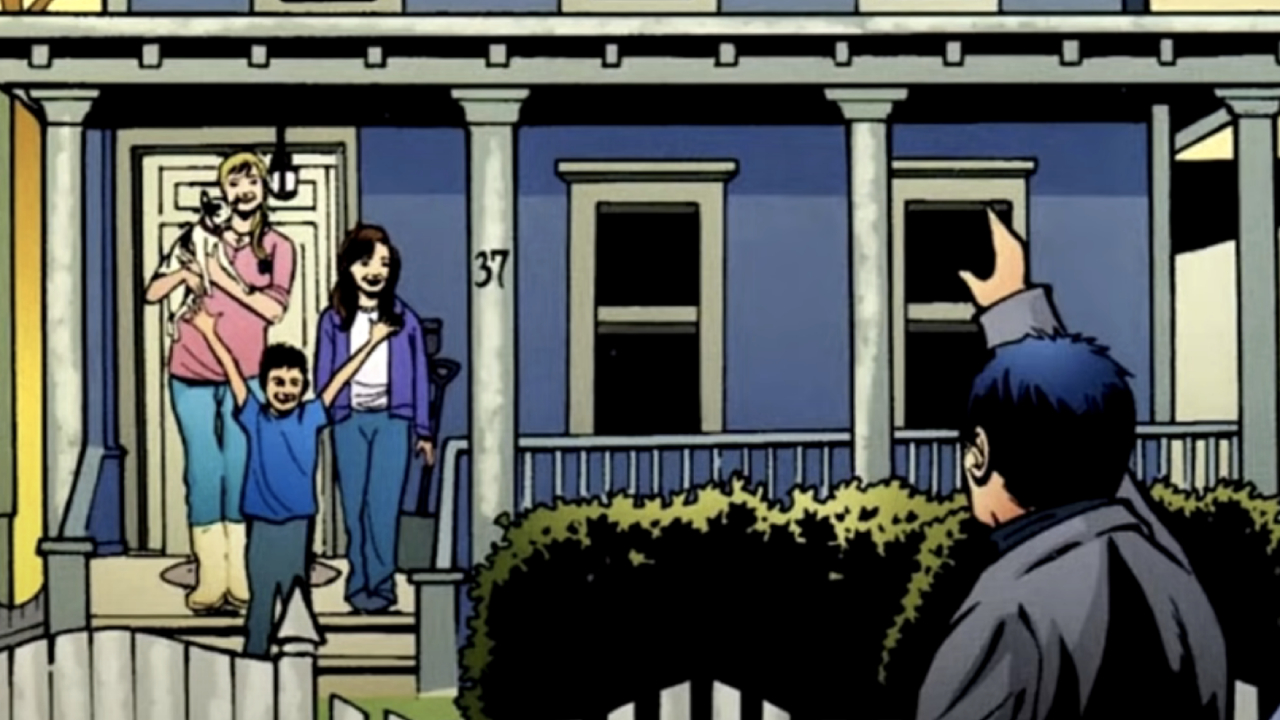 He Lives A Double Life As A Suburban Family Man
The mysteries surrounding Onomatopoeia become even more engrossing when Smith made him the main villain of Batman: Cacophony, which is also illustrated by Smith's friend and Comic Book Men co-host Walt Flanagan. The beginning of the 2008, three-issue DC Comics miniseries sees the serial killer breaking The Joker out of Arkham Asylum in a ploy to lure the Dark Knight into a trap, but the final moment reveals his darkest secret yet.
Not only do we discover his collection of masks from the superheroes he has murdered, but we learn he keeps them in the basement of his suburban home that he shares with his wife and children. We never see a clear view of his face nor do we learn his real name, but to know that Onomatopoeia has a family is mind-blowing enough.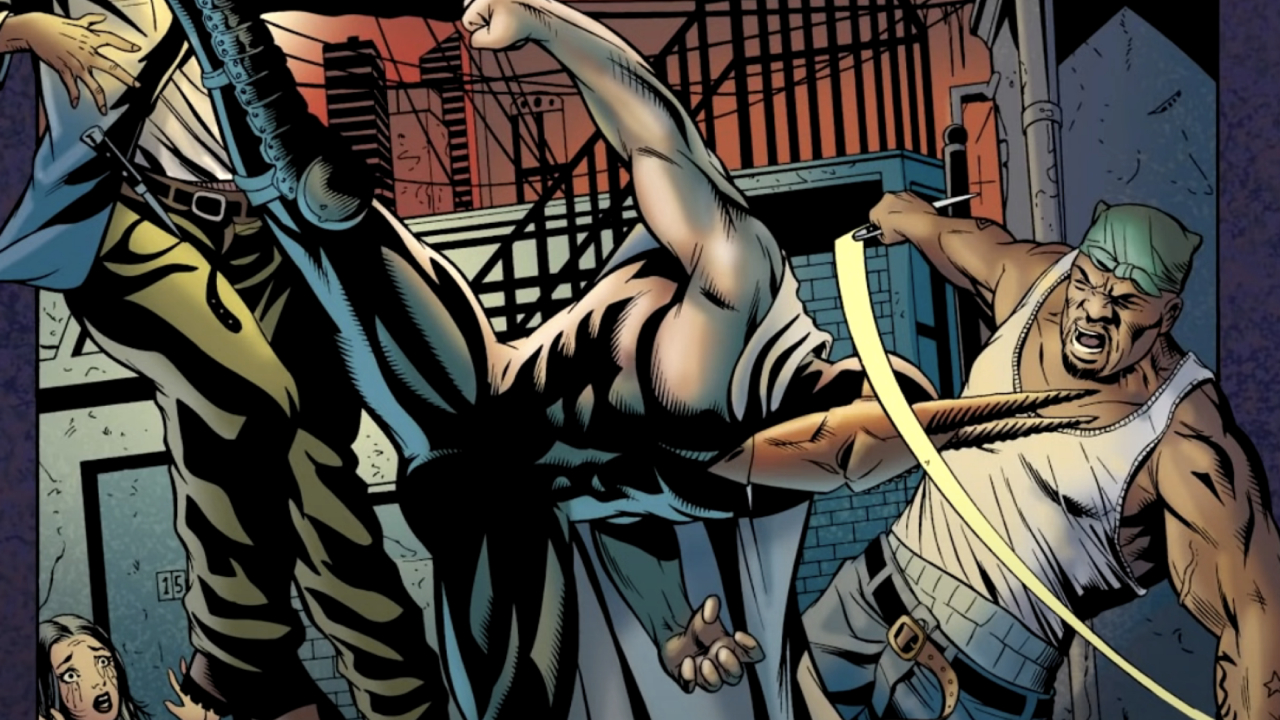 He's Posed As A Superhero Named Baphomet
Onomatopoeia was surprisingly more successful in his second attempt to trap the Caped Crusader, as seen in Smith and Flanagan's follow-up to Cacophony, Batman: The Widening Gyre, from 2010. This time, he assumes the appearance of the object of his fury — a costumed vigilante calling himself Baphomet, which leads him to form a close alliance with Batman, who begins to trust his new collaborator enough to invite him into the Batcave and even reveal that he is actually Bruce Wayne.
At that moment, however, is when Onomatopoeia then reveals his true colors and slits the throat of Bruce's fiancée, Silver St. Cloud — who was portrayed in a younger form by Natalie Alyn Lind on Gotham. Smith has said he intends to follow-up on this cliffhanger ending in he and Flanagan's long-awaited sequel, which has yet to see the light of day.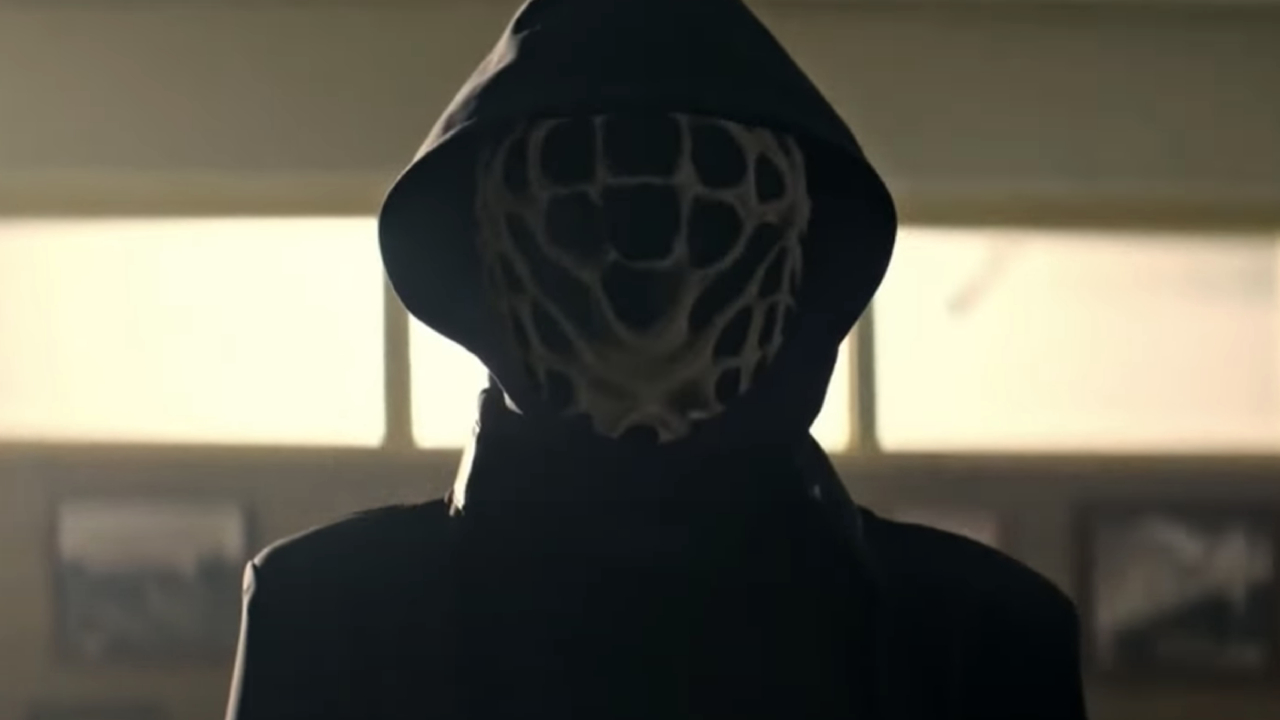 The Arrowverse Gives Onomatopoeia Actual Powers
As previously established, the version of Onomatopoeia we have seen in the Arrowverse is a far cry from how the villain is depicted in the comics. For instance, as the second episode of Superman & Lois's third season appears to reveal, the villain is a woman this time, but it certainly does not stop there. Instead of simply mimicking certain sounds, she can actually manipulate sound to not only seem real, but create a genuine effect as if it was real
In the Season 3 premiere, she kills Henry "Atom-Man" Miller (Paul Lazenby) with what sounds like gunshots, only for Superman (Tyler Hoechlin) to discover that no bullets are present before hearing many cries for help that, apparently, are just Onomatopoeia's taunts. In the following episode, she kills former Smallville mayor George Dean (Eric Keenleyside) in a similar fashion to Atom-Man, and later attacks fellow Superman & Lois cast members Lana Lang (Emmanuelle Chriqui) and John Henry Irons (Wolé Parks) with the sonic force of an earthquake.
Who will be Onomatopoeia's next victim on Superman & Lois? How will Clark Kent and Lois Lane (Elizabeth Tulloch) figure out how to defeat her (among other more personal matters they are currently facing)? Will the character ever face off against Batman or Green Arrow in a separate adaptation? Sounds like it is only a matter of time before we receive the answers to all of these questions, but at least you can call yourself an expert on the original Onomatopoeia after reading this article. Click.