Onlookers stunned by 'distasteful' 9/11 Twin Towers parade float by Republican party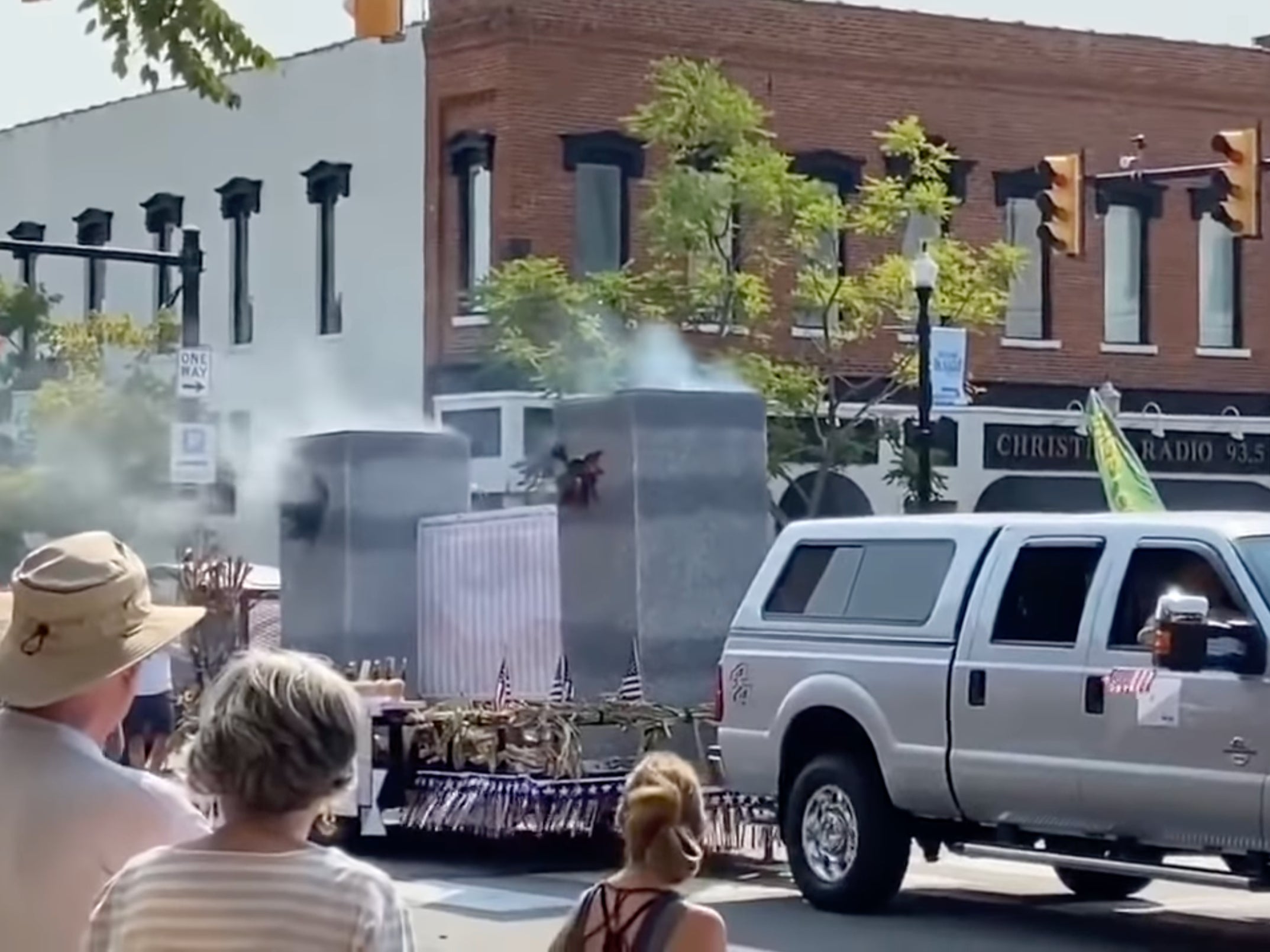 A parade to commemorate the 20th anniversary of the 9/11 terrorist attacks has drawn strong criticism - for depicting two smoking towers on a float.
The float was part of the 40th Popcorn Festival in Porter County, Indiana on Saturday 11 September.
It depicts two burning towers with smoke billowing out as they had in 2001 before both of the Twin Towers in New York City, which had each been struck by a hijacked plane, collapsed killing almost 3,000 people.
The float was sponsored by the Valparaiso Republican Party and left onlookers bemused for its complete lack of respect.
In a clip of the parade, as the float is pulled along by a truck, a man can be heard saying: "A little f**ked up. What the–? Are you–? What are you on?"
On the Facebook page for the Valparaiso Republican Party, they explained: "We worked so hard to show our love, respect, our sorrow and respect to all the 9/11 victims, the soldiers who died in Afghanistan and our first responders."
The post has received well over 100 angry reactions and comments on the post have been limited.
In response to the criticism, they posted another statement, again limiting the comments allowed on the post.
Michael Simpson, the group's chairman, wrote: "We wished no disrespect and regret that our tribute to the lives lost and those who continue to serve was to some perceived in bad taste."
One comment that remains on the post read: "This float was absolutely in bad taste. As someone who is more conservative, I am ashamed that the Republican party continues to be missing a sensitivity chip.
"What was the thought process behind portraying 9/11 in this way? Republicans, learn to read the room. There are no words. Republicans, do better."
A YouTube video of it was posted by Indiana-based The Times of Northwest Indiana where it has been condemned by many online for being "disrespectful".
One person commented: "That was the most disrespectful float, out of the whole parade. How that was allowed as a memorial to the 9/11 victims is complete insanity."
Another questioned: "When this float was being built, didn't someone say, 'you know, this is in pretty bad taste.'"