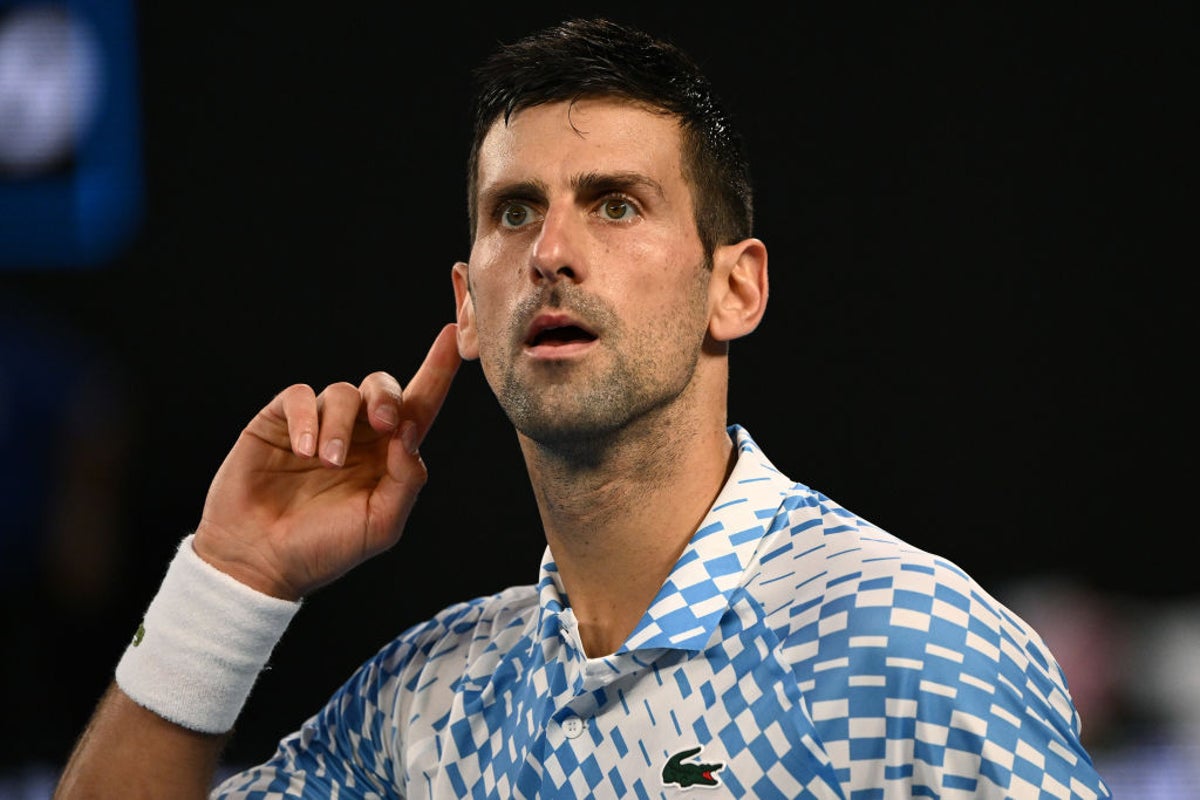 As Novak Djokovic continues to move through the distractions, history awaits in the Australian Open final. The Serbian is into his 10th in Melbourne and stands on the verge of joining Rafael Nadal on 22nd grand slam titles after shaking off an uncertain start and some new controversy to motor past Tommy Paul in straight sets. A "crisis" midway through the first set was one of a few uncomfortable moments the 35-year-old has encountered on his return to Australia, the latest the emergence of a video of his father Srdjan posing with Vladimir Putin supporters on Wednesday night.
After last year's deportation and this year's hamstring injury, it was another obstacle for Djokovic to face after his smooth progress past Alex De Minaur and Andrey Rublev in the previous rounds. Srdjan, who said he was unwittingly caught up in the pro-Russian demonstration, was absent from his box and in the opening stages against Paul, Djokovic cut a frustrated and irritated figure. Edgy and wide-eyed, Djokovic blew a 5-1 lead in the first set among an avalanche of unforced errors, offering Paul a leg-up into what was the first grand slam semi-final of the 25-year-old's career.
"It got to me," Djokovic admitted. "I was struggling physically and emotionally. I guess at the final stages of a slam, you can expect to have one or two or three crises. The less the better. But I did have one."  It would have been an encouraging sight for Stefanos Tsitsipas, the in-form and confident Greek who awaits in Sunday's final.
What followed, however, was a further example of why Djokovic maintains an unbeaten record in Australian Open semi-finals. From 5-5 in the first set, Djokovic tightened his game and returned to his steely best. He rattled off 12 games out of the next 13 to leave Paul in the dust, finding his unerring serves and destructive winners. The American was not playing badly but Djokovic's opponents are often at their most vulnerable when they are offered a glimmer of hope, as the Serbian closed his fist on the match.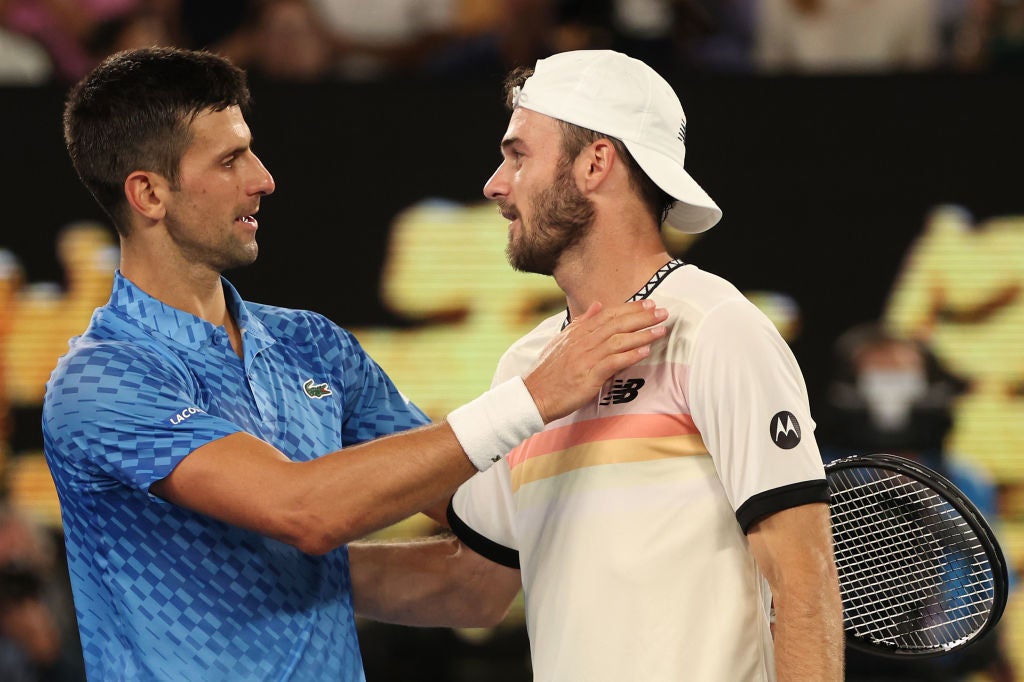 It underlined the task facing Tsitsipas, in what will be a battle not just for the first grand slam of the year but also for world No 1. Djokovic has now won 27 matches in a row at Melbourne Park. He has never lost an Australian Open final - an unbelievable statistic - and he has returned this year fuelled by the trauma of his deportation from the country 12 months ago. Even as he was dragged into further controversy in Melbourne, which he explained was a "misinterpretation", Djokovic has let his tennis do the talking.
"It's much easier said than done," he admitted. "In my case, I feel like things are just kind of piling on, adding on somehow for one reason or another. It's not an ideal situation or circumstances to be in when you have to kind of deal with all these other outside factors that are not really necessary during such an important event. But it's been part of my life. Unfortunately, the last few years more so. I just try to evolve from it. I try to become more resilient, more stronger."
He looked unbeatable by the end, once he loosened his wrists, but Djokovic was slow to warm up and the signs of an awkward opening set were clear from the early exchanges. Djokovic was dragged into a lengthy service game to start the match as he made an early double fault and a couple of errors on routine backhands from the baseline. It offered Paul two immediate chances to break the Djokovic serve and when the American failed to take them and Djokovic broke his serve in the next game it seemed as if his opportunity had already disappeared.
Djokovic cruised into a 5-1 lead as Paul struggled to adjust to the depth and power of the baseline rallies. It was his first career meeting with Djokovic, on what was his first grand slam semi-final, but he would have taken great encouragement from the early signs of irritation from Djokovic. The errors that had given Paul early break points continued even while the scoreboard was lop-sided. Djokovic cut an angry look at his box and was involved in an argument with the umpire over the time he was taking between serves.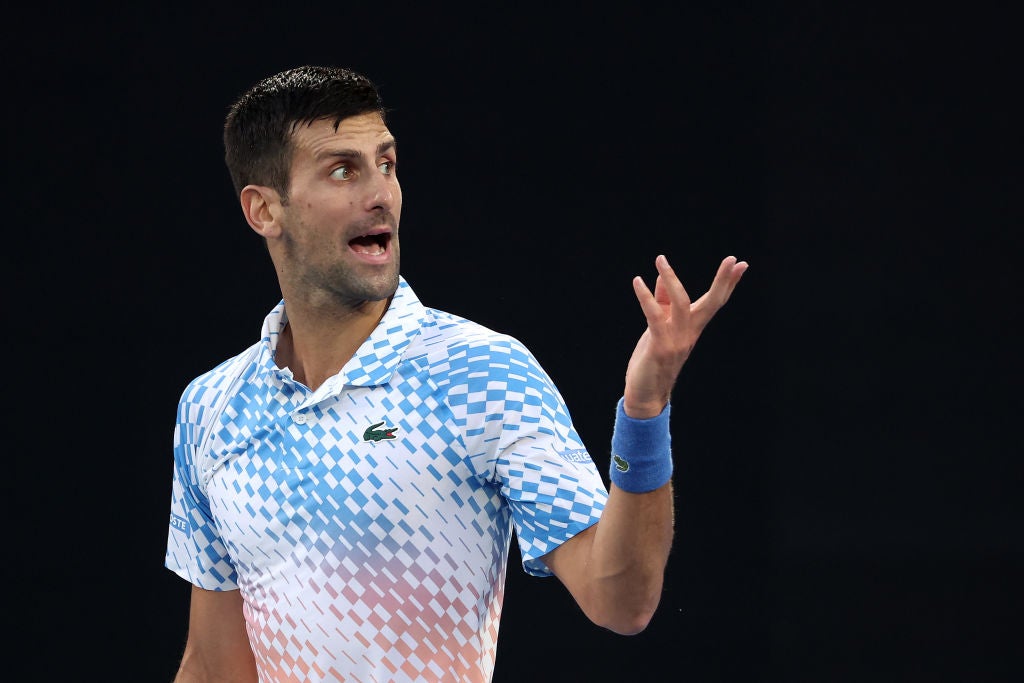 It was an unnecessary distraction, only adding to the errors, and as Djokovic's cool slipped, Paul took full advantage. The American won four games in a row, growing in confidence the closer he got to parity on the scoreboard. He was holding his own from the baseline and took the second consecutive break after winning a 30-shot rally.
At 5-5, Djokovic steadied with a hold to love and from there tightened his game to draw the mistakes from Paul. When he broke to take the set 7-5, Djokovic pointed to his ear. The nine-time champion was highlighting his response to break out of his funk, but the stats told their own story: 12 winners to 24 unforced errors, more in one set than he made in the entire match against Rublev in the quarter-finals.
"I'm really glad to overcome that crisis towards the end of the first set, then it was quite smooth sailing," Djokovic said. In a blink of an eye, he returned to a 5-1 lead in the second set but this time offered Paul no encouragement.
With his serve restored and groundstrokes back to being aimed confidently for the lines, Djokovic only coughed up a miserly six unforced errors and once again forced Paul to battle for every point. It led to a run of seven games in a row as Djokovic improved every element of his game. The third set was just as convincing and on this latest evidence, he will take some stopping in Sunday's final.