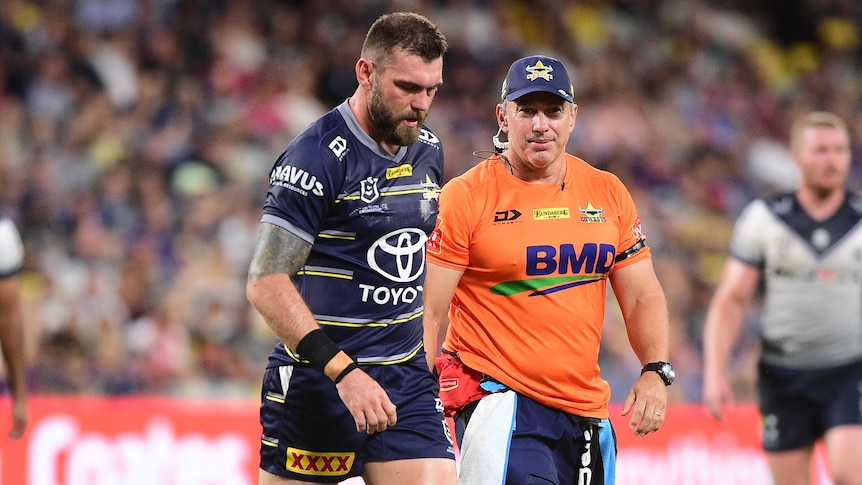 The North Queensland Cowboys rugby league team has launched an investigation after winger Kyle Feldt became the target of online abuse at the weekend.
The Cowboys' 26–12 loss to the Warriors on Saturday was the first NRL win in Townsville for the New Zealand-based side in five years.
The defeat sparked a reaction on social media, with the club confirming several players and their partners were the subject of hateful comments.
Some were directed at 31-year-old premiership-winning player Kyle Feldt and his wife, Deanna.
Cowboys chief executive Jeff Reibel issued a statement saying the club had a "zero-tolerance policy" to any kind of abuse of players.
"The online abuse aimed at Kyle Feldt following [Saturday night's] game was vile and abhorrent," Mr Reibel said.
"Our club will be conducting an investigation to ascertain whether the person is a Cowboys member and, if so, their membership will be cancelled."
The acting chief executive of the NRL, Andrew Abdo, said: "Abuse of this nature is abhorrent."
"I commend any player or those close to them who speak out against the faceless cowards who abuse people on social media," he said.
Mr Abdo said the NRL's integrity team assisted players who reported abusive comments.
"Our assistance involves liaison with police and the eSafety Commissioner and our own work to help identify people breaking the law," he said.
"Our aim should be to eradicate all abuse of this nature — online, verbal, or physical.
"There is more work we need to do to address a societal challenge that impacts all of us, especially young people, referees, and players."
Coach says more on-field trust needed
After the match, Cowboys head coach Todd Payten said the team needed to focus on building trust on the field.
"Our ball control is not good enough, our discipline is not good enough," he said.
"If those two aren't right, you have to scramble and fight hard to defend your line.
"We're conceding too many points."
The Cowboys will host the Gold Coast Titans in Townsville next Saturday.