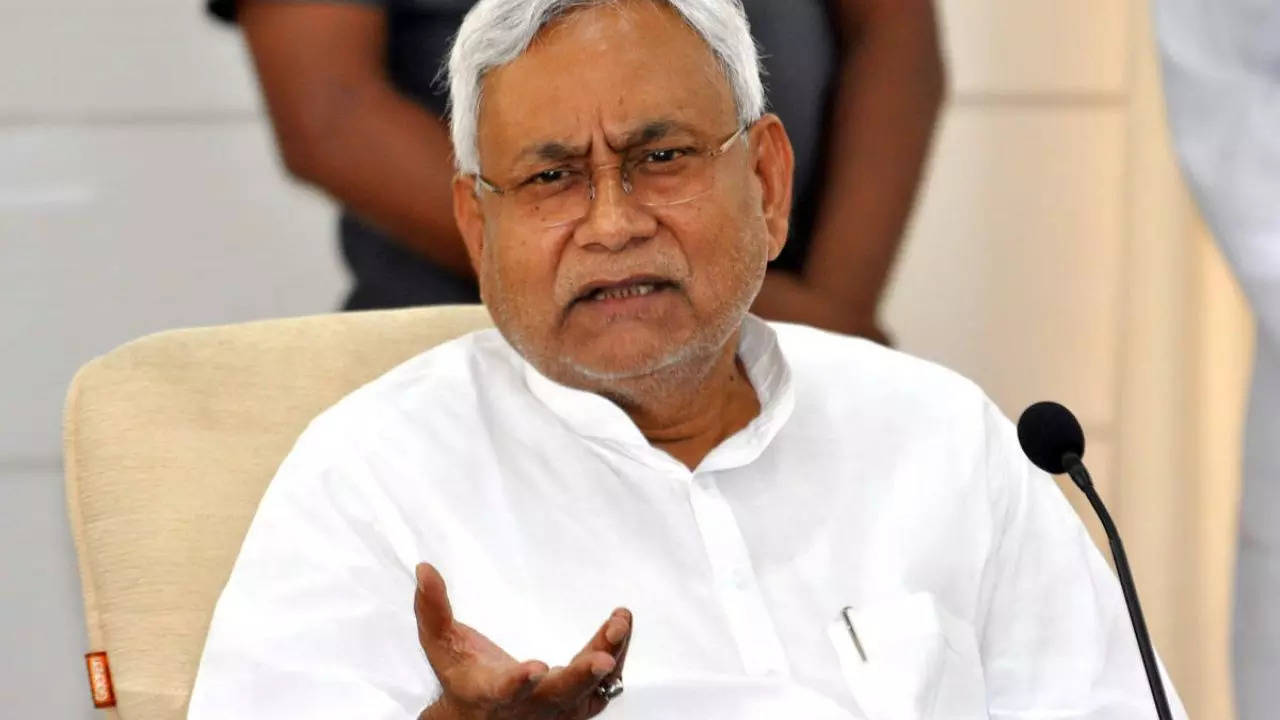 PATNA: Bihar CM and JD(U) de facto leader Nitish Kumar on Monday avoided a direct reply on the party's national parliamentary board chairman Upendra Kushwaha's allegation that "bigger leaders of JD(U) are in contact with the BJP leaders."
"Hamlog enn sab chizon par kuchh dekhate nahi hai. Unhi se poochhiye aur unhi ka chhap dijiye (We do not take notice of such things. You better ask him and publish whatever he says)," was the curt reply of Nitish when asked for his reaction to Kushwaha's allegation.
The CM was responding to media persons on the sidelines of a state government function organised on the birth anniversary of Netaji Subhash Chandra Bose. The CM initially spoke about Netaji and when the media persons sought his reaction to Kushwaha's allegation, he went towards his official vehicle saying, "We do not take notice of such things."
On Sunday, while responding to media queries about some BJP leaders meeting him at AIIMS-Delhi recently and speculations about his switching sides, Kushwaha had said, "A meeting with BJP leaders, that too at a hospital, doesn't really mean I'm going to join BJP. The bigger leaders of our party are more in contact with BJP leaders." Though Kushwaha did not take the name of any JD(U) leader.
Kushwaha was reacting over the CM's statement in Gaya on Saturday in which he had said that "Kushwaha went out of the party two-three times and returned on his own. What is his wish, I am not aware of it? I was told he is unwell. I will inquire about his health. But now some talks are doing the rounds about him. Everyone has the right to go (wherever he/she wants)."
The current differences in the top echelon of the JD(U) grew recently after Kushwaha projected himself as the contender for the post of the second deputy chief minister in the Grand Alliance government. But the CM poured cold waters on Kushwaha's ambition by ruling out the possibility of any more JD(U) leader getting a berth in his ministry in the forthcoming cabinet expansion.
Earlier in March 2021, Kushwaha formally merged his 8-year-old Rashtriya Lok Samata Party into JD(U). Soon after the merger, Kushwaha was appointed the party's national parliamentary board chairperson. Later, he was also made MLC. Kushwaha's supporters claim that their leader agreed for the merger after the JD(U) leadership reportedly assured him a key post in the party as well as in the state government. Kushwaha was expecting a cabinet berth when Nitish formed the grand alliance government after snapping ties with the BJP in August last year.
Insiders in the JD(U) said, Kushwaha's all hopes of getting a berth in the state cabinet were shattered after Nitish openly announced that RJD leader and deputy CM Tejashwi Prasad Yadav would lead the seven-party Mahagathbandhan in the 2015 assembly election.