We've arrived at the playoffs. Please take a moment to read the safety card in the pocket located on the back of the seat in front of you. We could be in for a wild ride.
Beyond the Bengals, Chiefs, Bills, Eagles, 49ers and Cowboys, this year's playoff class is a bunch of potent but incomplete teams who, on the right day, could completely and totally upend the playoffs or quietly whimper away to their offseason program. Could Justin Herbert get hot and completely tear up three defenses in a row? Absolutely. Could Trevor Lawrence and Doug Pederson do the same? I have little doubt, especially if Travis Etienne gets loose. Could Brock Purdy win a Super Bowl? Hell, yes, he could. Could Geno Smith? Why not? In that way, we have a great opportunity to be truly and wholly surprised like we were last year when the Bengals refused to lose and battled their way to the last leg of the tournament.
While we never really know what might happen, this year was so rife with schematic stalemating and mediocrity that one can only hope (and assume) that coaches have been saving some of their best hands for the playoffs. It was around this time two years ago that we realized the best way to stop Patrick Mahomes, for example, would be to stop blitzing him. What kind of edge could we see developed in the playoffs this year? Which coach, quarterback or coordinator is going to become legendary?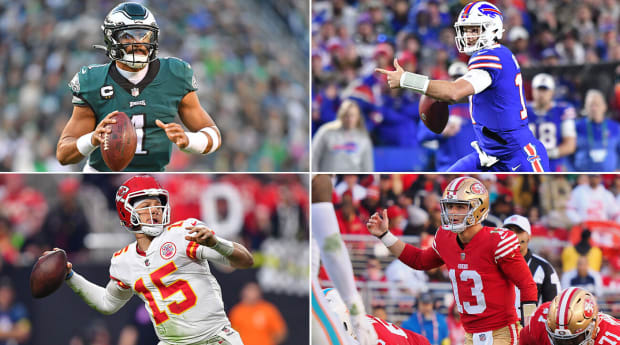 Who is going to turn the playoffs from the limited field we think we see in front of us into the truly broad and wild field that it is?
Let's dig in to find out…
NFC PLAYOFFS
1. Eagles (14–3)
SI Sportsbook Super Bowl odds: +500
Why they'll make it to Phoenix: The Eagles are, by record, the best team in the NFC. They were able to build and pad a significant and insurmountable conference lead this season with significant wins over a majority of the NFC playoff field, including Minnesota, Jacksonville, Dallas (without Dak Prescott) and the Giants twice. With a healthy Jalen Hurts, they are difficult to defend, given that they can run a more traditional drop-back, deep-shot offense, a heavier downhill running scheme, a mix of zone-read and RPO concepts or some smattering of it all. This puts a great deal of stress on defensive coordinators.
Why they won't make it: My concern with the Eagles has always been twofold—the run defense, while bolstered with the additions of Ndamukong Suh and Linval Joseph, still seems to get shoved around from time to time. And, I don't think the quality of competition has been there. Yes, the Eagles pummeled the Vikings this year, but so did the Cowboys, Lions and Packers. So (almost) did Jeff Saturday. I would be very curious to see how they'd handle a team such as the 49ers in a winner-take-all contest.
X-factor: Lane Johnson. The offensive tackle will try to play through an abdominal injury during the playoffs, as multiple people reported a few weeks back. He is one of the best offensive lineman in the league and, even at 70% strength, is by far the Eagles' best option. Johnson has been consistently dominant throughout his career but is especially important during this run of Eagles football, where the entire team has been asked to don so many different identities and utilize so many different blocking styles.
First game: The Eagles have a first-round bye and will play the lowest-seeded team remaining in the divisional round on either Jan. 21 or 22.
2. 49ers (13–4)
SI Sportsbook Super Bowl odds: +550
Why they'll make it to Phoenix: The 49ers, almost impossibly, look better with third-string quarterback Brock Purdy than they've looked throughout the rest of the season. While we predicted as much (we don't know much, but we know Brock Purdy), it's still been surprising to see him let it rip so decisively each week. We don't normally see a quarterback taking to the system so quickly. Purdy, of course, is buoyed by the best and most diverse running game in the NFL, which, along with the No. 1 defense, certainly makes life a little more manageable for a first-time rookie starter.
Why they won't make it: I picked the 49ers to make it to the Super Bowl, so I am quite certain they will make it. However, any breakdown would come against a veteran defense with penetrating tackles having an incredibly good day. Stymieing the running game and forcing Purdy into a role as a traditional drop-back passer, stripped of all the bells and whistles, is the only way to get this done. However, there aren't really any of those teams (save for Philly and Dallas) in the NFC playoffs this year.
X-factor: Talanoa Hufanga. The safety went from a "2" approximate value score on Pro Football Reference to a "10" this season. For reference, Justin Jefferson, is a "15." In other words, Hufanga is pretty damn good. Hufanga picks off passes, he rushes the quarterback, he posts a ton of tackles and misses fewer than 8% of them. He covers well. I think one of these playoff games comes down to a critical tackle he makes, or a well-timed pick.
Next: vs. Seattle, 4:30 p.m. ET Saturday, Fox, Fox Deportes
3. Vikings (13–4)
SI Sportsbook Super Bowl odds: +2800
Why they'll make it to Phoenix: Play the Colts in the second half of one of their games? In all seriousness, the Vikings are going to need two very specific occurrences to line up for them in order to advance. In other words, they are going to need whatever their game plan is at the outset to work against the defense to avoid any significant adjustments. And, they are going to need to get turnovers. People call it "winning the turnover battle," but a lot of times it doesn't feel like a battle if an opposing quarterback just chucks a ball into a cornerback's stomach. They're going to need that to happen a lot of times.
Why they won't make it: They have behaved like a paper tiger all season long and have a historically bad defense. Every time they step into the arena against a top-caliber opponent, they wilt. They lost 41–17 to the Packers, 40–3 to the Cowboys and 24–7 to the Eagles. With all due respect to the Vikings fans who thought they've been disrespected all season, the sample size is really troubling. While I don't think every team in the NFC has a cornerback of a high enough caliber to take Justin Jefferson out of a game like the Packers did two weeks ago, enough of them do.
X-factor: Duke Shelley. The cornerback logged an interception last week and has been playing a heavy amount of passing snaps these past few weeks, starting in Week 12. He's allowed a 45.7% completion rate against him despite a pretty heavy target share. At 5'9", he's not the biggest corner, but that didn't stop him from marking 6'4" Chase Claypool well a week ago. Minnesota is going to have to play so much better defensively than they have all season if they want to have a shot.
Next: vs. N.Y. Giants, 4:30 p.m. ET Sunday, Fox, Fox Deportes
4. Buccaneers (8–9)
SI Sportsbook Super Bowl odds: +2500
Why they'll make it to Phoenix: [Drunk Bostonian accent] TOM BRADY. I think there is obviously something to be said about the deep and cavernous library of NFL experiences Brady has had, which makes him able to at least understand what any defense is doing to him. Of course, if this was a guaranteed ticket to the Super Bowl, Drew Brees and Philip Rivers would still be playing, and teams would be trading valuable assets for retirees. The Buccaneers need to shred a defense with their running game, which is something they have not done with any consistency this season. Defenses are not going to play them like the Panthers this postseason, allowing Mike Evans to romp around freely in the secondary.
Why they won't make it: There are lots of reasons. The left side of the offensive line has struggled. The team doesn't have much in the way of game-breaking offensive speed and finds itself utilizing Julio Jones in the quick game. The interior of its defensive line has underperformed, and when you have a quarterback who is not part of the running game, so much of your offense, and especially your offensive line, has to play perfect, penalty-free football to bail you out.
X-factor: Vita Vea. The defensive tackle is capable of taking over a game. The Cowboys depend heavily on play-action, and while a successful running game is not a precursor (most of the time) to a successful play-action game, it is the difference between Dallas being good and being unstoppable. A big game from Vea prevents Dak Prescott, who utilizes play-action on roughly 70% of his dropbacks, to have his way with a defense that will be forced to kowtow to his strengths.
Next: vs. Dallas, 8:15 p.m. ET Monday, ESPN/ABC, ESPN2, ESPN+, ESPN Deportes
5. Cowboys (12–5)
SI Sportsbook Super Bowl odds: +1200
Why they'll make it to Phoenix: The Cowboys are capable because they have all the tenants of a championship roster. They have a lockdown corner (Trevon Diggs), multiple game-changing pass rushers (Micah Parsons and DeMarcus Lawrence), veterans dotted throughout the roster, a running back tandem (Ezekiel Elliott and Tony Pollard) that will consistently provide fresh attempts and a top-10 quarterback (Prescott). From there, it all depends on which teams get hot and have the bounces of the ball go in their direction.
Why they won't make it: The Cowboys have had some horrendous luck of late, as evidenced by Prescott's ballooning interception total (15). Sometimes those kinds of mysterious forces linger and if they show up against the Buccaneers playing like they're slogging through swampland, they are going to get upset in the first round. While I don't necessarily see the caliber of Dallas' superstars matching up to the top crust of the NFC and the three-deep set of teams in the AFC, I do think they are good enough to go on a run, just not good enough for me to bet any considerable internet expert equity on it.
X-factor: Michael Gallup. The wide receiver plays a ton of snaps, and while he is almost never the central focus of a progression, having him be a consistent winner in coverage makes defending Dallas go from not enviable to why even try. Gallup's best game this year was a five catch, 63-yard performance against the Giants earlier this season. Of late, his target-to-catch ratio has been out of whack. But he is still the kind of receiver who, if he wins, tilts the balance of power toward the Cowboys.
Next: at Tampa Bay, 8:15 p.m. ET Monday, ESPN/ABC, ESPN2, ESPN+, ESPN Deportes
Watch NFL playoff games live with fuboTV: Start a free trial today!
6. Giants (9-7-1)
SI Sportsbook Super Bowl odds: +6000
Why they'll make it to Phoenix: This team is incredibly well-coached, it can control the ball and it plays a style of defense different from most of the teams we'll see in the playoffs this year. The comp I'd make? The Giants are the Syracuse basketball team of this tournament, which benefits heavily from the abnormal usage of the 2–3 zone defense. For the Giants, it's all about free rushers and masking what they lack from a talent perspective. This could lead to some critical turnovers.
Why they won't make it: The Giants are undermanned at wide receiver and in the secondary. They rely heavily on run-game success, turnovers and a stout defensive line, which is all well and good when they are in their weight class. The playoffs are obviously a different story, and New York will be pitted against teams that can match strengths and force Daniel Jones's receivers to win them a game.
X-factor: Isaiah Hodgins. The wide receiver has scored in each of the past two games. And the former Buffalo Bill was targeted 12 times in the Giants' 27–24 loss to Minnesota earlier this season, catching eight passes for 89 yards. We'll see if he replicates that success again with another crack at Minnesota's miserable defense.
Next: at Minnesota, 4:30 p.m. ET Sunday, Fox, Fox Deportes
7. Seahawks (9–8)
SI Sportsbook Super Bowl odds: +5000
Why they'll make it to Phoenix: Because the power of Geno Smith is something bigger than you or I can conceivably understand. It's bigger than the Seahawks. It's bigger than football. It's bigger than Pete Carroll. In all seriousness, they win if they ram the ball down peoples' throats, setting Smith up with the opportunity to pick defenses apart with his very accurate ball and arsenal of solid pass-catching weapons.
Why they won't make it: This team is still a little bit limited. Many of its best players are rookies, and it is incredibly vulnerable when it cannot run the ball well. So are most teams, you say, which I get. But, in their losses to Carolina and San Francisco this year, the Seahawks ran the ball for 70 or fewer yards. In the loss to San Francisco at the beginning of the season, they had only 36 rushing yards. The 49ers have had their number schematically, and while I would never rule out a Carroll upset, especially at the end of this gilded year, it will take a seismic effort on behalf of their offensive line.
X-factor: Noah Fant. The former Broncos tight end had one "monstrous" game this year (six catches, 96 yards against Arizona) and is most frequently a third or fourth option for Smith in his progression. However, there could be a well-dialed tight end screen or some other route concept that accentuates his speed and strength leading to a big play against the 49ers. If the Seahawks get lucky on the turnover front and somehow find themselves with a two-score lead, this is anyone's game.
Next: at San Francisco, 4:30 p.m. ET Saturday, Fox, Fox Deportes
AFC PLAYOFFS
1. Chiefs (14-3)
SI Sportsbook Super Bowl odds: +350
Why they'll make it to Phoenix: Because Patrick Mahomes is Patrick Mahomes, and the Chiefs' roster is more balanced than most people realize. They're strong on both lines of scrimmage. They're less predictable than they have been in how they deploy their skill talent—even if they're less explosive. They're also excellent on the margins on offense (second in third-down offense, second in red-zone offense), and have playmakers on defense. And if they don't meet Buffalo in the AFC title game, then the road to Phoenix goes through Arrowhead.
Why they won't make it: First and foremost, because they're 1–5 against the other two titans of the AFC—Buffalo and Cincinnati—over the past two years. While they won't see both of them in the playoffs, it seems likely one will be waiting for them in the AFC title game. On top of that, they're very young defensively, and haven't been as good situationally on that side of the ball. And they have a minus-3 turnover differential for the year, and that stat is a pretty reliable predictor when it comes to playoff success.
X-factor: George Karlaftis. The first-round edge rusher got hot at the end of the season, finishing with six sacks in the Chiefs' final seven games. Everyone's going to need to have a plan to deal with Chris Jones in the middle of the Kansas City front. So there should be opportunity there for the Purdue product to make offenses pay for committing resources to blocking Jones in rush situations.
Next: The Chiefs have a first-round bye and will play the lowest-seeded team remaining in the divisional round on either Jan. 21 or 22.
2. Bills (13-3)
SI Sportsbook Super Bowl odds: +400
Why they'll make it to Phoenix: This Buffalo team has been through a lot and has shown incredible resilience throughout—from tragedy locally in the offseason, to two snowstorms that rocked the region and knocked their schedule off-kilter, to the Damar Hamlin situation last week. On top of that, this is still a loaded and fairly balanced roster that's explosive as any on offense and disciplined and sound on defense. And they have Josh Allen, who has Stefon Diggs and Gabe Davis and Dawson Knox, and a running game that's improved over the course of the year behind Devin Singletary and James Cook.
Why they won't make it: Two things would give me pause. The first is the offensive line has been good, but not great, and when defenses have been able to control the line of scrimmage on that group this year, Allen's been baited into some mistakes. Second is the state of the secondary, with Tre'Davious White still getting his legs back, and the safety situation in flux, and the fact that issues in that area could really cost a team that'll probably have to go through Mahomes and Joe Burrow to get to Phoenix.
X-factor: Micah Hyde. We've all, rightly, talked about Hamlin from a human standpoint for the past week. There's a football element to this, too, though. Hamlin had been the replacement for the injured Hyde, who, along with Jordan Poyer, has made the safety position a bedrock for the Bills since Sean McDermott was hired in 2017. So with Hamlin out, getting Hyde back—he just returned to practice Wednesday and won't play in the wild-card round—at some point in the playoffs would be a pretty big boon for Buffalo.
Next: vs. Miami, 1 p.m. ET Sunday, CBS.
3. Bengals (12-4)
SI Sportsbook Super Bowl odds: +750
Why they'll make it to Phoenix: They're every bit as good as they were last year, maybe better. A lot of guys are back from that team, and that group went and won two very different types of games on the road on their way to the Super Bowl in 2021. I've always felt that teams capable of winning different ways (rather than just being dominant in one area or another) are most equipped for the playoffs. Plus, Burrow plays like Tom Brady in the biggest moments, and he's throwing to Ja'Marr Chase, Tee Higgins and Tyler Boyd, and they can run the ball behind Joe Mixon, and the defense is creative and balanced … and, yeah, they're my pick to get there.
Why they won't make it: The revamped offensive line has had its ups and downs, and now is without right tackle La'el Collins, which could be a problem facing aggressive fronts in Buffalo and Kansas City. Also, Chidobe Awuzie was one of the more underrated losses of this season, and not having their top corner could cost the Bengals when they're going up against someone such as Diggs. But it's fair to say that Cincinnati has done a really nice job the past couple years coaching around the few holes they have on the roster.
X-factor: Hakeem Adeniji. The third-year offensive lineman was at the scene of the crime last year, when he and the rest of the Bengals offensive front faltered against the Rams when it mattered most—prompting a nearly complete overhaul of the unit in the offseason. And now he's emerged at tackle (he played guard last year) as the replacement for Collins. He showed well last week against the Ravens and, obviously, Cincinnati has plenty riding on him building on that performance.
Next: vs. Baltimore, 8:15 p.m. ET Sunday, NBC, Peacock, Universo
4. Jaguars (9-8)
SI Sportsbook Super Bowl odds: +4000
Why they'll make it to Phoenix: This is one of the hottest teams in football, winning five in a row, six of seven and seven of nine to close out Doug Pederson's first year. And Trevor Lawrence has grown as the season has gone on, as has lead back Travis Etienne and a balanced group of receivers that makes up for its lack of a top target with depth. Also, between what Josh Allen did against the Titans and what Rayshawn Jenkins did against the Cowboys, the defense has shown a knack for coming up big when it matters most.
Why they won't make it: This is the first time for a lot of guys on the roster in the playoffs, and they spent a lot of emotional capital climbing off the mat after a 2–6 start to the year that had many (myself included) counting them out. And, statistically at least, the Jaguars' defense has been rickety and will be up against the Chargers this week. If they advance, in all likelihood, they'd face the Chiefs, who should be able to rip open weaknesses on that side of the ball.
X-factor: Etienne. Quietly, the former first-rounder has made a Comeback Player of the Year case for himself. With his versatility and breakaway speed, he should serve two purposes as Jacksonville tries to put together a Cinderella run—he can help Pederson & Co. control the pace and tempo of the game, and he'll be a nightmare to deal with in space with Lawrence and the Jags' ability to push the ball downfield.
Next: vs. Chargers, 8:15 p.m. ET Saturday, NBC, Peacock, Universo
5. Chargers (10-7)
SI Sportsbook Super Bowl odds: +2200
Why they'll make it to Phoenix: Their front-line talent can match up with anyone's. Justin Herbert showed a real ability to play his best in pressure situations this year, and he has as dangerous a crew of receivers as anyone in football. And the defense has legit playmakers such as Khalil Mack, Joey Bosa and Derwin James who can tilt the scales when it matters most.
Why they won't make it: First and foremost, they're probably just too beat up. Will Joey Bosa be good to go Saturday? How about Mike Williams? We know Rashawn Slater won't, so how will that affect how the Chargers deal with a Jaguars front that throws a ton of different things at an offense? There are just a lot of moving parts here that make it tough to know what to expect from Brandon Staley's crew.
X-factor: It's injuries, of course. If Slater, Bosa and Williams are healthy going into Arrowhead for the divisional round, the Chargers, as they've shown the past two years, are a legit threat to upset the Chiefs. If those guys aren't healthy, then getting past Jacksonville after making the cross-country trip will be no layup.
Next: at Jacksonville, 8:15 p.m. ET Saturday, NBC, Peacock, Universo
6. Ravens (10-7)
SI Sportsbook Super Bowl odds: +3300
Why they'll make it to Phoenix: They're a tough-minded group, with a ton of experience and a coach who's pretty consistently been at his best and won (11–8) in the playoffs. If the Ravens can somehow pull an upset at Cincinnati this week without Lamar Jackson (it looks like Jackson facing an uphill climb to play), then get Jackson back next week, the dynamic changes all together for Baltimore. The Ravens could be a real problem for the Chiefs at Arrowhead with their fast-improving defense and tough-to-prepare-for offense.
Why they won't make it: Even if Jackson plays, there's a good chance he's not 100%. And since it's probably not going to happen this week, it's tough to conjure a scenario where the Ravens go into Cincinnati and knock off Burrow and the Bengals. I'd never question the mental toughness of a Harbaugh team. But they're very much up against it here, and right from the start in that playoff bracket.
X-factor: J.K. Dobbins. Even with Jackson, the Ravens aren't threatening anyone down the field much, and that means this year's group might be even more reliant on the run game. So if Jackson doesn't play Sunday, much of their ability to shorten the game, limit the Bengals' possessions, and move the ball will come down to Dobbins, who was getting hot in the four weeks before the Ravens gave him a break in Week 18 (57 carries, 397 yards, 7.0 yards per carry).
Next: at Cincinnati, 8:15 p.m. ET Sunday, NBC, Peacock, Universo
7. Dolphins (9-8)
SI Sportsbook Super Bowl odds: +6000
Why they'll make it to Phoenix: This is hard. There's been a lot of progress in Year 1 under Mike McDaniel, and there's a lot to build from off this season as I see it. On top of that, the Dolphins beat the juggernaut they'll face this weekend in September, and took that juggernaut into deep water just a few weeks ago. But even with Tua Tagovailoa, they'd need to be at their absolute best to beat Buffalo. Can they be better than that this weekend? Yeah, maybe there's some magic there. And if it's close, can kicker Jason Sanders be an equalizer?
Why they won't make it: Skylar Thompson is trending toward starting Sunday. The left tackle, Terron Armstead, is hurt. The defense has been inconsistent to the point where coordinator Josh Boyer's job status past this weekend is up in the air. There are a bunch of reasons why it's unlikely they keep it close in Buffalo, let alone advance three rounds and get to Glendale.