There was this thing that Andy Reid said to me about Patrick Mahomes a couple of weeks ago that stuck with me, and I can't let it go. His Chiefs had just dispatched the Raiders to lock up the top seed in the AFC and move to within one win of the team's fifth AFC title game in as many years, and in five years with Mahomes as starter.
This time, though, they'd done it without Tyreek Hill.
"Well, the part of the equation that people didn't talk much about—they talked about how it hurt Pat, not how it helped Pat in a way that he'd have to grow in different directions," Reid told me after the Chiefs beat the Raiders in Week 18. "That's what he did, and he knew it; he knew what he had to do. So he jumped in, and you gotta give him credit for that. He jumped feet-first and helped teach those kids. Made them feel a part of it."
Most of the league—after seeing the result—would do more than just give him credit for it.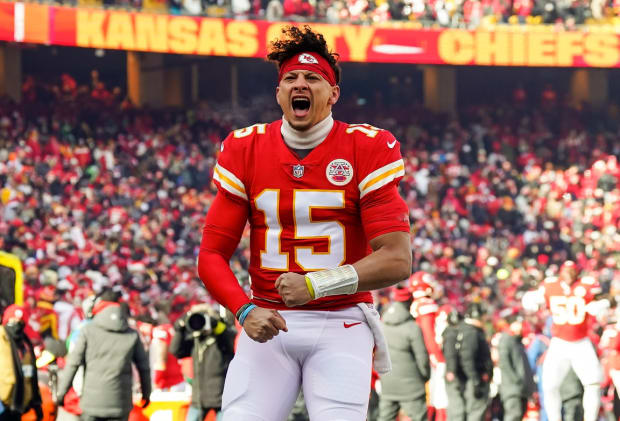 They'd give him his second NFL MVP. Voting on our annual exec award proves that.
Last week, before the playoffs started, I sent out ballots and got 37 back from GMs, VPs and directors—those who know the league best—and 29 had Mahomes's name in the MVP category (he finished with 28 votes, having split one vote with Jalen Hurts and another with Justin Jefferson). Not only that, but he also finished second for Offensive Player of the Year, an award that typically goes to the top non-quarterback (Jefferson won it for Sports Illustrated).
And as Reid said, the differentiating factor this year was not individual performance (Mahomes has always had that) but how he impacted the people around him, and more than even that, how he knew that was the challenge ahead and embraced it so thoroughly from the start.
I had an exchange with a Chiefs staffer on Thursday night who says to me, on Mahomes, "He's always been a great leader, but I think he's taken it to another level this year. His focus and commitment level have been phenomenal, and [it all] started back in the spring when he gathered the skill guys in Texas to work out together." That trip is one that comes up a lot with Kansas City people now.
And the reason Mahomes brought Juju Smith-Schuster and Marques Valdez-Scantling and Clyde Edwards-Helaire to Fort Worth and rented a house, after Reid gave him the first two weeks of the offseason program to set all this up is, again, because he understood the challenge, and how it could make him better as a player.
A couple of weeks before the trip, Mahomes basically said as much to me when explaining how playing against defenses designed to take shots away had made him evolve as a quarterback, and how losing Hill—as much as he loved Hill—would necessitate more of that type of growth.
"It 100% made me better," he said. "I mean, the quicker decision-making, getting the ball out of my hands, not just going for the home run every single time, I think it helped me involve more people in the offense, too, being able to get the ball to everybody, the running backs out of the backfield, all the different tight ends that we have and then obviously still involve our main guys with Travis [Kelce] and Tyreek this last year.
"It helped me become a better quarterback and, and I think that'll be something that will help me a ton this next year because more than having that one guy that we had with Tyreek that's so dynamic, that can, even if he's double-covered, make something happen, I'll be able to spread the ball around more this year and let these other guys make plays happen. And you've seen these other guys all make plays happen."
Predictably, plays happened. Mahomes threw for a career-high 5,250 yards and for 41 touchdowns, more than in any season other than his 2018 MVP year. His passer rating topped 105 for the fourth time in five years. And just like he helped lead the Chiefs through an offensive line overhaul in '21, he got them through a similar transition at the skill spots in '22—six Chiefs wideouts had 10 or more catches this year, five of them weren't on the team in '21.
Oh, and he's a win away from his fifth AFC title game at 27 years old, the same age Peyton Manning was when he won his first playoff game.
So that point Reid made about losing Hill somehow making Mahomes better?
He was right.
On to the awards …
MVP
Winner: Chiefs QB Patrick Mahomes, 28 votes
Runner-up: Eagles QB Jalen Hurts, 5.5 votes
Others receiving votes: Bills QB Josh Allen (2), 49ers DE Nick Bosa (1), Vikings WR Justin Jefferson (.5)
Reid didn't need to, but he followed up with this on Mahomes' MVP case after the aforementioned conversation—"You know how I feel about Pat. His numbers speak for themselves. Add in that he did it with basically a new cast of characters, and it's even more impressive." Sometimes, with great players, we, as a football-watching public, can take what a guy is doing for granted. This is the year, reflected in the voting, that NFL types won't be caught doing that, even if Hurts ("Seeing the Eagles without Hurts made me vote for him," says one exec who split his vote between Hurts and Mahomes) and Allen both had strong cases.
Offensive Player of the Year
Winner: Jefferson, 26 votes
Runner-up: Mahomes, 4
Others receiving votes: Bills QB Josh Allen (2), Eagles QB Jalen Hurts (2), Bengals QB Joe Burrow (1), Titans RB Derrick Henry (1), Dolphins WR Tyreek Hill (1)
The interesting thing here is in our midseason poll, Hill was the runaway winner. Three pretty significant things have happened since, all of them related: Miami went on a five-game losing streak, Tua Tagovailoa was injured and Hill posted just one 100-yard game over the season's final five weeks. Meanwhile, the Vikings were steady, and Jefferson's production was as well, with 223-, 123- and 133-yard efforts coming in Weeks 14, 15 and 16. As a result, Jefferson led the league in catches (128) and yards (1,809), as arguably the most unstoppable skill player in the game. And over the next few months, he'll get a contract extension reflecting that.
Defensive Player of the Year
Winner: Bosa, 31 votes
Runner-up: Cowboys LB Micah Parsons, 6
Bosa's candidacy for Defensive Player of the Year was so strong that one Vegas book took him off the board a few weeks ago. He finished the year with 18.5 sacks, 48 quarterback hits and 73 pressures for the league's best defense, and is clearly the NFL's most feared pass rusher. So is he so far ahead of the pack that a casino should stop taking people's money on this award? Probably not, but I think that's only because Parsons ("The most explosive and versatile defensive player in the league," per one GM) is a good enough candidate to have won in a lot of other years. As for the gap between those two and the rest of this year's field, yeah, that one is pretty big.
Offensive Rookie of the Year
Winner: Jets WR Garrett Wilson, 14 votes
Runner-up: 49ers QB Brock Purdy, 9
Others receiving votes: Seahawks RB Kenneth Walker (6), Saints WR Chris Olave (4), Texans RB Dameon Pierce (3), Panthers OT Ickey Ekwonu (1)
"He did all that with, what, three different quarterbacks?" asked one executive about Wilson, who actually put up big numbers playing with four. Despite some trying circumstances, he had 1,103 yards receiving yards, the 13th-best total for a rookie in NFL history, and the seventh best since 2000. And he did it with his team leaning on him from the start—he had five games with double-digit targets and three other games with nine. Still, there were a lot of solid candidates here, and Purdy's appearance as the runner-up, and ability to outdistance Walker and Olave despite making just five starts, shows the respect he's gotten from rival teams in keeping a loaded 49ers team going after losing two starting quarterbacks (Trey Lance and Jimmy Garoppolo) for the year. "Guy hasn't lost a game as a starter," one GM says. "Say no more."
Defensive Rookie of the Year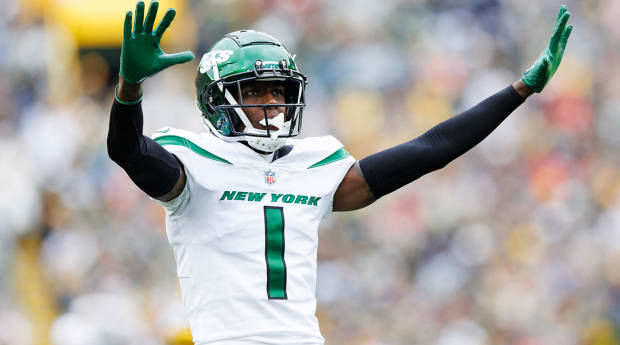 Winner: Jets CB Sauce Gardner, 28 votes
Runner-up: Lions DE Aidan Hutchinson, 5 votes
Others receiving votes: Seahawks CB Tariq Woolen (3), Texans S Jalen Pitre (1)
Gardner was a runaway winner for the midseason award, and this one, too, on his way to first-team All-Pro honors. And not only was he a first-team All-Pro, he got more All-Pro votes (by a longshot) than any other corner, and had twice as many first-team votes (43) as the next guy (fellow first-teamer Patrick Surtain had 20). So while Hutchinson came on late, and Woolen's deserving of mention, for sure, this one was relatively simple for most (though one GM reasoned, in voting for Hutchinson, that it was "close between he and Sauce, but he meant more to Detroit's defense. Sauce benefits more from a strong front seven)."
Coach of the Year
Winner: Brian Daboll, Giants, 18.5 votes
Runner-up: Kyle Shanahan, 49ers, 7
Others receiving votes: Kevin O'Connell, Vikings (5), Nick Sirianni, Eagles (2), Doug Pederson, Jaguars (1.5), Dan Campbell, Lions (1), Sean McDermott, Bills (1), Mike Tomlin, Steelers (1)
Really fun argument here on how people see the award—but it is hard to argue with what Daboll did, in taking a dormant Giants operation that had missed the playoffs six consecutive years to the postseason in Year 1. He also gets points for Daniel Jones's improvement, and the progress that other holdovers such as Andrew Thomas and Xavier McKinney made under his staff. That said, Shanahan's work going 5–0 down the stretch with a rookie seventh-round pick (Purdy) who is vastly stylistically different from his original starter (Lance) was certainly noted in the voting. And all of the others receiving votes had their merit, all the way down to the final ballot I received, which had a vote for Tomlin. "They didn't get in," the voter says, "but with a rebuilt team and a rookie quarterback, he got to 9–8. And he had to win the last week to have a shot to get in and did. I just have a lot of respect for the job he does."
Comeback Player of the Year
Winner: Seahawks QB Geno Smith, 11 votes
Runner-up: 49ers RB Christian McCaffrey, 6
Others receiving votes: Giants RB Saquon Barkley (5), Buccaneers WR Chris Godwin (3), Giants C Nick Gates (2), Eagles DE Brandon Graham (2), Ravens OT Ronnie Stanley (2)
This award is always the moving target—and more subjective than the other awards, with very loose rules. One rule that is in place that I didn't know about until this year is that rookies are ineligible (presumably because they don't want voters considering injuries from college), which made giving it to Commanders RB Brian Robinson a no-go. 
But other than that? This is kind of a free-for-all. So with that established, both Smith and McCaffrey had good cases. Smith probably wouldn't, to paraphrase LL Cool J, call his year a comeback, because he believes he's been as good as he was in 2022 for years now. But what he did this season did, indeed, show how far he's come from the last time the public got to see him on a consistent basis—he ranked fifth in passer rating (100.9), eighth in passing yards (4,282) and fourth in touchdown passes (30) after coming into the summer with few believing he'd even hold on to the starting job.
Meanwhile, after an array of injuries limited McCaffrey to 10 games in '20 and '21 combined, the star tailback was dealt from Carolina to San Francisco in October. In the 10 games left in the regular season, McCaffrey rolled up 1,131 scrimmage yards, then rushed for 119 yards in last weekend's wild-card round for his new team. And in comparing him to Smith, obviously, you get two different interpretations of the award, which is kind of the problem in voting for this one (and why this was the one that a few of our execs abstained from voting on).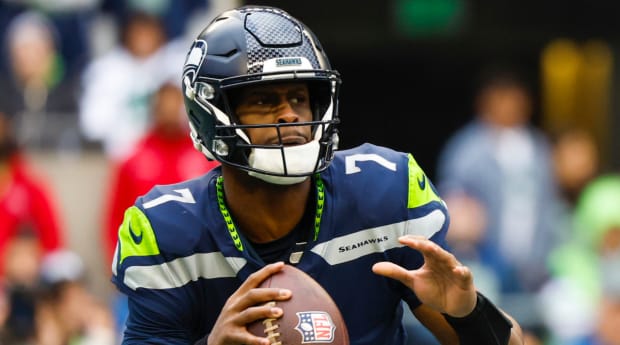 Executive of the Year
Winner: Eagles GM Howie Roseman, 15 votes
Runner-up: Seahawks GM John Schneider, 13
Others receiving votes: 49ers GM John Lynch (6), Bills GM Brandon Beane (1), Jets GM Joe Douglas (1), Lions GM Brad Holmes (1)
Philly's roster construction has been an incredible example of a GM pulling every single lever to acquire talent—there was calculated risk to draft a quarterback before it was really a need (Hurts), high-end draft hits (WR DeVonta Smith, G Landon Dickerson, TE Dallas Goedert, RB Miles Sanders), big-ticket trades (WR AJ Brown, CB Darius Slay), lower-round developmental strikes (OT Jordan Mailata) and a ton of veterans held over for all the right reasons that gave the team a sturdy base of leadership and experience. 
"He works the trade market very well, always has excess draft picks to deal with," an exec says. "Not many s---ty contracts, if any, right now. He balances today and tomorrow really well." 
And, to be sure, that total package is the overarching reason why Roseman won a really competitive race with Schneider, who had very strong support for obvious reasons ("He absolutely fleeced Denver on the Wilson trade and hit on five rookie starters), and Lynch, who built the NFL's strongest roster ("It was close with John and Howie," one GM says. "The McCaffrey trade and his handling of the Jimmy Garoppolo situation, along with having Purdy in the hole at QB, put John over the top for me").