Newly engaged woman told to 'shut the f**k up' by passerby in New York after yelling news from apartment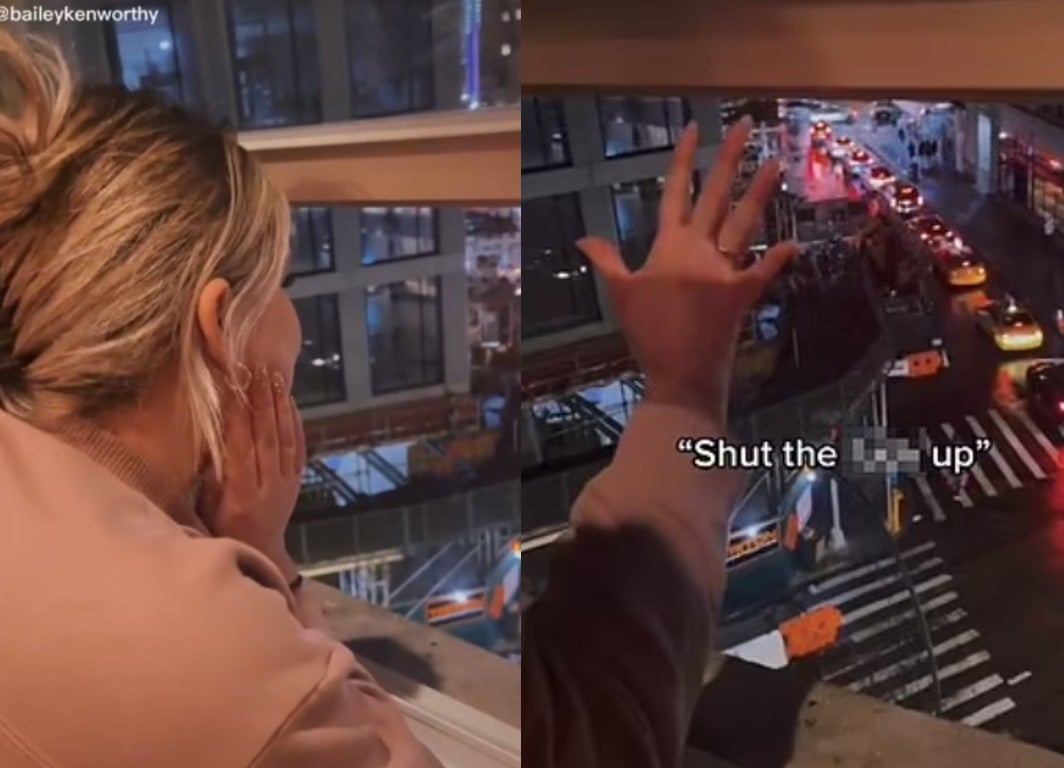 For many people, getting engaged is a moment that they'll never forget and it's safe to say that a couple from Texas that recently got betrothed in New York City won't be forgetting their engagement anytime soon thanks to one person's reaction.
In a viral TikTok from Bailey Kenworthy, the 24-year-old proudly announces to the Big Apple that she and her fiance Miguel have just gotten engaged by shouting the news from an apartment window.
"I'm engaged, New York!," shouts Kenworthy but it's safe to say she wasn't expecting the reaction she received.
Almost immediately after yelling her announcement a cyclist on the street below gives a rather blunt and aggressive reply, shouting back with: "Shut the f**k up!"
Sign up to our new free Indy100 weekly newsletter
Not missing a beat, a stunned Kenworthy turns back to the camera and jokes: "I love it here."
The video, which was posted on TikTok on December 28 has already been viewed more than 2.6 million times and it's safe to say that people have found it pretty hilarious, despite the strong language.
The official Duolingo account replied: "that translates to congrats sis."
Another said: "This needs to be a sound!!!"
A third replied: "New York always find it way to humble someone quickly."
Many also noted the similarity from a scene in Friends where Monica proudly announces to the entire neighbourhood from her balcony that she has just gotten engaged to Chandler.
Speaking to the New York Post, Kenworthy said: "I love that my video is blowing up. I enjoy when others laugh at my jokes."