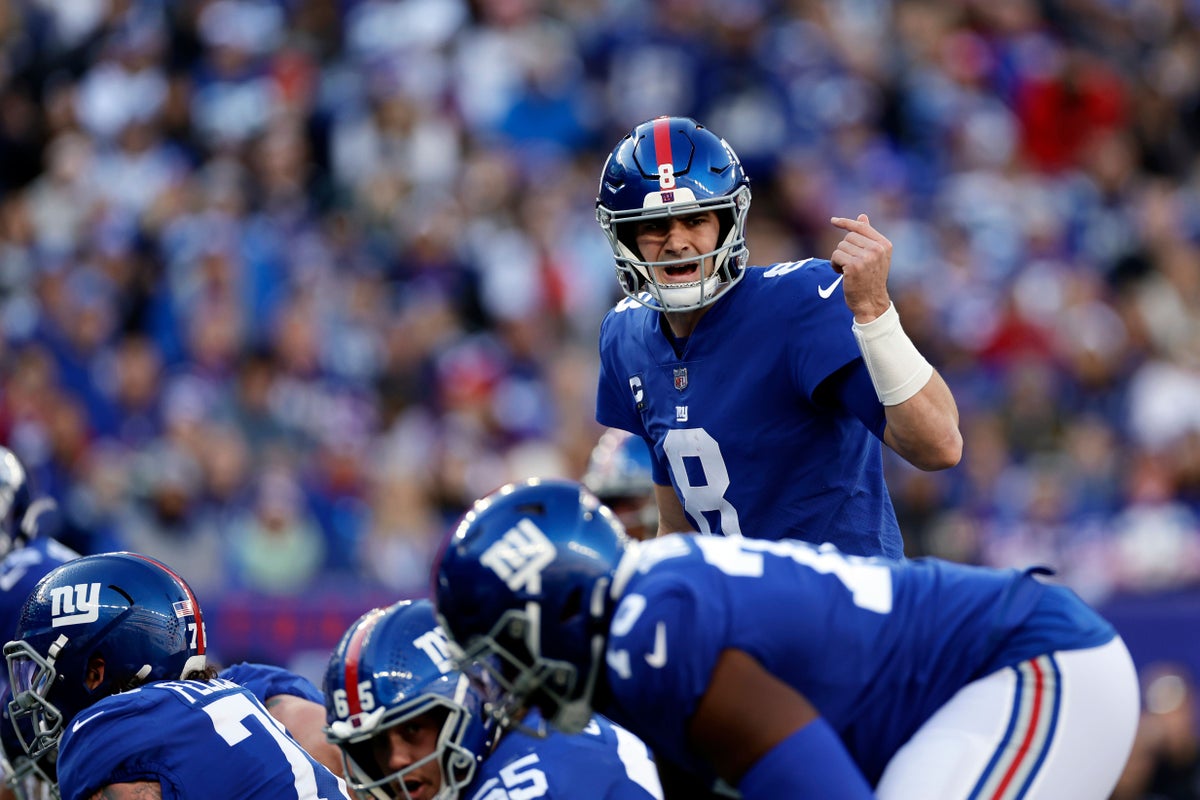 The New York Giants secured a spot in the NFL playoffs for the first time since 2016 on Sunday night with a 38-10 win over the Indianapolis Colts in New Jersey.
Quarterback Daniel Jones threw for two touchdowns and ran for two more to help his side seal the dominant win.
Jones finished with 177 yards through the air while his opposing quarterback, Nick Foles, retired from the game with a rib injury and only 81 yards.
In Florida, the Tampa Bay Buccaneers defeated the Carolina Panthers 30-24 to claim the NFC South title.
Buccaneers quarterback Tom Brady passed for three touchdowns and ran for one of his own to bring his side back from an early 14-0 deficit.
The Panthers' loss means they miss the playoffs for the fifth straight year.
The Atlanta Falcons marginally defeated the Arizona Cardinals 20-19 in Atlanta.
Quarterback Desmond Ridder is still yet to throw a touchdown for the Falcons, perhaps contributing to the low score, but running back Tyler Allgeier and utility player Cordarrelle Patterson were each able to find the end zone on the ground.
The Detroit Lions cruised past the Chicago Bears 41-10.
The team has come back from a bad start to the season to keep in contention for an NFC wild card spot.
Quarterback Jared Goff threw for four touchdowns, keeping up his eye-catching play that has helped the Lions fight back from their low point.
The Kansas City Chiefs beat the Denver Broncos for the 15th straight time with a 27-24 victory.
It means the Chiefs stay in contention for the AFC title.
The game also saw quarterback Patrick Mahomes become the third player to ever achieve multiple 5,000-yard passing seasons, alongside Tom Brady and Drew Brees.
The New England Patriots beat the Miami Dolphins 23-21 with a late play from quarterback Mac Jones ending up making the difference.
The win keeps the Patriots in contention for the playoffs.
The Philadelphia Eagles – still suffering from the absence of their injured quarterback Jalen Hurts – were denied top spot in the NFC with a 20-10 defeat to the New Orleans Saints.
In other games, the Cleveland Browns beat the Washington Commanders 24-10, the Jacksonville Jaguars smashed the Houston Texans 31-3 and the San Francisco 49ers defeated the Las Vegas Raiders 37-34.
The Seattle Seahawks, Green Bay Packers, Los Angeles Chargers and Pittsburgh Steelers rounded out the day's victors.