Neeraj Chopra's Olympic gold will inspire Indians: Justin Gatlin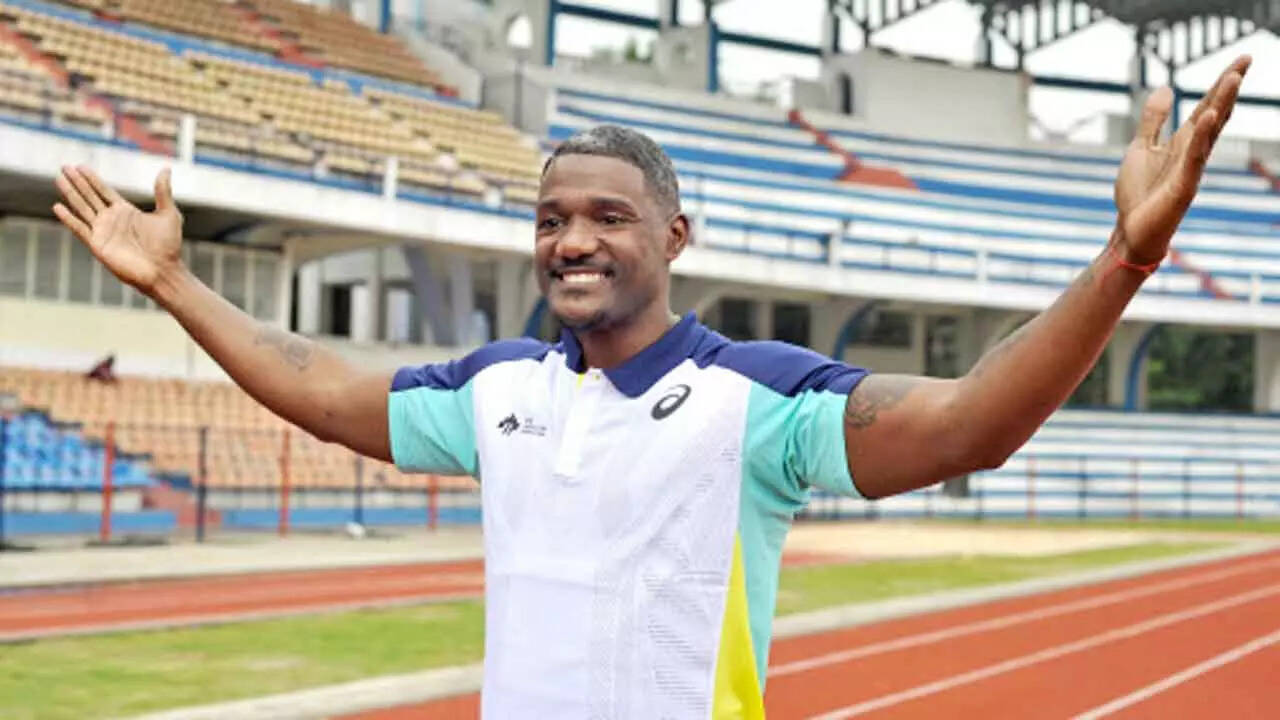 BENGALURU: Justin Gatlin thinks that he'll score a zero, on a scale of ten, for flamboyance, unlike many other track stars from USA and Jamaica. But the man who won medals from 2003 World Indoors to the 2019 Doha World Championships, comes across as a down-to-earth champion who battled back from two suspensions to leave the stage as one of the best in business during the era of Usain Bolt. In a chat ahead of the TCS World 10K Bengaluru, the 40-year-old American, the international event ambassador, shared his thoughts on various points. Excerpts:
How tough was it to miss the US team for the Tokyo Olympics and then to say goodbye this year?
"(It was) very difficult (to say goodbye to track). I remember after the 100m race at the Olympic trials, I couldn't sleep and I just cried. Even though I knew I had pulled my hamstring in the semis and final, I realised that it was going to be my last time at an Olympic trials as an athlete. My whole career has been centered around the success if I was going to be an Olympian, or make the next Olympic team or win the gold medal. And then within one day, all that was done, and then now I have to move on to a new journey. It was a bittersweet feeling."
Battles with Bolt, the win at the Worlds in 2017?
I'll say (beating Bolt at the 2017 Worlds) was one of the high points. Our battles throughout the years are for the ages. It is one of the key points of track and field history. I've raced with Usain for many years, starting from 2005, when he was a young athlete. So, not just beating Bolt, but finally accomplishing it on a world stage was a key point of my career. We helped each other be better athletes, he's gone on record saying that I pushed him, especially at a point where he felt like the sport was not as exciting any more. But then, he made me want to be a better athlete even when other athletes feared his times.
Who would you pick to win the World championships?
Right now, (Lamont Marcell) Jacobs looks great. And he's an Olympic champion, he backed it up with the indoor championship as well. He's the most relaxed sprinter I've ever seen.
Your battle with the suspensions, especially the second one?
It was hard for me emotionally. When I got past all those depressing moments, it actually gave me fire that said I have to be the person who controls my own destiny. I was supposed to not run any more Diamond Leagues. At the end of that I've won three Diamond League trophies in a row.
Your message to Indian athletes?
I believe that there are Indian athletes out there who have the ability to be gold medallists. They just need to be able to go out there and learn their sport. Sometimes sacrifice plays a part — it may mean, I may need to go to a different country, or I may need to go find a different coach. You have a javelin thrower (Neeraj Chopra) who is a champion. He probably sacrificed so much to be the athlete he is today. And now he's inspiring other athletes in this country.
The journey from Pensacola to Olympic glory and the passion for running?
I was never the true standout athlete. But that pushed me to be better each time. We didn't have the technology which they have today. I didn't run on rubberized tracks. I ran on asphalt growing up in Pensacola, we had to hammer our starting blocks into the ground. I really didn't have that much pressure growing up, to be the number one athlete. The world looks at it as nine seconds. But as you're running, everything slows down. It feels like you're almost in the matrix. When the gun goes off, it's all a blur. And as you're running, you can hear yourself breathing. Sometimes you can hear, you know, your heart racing, you can hear the roar of the crowd. It's a beautiful feeling to have to run at such a high velocity of speed. It's almost addictive, because you want to be able to replicate it over and over again.