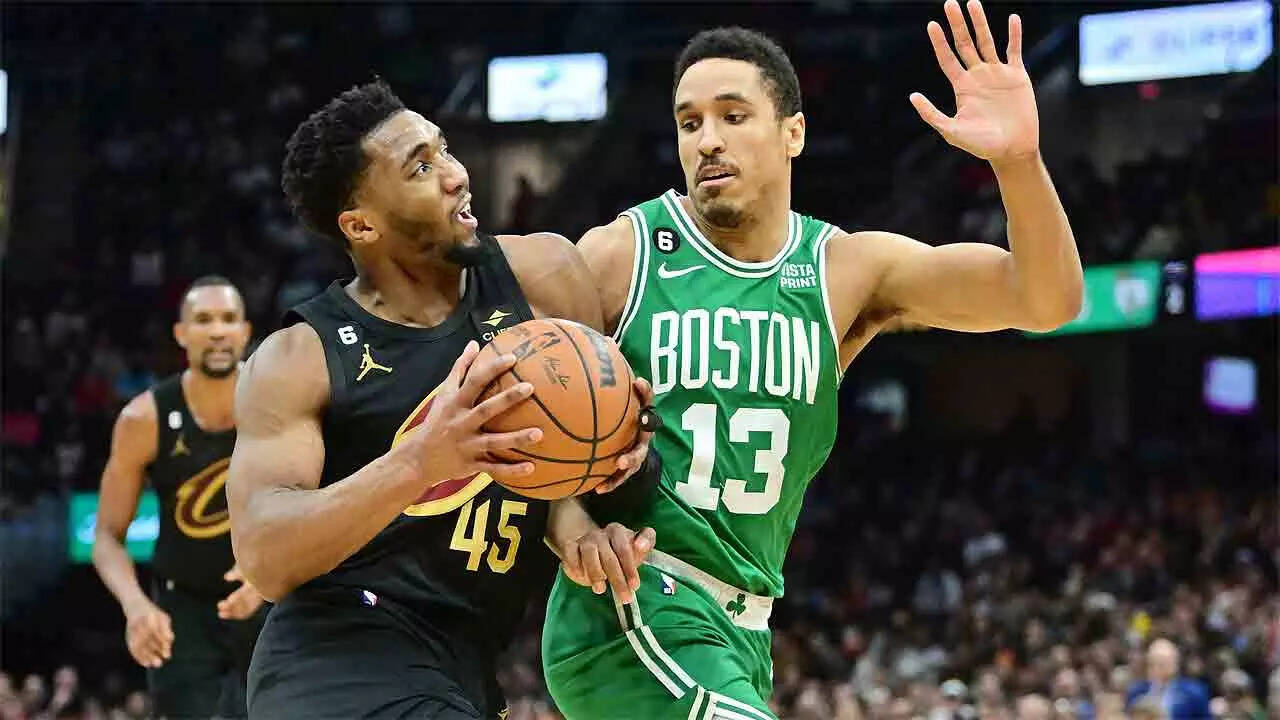 NEW DELHI: Boston Celtics crashed to their third straight defeat in a heavyweight clash against the Eastern Conference rivals the Cleveland Cavaliers as Donovan Mitchell poured in 40 points on Monday.
The Cavs escaped to win 118-114 in overtime as Boston's Grant Williams missed two free throws with less than a second left on the clock that would have given the Celtics victory.
A depleted Boston missing stars Jayson Tatum, Al Horford and Robert Williams III went into Monday's game in Cleveland desperate for victory after consecutive defeats to the Brooklyn Nets and New York Knicks.
But the Celtics' hopes of snapping out of their mini-slump ran into a red-hot performance from Mitchell, who nervelessly drained two free throws of his own with 5.8 seconds on the clock in the fourth to tie the game at 109-109.
Boston however had a golden chance to win it at the death, sweeping up the court and winning two free throws after Lamar Stevens fouled Williams at the basket.
Williams, though, fluffed both of his free throws, allowing Cleveland to take the game into overtime and pull away for victory.
Mitchell could be seen exchanging words with Williams before the Boston player prepared to take his free throws, and the Cavs star admitted later he was "trying to mess with him mentally."
"I wanted to find a way to get in his head a little bit," Mitchell said.
It completed a battling fightback by Cleveland, who had trailed by 15 points in the third quarter before staging a fourth-quarter rally to haul themselves into contention, outscoring Boston 31-17 in the final frame.
Mitchell finished with 40 points from 14-of-34 shooting, with 11 rebounds and four assists. Evan Mobley provided offensive back-up with 25 points -- and 17 rebounds -- while Darius Garland was the only other Cleveland player in double figures with 14 points.
Jaylen Brown led Boston's scorers with 32 points, while Malcolm Brogdon added 24 off the bench.
Boston fell to 45-21 after the defeat and remain second in the Eastern Conference, two games adrift of leaders Milwaukee.
Cleveland improved to 41-26 and remain in fourth place in the table.
Elsewhere on Monday, the Philadelphia 76ers had another towering performance from Joel Embiid to thank for their 147-143 win on the road against the Indiana Pacers in Indianapolis.
Embiid, who scored 31 points in Saturday's pulsating defeat of Milwaukee, finished with 42 points as the Sixers improved to 42-22 to remain in third place in the East.
A see-saw game saw the lead change hands no fewer than 32 times as the two teams went toe-to-toe throughout.
Philadelphia finally pulled away in the fourth quarter, opening up a slender lead and successfully hanging on for victory.
The Sixers' James Harden finished with 14 points but laid on 20 assists, while Tyrese Maxey added 24 points and Jalen McDaniels 20.
Tyrese Haliburton led the Pacers scoring with 40 points but was unable to drag Indiana over the line.
In Miami, Jimmy Butler finished with 26 points as the Heat recovered from an early 15-point deficit to down the Atlanta Hawks 130-128.
Victor Oladipo nailed four three-pointers in a 22-point haul while Caleb Martin had 21 off the bench for Miami, who improved to 35-31.
Trae Young led Atlanta's scoring with 25 points.
In Denver, the Western Conference-leading Nuggets left it late before finally edging past the Toronto Raptors 118-113.
Toronto led for most of the game only to see Denver squeeze ahead after a crucial late defensive play from Nikola Jokic in the fourth quarter that helped the Nuggets take the lead.
"I'm just going to let Nikola's greatness speak for itself," Nuggets head coach Michael Malone said. "He's a good defender. You don't have to be a great athlete to be a good defender -- just watch, listen, learn."
Jokic finished with 17 points, 13 rebounds and nine assists.
In Detroit, Damian Lillard had a 31-point triple double in the Portland Trail Blazers' 110-104 win over the Pistons, who have the worst record in the NBA at 15-40 and are firmly rooted to the foot of the Eastern Conference table.
(With agencies inputs)