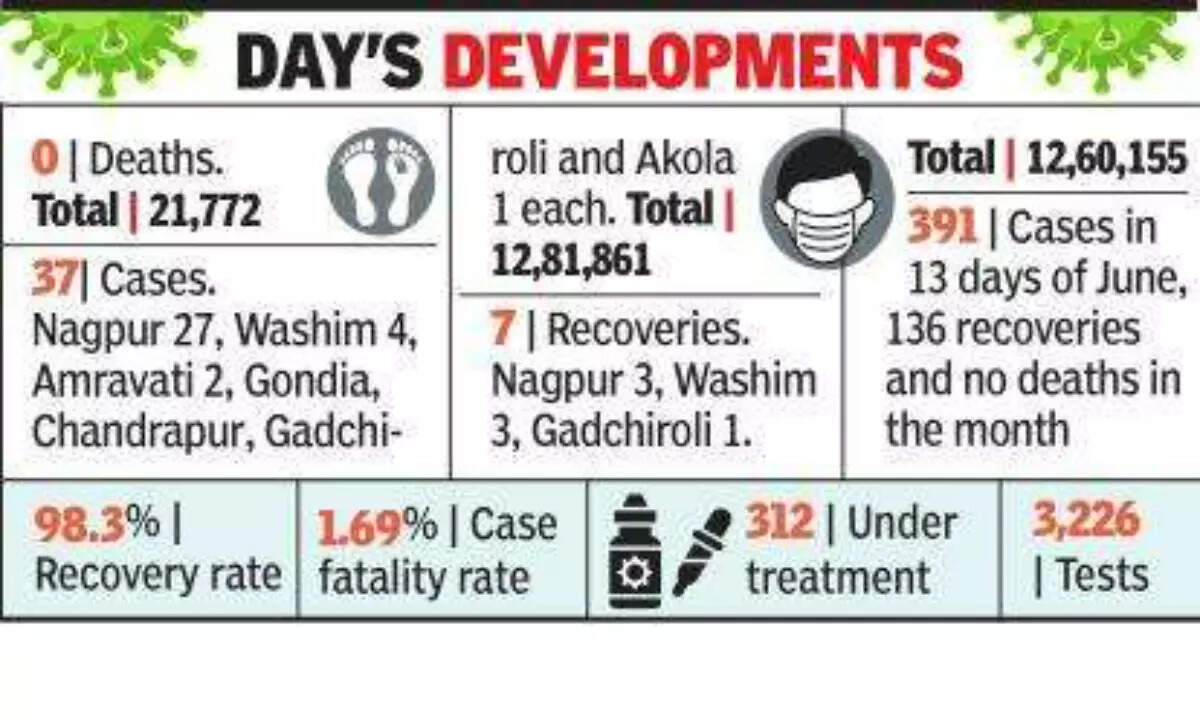 NAGPUR: Covid cases shot up to 90 on Wednesday in Vidarbha, taking the month's tally past 500. While cases were still under single digits in nine districts, the fresh surge was mainly because of spurt in Nagpur and Wardha districts. The cases had declined for the last two days but the region recorded nearly three times more infections on Wednesday.
Nagpur reported 50 cases with active cases crossing the 250-mark. This also pushed Vidarbha's active case tally just three short of the 400-mark. Equal number of cases were reported from both city and rural parts of Nagpur district. The new infections were detected from over 2,000 tests while bulk of it was done in city limits. Following detection of BA.5 variant among two samples, officials believe the increase in daily cases is due to new variants in circulation. This is likely to compel administration to increase the testing in city areas.
Hospital admission are still negligible with just three patients in hospitals. The positivity rate too remained under 1% in Nagpur as well as in entire Vidarbha.
Besides Nagpur and Wardha, the region recorded four cases each in Bhandara and Washim, six in Gondia, three each in Gadchiroli, Akola and Amravati and one each in Chandrapur and Yavatmal while Buldhana saw two cases.
Most of these districts had gone Covid-free for many days in the last two months. Improved vaccination in Nagpur division, reinfections and herd immunity in the entire Vidarbha are said to be reasons behind the districts reporting fewer cases even as many cities are witnessing a surge. The authorities still believe the oncoming wave could be milder than the third wave of January when fewer mortalities and hospitalization took place. However, a major concern is availability of booster doses and shots for kids below 12 years which still have not started.
More than 5,000 tests were done in the day. Against the new cases, 29 recoveries were reported including 16 from Nagpur, one from Wardha, two from Chandrapur, three in Gadchiroli, two each in Akola and Amravati, and three in Washim.