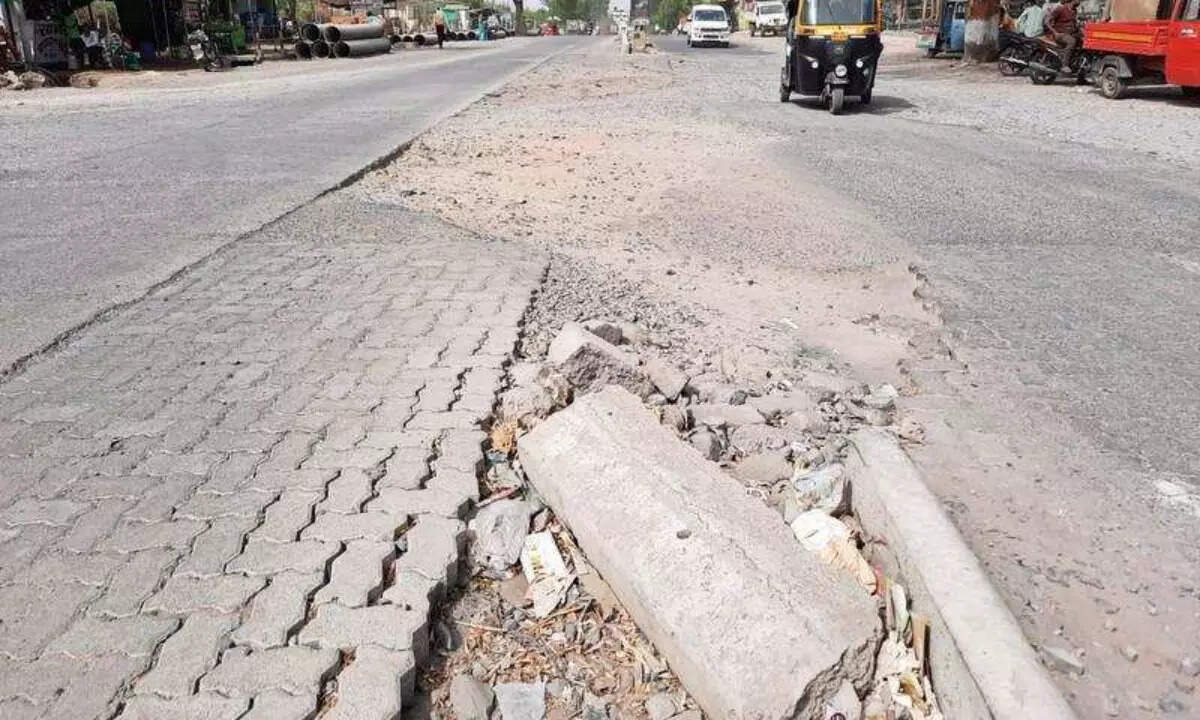 NAGPUR: A 10km stretch from Hingna MIDC T-point to Hingna village has turned into a deathtrap due to inordinate delay in completion of concretization, and lack of safety measures. Hundreds of citizens using the road are likely to face a big threat during the monsoon.
The state's public works department (PWD) started to concretize the 10km stretch from MIDC Hingna T-point to Hingna village in 2019, and works are yet to finish.
Manoj Golawar from Mahalaxmi Tribal Girls Hostel told TOI, "PWD started to concretize road three years ago. Trenches were dug some 18 months ago on both sides to construct storm water drain network. The drain work was not completed and trench has been left as it is for last 18 months. People have been left with no option but to lay wood planks or metal sheets to enter their houses, shops and hostels. The trenches are now filled with garbage, debris and emanate foul smell. If filled with rainwater, the trenches will be invisible posing threat to people."
A resident on the road Suresh Ghotmare said, "Surface layer of cement concrete road is higher than that of two sides. No safety measures are in place to prevent mishaps. Many vehicles have been damaged, especially during night hours." Even the road divider is incomplete and parts have already started to fall on the road.
Gopal Nagar resident Subhash Panchbudhe said, "I use the road twice daily to reach my farm at Wanadongri. There are big craters at many places. Tar road has disappeared in some places. All these potholes and bad surface layer will cause mishaps during monsoon." The stretch of 10km falls under three different divisions of state PWD.
One PWD engineer said, "Concretization and other works will be completed on the stretch of 1.6km from MIDC T-point to CRPF gate. Works were delayed due to revision in project and various hurdles." Another engineer said the 200m stretch ahead of CRPF gate will take time as proposal seeking funds will be submitted to the head office soon.
A third official said, "Work on 4km stretch from Lokmanya Nagar Metro Station to Hingna village has been delayed due to revision in project. Earlier, it was to be tarred and converted into cement concrete road. There are various hurdles on this stretch."
Interestingly, all three officials from different divisions of state PWD said their jurisdiction does not include a 500meter stretch before Lokmanya Nagar Metro Rail station.
In 2019, the PWD had launched Hybrid Annuity Model (HAM) project. Road with a length of around 52km from CRPF gate to Hingna to Ghorad in Wardha district was supposed to be widened and asphalted within 18 months. Due to confusion between divisions of PWD, the work delayed.
Another major setback is that the stretch falls under Wardha division, whose office is in Wardha, though the road is in the city. Wardha division falls under superintending engineer of Chandrapur. Top PWD officials are not aware of situation prevailing on the road and suggested TOI should talk to their subordinates.