Nadhim Zahawi told he's not making sense as he fumbles in awkward BBC interview about teachers' pay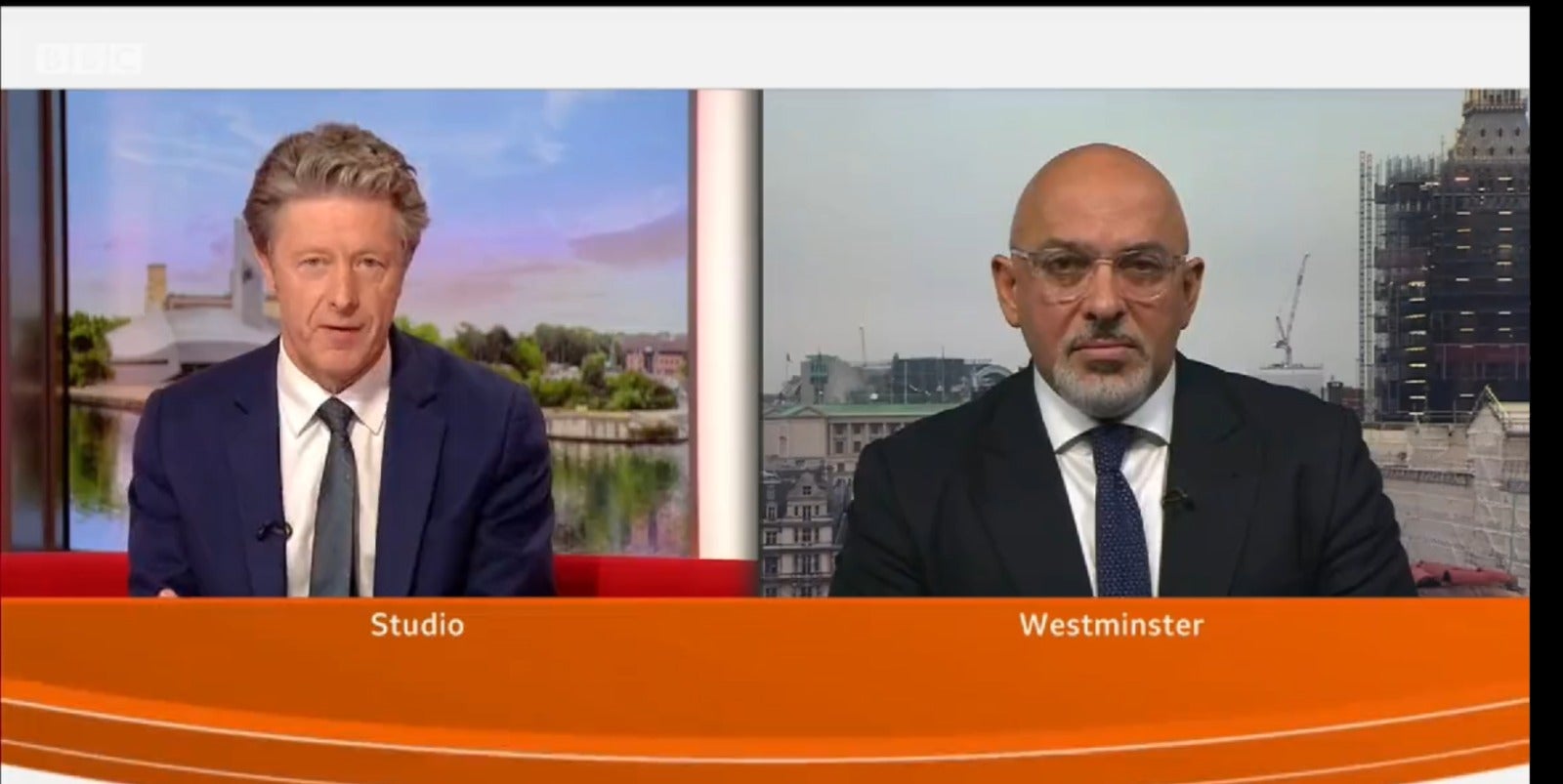 The new Education Minister has had an absolute 'mare of a BBC Breakfast interview this morning.
Nadhim Zahawi appeared on the show to discuss the new (ish) government £3,000 premium to encourage talented maths and science teachers to go and work in disadvantaged areas as part of Boris Johnson's nebulous "levelling up" programme, but ended up needing his own levelling up to improve his performance.
Questioned about how teachers will benefit from "higher wages" while their wages are actually frozen amid a period of inflation, Zahawi waffled about teacher's average salaries before mumbling and stuttering:
"All I would say to you is the average salary of a teacher is now £41,800. The increase because it's not just inflation, and you're right, there has been a pay freeze by teachers actually from 2021 back to 2020/2019.
"The increase is about seven percent because teachers have a path to increasing their salary as they improve and extend their experience."
Sign up to our new free Indy100 weekly newsletter
A befuddled Charlie Stayt who was interviewing the minister replied: "Okay, if I may I'm going to jump in because I don't really understand what you're saying."
Zahawi nodded and said: "Sure".
Reacting to the clip, people found it pretty awkward and praised Stayt for his intervention:
When they say "let me be absolutely clear" they will be anything but clear in their answer.

— Aran 🏴󠁧󠁢󠁷󠁬󠁳󠁿🏴‍☠️ (@AranBailey) October 7, 2021
Zahawi absolutely roasted there by Charlie Stayt. A like for like replacement to Williamson. Frightening for Education.......#ToryShambles

— Marc Hughes 🏴󠁧󠁢󠁷󠁬󠁳󠁿🇪🇺 (@MarcHughes1968) October 7, 2021
Charlie Stayt to get a medal from the RNLI for saving Nadhim Zahawi from drowning in his own words. https://t.co/9qbOh76Fca

— John O'Shea (@politicalhackuk) October 7, 2021
New Education Secretary @nadhimzahawi is stumbling and floundering under intense questioning by Charlie Stayt on #BBCBreakfast. This is what happens when you challenge this governments rhetoric and hold them to account.

— Wayne Smith (@WayneSmithUK71) October 7, 2021
Well done Charlie Stayt. Zahawi being reduced to a rambling wreck. #BBCBreakfast

— John Duncan Burns (Dogooder human rights advocate) (@jb4cfm) October 7, 2021
It was PAINFUL 😖 the best they've got to offer our kids & their future, Zahawi 🤦‍♀️

— That Trudy ☘️💚🐝 (@ThatTrudy) October 7, 2021
Charlie Stayt: 'I'm going to jump in because I don't really understand what you're saying if I'm honest with you'

*Nadhim Zahawi nods in agreement*#BBCBreakfast pic.twitter.com/kZGBi8TIkp

— Toby Earle (@TobyonTV) October 7, 2021
We cross live to the #BBCBreakfast studio where Nadhim Zahawi attempts to answer Charlie Stayt's fact-based questions about infection rates in schools and teacher pay. pic.twitter.com/EyuXvTxpo8

— Sim Crowther 🇪🇺🇫🇷🇦🇹🇨🇭🇮🇹❄️🏂🏔️ (@CrowtherSim) October 7, 2021
Nadhim Zahawi the new Secretary of State for Education has just achieved the impossible.

He's just made it look like Gavin Williamson knew what he was doing.#bbcbreakfast #nadhimzahawi #bbcnews pic.twitter.com/OKHI2SsKOb

— Andrew Jazzie (@AndrewJazzie) October 7, 2021
Zahawi also appeared on Sky News this morning and defended Johnson's conference speech, which was criticised for being rather joke heavy and policy light.
Niall Paterson - Usually after a PM's speech we've pages of analysis on the policies announced, instead we had pages on the jokes he made.. 300000 children are going to be pushed into poverty.. why did he skirt the biggest issues of the day

Nadhim Zahawi: I respectfully disagree pic.twitter.com/3weRRujGyi

— Haggis_UK 🇬🇧 🇪🇺 (@Haggis_UK) October 7, 2021
Then he put on his old vaccines minister hat to talk on talkRadio about whether the UK should introduce compulsory coronavirus vaccines:
Former Vaccines Minister Nadhim Zahawi says Canada's mandatory jabs would not be needed in the UK, despite already bringing it in for for UK care workers.

"We don't need to mandate vaccines in the UK, as millions have come forward already."@JuliaHB1 | @nadhimzahawi pic.twitter.com/ylmNa217B4

— talkRADIO (@talkRADIO) October 7, 2021
Busy day, then.