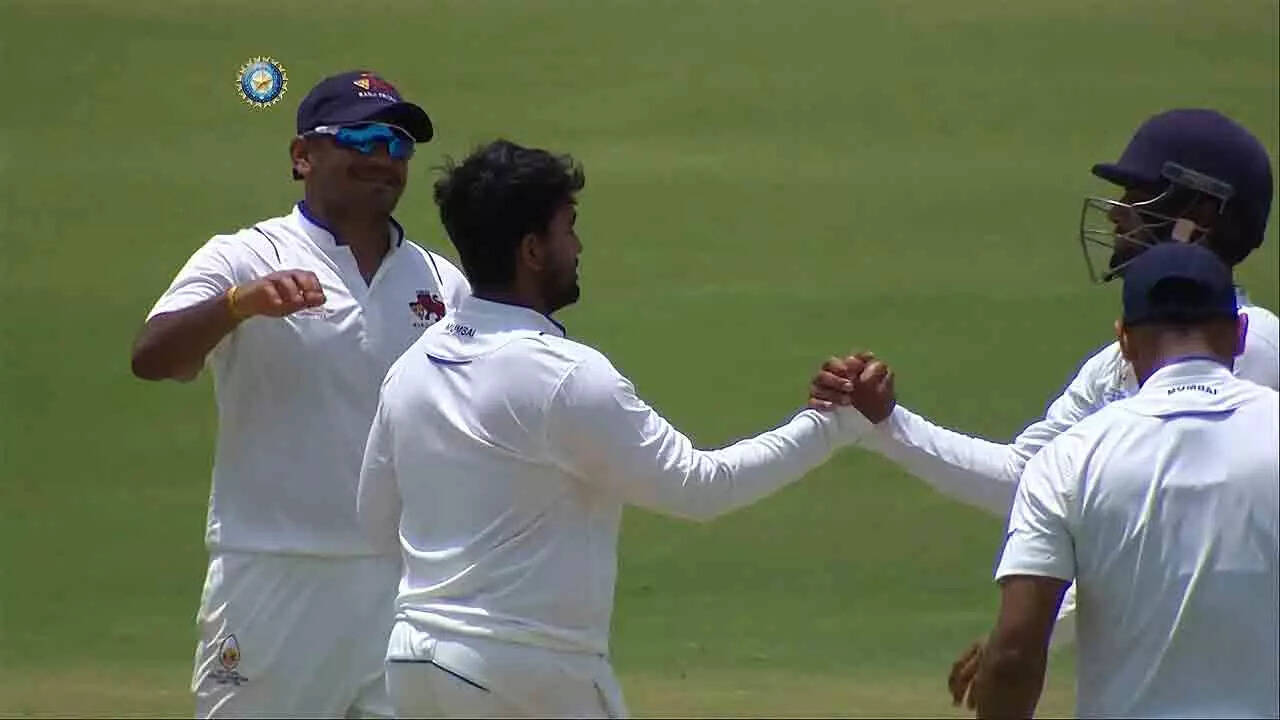 Break 92-year-old first-class record for highest margin of victory in terms of runs, meet UP in SF
For a Ranji Trophy last-eight clash, this game has turned out to be a mismatch of the century, but Mumbai couldn't care less. Recording the biggest-ever win in the history of First-Class cricket (in terms of runs), a ruthless Mumbai handed out a humiliating725-run mauling to an embarrassed Uttarakhand, who found a far more reputed opponent too hot to handle, on the morning of Day Four of their Ranji Trophy quarterfinal at the Alur Cricket Ground-2.
With their crushing victory, Mumbai broke almost a 90-year-old record -the previous biggest margin of win (in terms of runs) in First-Class cricket was recorded in the 1929-30 season, when New South Wales beat Queensland in Sydney by 685 runs. In the Ranji Trophy, the previous highest victory margin came way back in 1953-54, when Bengal thrashed Orissa by 540 runs. Mumbai's previous-biggest win (in terms of runs) was when they defeated Holkar by 531 runs at the Brabourne Stadium in 1951-52.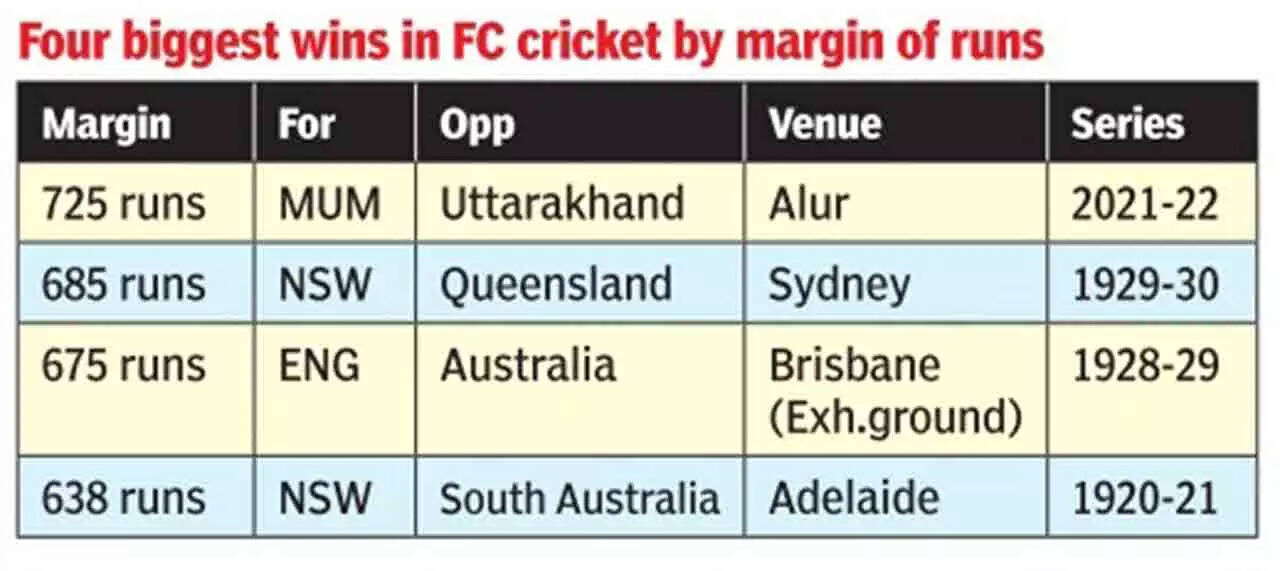 The 41-time Ranji Trophy champions thus marched into the semifinals of the championship for the first time since the 2016-17 season when they reached the final -in grand style. Eyeing title No 42, the domestic giants will now take on Uttar Pradesh in the semifinals at the Just Cricket Academy in Bangalore from June 14. Mumbai's fine show in the Ranji Trophy will also provide huge relief to coach Amol Muzumdar, who was under pressure after the team crashed out at the league stage of both the white-ball tournaments earlier in the season.
"It (the biggest win in First-Class cricket ever) feels good, the boys played some excellent cricket in the last four days, but at the same time, we've got our eyes on the semifinals. What's happened has happened. I've spoken to the boys about this. We need to focus on the game ahead," Muzumdar told TOI from Alur.
On Thursday, Mumbai took merely 27. 5 overs to shoot out Uttarakhand, who couldn't even last a session, for just 69, as pacer Dhawal Kulkarni (3- 11), in-form left-arm spinner Shams Mulani (3-15) and off-spinner Tanush Kotian (3-13) took three wickets each to destroy them. Having been skittled out 114 in the first innings in 41. 1 overs, all the hill state managed was 183 runs in two innings, which lasted for a combined 69 overs.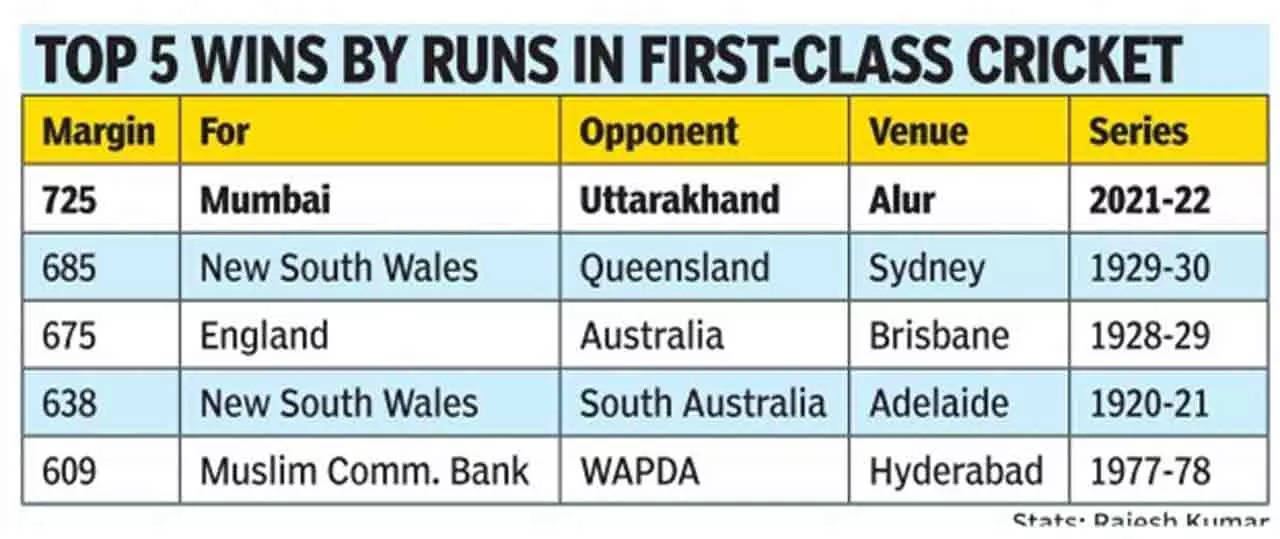 Though Uttarakhand did well to make it to the Ranji quarterfinals for the first time, their inexperience at this level-this was just their third season in domestic cricket was exposed brutally by a ruthless Mumbai.
Producing his vintage form, Kulkarni was lethal in a six-over incisive spell in the morning session. The 33-year-old, who was included by the Mumbai Indians in their bio-bubble but couldn't make it to the squad, castled Kamal Singh and then trapped Uttarakhand captain Jay Bista-who got a pair in a disastrous game for his team-lbw with an inswinger. He then set up Robin Bisht beautifully, bowling a series of outswingers before sending his off-stump cartwheeling with one that jagged back in.
Thereafter, it was the turn of Mulani to 'spin' into action. The left-arm spinner took three wickets in his first three overs to finish the match with superb figures of eight for 54. The 25-year-old's tally for the Ranji season is now 37 wickets in four games@13.70.