Motorists warned to be alert to 'fake road accidents that are extortion attempts'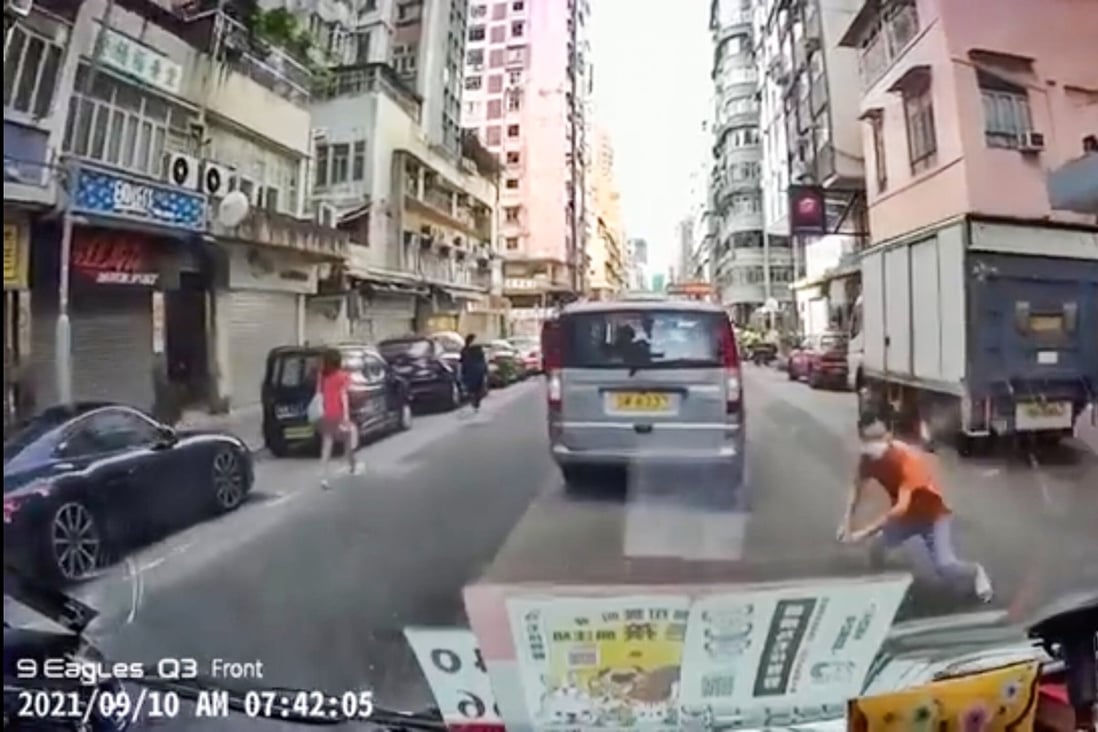 An online video showing a suspected swindler throwing himself in front of a vehicle in Hong Kong in an attempt to extort money from the driver has prompted police to warn motorists about scams involving fake road accidents.
The 21-second event, captured in the clip posted online over the weekend, appears to have taken place on Fa Yuen Street near the junction with Playing Field Road in the busy Kowloon downtown area of Mong Kok at 7.42am last Friday. The site is just 300 metres away from Mong Kok Police Station.
The footage showed a thin man, in an orange T-shirt and shorts, suddenly rushing out and diving to the ground in front of a vehicle, which managed to stop in time to avoid hitting him. The man remained on the ground, holding his head in his hand and pretending to be injured.
"Go away. [Your act] has been captured. Don't throw yourself out!" the driver could be heard telling the man, who then stood up and walked away.
According to police, the man appeared to have feigned injury in a suspected "Pengci" scam, but his alleged attempt to extort money from the driver was unsuccessful.
"Pengci", which means "porcelain bumping", is a common phrase originally referring to a scam in which people tried to have expensive-looking china broken so they could demand compensation.
"His act is not only irresponsible but also poses a serious threat to road users, which police strongly condemn," the force said on its Facebook page.
Officers urged the public to make a report to police immediately if they encountered a similar incident. "Don't argue or have any physical contact with these perpetrators," they warned.
The "Pengci" scam is an old trick in which a swindler feigns injury and tries to con innocent motorists out of money.
"As most vehicles have dashboard cameras attached, such a trick does not work nowadays," a police source said, adding that officers had checked surveillance camera footage in an effort to gather evidence and track down the man involved.
Detectives from the Mong Kok criminal investigation unit are handling the case. So far, no arrest has been made.
In Hong Kong, fraud is punishable by up to 14 years in prison under the Theft Ordinance. In the first six months of this year, police handled 8,699 reports of deception, up 7 per cent from 8,129 in the same period the year before.