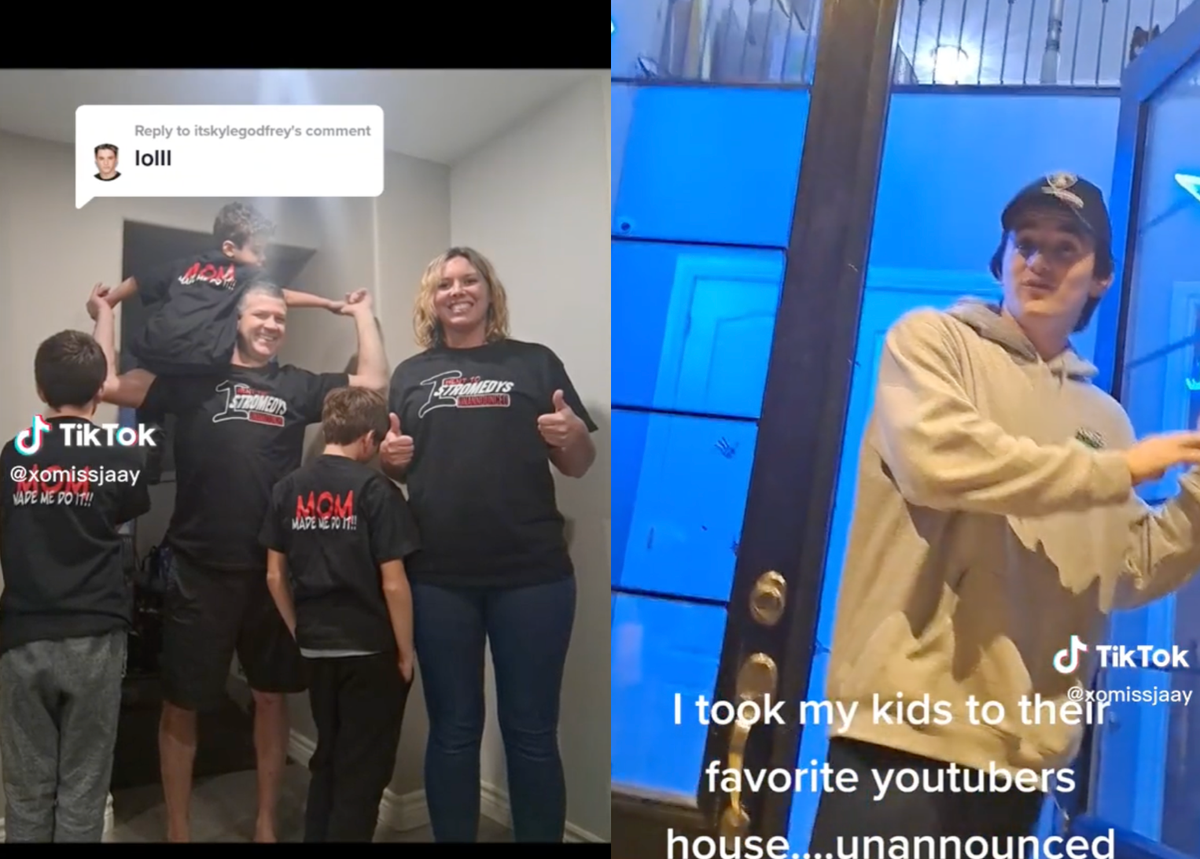 A mother doubled down on her decision to bring her children to a YouTuber's house unannounced.
Sheryl Jacques shared a video on TikTok earlier this month of her and her sons visiting Kyle Godfrey, who goes by the name Stromedy, at his apparent home and taking a picture with him.
She noted that Stromedy, who has over 4m followers on YouTube, wasn't expecting to see them and wrote in the text over the video: "I took my kids to their favourite YouTuber's house…unannounced."
Earlier this week, she defended her decision with another video in response to a comment on her first clip that appeared to be from Stromedy, which read: "loll."
In the video, she and her family were seen posing in shirts that said: "I went to Stromedy's unannounced." The back of the shirt read: "MOM MADE ME DO IT!!"
In her initial clip, which has more than 1.1m views, the YouTuber is seen opening his door for Jacques and her children before saying he "assumed" that they watch his videos. The mother confirmed and explained that they were "big fans" who "just wanted to say hi".
Stromedy went on to note that he was in the midst of "filming a video," but was "more than down to take pictures" later.
After explaining that he needed about "45 minutes" to finish what he was doing, Jacques asked if they could "just take one picture" and then they'd be "done". The YouTuber agreed with the request before the video ended with the picture of Jacques' children with him.
Jacques also expressed how much her son admired Stromedy in the caption of the clip: "My five-year-old always talks about going to Toronto, Canada to see Stromedy. So I made it happen."
In the comments of her viral video, fans criticised and questioned the mother for her decision to go to the YouTuber's home.
"This is insane," one wrote, while another said: "Bro no way you actually did this."
A third said: "Bro the fact that people show up to SOMEONE'S HOUSE is WILD."
Other viewers went on to praise Stromedy for his reaction to the mother and her children's visit.
"He's so Canadian," one wrote. "Look how polite he is even after they show up unannounced. I'm honestly surprised he didn't apologise lol."
"Never heard of him, but what an incredibly nice reaction to a tone deaf decision. You can tell he's a great guy," another wrote, while a third person commented: "Wow the audacity. You're so lucky he's nice."
As noted by Ontario's Trespass to Property Act, someone who doesn't "leave the premises immediately", after being "directed to do so by the occupier of the premises", can face a fine of up to $10,000. If someone is worried about a person watching their home or threatening them, they can file a harassment report, according to The Department of Justice Canada.
The Independent has contacted Jacques and Stromedy for comment.