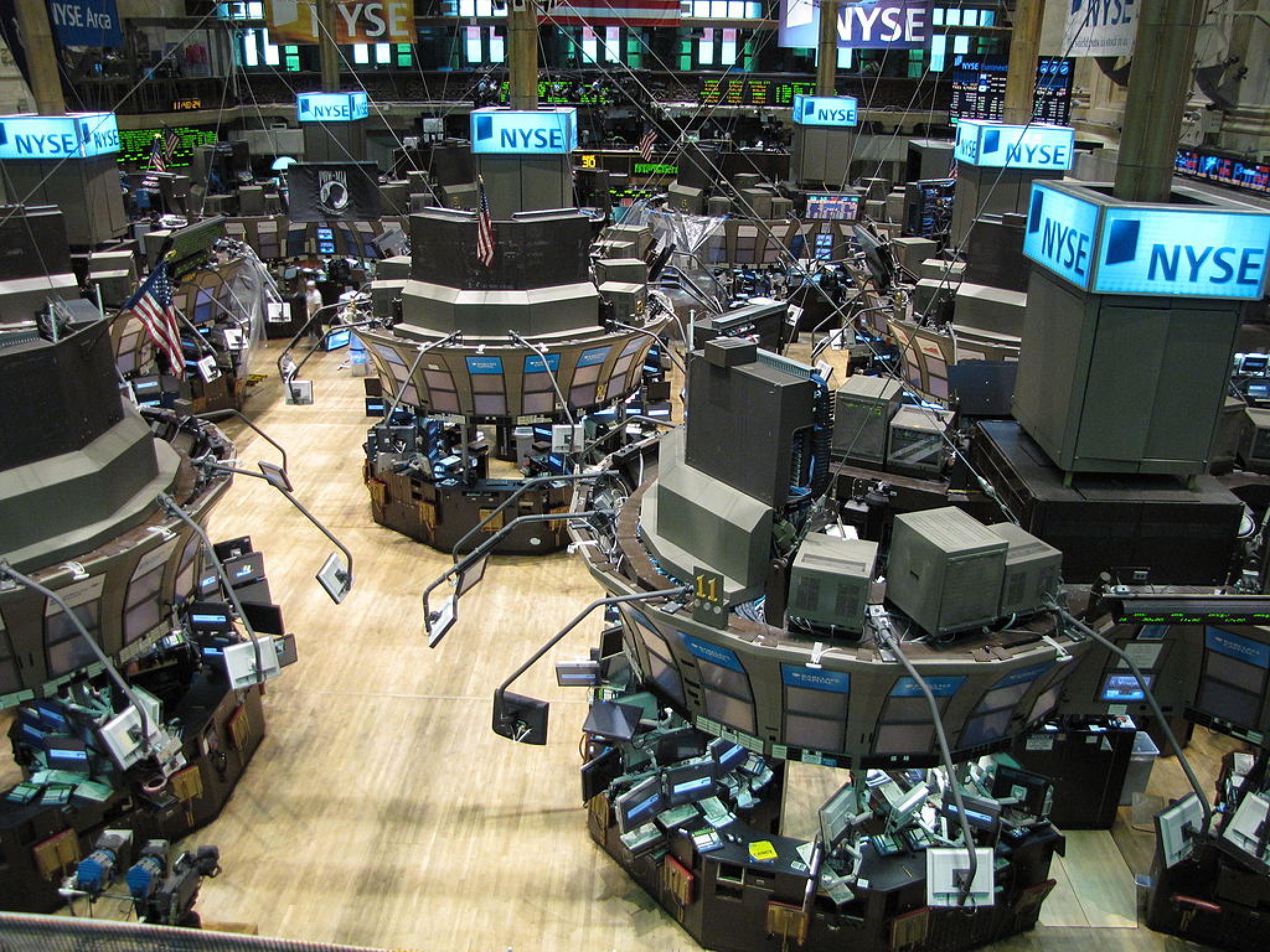 Reuters
IHG Hotels & Resorts On Way To Recovery As Travel Booms
InterContinental Hotels Group PLC (NYSE:IHG) IHG Hotels & Resorts said its first-quarter revenue per room neared pre-pandemic levels.
The rise in demand for hotel stays in the U.S. during spring break has lifted occupancy rates, Reuters reported.
Q1 RevPAR, or revenue per available room, was up 61% over the same period in 2021, reaching 82% of the 2019 level.
Tesla Battery Supplier CATL Said To Actively Explore Sites For US Manufacturing Plants
Tesla, Inc. (NASDAQ:TSLA) battery supplier CATL is reportedly considering setting up manufacturing plants in the United States.
Ningde, China-based CATL is in the final stages of evaluating sites for constructing battery manufacturing plants in the U.S., Reuters reported, citing people with knowledge of the plans.
The world's largest battery manufacturer also plans to use the proposed sites to make EV batteries for Ford Motor Co (NYSE: F) and BMW AG (OTC:BMWYY), the report said. The Chinese company is looking at sites in South Carolina and Kentucky, where these two automakers have manufacturing plants, the report added.
US Regulators Reach China For Audit Deal Discussions
U.S. regulatory officials arrived in Beijing seeking to settle a long-running dispute over the auditing compliance of U.S.-listed Chinese firms.
The stand-off, if not resolved, could see Chinese firms kicked off New York bourses. This week the SEC added over 80 firms to the list of companies facing possible expulsion.
If this visit goes as planned, the PCAOB will likely send a larger team to China later this year to conduct on-site audits of local auditors, according to the source.
Tesla Will Run Two Shifts At Shanghai Plant From May 16
Tesla, Inc (NASDAQ:TSLA) looks to run two shifts at its Shanghai plant from May 16, Reuters reports.
The additional shift would enable the EV maker to return factory output to pre-lockdown levels.
Tesla aims to churn out 2,600 electric cars from the Shanghai plant per day.
Wall Street Journal
Facebook Deliberately Caused Chaos In Attempt To Thwart Unfavorable Australian Law, Whistleblowers Allege
Whistleblowers have alleged that Meta Platforms Inc-owned (NASDAQ:FB) Facebook's act of blocking news pages in Australia was a deliberate negotiating tactic to thwart a potential law.
Meta had publicly called the resulting chaos "inadvertent," but the whistleblowers said it was to exert maximum negotiating leverage over the Australian parliament, which was voting for the law that required platforms like Facebook and Alphabet Inc's (NASDAQ:GOOGL) (NASDAQ:GOOG) Google to pay news outlets for content.
The report said that the social media giant last year created an algorithm to identify pages that would affect the most publishers — instead of using Facebook's long-established database of existing news publishers.
Closely Watched Bausch + Lomb IPO Priced Below Expectations
Bausch + Lomb Corp (NYSE:BLCO) has priced its initial public offering at $18/share, falling short of expectations as it became the first big company in months to try going public in a turbulent stock market, writes Wall Street Journal.
Bausch Health Companies Inc (NYSE:BHC), the parent company, raised $630 million in the offering.
According to a regulatory filing, BHC aimed to raise as much as $840 million and sell the stock at $21 - $24 a share.
Bloomberg
SAP Battles Gender-Diversity, Harassment Claims
SAP SE ADS (NYSE:SAP) chief Christian Klein failed to impress critics with his response to the lack of gender diversity at a cloud computing event.
Multiple SAP employees disclosed that networking events involve heavy drinking, resulting in unwelcome advances from senior male managers toward female colleagues.
Some women who have complained about unfairness found HR to be unhelpful or hostile, moving women to other roles or pushing them out of the company entirely.
Apple, Microsoft To Be Hit As China Bans Foreign Computers, OS In Government Offices
China has asked its central government agencies and state-backed corporations to replace all foreign PC hardware and operating systems with domestic alternatives within two years.
The Chinese government, which has been regularly barring certain products from procurement lists to promote Chinese items, told the staff of state-owned firms to turn in foreign PCs for inhouse Chinese alternatives, according to the report.
The move is one of the most aggressive pushes by Beijing as part of its decade-long campaign to replace imported technology with local alternatives due to rising privacy concerns.
Elon Musk's $400M Backing From a 16z For Twitter Also Brings Facebook In The Picture
Andreessen Horowitz's bid to join Tesla Inc (NASDAQ:TSLA) CEO Elon Musk in his takeover of Twitter Inc (NYSE:TWTR) could reportedly spur a conflict or two.
The Silicon Valley venture capital firm's involvement in the Musk-Twitter deal is under the scanner as co-founder, and general partner Marc Andreessen has been on the board of Facebook parent Meta Platforms Inc (NASDAQ:FB) since 2008, reported Bloomberg.
Another general partner at Andreessen Horowitz, Vineeta Agarwala, is married to Twitter's current CEO Parag Agrawal.
Financial Times
Fake Meat Producers Fight It Out For Patents
The battle for vegan beef burgers intensified as Unimaginable Meals, a plant-based meat producer, and Motif FoodWorks fight for patent infringement.
Unimaginable has claimed that Motif has infringed its patent defending the invention of a beef duplicate product that makes use of heme, a molecule containing iron.
Unimaginable filed a lawsuit in a Delaware court docket in March, which was challenged by Motif last week.
Benzinga
Apple Will No Longer Accept Indian Debit, Credit Cards For App Purchases: Here's Why
Apple Inc (NASDAQ:AAPL) will no longer be accepting Indian debit and credit cards as a payment method for apps and subscriptions on the App Store.
The company told its users via email that it won't be accepting cards issued by Indian banks because of India's central bank guidelines of the new auto-debit rules that came into force last year. However, the customer may add cards issued by banks of other nations for payments.
Tesla's India Team Shifts Focus To Wider APAC Region Amid Regulatory Woes
Tesla Inc (NASDAQ:TSLA) may now be headed to the larger Asia-Pacific (APAC) market as it continues to face regulatory challenges in India, according to an Economic Times report.
Elon Musk-led Tesla's India foray has been mired in red tape for a long time. The company has been facing headwinds due to high import duty levied by the Indian government, and it has been lobbying the government to reduce the rates.
Currently, India levies a 60% import duty on EVs priced at $40,000 or less and 100% duty on EVs priced at more than $40,000.
Come June, Facebook Will No Longer Tell You When Your Friends Are Nearby
Meta Platforms Inc (NASDAQ:FB) social media platform Facebook is reportedly pulling the plug on "Nearby Friends" and some other location-based features.
The Mark Zuckerberg-led platform said Time Alerts, Location History, and Background Location are also getting the ax, according to a report from 9to5Mac.
The features will no longer be available after May 31, 2022. However, some data such as the user's location history will be available for download until Aug. 1, 2022, according to the report.
FDA Limits Use of Johnson & Johnson's COVID-19 Vaccine to Certain Individuals - All You Should Know
The FDA said it was limiting the use of Johnson & Johnson's (NYSE:JNJ) COVID-19 vaccine for adults due to the risk of a rare blood clotting syndrome.
The J&J shot can be administered in cases where authorized or approved COVID-19 vaccines are not accessible, or if an individual is less keen on using the other two shots, the FDA said.
The FDA said the risk of TTS warranted limiting the use of the single-dose shot after it investigated reported cases.
LFG Surpasses Tesla To Become Second Largest Corporate Bitcoin Holder
The Luna Foundation Guard (LFG) now holds $3.5 billion worth of Bitcoin BTC/USD for its stablecoin reserves.
LFG acquired another 37,863 BTC worth $1.5 billion in OTC swaps from Genesis Trading and Three Arrows Capital.
LFG is now one of the top 10 holders of Bitcoin in the world. With 80,394 BTC worth over $3.5 billion, LFG currently holds more Bitcoin than Tesla Inc (NASDAQ:TSLA).
Coinbase NFT Marketplace Sees Under 150 Users On Day One
The widely anticipated launch of Coinbase Global Inc's (NASDAQ: COIN) NFT marketplace appears to have had an underwhelming first day.
According to data from Dune Analytics seen by Decrypt, Coinbase NFT had under 150 users on the first day of being open to the public.
The platform was launched on Wednesday and saw only $75,000 worth of Ethereum ETH/USD traded at the end of the day.
Boeing Will Shift Base To Arlington As It Seeks Closer Ties With Washington
Boeing Co (NYSE:BA) on Thursday said it would shift its corporate headquarters to Arlington, Virginia from Chicago, Illinois — a move that would help its senior management and other key members get closer to decision-makers at the White House.
The planemaker said its Arlington, Virginia campus just outside Washington, D.C. will serve as its global headquarters and bring it closer to "customers and stakeholders."
Boeing said it also plans to develop a research and technology hub in the Arlington area.
Photo via Wikimedia Commons