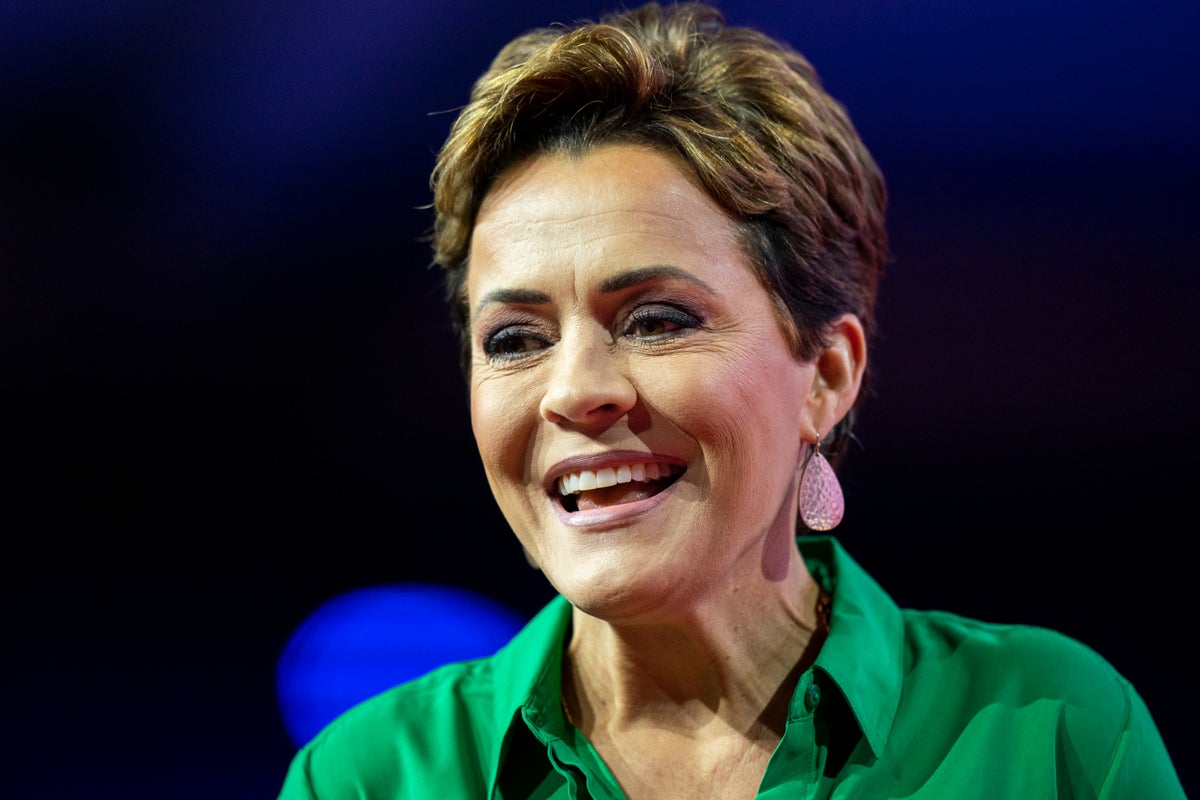 Defeated Arizona GOP gubernatorial nominee Kari Lake tweeted an AI image of Donald Trump laughing at the news of his indictment as fake images showing the former president's arrest appeared on social media.
"Mood," Ms Lake, a former TV journalist, wrote along with the image showing Mr Trump holding a newspaper reporting on the legal action against him.
Following the news of Mr Trump's indictment on Thursday, Ms Lake tweeted: "They just indicted President Trump. Unfortunately for them, this will only make him stronger. I didn't think I could possibly support him more, but this political Witch Hunt only strengthens our resolve to fight. We've got your back, Mr. President."
The date and time of the court hearing for the arraignment of Mr Trumphave been confirmed by the court, and will take place on Tuesday 4 April at 2.15pm ET.
A Manhattan grand jury voted on Thursday to indict Mr Trump, probably for falsifying business records in connection to a 2016 hush money payment to porn actor Stormy Daniels for her to remain silent about a 2006 affair she claims to have had with Mr Trump, an allegation he denies.
It has been reported that Mr Trump faces more than 30 counts of business fraud.
Twitter users responded to Ms Lake's "mood" tweet with their own AI-generated images of Mr Trump, both in support of Mr Trump and from those critical of the ex-president.
Earlier this month, before the indictment of Mr Trump was announced, AI images of Mr Trump being arrested were shared on Twitter.
The artificial intelligence image generator Midjourney said on its Discord server on Wednesday that it would be ending its free trials "due to a combination of extraordinary demand and trial abuse".
The AI image generator was also used to create images of Pope Francis.
Founder and CEO David Holz wrote that "we tried turning trials back on again with new safeties for abuse but they didn't seem to be sufficient so we are turning it back off again to maintain the service for everyone else," according to screenshots shared by ABC reporter Emmanuelle Saliba.
"Due to a combination of extraordinary demand and trial abuse we are temporarily disabling free trials until we have our next improvements to the system deployed," he added.
Photographers are growing concerned about the use of AI images as some believe they're real, according to Insider.
"These images, created by machine learning algorithms, can be incredibly realistic, blurring the line between reality and fiction," UK photographer Adam Khan told the outlet. "Additionally, it can lead to the creation of work that is not representative of the creative's own artwork, as AI-generated images can easily replicate styles and techniques."
Presley Ann, a photographer based in LA, told Insider, "I don't think laws have caught up with how harmful AI can be".
"As things progress, it can even become an issue for people's livelihood," she added.
"A lot of celebrities do these endorsement deals, so what's to stop a big corporation from using a celebrities face in some sort of AI-generated way," she said.
"The danger of this is that it can lead to a loss of trust in visual media, making it more difficult to discern what is real and what is not," Mr Khan noted.
"This poses a threat to the integrity of the creative industry and highlights the need for ethical considerations surrounding the use of AI in the arts," he added.