The five guarantee schemes launched by the Congress-led government in the State will improve the economic conditions of the poor who have been in distress due to price rise and unemployment. This will also improve the State economy and increase Gross State Domestic Product (GSDP), Minister for Environment, Ecology and Forest and district in-charge Eshwar Khandre has said.
Unfurling the national flag to mark Kalyana Karnataka Utsav (Liberation Day) at Nehru Stadium in Bidar on Sunday, Mr. Khandre recalled that though India got Independence in 1947, it took over a year for the princely state of Hyderabad Karnataka to merge with the Indian Union on September 17, 1948.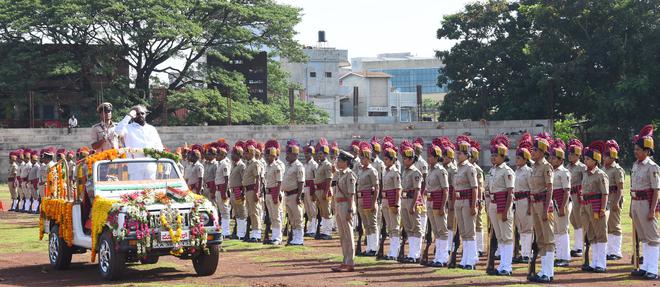 At the time of Independence, 562 out of 565 princely states decided to join India. But the Nizam of Hyderabad and the ruler of Kashmir did not show any intent to do so. On September 13, 1948, the Government of India started police action against Hyderabad and the Nizam was left with no option but to accede to the Indian Union, he said.
Leaders like Sardar Vallabhbhai Patel and Jawaharlal Nehru played a major role in the liberation of Hyderabad, he added.
Mr. Khandre lauded the efforts of leaders such as Swami Ramanand Teerth, Jagannath Rao Chandraki, Dattatraya Auradi, Shivamurthy Swami Alwandi, Mahadevappa Lokhande, Prabhu Rao Kambaliwale, Kashappa Khandre and Bheemanna Khandre who actively participated in the struggle for the liberation of Hyderabad Karnataka [now known as Kalyana Karnataka].
A procession carrying the portrait of the former Deputy Prime Minister Sardar Vallabhbhai Patel was taken out from Basavashwara Circle to the Nehru Stadium. Students from various education institutions and members of pro-Kannada organisations participated in the procession.
Minister for Municipal Administration Rahim Khan, Member of Legislative Assembly Shailendra Beldale, Member of Legislative Council Arvindkumar Arali, Raghunath Rao Malkapure, Deputy Commissioner Govind Reddy, Zilla Panchayat Chief Executive Officer Shilpa and others were present.