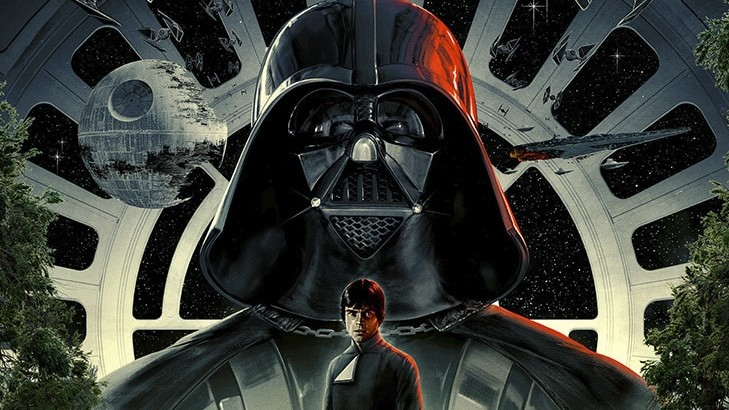 Star Wars day is upon us, and whether this is your first time or, if you're anything like us, it's yet another rewatch, we think it's the perfect time to delve into the iconic sci-fi franchise. If you're a die-hard original trilogy purist or perhaps the prequel trilogy is your guilty pleasure, there's no judgement here – the goal is to get the ultimate experience of that galaxy far, far away in the comfort of your home.
Let's get the basics out of the way for those not acquainted with the Star Wars universe. It's a well-known fact that the films were released out of chronological order, so it's up to you how to watch them. You can either go for release order:
Star Wars: Episode IV – A New Hope (1977)
Star Wars: Episode V – The Empire Strikes Back (1980)
Star Wars: Episode VI – Return Of The Jedi (1983)
Star Wars: Episode I – The Phantom Menace (1999)
Star Wars: Episode II - Attack Of The Clones (2002)
Star Wars: Episode III – Revenge Of The Sith (2005)
Star Wars: Episode VII – The Force Awakens (2015)
Rogue One: A Star Wars Story (2016)
Star Wars: Episode VIII – The Last Jedi (2017)
Solo: A Star Wars Story (2018)
Star Wars: Episode IX – The Rise of Skywalker (2019)
Or you can watch them in chronological story order:
Star Wars: Episode I – The Phantom Menace
Star Wars: Episode II – Attack of the Clones
Star Wars: Episode III – Revenge of the Sith
Solo: A Star Wars Story
Rogue One: A Star Wars Story
Star Wars: Episode IV – A New Hope
Star Wars: Episode V – The Empire Strikes Back
Star Wars: Episode VI – Return of the Jedi
Star Wars: Episode VII – The Force Awakens
Star Wars: Episode VIII – The Last Jedi
Star Wars: Episode IX – The Rise of Skywalker
There is of course a plethora of spin-offs and animated shows such as The Mandalorian, The Book of Boba Fett, Andor, The Clone Wars, Rebels and The Bad Batch which you can find on Disney+. We're sticking to just the films here, and considering it's the 40th anniversary of Return Of The Jedi, we recommend diving into the original trilogy first to really get engrossed in the fierce battle between the Rebellion and the Empire. 
Now we've nailed down the basics, we can now impart some AV wisdom that will help you to get the most out of this beloved sci-fi series at home.
Go for the 4K Blu-ray versions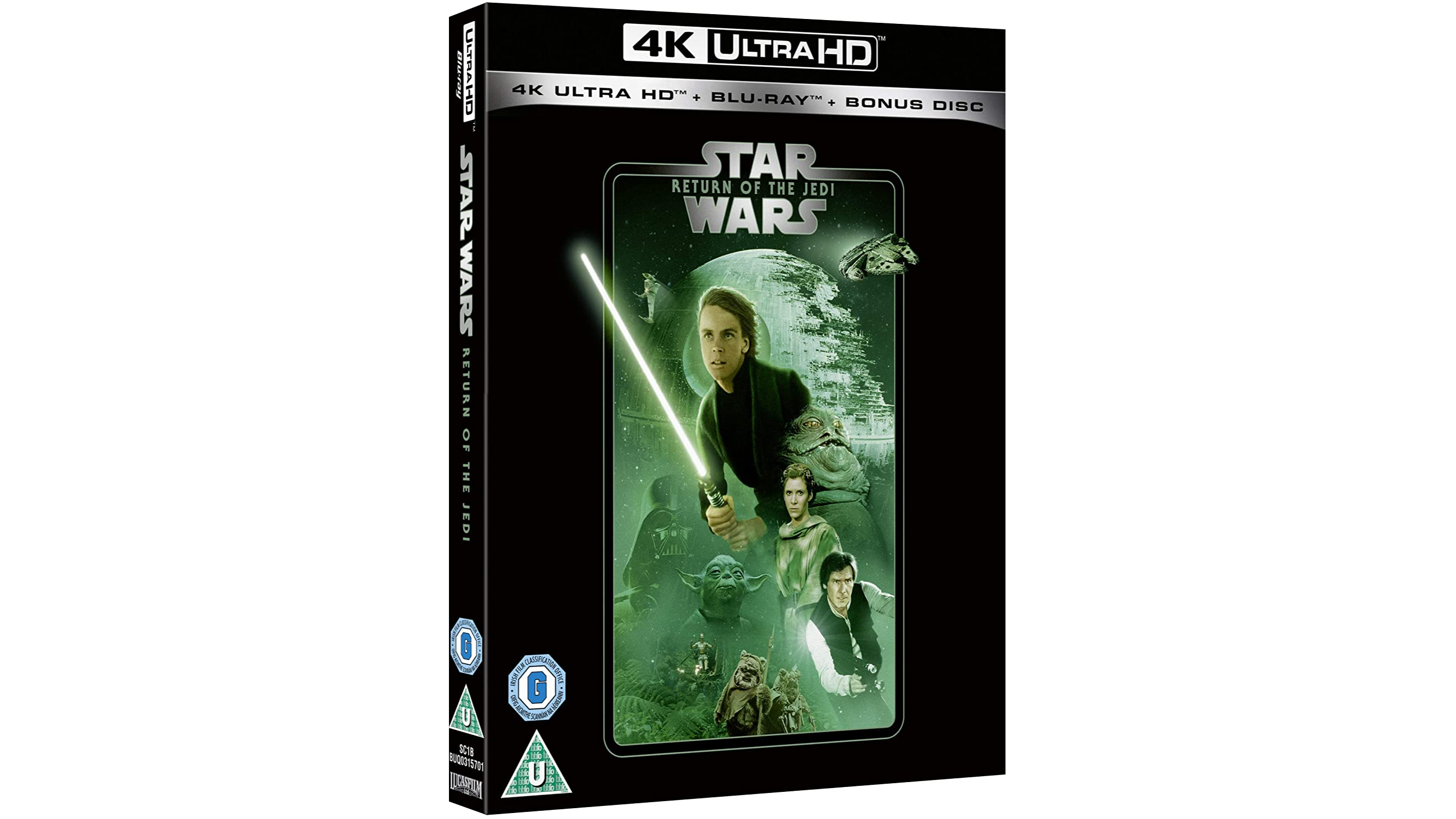 Since its release back in 1977, Star Wars has had a fair few alterations when it comes to home video releases. Think of these versions like the Clone army; they all appear identical at first, but each has its own unique quirks. With each home cinema release, from VHS to DVD and Blu-ray, creator George Lucas decided to "enhance" each edition with new CGI creatures to enable his supposed original vision with the aid of updated visual effects technology. Fan reception hasn't been exactly welcoming, as the effects already look dated, and tampering with a series as beloved as Star Wars is always dangerous. 
That being said, if you want to watch Star Wars in the best possible quality, then you'll have to put up with these CGI enhancements, as the 4K Blu-ray collection released in 2020 features these versions. These 4K physical copies have received excellent reviews for their updated picture quality, HDR support and Dolby Atmos audio.
Not got a Blu-ray player? No problem, as you can buy or rent the Star Wars movies on iTunes with all of the aforementioned 4K, Dolby Vision and Dolby Atmos enhancements. You can access these versions through the Apple TV 4K, Chromecast with Google TV, Amazon Fire TV devices or the Apple TV app on most TV smart platforms.
In a pinch, all of the Star Wars films are available to stream on Disney+ in 4K Dolby Vision with Dolby Atmos – however, they won't look or sound as good as the Blu-ray versions. This is due to 4K Blu-ray discs offering higher bitrates than what streaming services can offer, resulting in a smoother and cleaner image. The same is true with audio, as discs offer lossless audio via Dolby TrueHD, meaning that while the Disney+ versions do support Dolby Atmos (and they still sound good by all means), the Blu-rays should sound slightly clearer and more immersive.
Enable Dolby Atmos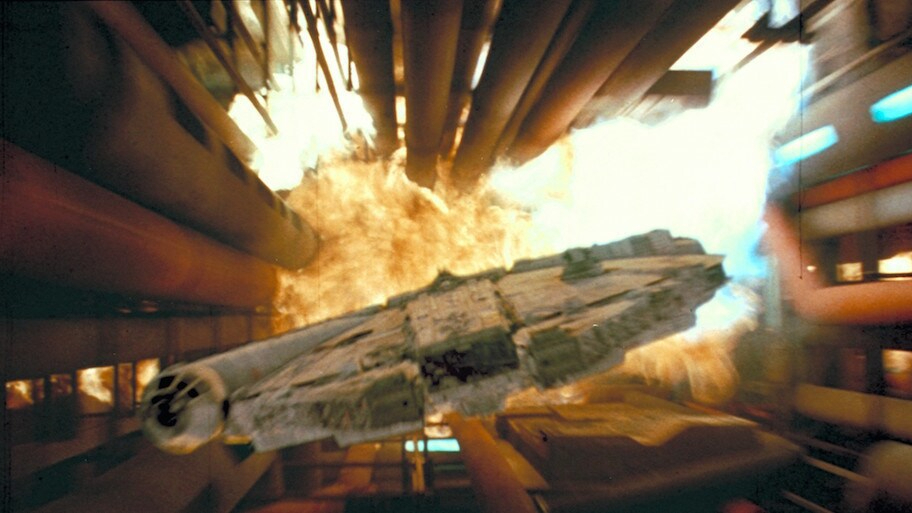 There are so many iconic pieces of dialogue and sound effects in Star Wars, and these have all been enhanced with Dolby Atmos with this latest re-release. Whether that's the humming of lightsabers, the screeching of Tie Fighters or the iconic (and terrifying) rhythmic breathing of Darth Vader as he delivers one of cinema's most iconic lines (we won't spoil it here just in case), a Dolby Atmos sound system really does enhance everything.
Now while a home cinema speaker package will of course be the best way to experience Star Wars, we understand that might not be feasible when it comes to budgets and space. Thankfully, any of the picks from our Best Dolby Atmos soundbars list will also make help to enhance your Star Wars marathon; we especially enjoy the frantic dogfights in Dolby Atmos, as well as the battle for Hoth at the beginning of Episode V: The Empire Strikes Back.
Just make sure that your TV is connected to your soundbar via ARC/eARC and that the settings on your TV are correct for outputting Dolby Atmos before you start to ensure you have the best experience. 
Set your TV to Filmmaker Mode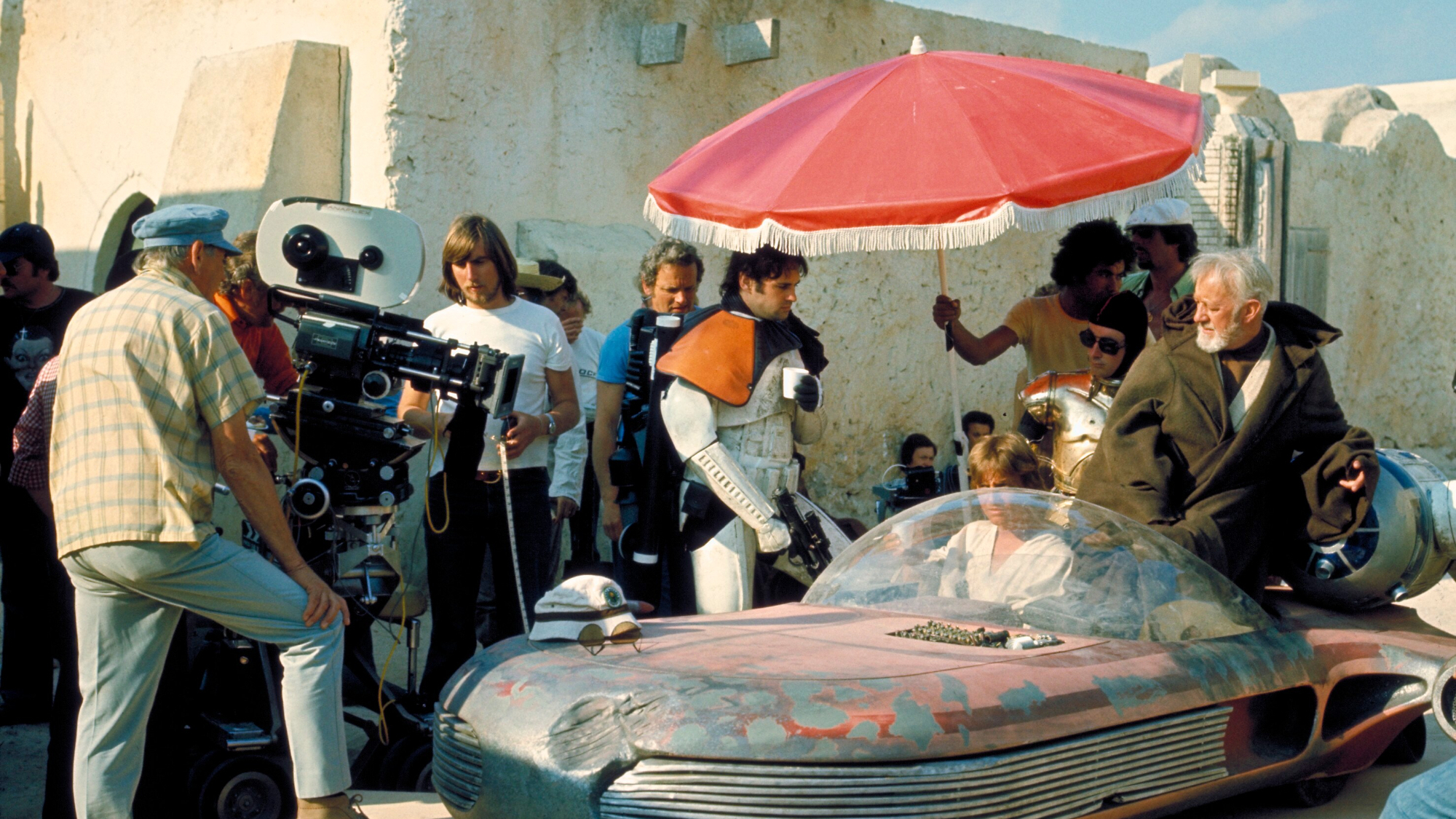 Now that sound is out of the way, we recommend taking a quick dip into your TV's picture settings to make sure they too are set correctly. Within the picture presets, look for Filmmaker Mode if you're using an LG, Samsung, Hisense, Panasonic or Philips set, or Cinema Mode if you're using a Sony TV (other TV brands may have different names). You can tweak individual picture settings to your liking, however, we find Filmmaker Modes on most TVs do a pretty good job of providing an authentically cinematic image based on our experience. 
The aim here is to go for an "as the director intended" approach, with authentic colours, as well as making sure that the majority of motion settings are turned off. With so many fast-moving spaceships and lightsaber duels, it's important to get the motion right as judder, smeary or overly smooth motion will all affect your viewing. 
If you're after the best Star Wars visual experience, and don't mind splashing some cash to do so, then an OLED TV elevates the space battles and starship scenes to new heights with deep, true blacks that authentically convey the infinite abyss of space. But don't take out word for it. Star Wars and LG teamed up just last year to release a very limited Star Wars Edition LG C2 OLED – the force truly is strong with this TV.
Master the Dark Side (switch the lights off)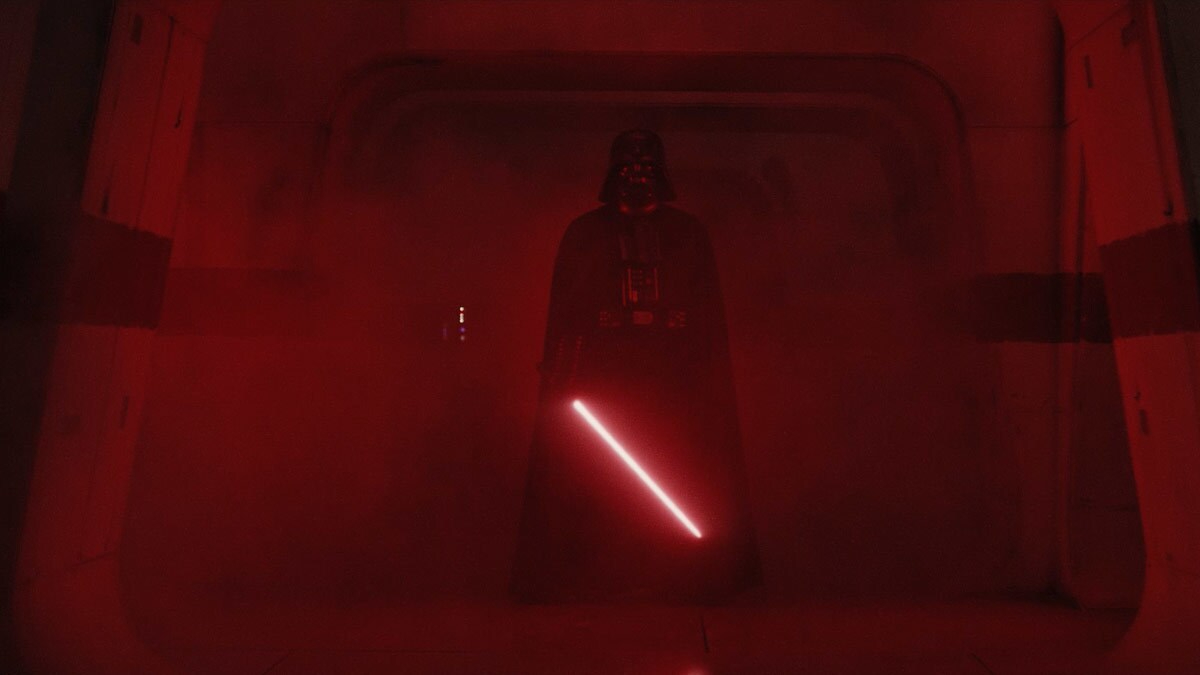 Finally, we recommend embracing the Dark Side. We don't mean by learning the teachings of the Sith, we're talking about turning the lights off while you're watching. It may seem like an obvious step for many, but just hear us out on this one...
Not only does this provide a more immersive and cinematic environment, it actually has some less obvious picture benefits. If you do have an OLED set, you'll notice improvements to contrast, with increased shadow detail and brighter highlights, and a darker room makes your TV look brighter too; it's a simple trick that can help you get the most out of your picture. Here of course is where we wish the force was real, so we wouldn't have to get up to switch the lights off.
Follow these tips and tricks and you'll be a Jedi master of home cinema set-ups – may the Force be with you. 
MORE:
Need a Star Wars-worthy OLED? Here are the Best OLED TVs
And the best 4K Blu-ray players
Check out the Best Dolby Atmos scenes to test out your home cinema