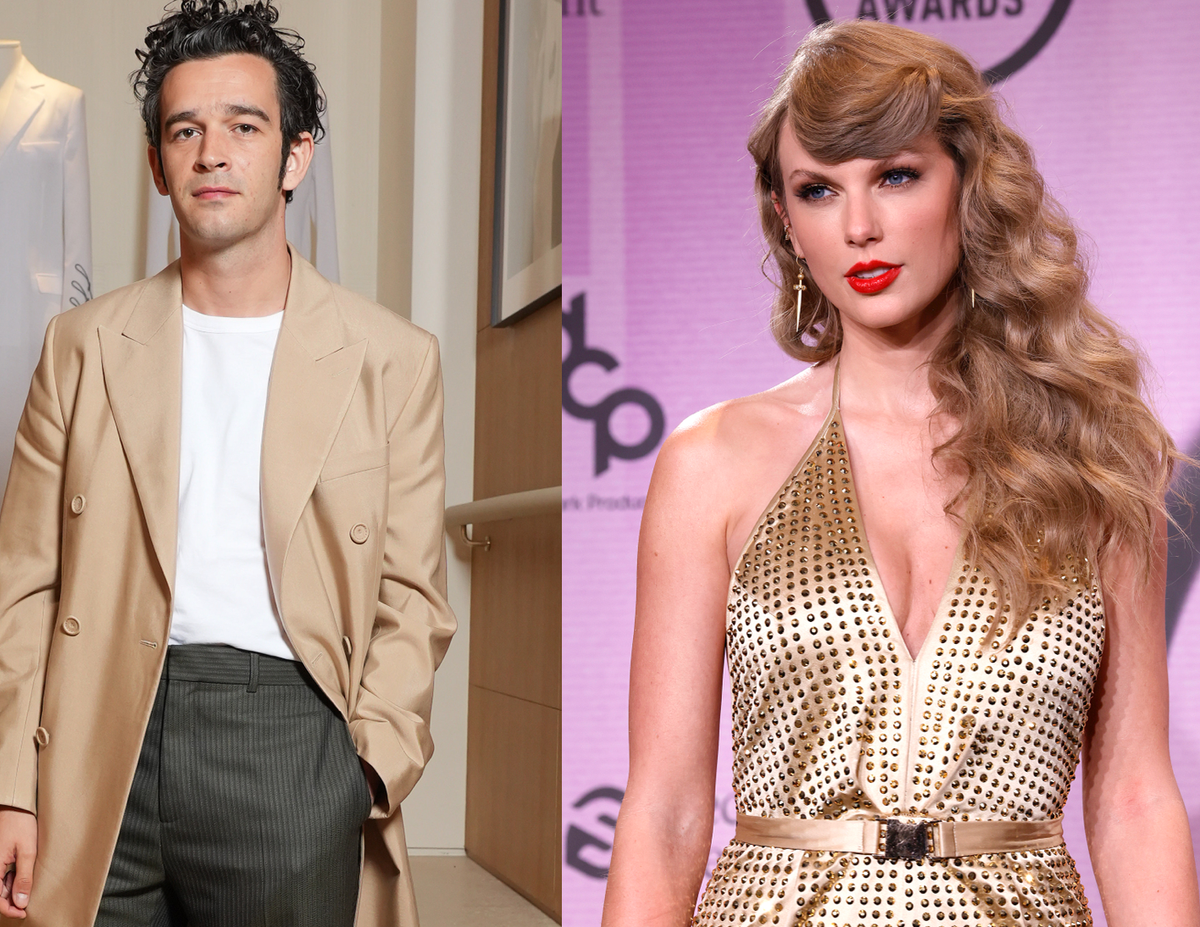 Matty Healy has candidly explained why he doesn't necessarily need any support from his fans, following his reported split from Taylor Swift.
The singer seemingly alluded to his breakup when he took the stage on Monday at a The 1975 show in Vienna, Austria. This came hours after TMZ reported that Swift was "single" again, after her brief alleged romance with Healy.
While speaking to the crowd at the concert, he praised some of his fans' "beautiful signs," as he recited one that read: "You are loved." He noted how grateful he was for this message before confessing that hasn't been looking at the internet much.
"That was very, very kind of you and I'm sure that it's alluding to…," he said, seemingly referring to his reported split from Swift. "As you're aware, I'm not really online at the moment, and I'm sure people have just been calling me a c*** relentlessly. And I've not been online."
He pointed out that he's been spending a lot of time with his friends, continuing: "But what I have been with is with my boys."
Healy concluded his remark by explaining why he doesn't necessarily need these kind messages from his fans.
"Honestly as much as I appreciate that, it's so beautiful, and I thank you, but I don't need it 'cause I've got them," he said, referring to his pals.
Following TMZ's report on 5 June, Entertainment Tonight also reported that Swift and Healy split because they were "both extremely busy" and also realised that "they're not really compatible with each other".
"Taylor's friends want what's best for her and aren't shocked that their relationship fizzled out since she recently got out of a long-term relationship," sources also told the publication, referencing Swift's recent split from Joe Alwyn after six years of dating.
The breakup news also comes after Healy was seen kissing a male security guard at The 1975's concert in Denmark over the weekend. While he's made a habit of kissing fans and his bandmates at The 1975's concerts, he told fans in January that he wouldn't be doing it anymore, as Swift made a surprise appearance at the band's London show.
"I'm not kissing anybody in front of Taylor Swift, have some respect," he said, as documented in a video on TikTok. "In front of the queen, it's not happening."
On 3 May, The Sun was the first to report that Swift and Healy were going to "go public" with their romance. This came one month after it was reported that the "All Too Well" singer had ended her relationship with Alwyn.
After that, the pair was spotted together on multiple occasions, as a photo of them seemingly holding hands at a restaurant recently went viral. In addition, Healy has been spotted at Swift's concerts as she's been on her US Eras Tour since March. Along with sitting in the VIP section of the concert with some of the singer's famous friends, including Gigi Hadid and Blake Lively, he also hung out with Swift's father, Scott Swift.
As they sent shockwaves to the internet throughout the last month, the two appeared to make few references to the relationship. At her Eras Tour concert in Foxborough, Massachusetts on 20 May, Swift told fans in the audience that she's "never been this happy" in "all aspects" of her "life ever".
Meanwhile, Healy hinted at rumours about his reported relationship while performing at BBC Radio 1's Big Weekend on 27 May. "Is it all a bit? Is it sincere? Will he ever address it?" he said on stage. "All of these questions and more will be ignored in the next hour."
Many Swifties have criticised the singer for her relationship with Healy, due to his controversial comments. In February, the "Chocolate" singer sparked backlash when he appeared on The Adam Friedland Show podcast and mocked Ice Spice. He also made a few derogatory comments about women. In addition, he previously sparked outrage on tour by kissing fans on stage and appearing to perform a Nazi salute while marching on the spot during a live show.
As fans pointed out some of these controversies, a new hashtag titled #SpeakUpNow went viral on Twitter, with fans encouraging Swift to address the allegations about her and Healy.
The Independent has contacted representatives for Swift and Healy for comment.