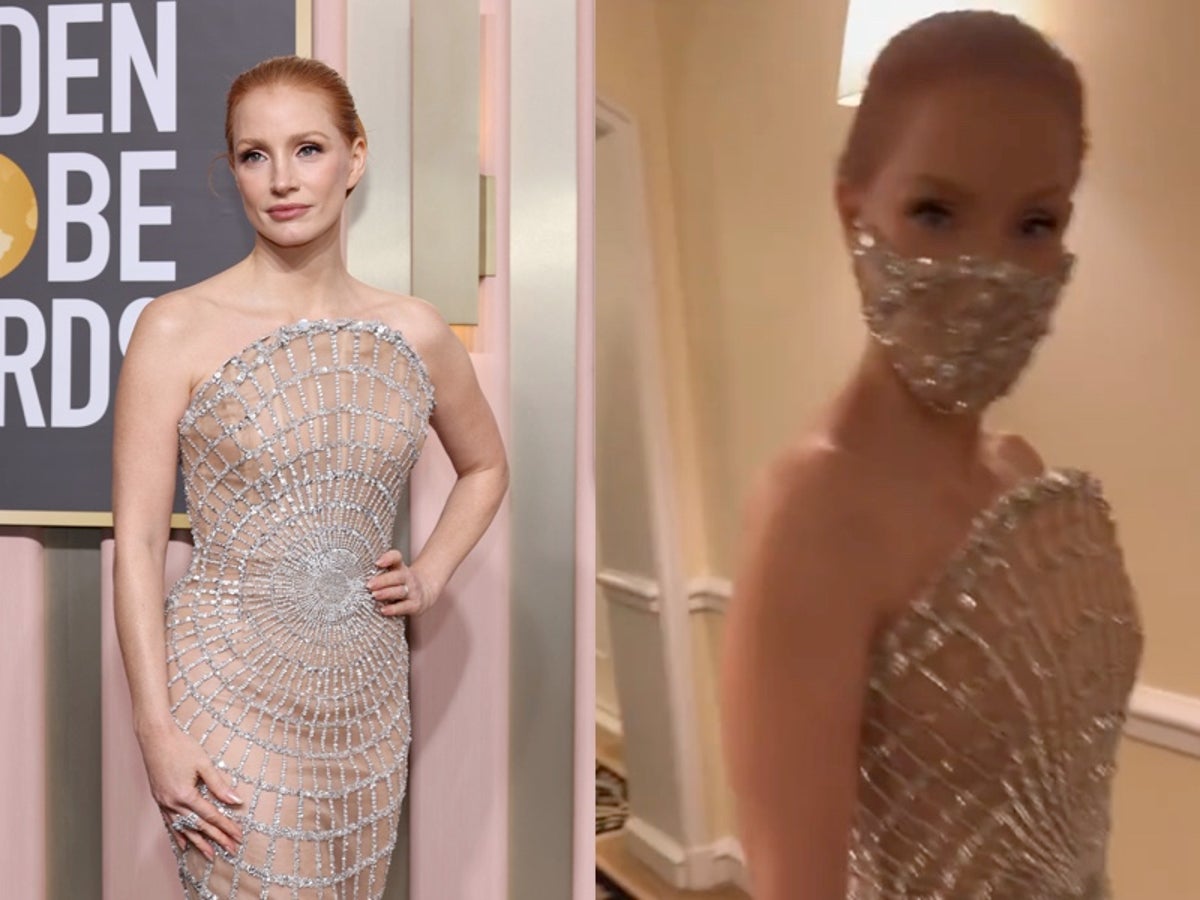 Jessica Chastain has celebrated her decision to wear a mask at the Golden Globes after a number of fellow attendees tested positive for Covid after the awards show.
On Tuesday, The Good Nurse star, 45, arrived at the 80th annual Golden Globes in a silver-and-mesh gown by Oscar de la Renta. The actress completed the look with a matching face mask, which featured the same sequined details as her gown, and which she wore while navigating the red carpet at the awards show.
"When the mask matches the dress," Chastain captioned an Instagram video of her red carpet look last week.
The safety precaution appears to have worked, as Chastain celebrated not being one of the celebrity guests who'd attended the Golden Globes and later tested positive on Sunday.
"Phew," the actress replied to a tweet from a fan, who'd tweeted a photo of Chastain's Golden Globes look and wrote: "And you know who didn't get Covid at the Golden Globes?"
Chastain's response comes after a number of celebrities revealed that they'd tested positive for Covid after the Golden Globes. On Friday, Jamie Lee Curtis revealed that she would not be attending the Critics Choice Awards this past Sunday because she'd tested positive for the virus.
"F**k Covid! Sadly, this head cheerleader is not going to be at all the weekend festivities cheering on her friends and colleagues. Life on life's terms. I'm glad that there are all these home tests available so that I didn't go to the [American Film Institute] lunch and spread my germs," Curtis wrote on social media, according to The Hollywood Reporter. "Stay safe out there people."
The Banshees of Inisherin stars Brendan Gleeson and Colin Farrell were also not in attendance on Sunday, after both confirmed to The Hollywood Reporter they would not be attending the awards show after testing positive for Covid.
Michelle Pfeiffer, who was expected to present Jeff Bridges with the Lifetime Achievement Award at the Critics Choice Awards on Sunday, also revealed the day of the awards ceremony that she would not be attending because of Covid.
"I'm so sorry to be missing the Critics Choice Awards today. Yep, Covid. Especially disappointed not to witness @thejeffbridges receive his Lifetime Achievement Award," she wrote on Instagram.
Chastain sparked mixed reactions when she chose to wear the mask at the awards show last week, with some claiming the actress no longer needed the Covid precaution. However, countless others applauded The Eyes of Tammy Faye star for wearing the face mask.
"Love that Jessica Chastain wore a mask to the Golden Globes, but also a matching mask. What a queen!" one person tweeted. "Remember folks, we are still living in a pandemic, and a bunch of other viruses are going around. Stay safe and protect each other!"
Another fan wrote: "You looked breathtaking. And the mask made me so happy!"
As for why she chose to wear the mask, Chastain revealed during a red carpet interview ahead of the Golden Globes that she wanted to avoid getting sick because of her role in A Doll's House on Broadway.
"I'm really excited about that," she said of the role, before adding: "I'm a little nervous about getting sick but I got my mask … you have to be so careful in the theatre because I don't want to let my cast down," she said.
In response to Chastain's relieved response to not getting sick, fans continued to praise her for taking the precaution.
"Queen behaviour," one person tweeted, while another said: "Thank you for modeling responsible behaviour. It really helps my kids to see role models that care about their health and those of others."