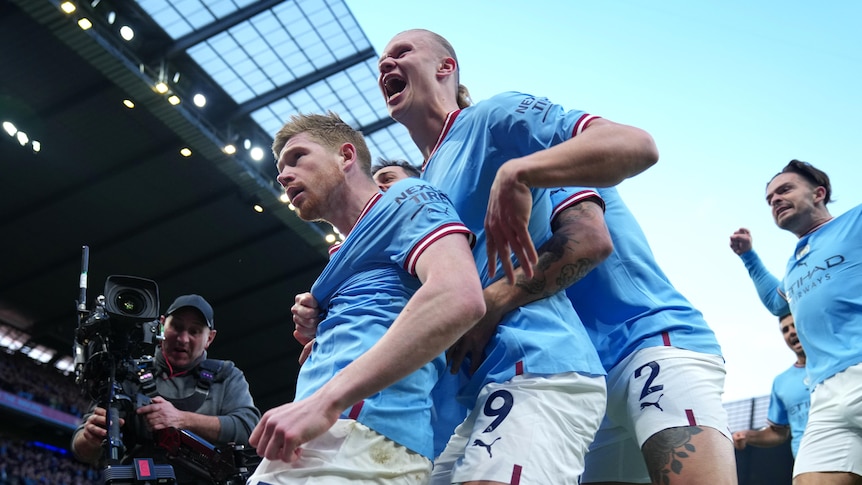 Manchester City have put themselves in the box seat for the Premier League title with a big win over top-of-the-table Arsenal.
With seven games left compared to the Gunners' five, it was always going to be a tough ask for the London club to hold of the reigning champions' charge.
But that now looks almost impossible, with City just two points behind after a 4-1 demolition at the Etihad, led by a Kevin de Bruyne double.
De Bruyne fired City ahead in the seventh minute and the hosts bombarded Arsenal's goal before John Stones deservedly doubled their lead with a header in first-half stoppage time, which was awarded by VAR.
Arsenal looked powerless to stop the onslaught and when De Bruyne struck again early in the second half it became a damage-limitation operation for the leaders.
Arsenal got on the board just before the end of the match, when centre-back Rob Holding latched onto a pass from Leandro Trossard and found the net behind Ederson.
But Erling Haaland scored deep in injury time to push the lead back out to three goals for City.
It was a similar result to the last time they face off in mid-February, with City winning that one 3-1.
Thursday morning's (AEST) win extended their unbeaten run across all competitions to 17 games, with their last loss coming on February 6 against Spurs.
Pep Guardiola's City have trailed Arsenal for almost the entire season but will go top if they beat Fulham at the weekend.
"We know what people will say but it's so hard and a lot of things can happen," De Bruyne told BT Sport.
"It's seven games still to go, lots of points, and we are still two points behind Arsenal. Our schedule is hectic, there are a lot of things going on we have to prepare for Sunday."
Arsenal have battled this month, securing painful draws in three games leading up to the showdown in Manchester — including last week against bottom-of-the-table Southampton.
Arsenal are shooting for their first Premier League crown in 19 years, while City are going for their third straight and fifth from the past six seasons.
ABC/Reuters