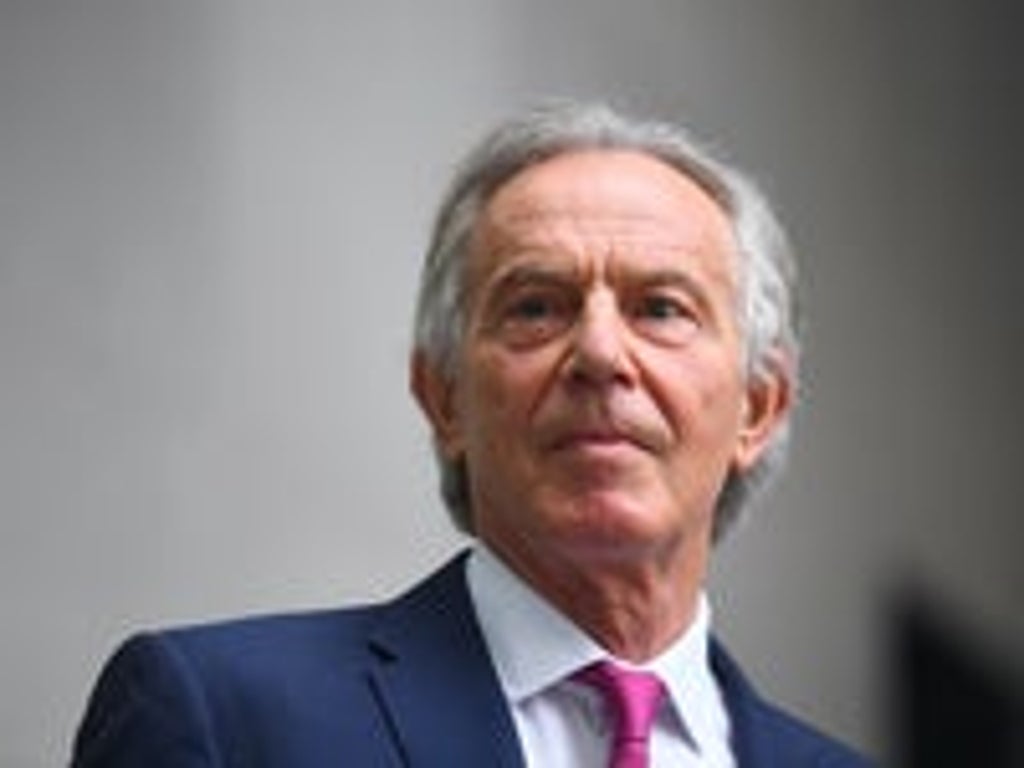 The daily testing regime which Boris Johnson and Rishi Sunak attempted to use to dodge self-isolation should immediately be made available to all Britons to end the "pingdemic" and allow the country to leave lockdown in a rational way, former prime minister Tony Blair has said.
Mr Blair said that universal release from isolation through testing for the double-vaccinated was an essential tool in a "middle path" strategy for living with the virus which would be necessary for "several years".
Speaking before the PM and chancellor U-turned to accept 10-day quarantine, Mr Blair said that the current Test and Trace system was "not rational" and was driving many to switch off their smartphone apps to avoid being "pinged".
The former PM's Tony Blair Institute today published a plan for reopening society featuring:
• Mandatory Covid passports for potential super-spreader events like sports matches, indoor performances and nightclubs.
• Daily testing of vaccinated contacts identified by NHS Test and Trace, to ensure that only Covid-positive individuals are forced to quarantine.
• Vaccination of teenagers.
• Publication of data on vaccine effectiveness.
• Mask-wearing on public transport and other crowded public places.
Mr Blair said that government should not wait until 16 August to exempt double-vaccinated adults from the requirement to self-isolate, but should move immediately to give them the right to undertake daily testing to prove their negative status.
He told BBC Radio 4s World at One: "Right now, we're at risk of moving in two contradictory directions.
"On the one hand, we're going to open everything up, free of restriction altogether. And on the other hand, we've still got this pinging Track and Trace system where people have got to go into complete isolation if they're pinged, in circumstances where probably the vast majority of those people do not need to do so. "
Mr Blair said he understood why people would delete the NHS Covid app.
"It's very difficult, because the system's not rational," he said. "I understand why people are doing it because they're thinking 'This is ridiculous, if I'm not pinged, I'm able to go into a pub, order a drink, mix with people without any restrictions whatever. If I'm pinged, even though I'm tested and I'm vaccinated, I've got to go into isolation."
Mr Blair said that the government's strategy for calculating the risks of removing restriction should be "based on the distinction between vaccinated and unvaccinated people", with those able to prove their immune status given greater freedoms.
He rejected arguments that this amounted to an unacceptable intrusion by the state into individuals' lives.
"The reality is we will be living with this disease for, in my view, several years to come and we've just got to create a framework that is consistent," he said.
"I just don't have a lot of sympathy for people who are entitled to be vaccinated, have got no health reasons for not being vaccinated and choose not to be vaccinated. And if that means that they end up with greater restrictions, you know, that's their choice. But it's really not socially responsible to refuse vaccination if you're able to get it."
Mr Johnson's retreat into self-isolation at Chequers ahead of a busy week, in which he should be overseeing the removal of Covid restrictions and working on social care plans and the Northern Ireland Protocol, was an indication of the irrational nature of the Test and Trace regime, he said.
"I don't want the prime minister of the country be in isolation at the moment," said Mr Blair. "I need him at his desk doing his job if he's tested, he's double vaccinated, he's actually had Covid, he's testing and presumably the tests are coming back negative. The point is to do this for everyone."