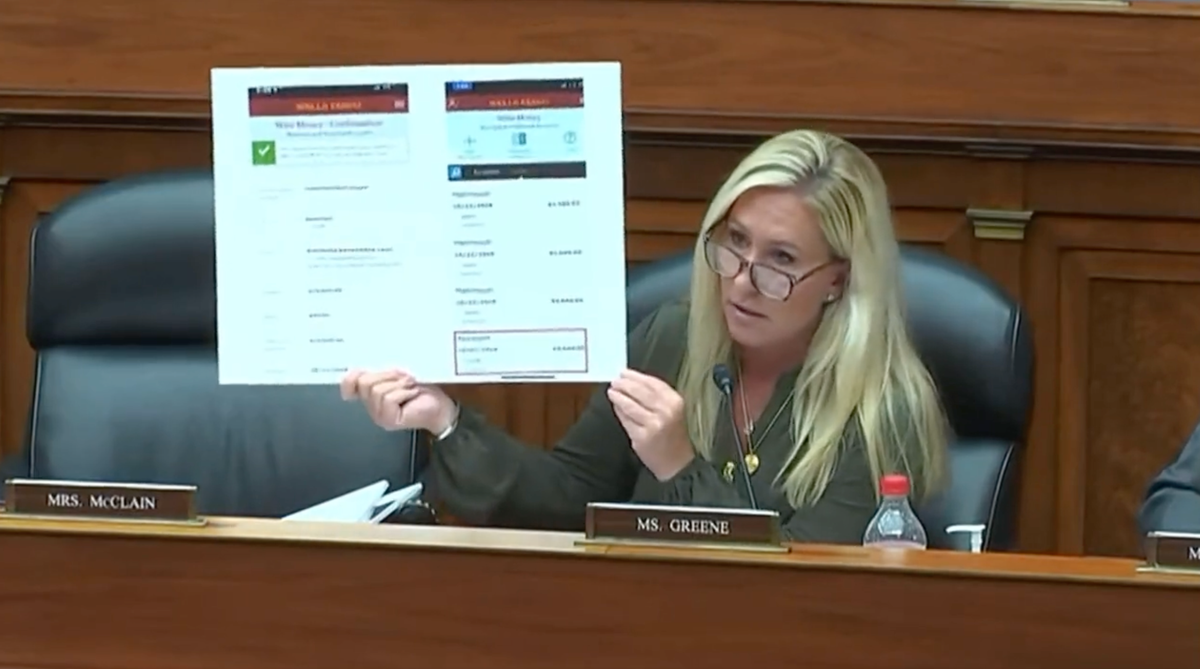 Republican Congresswoman Marjorie Taylor Greene said she was "uncomfortable" showing graphic, sexually explicit photos of Hunter Biden to Congress, but insisted that "the American people deserve to see" the photos.
Ms Greene showed the images during a House Oversight Committee hearing on Wednesday. The photos appeared to show the president's son having sex with sex workers. Black boxes were used to cover the genitals and faces of the individuals who aren't Mr Biden.
The committee was discussing the claims of IRS whistleblowers who said Mr Biden received preferential treatment during a federal tax investigation when Ms Greene unveiled her photos.
The stunt drew expected criticism from Congressional Democrats, many who offered scathing rebukes of the congresswoman's judgement.
Congresswoman Alexandria Ocasio-Cortez called the display "pornographic" and said Republicans had reached a "new low" before taking a barely-veiled shot at Congressman Matt Gaetz.
"If the gentlelady from Georgia wanted to follow evidence, we should also take a look at, hypothetically, a case where sex trafficking charges against a 17-year-old girl, potentially," she said, referencing the fact that Mr Gaetz was under investigation by the DOJ in connection with a child sex trafficking case.
Mr Gaetz has denied the allegations and his attorneys said in February that the DOJ had dropped the investigation without issuing charges.
Marjorie Taylor Greene holds up picture boards related to Hunter Biden, some of which include naked photos

— (Screen grab)
Aaron Fritschner, the deputy chief of staff and comms director for Democratic Congressman Don Beyer, noted that Ms Greene included the explicit photos in her email newsletter, and questioned whether or not children were sent those images.
"Marjorie Taylor Greene just sent this email to her constituents (yes this using official, taxpayer-funded resources). I clicked the link so you don't have to, it is exactly what you think," he wrote in a tweet, showing a screenshot of Ms Greene's newsletter. "I double checked and there isn't an age screen on her eNewsletter subscription page. So a distinct possibility that Marjorie Taylor Greene just emailed links to video containing nude images of Hunter Biden to minors using taxpayer-funded resources."
The Independent has reached out to Ms Greene for comment.
Congressman Jamie Raskin told the Washington Post that more than anything, Ms Greene's stunt was "completely irrelevant" to the day's discussion. He said that it "did not advance in any way the putative objective of the hearing" and described the incident as an "assault to the dignity of the committee."