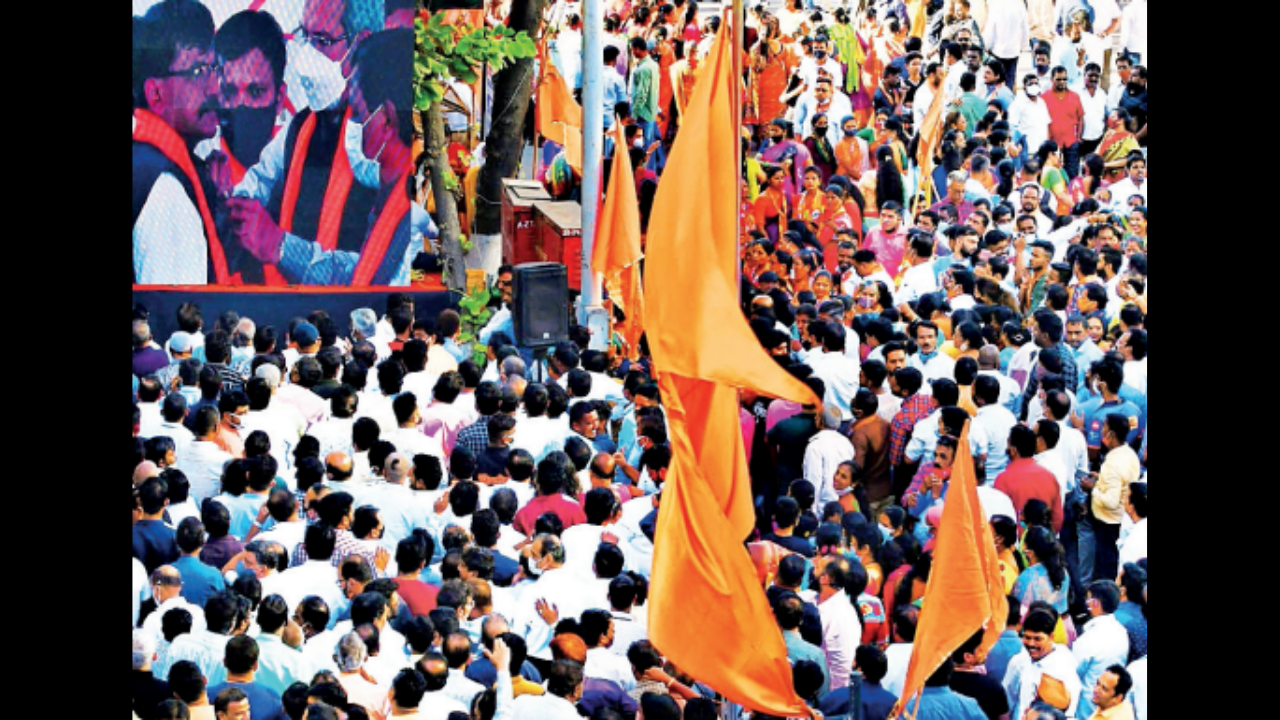 MUMBAI: Shiv Sena MP Sanjay Raut on Tuesday targeted the Enforcement Directorate (ED), opposition leader Devendra Fadnavis, and ex-BJP MP Kirit Somaiya by levelling a series of allegations of corruption, money laundering, extortion and blackmail.
Raut claimed that Central agencies were being used to topple the MVA government and that he was threatened he would be "fixed" if he did not assist BJP. Raut said BJP had threatened to impose President's rule in Maharashtra or break MLAs from MVA parties if he didn't walk out of the ruling alliance.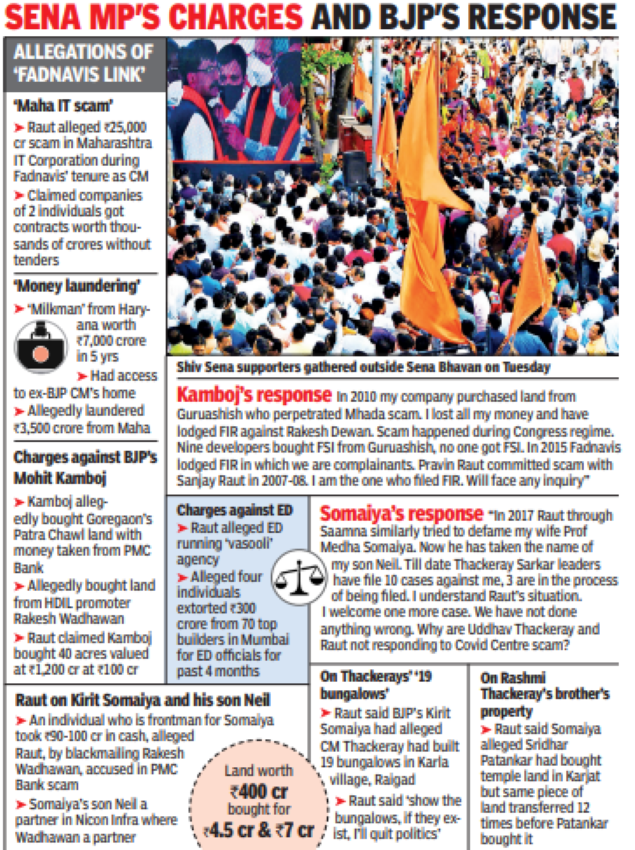 Addressing a presser at Shiv Sena Bhavan, Raut, flanked by Sena MPs, MLAs, some leaders and ministers and mayor Kishori Pednekar, alleged certain individuals "associated with Fadnavis, ED officials and Somaiya" were involved in scams and extortion. Raut, who had on Monday said "3.5 BJP leaders would soon be in jail," said CM Uddhav Thackeray had asked him to "put the truth before the people" and NCP chief Sharad Pawar too had called him to give him blessings. Raut said they had asked him to begin the fight and that they would back him. Hundreds of Sainiks had gathered at Sena Bhavan in a show of strength.
Raut alleged that a Rs 25,000 crore scam had taken place in the Maha IT Corporation during Devendra Fadnavis' tenure as CM and that "vasooli agents of ED" had extorted Rs 300 crore from prominent builders in Mumbai in the last four months. Raut said two individuals were allegedly involved in the Maha IT scam and further alleged that four individuals had "collected" Rs 300 crore from top builders in Mumbai in the ED's name.
Raut said the day ED officials began raiding his relatives and friends, he had called home minister Amit Shah. "I told him, look what ED is doing. If you want to fight, fight me, I am ready but don't torture my friends and family," Raut said.
Raut claimed ED officials were threatening children and the elderly while probing his land deals in Raigad and said he would "expose" them. "I know where they sit, eat, drink and splurge. You can try and shoot me or put me in jail, but I will not get scared or bow down. I don't think there is any jail that can keep me in for more than two years. ED, CBI are being used to defame Maharashtra. But you haven't seen our DNA. You have taken 'panga' with the wrong man. This is Shiv Sena," he said. Referring to Somaiya, Raut alleged his son Neil was a partner in a firm Nicon Infra where HDIL promoter Rakesh Wadhawan, accused of money laundering in the PMC Bank fraud case, is also a partner. Raut demanded that the EOW arrest Somaiya and his son and asked CM Thackeray to conduct enquiries.
Raut also spoke about his own land deals and refuted allegations made by Somaiya over CM Thackeray's bungalows in Raigad and allegations about the CM's brother-in-law's land purchases in Karjat.
Raut also alleged that BJP's Mohit Kamboj, whom he termed as "Fadnavis's blue-eyed boy," was involved in land deals related to Goregaon's Patra Chawl redevelopment project, where he allegedly used money taken from PMC Bank. Nana Patole of Congress and Nawab Malik of NCP came out in support of Raut. Patole urged MVA government to order enquiries into the allegations, and Malik tweeted Raut had made "very responsible allegations."