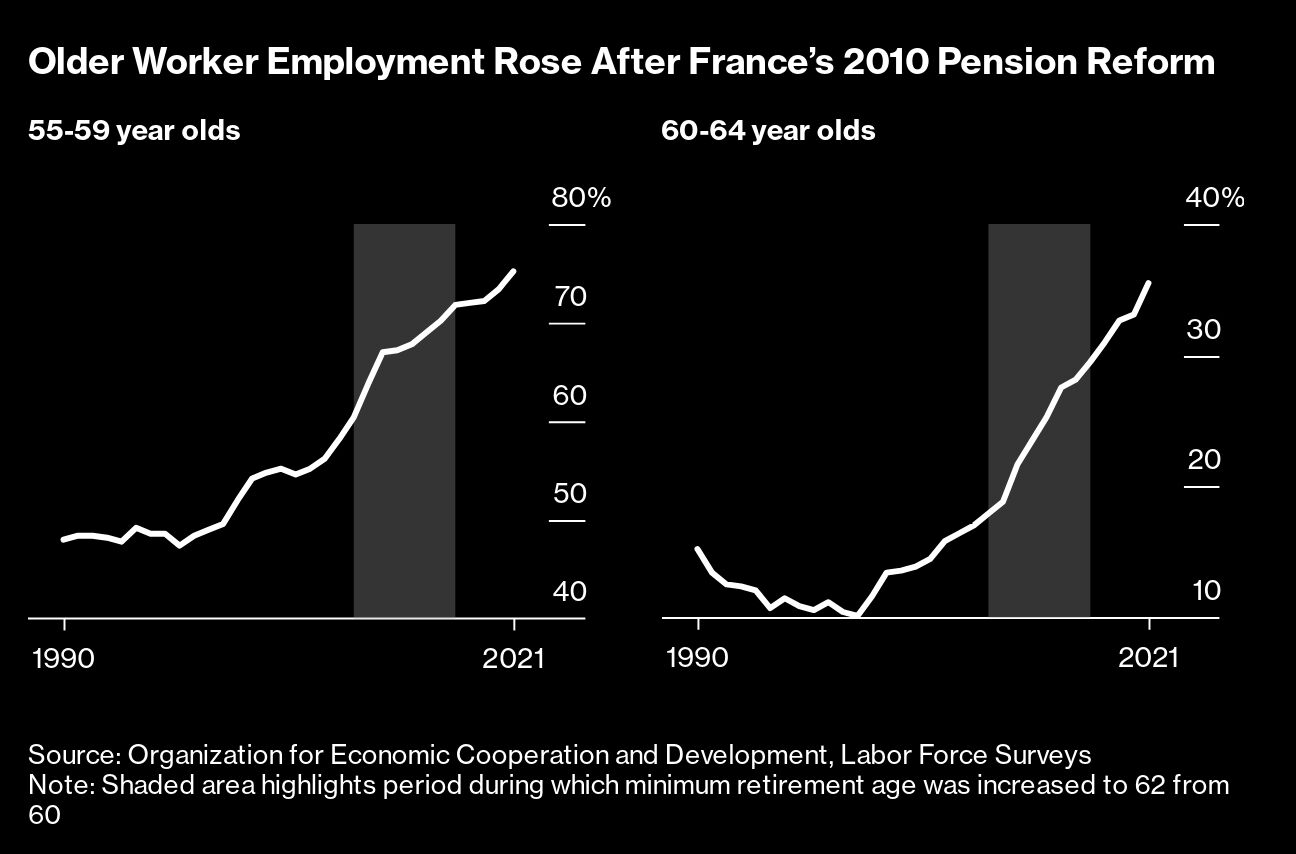 Opposition to Emmanuel Macron's plan to raise the retirement age is swelling, in a test of the French leader's determination to pursue a signature step in his pro-business revamp of the French economy.
France's president faced the biggest backlash yet on Jan. 19 when more than 1 million people joined marches across the country, and strikes closed many schools and crippled the rail network. His next major test comes Tuesday, when unions are betting a further shift in opinion in their favor will rally even more support for a second day of protests.
Since the first 24-hour walkout, surveys show growing numbers are ready to defy Macron on pensions, with more than two-thirds opposing the overhaul, according to recent polls. Lawmakers allied with his party and the conservative Republicains bloc, which he needs for a majority in parliament, are expressing doubts.
France's rail operator, SNCF, advised people to avoid travel and to work from home if possible on Tuesday. It expects only one-third of high-speed TGV trains to run.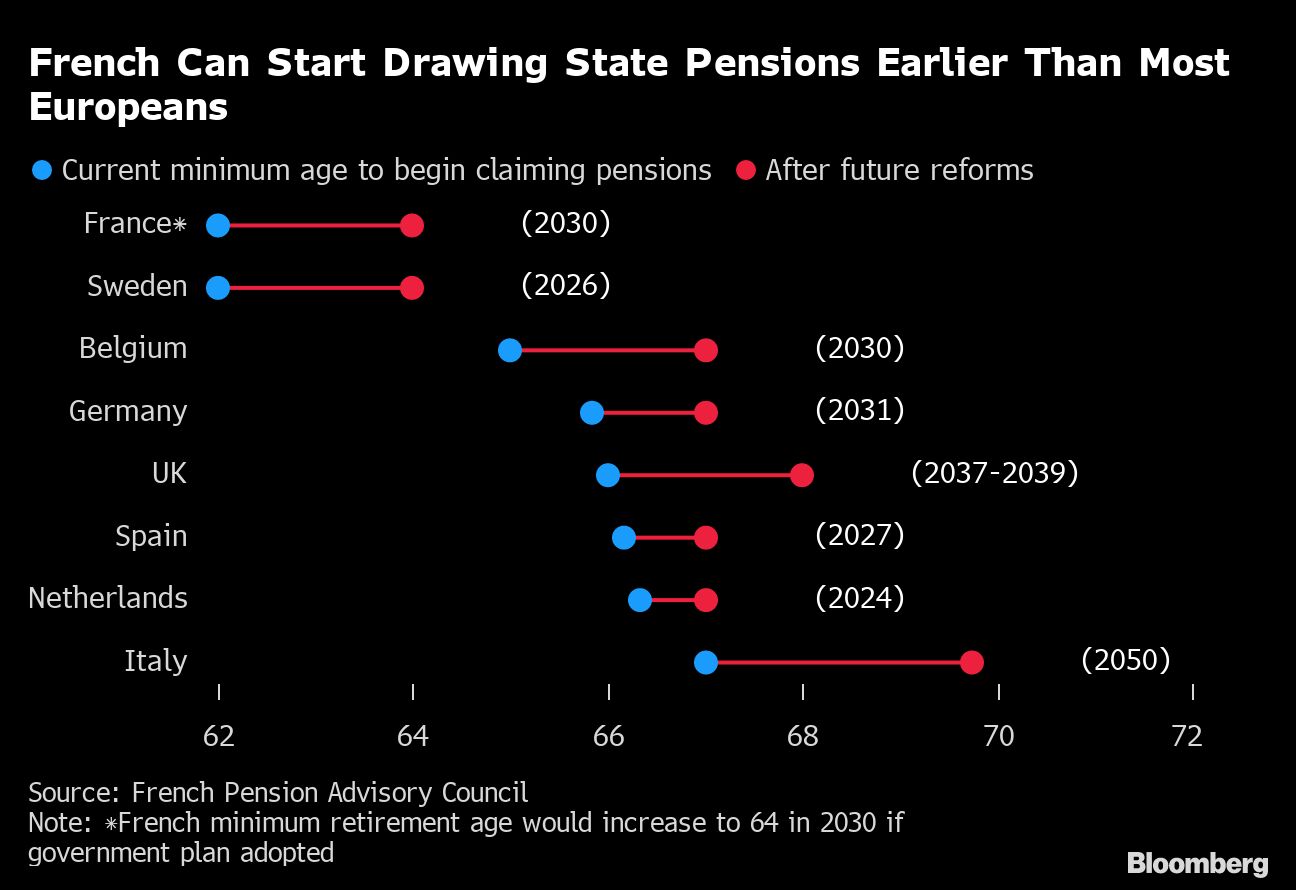 If Macron were to back down, it would endanger a fundamental part of his strategy to steady France's deficit-ridden finances and improve the economy's capacity to grow and create jobs. 
He scrapped a previous pension reform plan in 2020 after prolonged transport strikes, although the government has said the capitulation was due more to the onset of the Covid-19 pandemic.
History is a mixed guide to whether the French president would buckle under pressure from the street. In 1995, Jacques Chirac's government dropped an overhaul of pensions after extended strikes, while his successor, Nicolas Sarkozy, went ahead with increasing the minimum retirement age by two years to 62, defying months of protests.
Macron has dug in, saying that raising the lower limit again to 64 is a cornerstone of his reform that would bring France in line with other European countries. His prime minister, Elisabeth Borne, held that line this weekend, telling France Info radio that the age change "is no longer negotiable."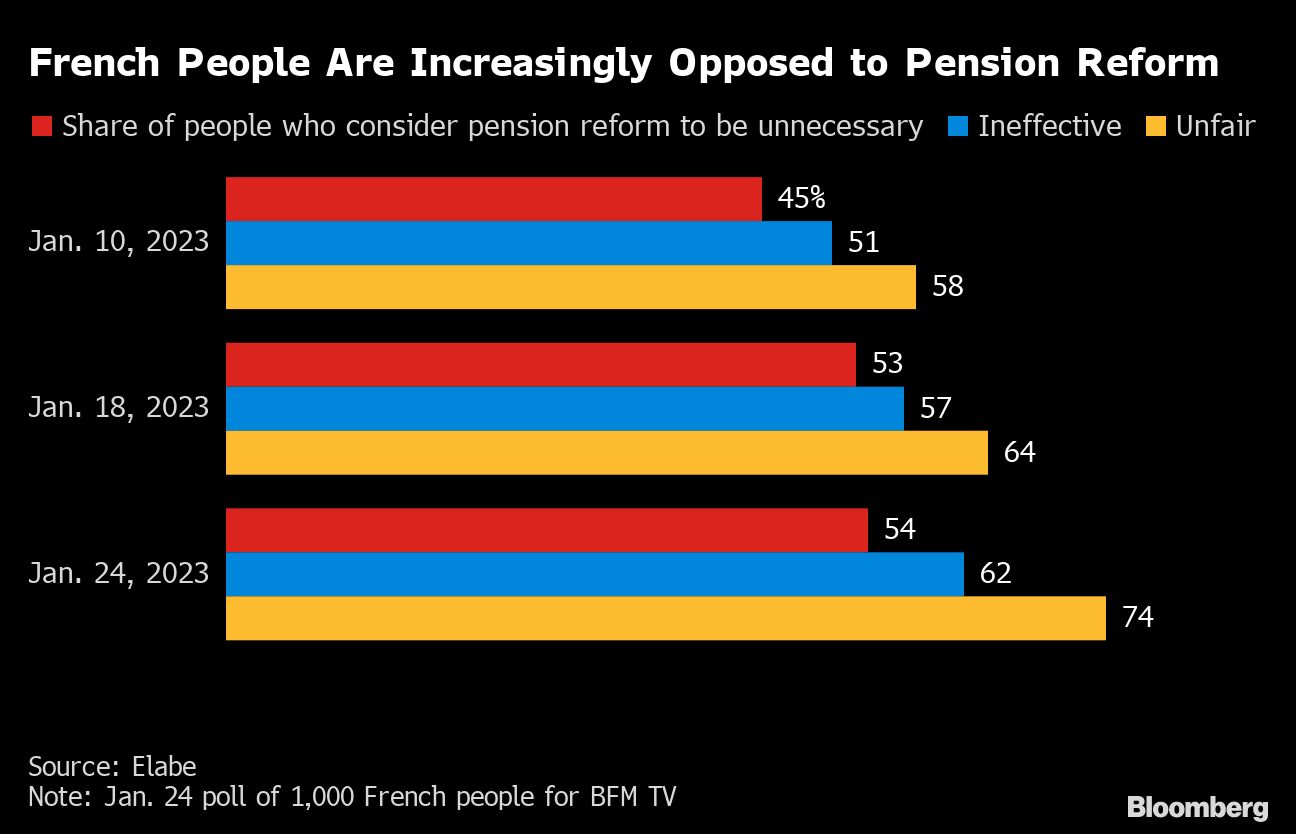 On the first day of strikes, Macron said the plan is legitimate after he made his intentions clear during the presidential election campaign last year.
"This is a reform that was presented and validated democratically, and a reform that is above all fair and responsible," he told reporters on Jan. 19.
French people don't see it that way. Only 28% backed his assessment in a poll of 1,000 adults on Jan. 24-25 by Elabe for BFM TV. Asked if they consider he was elected for other reasons — including preventing far-right leader Marine Le Pen from becoming president — 71% agreed.
Opposition to the pension reform has grown to 72% from 59% at the start of this year, according to the same survey. An Ifop poll of 1,001 people for Le Journal du Dimanche newspaper carried out at the same time showed 30% are willing to demonstrate, up 3 percentage points in a week.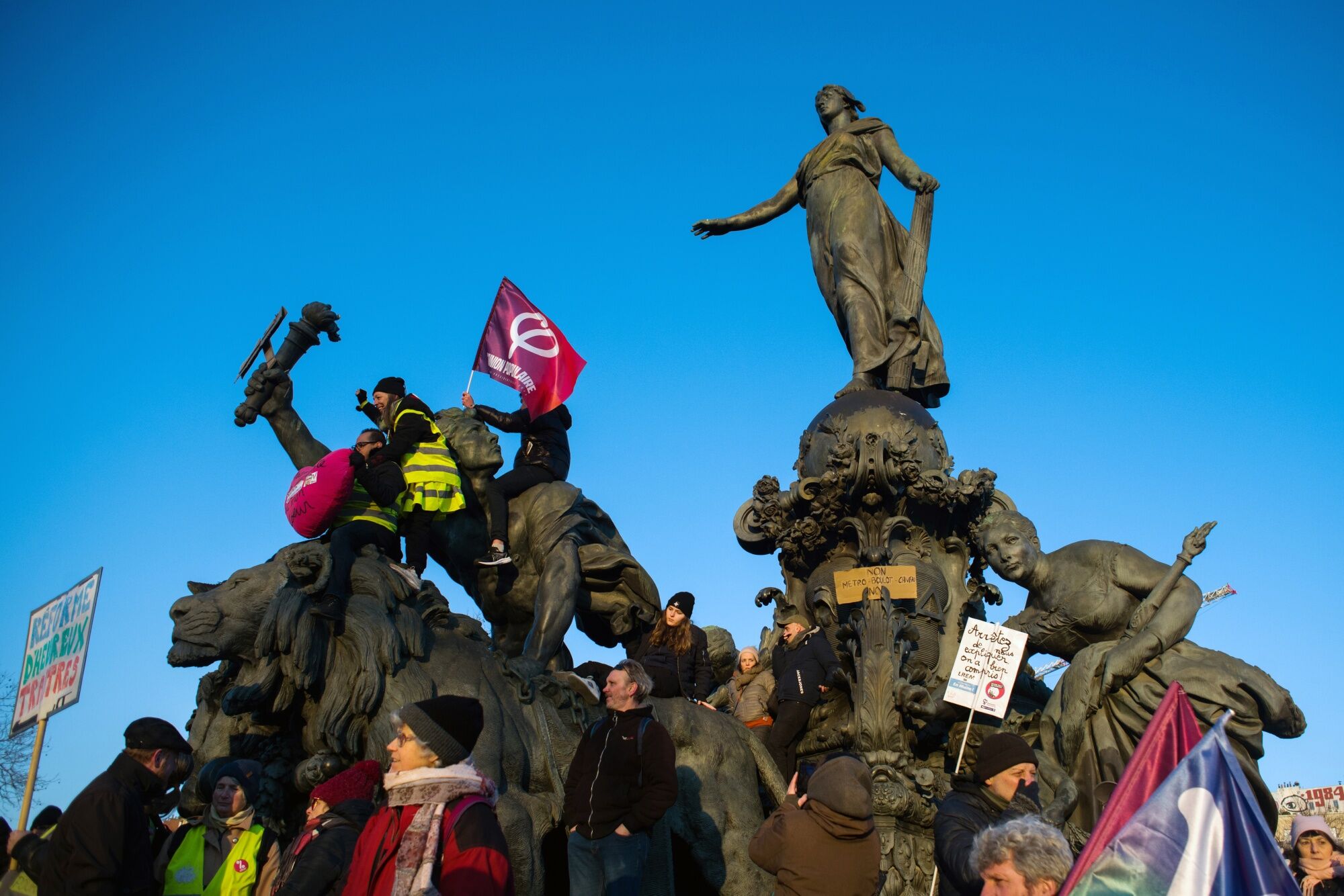 The growing skepticism flies in the face of efforts to defend the financial and economic reasoning behind the plan, and explain concessions designed to protect the least well-off. According to Macron's government, raising the minimum retirement age has already proved effective in bolstering France's relatively low employment rates among older workers.
Some comments from political allies have also fueled uncertainty. While the government insists raising pension contributions is taboo, Francois Bayrou, who leads a centrist group that backs Macron, has advocated making businesses pay slightly more into the system. The reform can still be made better, he has said, notably by setting a future date to revise it if necessary and by improving pension provisions for women who put their careers on pause to raise children.
Jean-Charles Larsonneur, a lawmaker in the party of Macron's former prime minister, Edouard Philippe, said the current plan fails to explore more sophisticated changes "maybe out of intellectual laziness."
The bill will be reviewed at the National Assembly's social affairs commission starting Monday before going to the floor of the lower house Feb. 6. Lawmakers have submitted more than 7,000 amendments for a debate that could last until March 26. The parliament, including a senate dominated by conservatives, has until that day to conclude the discussions.
Even if Macron secures the backing of his parliamentary group and its allies, the bill would need votes from the Republicains, a party stemming from the center-right movement of Chirac and Sarkozy. According to an anonymous survey by France Inter radio last week, not enough of those lawmakers plan to give their support.
If Macron cannot get a majority in parliament, he could still use a constitutional provision known as 49.3, which allows a law to be adopted without a vote. That, however, would risk stoking the anger of labor unions and could spark a no-confidence vote in his government.
©2023 Bloomberg L.P.