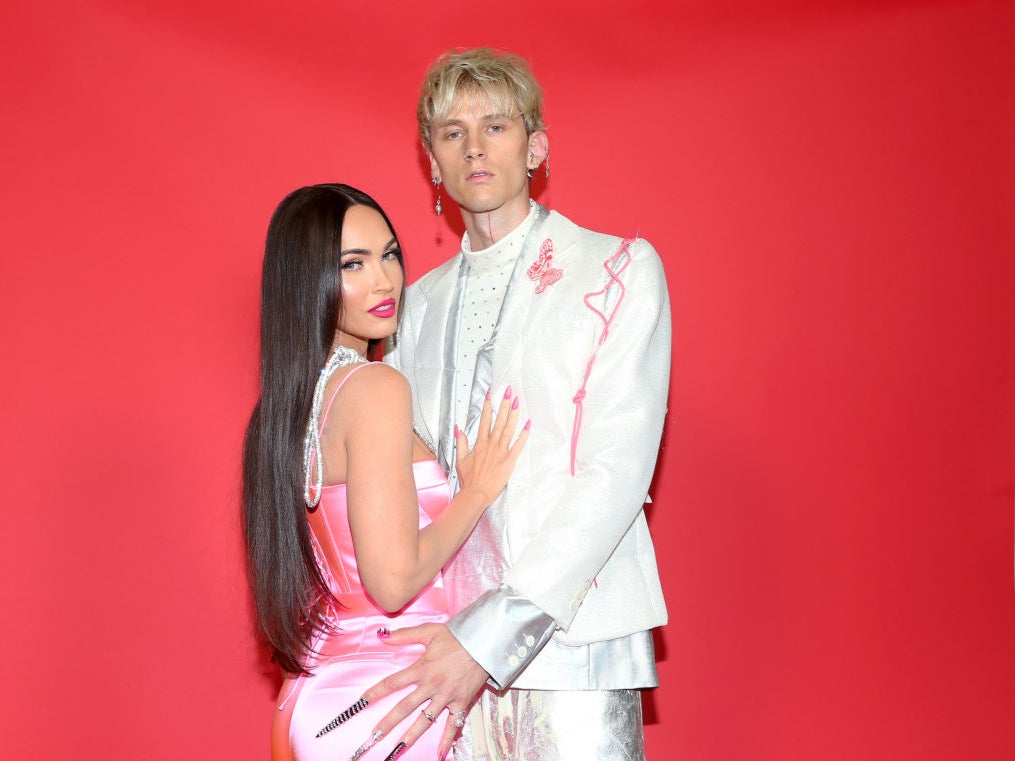 Rapper Machine Gun Kelly has revealed that he was a big fan of his girlfriend Megan Fox, long before the couple had even met as the singer had a poster of her on his bedroom wall when he was a teenager.
The 31-year-old told GQ Magazine that he was a big fan of the Transformers movies that Fox had starred in and even had a Decepticons tattoo but the star, real name Colson Baker had an affection for the film's female lead and had even reportedly told at least one classmate that he would vow to "marry [Fox] one day."
The poster that Baker owned was actually from a GQ shoot that Fox had done leading him to say "So that's some full-circle s**t."
Now Baker wouldn't be the first teenager to have a poster of his crush on his bedroom wall but almost none of us have ever actually got to date them. So with that in mind radio host, Bekah Berger asked Twitter: "Going by a poster you had in your room as a teen…who would you be in a relationship with right now?"
Going by a poster you had in your room as a teen…who would you be in a relationship with rn? Expect many a JTT + @DevonESawa response. pic.twitter.com/en6Np96RQ8

— Bekah Berger (@BekahBerger) July 15, 2021
Some of the answers were very sweet, if not predictable given the era people grew up in.
Guess it would be Cindy Crawford. pic.twitter.com/2mSK1LLspc

— César | BLM (@cesarepm) July 16, 2021
I dunno, a lot of sausage on my wall. But before I discovered metal, my cousin Sharon gave me a Kim Wilde collector card and I thought she was the most beautiful woman I'd ever seen. So @kimwilde, hey boo. pic.twitter.com/vt7MYSGSqx

— Peter Hodgson (@iheartguitar) July 16, 2021
It would be an on again/off again triangle with Leif Garrett & Robby Benson pic.twitter.com/PKocxV4Xdz

— Fully Vaccinated Shelly (@itsshellyguys) July 16, 2021
Thirteen years later, I was actually in a relationship with one of these men. pic.twitter.com/sPI8EQ7EqD

— Kelly J. Crawford (@keldruzod) July 16, 2021
my two favorite J's pic.twitter.com/vCoZYoN8IF

— 66 6e 6f 72 64 0d 0a 🌹🏴 (@einenaugenblick) July 16, 2021
Jessica Alba, this exact poster pic.twitter.com/FywU3Prdjn

— The D-Pad | #d10 (@downrightdpad) July 16, 2021
Gen X enters the chat pic.twitter.com/DssmaMF23d

— SM Widman (@perkusrex) July 16, 2021
*ahem* This is still up in my childhood room. Still. I'm 32. https://t.co/DzYSIXTXVc pic.twitter.com/5bv3DCXAP5

— Brittany C. (@hippiecounselor) July 16, 2021
And oh my god, I would be so pleased. https://t.co/xbKlzFwwPa pic.twitter.com/5Qa5tDx0el

— Dr Alice Tarbuck (@atarbuck) July 16, 2021
I stand by this…. https://t.co/NNCXviRG8T pic.twitter.com/JhvLqDEsOv

— MGH (@MichelleGHunder) July 16, 2021
Others were absolutely hilarious.
An alien asking me to take him to my dealer. https://t.co/Y7WMLtwkbF

— Sean O'Connor (@seanoconnz) July 16, 2021
All 151 first gen pokemon https://t.co/YIjJQyvwDB

— Rory B. Glyphdice (@glyphdice) July 16, 2021
The 1996-1997 Chicago Bulls https://t.co/kNbT45tAFt

— Parker Molloy (@ParkerMolloy) July 16, 2021
...I can't see it working out. pic.twitter.com/f4wzENtxkt

— Vie Ventar (@VieVentar) July 16, 2021
Gandalf and Frodo. I was a teen a decade before the films came out, so that says a lot about my teen years.

— MD Wells (@fryman1701) July 16, 2021
The 1987 Cleveland Indians.

— Tony Posnanski (@tonyposnanski) July 16, 2021
real ones know https://t.co/h3ENbMbvlY pic.twitter.com/SkIsz4FFNg

— T$E CHUN (@thetzechun) July 16, 2021
dolphins. dolphins and riku from kingdom hearts https://t.co/1q2fcu3pRy

— Jordan Fisher (@jordanfisher) July 16, 2021
Looks like i'm in a relationship w the birds of north america https://t.co/APX2XBaapx

— Vinny Thomas (@vinn_ayy) July 16, 2021
We see you, university poster shop customers.
hell yeah dude https://t.co/7Ccy3dhZ5i pic.twitter.com/24MYsRmz2h

— 🌌 george 🌌 (@deejaygeejaygee) July 16, 2021
Hey I'd like to introduce you to my girlfriend The Scream. https://t.co/NL5PFIGAHh pic.twitter.com/K0rYz5K6tN

— corn.bitch (@cornbitch2) July 16, 2021
I went to four different stores to find this poster https://t.co/8ROfc3GeRc pic.twitter.com/WhwSB1fXQP

— Goph (@thegoph) July 16, 2021
Claude Monet, alas https://t.co/b7fyTHGvTb

— Elizabeth Picciuto 🌱 (@epicciuto) July 16, 2021
The e-type would have made a great partner. The Magritte less so. https://t.co/4C1aw56Mj8 pic.twitter.com/i4RXgJcGDf

— baufinanciaphaster 👹 (@bauhiniacapital) July 16, 2021
Great now I have to fuck a pack of wolves howling beneath a full moon while a bigger, godly wolf looks knowingly down at us from space. https://t.co/VYWG5rP3bS

— Curtis Cook (@Curtis_Cook) July 16, 2021
You might be asking yourself, how old was Megan Fox when she was appearing on posters, given that Machine Gun Kelly is 31?
At 35-years-old, Fox is only a few years older than Baker but was shot to superstardom after appearing in numerous Michael Bay blockbusters when she was just a teenager, where she was sexualized from a young age, something that she has in the past spoken about.