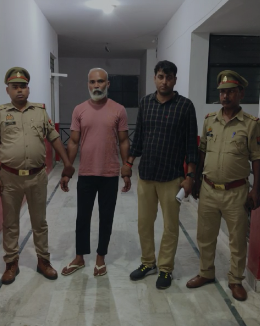 LUCKNOW: Builder Fahad Yazdani was arrested from a posh private cottage in a remote Nainital village by Hazratganj police on Friday after remaining elusive for eight months. Police said Yazdani was arrested from Bhowali area of Nainital.
DCP (Central Zone) Aparna Rajat Kaushik said that a reward of Rs 25,000 for any information leading to the arrest of Yazdani was announced in the past.
Yazdani is accused of duping cricketer Ravikant Shukla, who led the Indian team in the Under-19 World Cup tournament in 2006, of Rs 71 lakh by promising him two flats in a residential complex at Prag Narain Road. A non-bailable warrant was issued against Yazdani in this case, as well as in another case in Mahanagar where he is accused of duping flat buyers, said the DCP.
Yazdani is also wanted in another similar cheating case in Hazratganj. These cases are apart from the Alaya apartment case. "We have made a plea in the court against a stay order taken by the arrested accused in connection with the Alaya apartment case in which three people had died in January 2023," she said. According to the police dossier, Yazdani has eight cases against him.
A special team of Lucknow police was on the lookout for Yazdani after he went into hiding. "We conducted searches in almost all of his possible hideouts. But we could not find him. He was not using any phone or operating any electronic gadget or available on social media," said an officer privy to the probe.
However, after questioning some of Yazdani's accomplices, it was learnt that he had a base in Nainital.
"A team was sent to Nainital and his safe house was found to be in Sirori village in Bhowali, guarded by his own private force in civvies," said an officer privy to the probe. The terrain and transportation to his hideout were difficult, said the officer.
Following this, policemen disguised as labourers reached the cottage demanding work at the property. They were able to get an audience with Yazdani, the officer said. The cottage had all the facilities.
"We conducted a recce by posing as labourers and then on Thursday night, when the security presence was thin, we entered the cottage and arrested him," said an officer. Later, Yazdani was brought to Lucknow and sent to jail.
Yazdani's name first came into the spotlight when he was named as a suspect in the case of the five-storey Alaya residential apartment collapse in posh Hazratganj on January 24, 2023, which killed three people and injured several others.
An FIR was registered against the builder of Alaya Apartments – Nawajish Shahid, who is the son of SP MLA Shahid Manzoor, his cousin Mohammad Tariq, and Fahad Yazdani. Tariq and Nawajish were arrested two days after the incident, but Yazdani remained elusive. However, Yazdani had moved court and obtained an arrest stay in this case.