It was, in the end, straightforward enough for Real Madrid. The reigning European champion progressed to the quarterfinal of the Champions League with a 1–0 second leg win over Liverpool for a 6–2 aggregate win. It was perhaps a more open game than Real Madrid manager Carlo Ancelotti would have liked, but Liverpool never threatened the sort of surge that might have brought a comeback.
Jürgen Klopp had said before the game that Liverpool had a 1% chance of overturning the 5–2 first-leg deficit, but even by halftime that had come to seem a hugely generous assessment. Real Madrid made much of the early running and Alisson made fine saves to deny Vinícius Júnior from close range and then keep out an effort from outside the box from Eduardo Camavinga. As Luka Modrić fizzed a half-volley just over, the sense was that Madrid could simply pick its way through Liverpool when it felt like it. Midfield has been a problem area for Liverpool all season and the 4-2-3-1 or 4-2-4 shape preferred by Klopp here didn't help matters. It wasn't so much that Madrid had the better of things in midfield than that it had a midfield.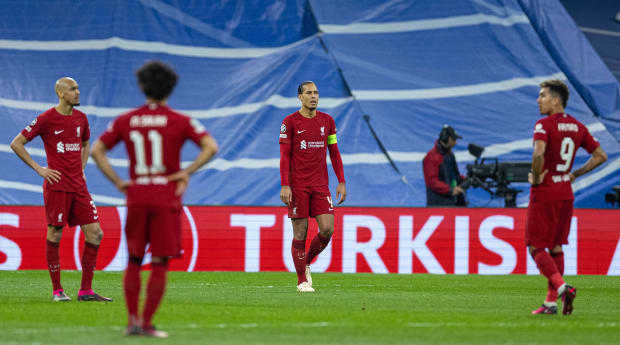 Liverpool's threat was limited. Darwin Núñez drew one full-length save from Thibaut Courtois with a right-footed curler, but he mishit another effort with his right foot. He remains a curious and frustrating player, adept at getting into shooting positions, occasionally brilliant at taking chances but often wayward. He was withdrawn 12 minutes into the second half for Roberto Firmino, with Harvey Elliott replacing Diogo Jota and adding some dynamism to Liverpool's midfield. Perhaps that did give Liverpool more of a platform, but the sense also of Madrid, mindful of the Clásico against Barcelona to come at the weekend, dropping off.
What will frustrate Klopp is that Liverpool did have opportunities. It was always going to be an extraordinary task to overturn a three-goal margin, but with better passing, it might at least have got one and applied some pressure. The pitch at the Bernabéu has been short of sunlight this season as building work on the stadium continues and the surface is not as slick as it probably ought to be, but that doesn't excuse how often the final pass went astray. One break in particular, when Mohamed Salah seemed to have a simple opportunity to lay in Núñez early in the second half, stands out.
But the truth is that even in the second half, Madrid had the better chances, Federico Valverde being denied in a one-on-one by Alisson and then putting a header just over after Modrić had created space for the cross by lofting the ball over the head of Trent Alexander-Arnold. Ultimately, it was Karim Benzema who broke the deadlock, firing in after Liverpool had failed to deal with a fairly straightforward long ball with 12 minutes remaining.
Too often Liverpool played an extra pass, as though there was a fear of mistakes, a dread of humiliation. It's been a feature of Liverpool's play since the 3–0 defeat at Wolves in early February that, other than the first leg of this tie, it has been more defensively sound, conceding just one goal in six domestic games. In that sense, this was part of the trend, which may make sense in terms of Liverpool trying to rebuild its season and snatching the fourth Champions League place, but was not best suited for coming from three goals down. That's three years in a row that Liverpool's Champions League hopes have been ended by Madrid.
The oddity is that, despite the difference in scoreline, this didn't feel so different from the first leg. Madrid actually had more shots on target Wednesday than it had at Anfield, when it had one of those nights when everything flew in. Although Liverpool capitulated in that game, there wasn't a huge gulf between the sides. Indeed, as Liverpool raced into a two-goal lead, which feels a very long time ago now, it could have been Madrid that collapsed.
The tie, really, was won thanks to Madrid's self-belief and inner conviction, the way it was able to rediscover its equilibrium and then had the quality to fight back. A 6–2 aggregate win sounds overwhelming, and once it had gone 3–2 up in the first leg it never looked like letting the lead slip. But Madrid was not entirely convincing— devastating in moments but sloppy in others.
Then again, we said that last year, and Madrid kept finding ways to win.