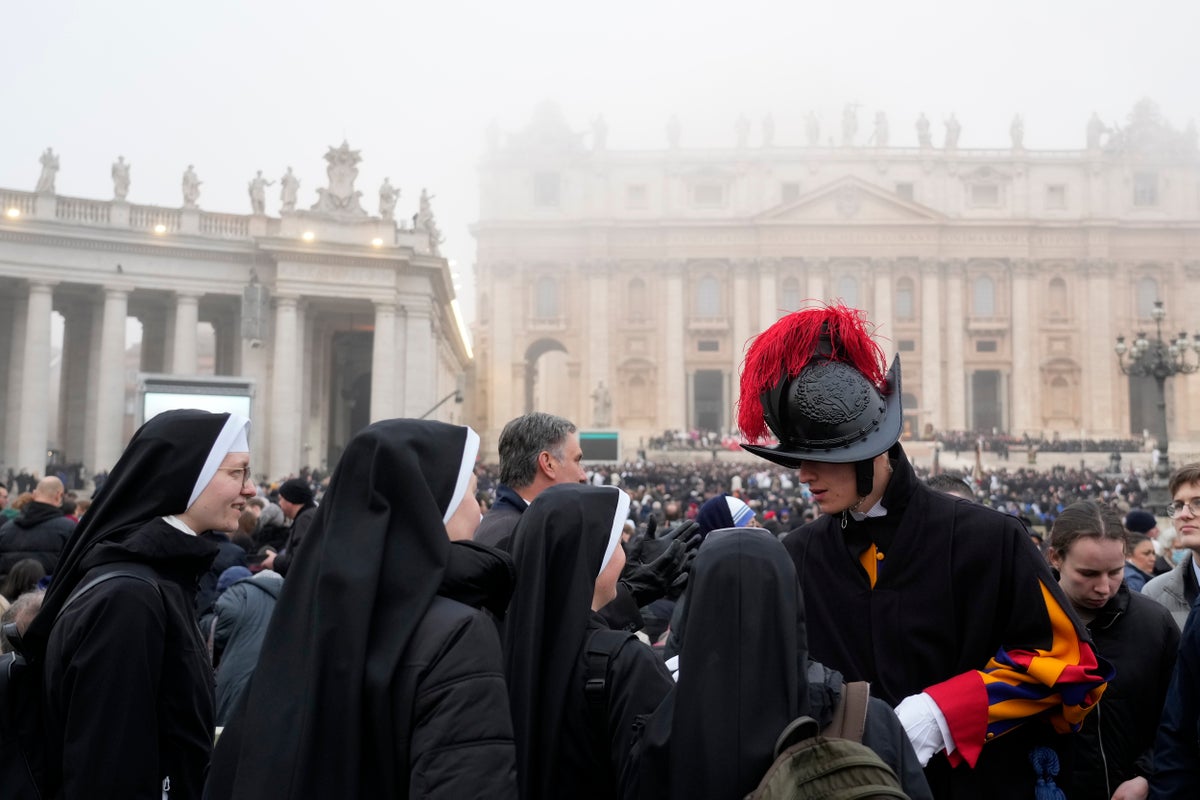 The latest on the funeral of Pope Emeritus Benedict XVI:
VATICAN CITY — Some 1,000 police and other security forces have been deployed for the funeral of Pope Emeritus Benedict XVI in St. Peter's Square.
They include sharpshooters on top of palazzi and other high vantage points on the square. A no-fly zone is in effect for the Vatican and the immediate surrounding area on Thursday and lasts until after the last participant leaves.
Thousands of people started streaming toward the square before dawn and faced metal-detector checks.
Some 100,000 people were expected to crowd into the square and spill over into the wide boulevard leading to it from the Tiber River. The previous three days saw some 200,000 people pass smoothly through security checks to enter the basilica to view Benedict's body, far more than security officials in Rome had predicted.
___
KEY DEVELOPMENTS:
Thousands pour into St. Peter's for funeral of Benedict XVI
Hong Kong cardinal, Taiwan at papal funeral, but not China
More on the death of Pope Emeritus Benedict XVI: https://apnews.com/hub/pope-benedict-xvi
___
BERLIN -- Germany's president is leading a delegation of the top-ranking officials from Pope Emeritus Benedict XVI's homeland to the funeral of the late pontiff.
President Frank-Walter Steinmeier was expected to be joined by Chancellor Olaf Scholz, the speakers of both houses of parliament and the chief justice of the Federal Constitutional Court.
The governor of Benedict's native Bavaria, Markus Soeder, also is leading a delegation to Rome and at least 10 German bishops are expected. They include the archbishop of Munich, a job Benedict once held himself, and the bishops of Passau and Regensburg -- dioceses that include his birthplace and his one-time home.
___
VATICAN CITY — Pilgrims, tourists and Romans started flocking to St. Peter's Square before dawn on Thursday, hours before the scheduled start of the mid-morning funeral for Pope Emeritus Benedict XVI.
Among them were some admirers wearing traditional Bavarian dress of the late pontiff's home region in Germany. Plans called for the retired pope's coffin to be carried from inside St. Peter's Basilica and into the square ahead of the funeral Mass.
A canopied altar was erected for the ceremony to be presided over by Pope Francis, who succeeded Benedict as pontiff after the German churchman shocked the world by retiring in 2013. Benedict, who was 95, died on Dec. 31 in a Vatican monastery.