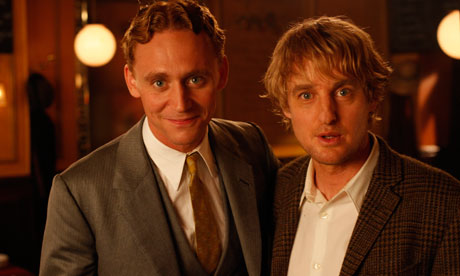 Amid all the noise for The Artist, which looks set to clean up at the Oscars as it did at the Baftas, we on the Guardian books desk are gunning for another cinematic nostalgia-fest harking back to the same period. In the running for Best Picture, but with the bookies only giving it a 100/1 chance of winning, Midnight in Paris has been hailed as a return to form for Woody Allen, and described as a "perfect soufflé" by the Observer film critic Philip French. It might not have a performing dog, but it does have Papa Hemingway in a vest roaring "who wants a fight?" Like The Artist it is a warning against the dangers of romanticising the past as a Golden Age, but in direct contrast, it is all about words – writing and reading and talking.
For those who haven't seen it yet (it's just out on DVD, so watch it this Oscar weekend), this deliciously Allenesque confection of time-travel fantasy and rom-com stars the winsome Owen Wilson as Gil (in the Allen alter-ego role), as a dissatisfied American screenwriter and novelist-manqué on holiday in Paris with his spoilt fiancée Inéz and her neo-con parents. Returning alone and tipsy to his hotel one evening, he is surprised (not quite as much as you'd expect – you need to go with this one) when an antique car rolls up and whisks him to a party where he bumps into his heroes Hemingway and F Scott Fitzgerald. At the stroke of midnight each night he is transported back to the bohemian Paris of the 1920s: in the course of which, he tries to dissuade poor Zelda Fitzgerald from suicide, has his manuscript critiqued by Gertrude Stein (a scarily convincing Kathy Bates – forget the Carla Bruni cameo) and falls for Picasso's latest squeeze Adriana (a mesmerising Marion Cotillard). (Past or present, our hero is not at a loss for gorgeous young women – this is an Allen film, after all). While Gil is understandably thrilled to find himself in the middle of this glittering salon, the lovely Adriana hankers for La Belle Epoque, and, before you can say "soufflé", they are in the Moulin Rouge with Toulouse-Lautrec, Degas and Gauguin, who in turn see the Renaissance as the true Golden Age. You get the point.
While our colleagues on the film desk were busy ranking Midnight in Paris in Allen's oeuvre, or, ahem, comparing it to that silent Swedish masterpiece by well-known director Victor Sjostrom, back on books it got us thinking about where and when we would most like to go – that old fantasy (in this case literary) dinner party game. Drinking and brawling in London taverns with Jonson and Marlowe? On the road with the Beats? Nineteenth-century Russia? Chilly. Tea in New York with Henry James and Edith Wharton (he used to try and fix her up with men he found attractive, apparently)? Coffee with Charles Dickens and Wilkie Collins? Exhausting. Lunch at the Algonquin with Dorothy Parker and co? Scary. A mountain ramble with a couple of Romantic poets? Shooting the breeze with Beckett and Joyce? Down the pub with Larkin and Amis? I know I'm roving all over the place, but that's the idea.
Only the Bloomsbury set, perhaps, compares with the 1920s Parisian Lost Generation – but Michael Cunningham rather got there first with The Hours (also made into a film, of course) and it wasn't nearly as jolly. I'd love to pop in on Jane Austen, but her house in Chawton is not far from my mum's (the museum was a regular Sunday outing) and it seems a pity to go back in time and end up just down the road. It would be fun to spend a day in the airing cupboard with the Mitfords, but I'd never get the in-jokes or understand Boudledidge, their private language. Not to mention the dodgy politics. And I wouldn't mind being the one to settle those niggling Shakespeare authorship and biography questions once and for all. But who would ever believe you?
So, if an old-fashioned car, or horse and carriage, or rickety old cart, were to pull up near you at the witching hour – which writers would you be most excited to meet at the other end?