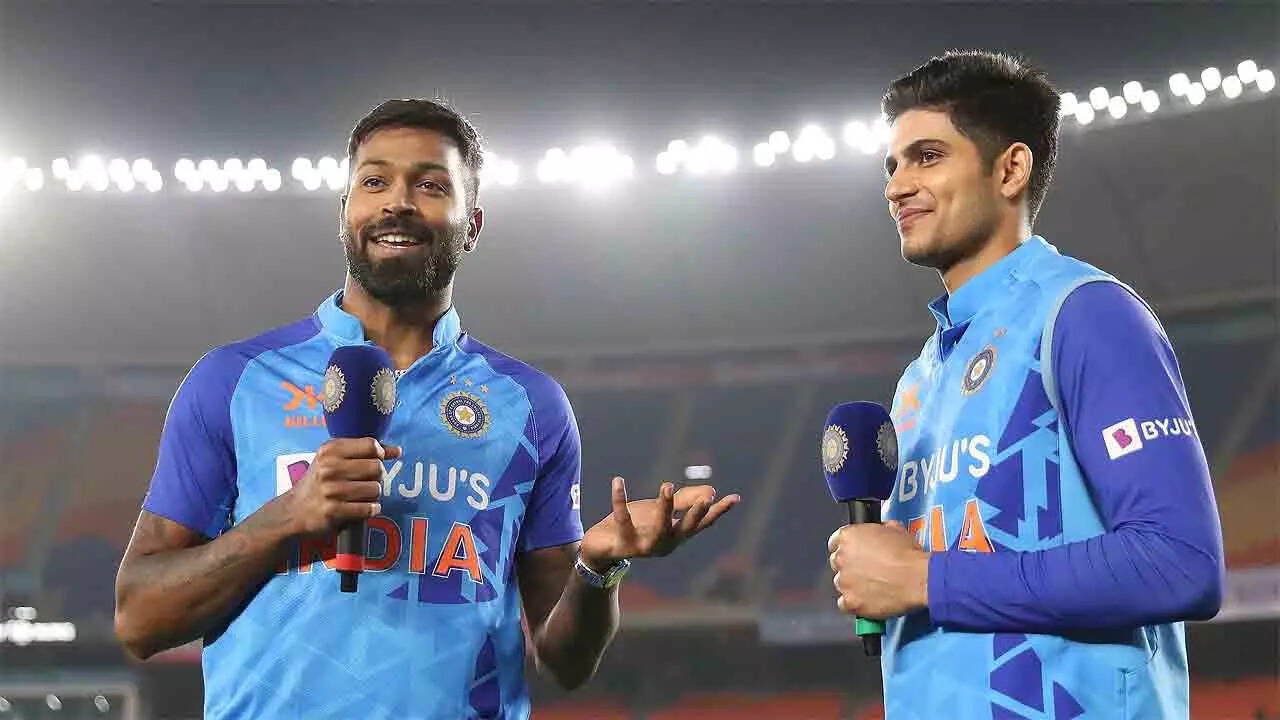 AHMEDABAD: Shubman Gill's regal 63-ball 126 in the final game of the T20I series at the Narendra Modi Stadium on Wednesday night was a perfect illustration of destroying an attack while employing proper cricket shots. It is something India's women's Under-19 World Cup-winning team, which was invited by BCCI secretary Jay Shah to watch the match, should definitely learn from.
Before this match, some people would point out Gill's modest strike rate of 128.81 to question his place in India's T20I side. However, the way the Punjab man made a mincemeat of the bowlers on Wednesday night -scoring at a fabulous rate of 200.00- leaves little argument about his place in T20Is too. Gill is now the Indian team's latest all-format jewel.
Post the gifted batsman's maiden T20I hundred, his IPL team (Gujarat Titans) and India captain Hardik Pandya, who had the best seat in the house on Wednesday night as the pair shared a marauding 40-ball 103-run partnership for the fourth wicket, went on to compare Gill's special ability to even hit the good balls into bad balls with that of Suryakumar Yadav's. That, indeed, is a big compliment considering that 'Sky' is currently the No1 batsman by far in T20Is.
"He's technically so sound that it's very easy for him. It's just a switch he needs to make to play T20, ODI and Test cricket because he has the game for all formats. So, to be honest, he's not someone who does not need to play behind the wicket because of the kind of shots he can play all around in front [of the wicket] with the gaps. He's actually one of those batsmen along with Surya who can hit good balls and make them a bad ball," Hardik praised.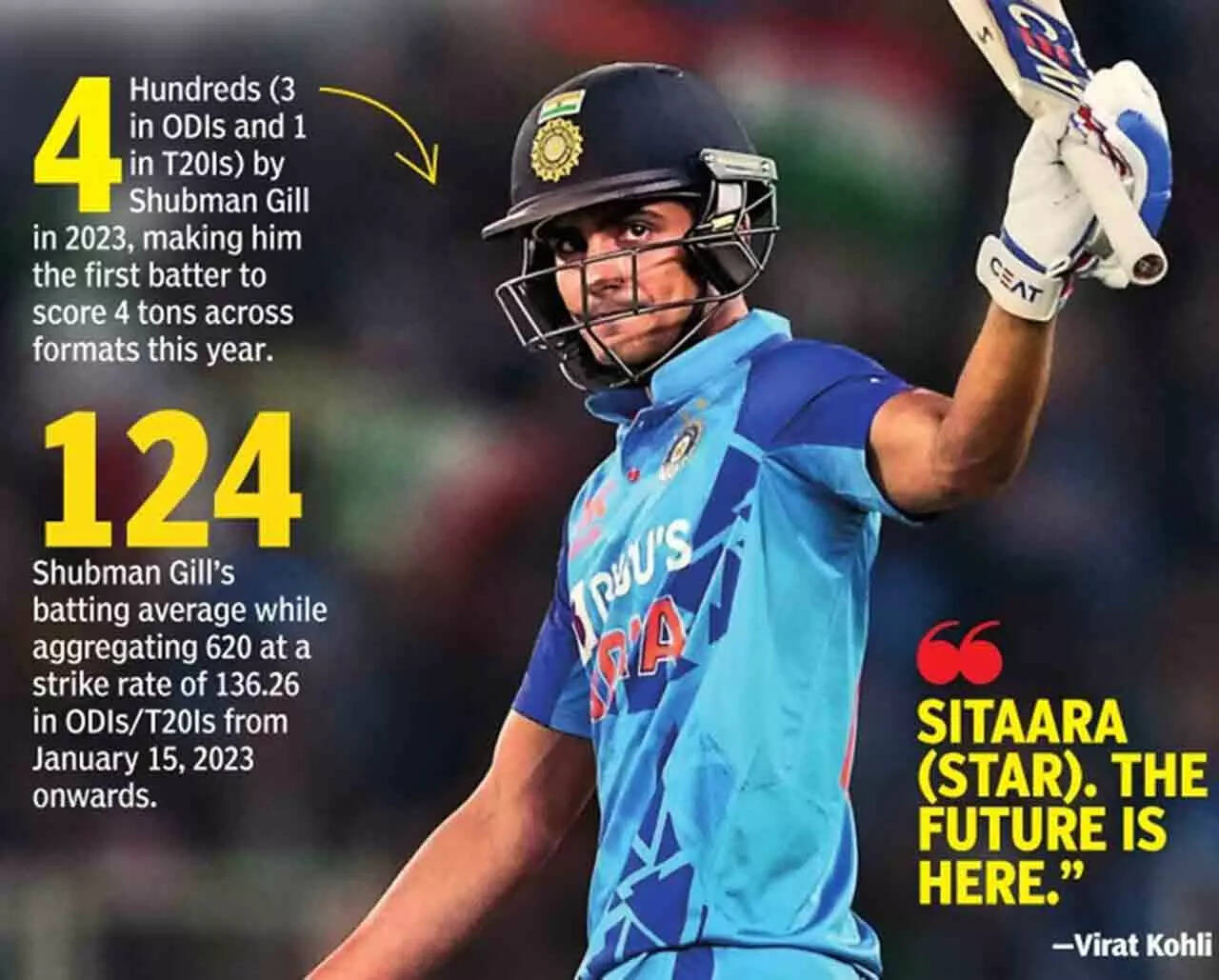 Hailing his evolution as a batsman whom bowlers around the world should begin to fear soon, Pandya said, "Having said that, it's just tremendous seeing his growth and it has been very fruitful for me [as captain]. He's a kid who has a right head on his shoulders and going forward I think he's going to be a great value and asset for the Indian cricket team. I wish the best to him, and I want him to continue the great run, which he is having."
Hailing Gill's rise as a high-class bat in all formats of the game, Hardik said: "I always felt that he has the style and technique to play all the formats and it was not surprising for me. The effortless batting that he can do, not many can. It means a lot for him, as a youngster to play all formats adds a new dimension to the game."
Significantly, for a man not known for his six-hitting, Gill tonked 7 sixes-each one a clean strike that landed comfortably in the crowd. Post the match, Gill said that it was a timely, sagely advice from his Team India and IPL captain (at Gujarat Titans) Hardik Pandya that helped him unfurl his maiden hundred in T20Is. "I mean, everyone has a different technique to hit the sixes and the talk even with Hardik bhai...he told me before the match and the series: 'Just to play your game and bat how you normally do. You don't have to do anything extra and he kept on backing me.' Fortunately, it paid off for me today in the match."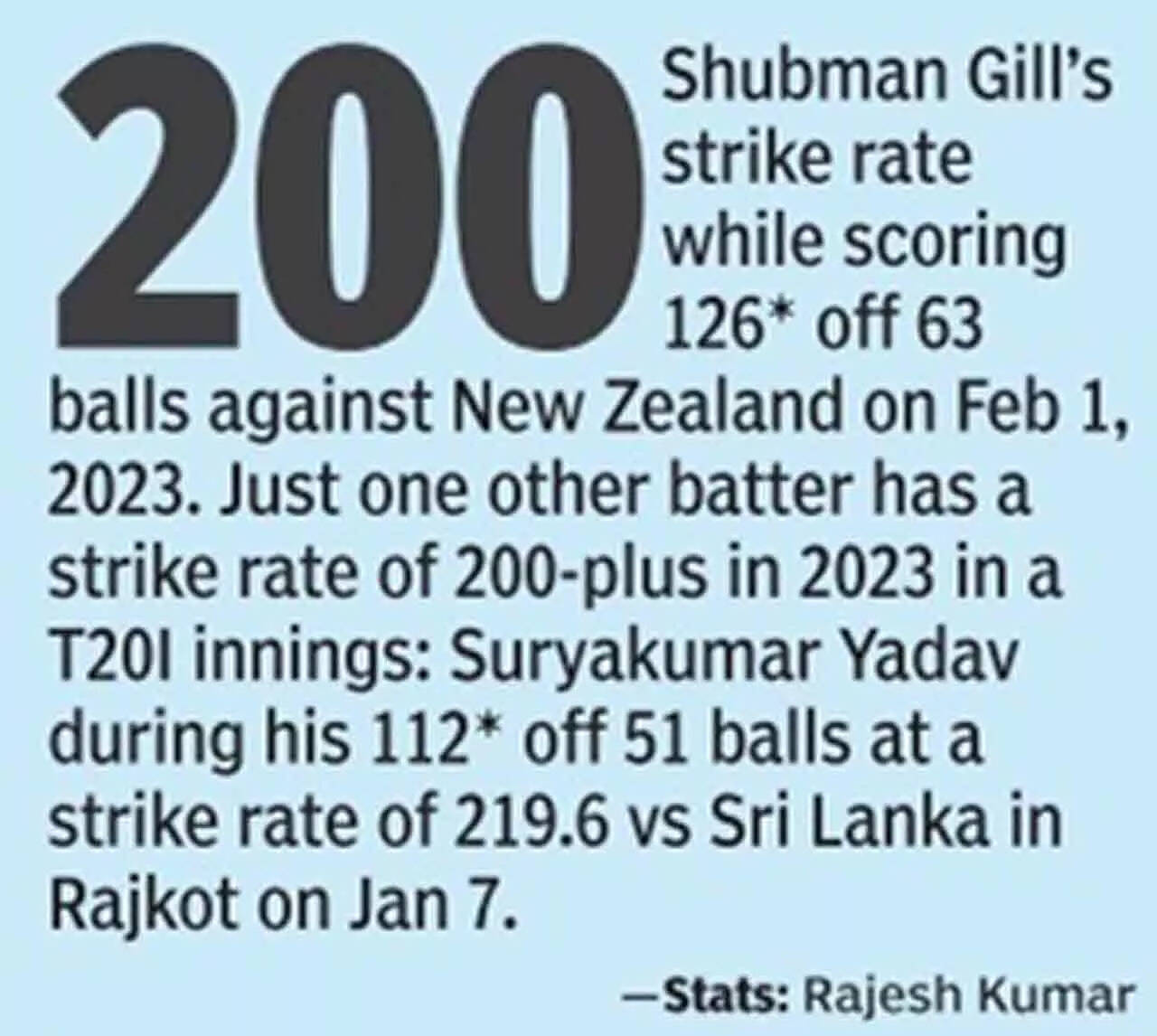 As they pack their bags to leave the Indian shores, one is sure that the Kiwis would be relieved to not have to bowl to Gill again-he began their white-ball tour of this country with a majestic 208 against them at Hyderabad in the first ODI, and then notched up two more centuries against them. Clearly, New Zealand had no idea how to stop Gill. "He's pretty tough to stop as we found out with the one-dayers as well. I think we dropped him three times, which doesn't help, but yeah, he kind of applied himself early on the surface. He knew that it [the pitch] was good to bat on and I think his first fifty might have been off 30-odd balls and then his last 70 off 20-odd balls," said the Black Caps' stand-in-captain Mitchell Santner.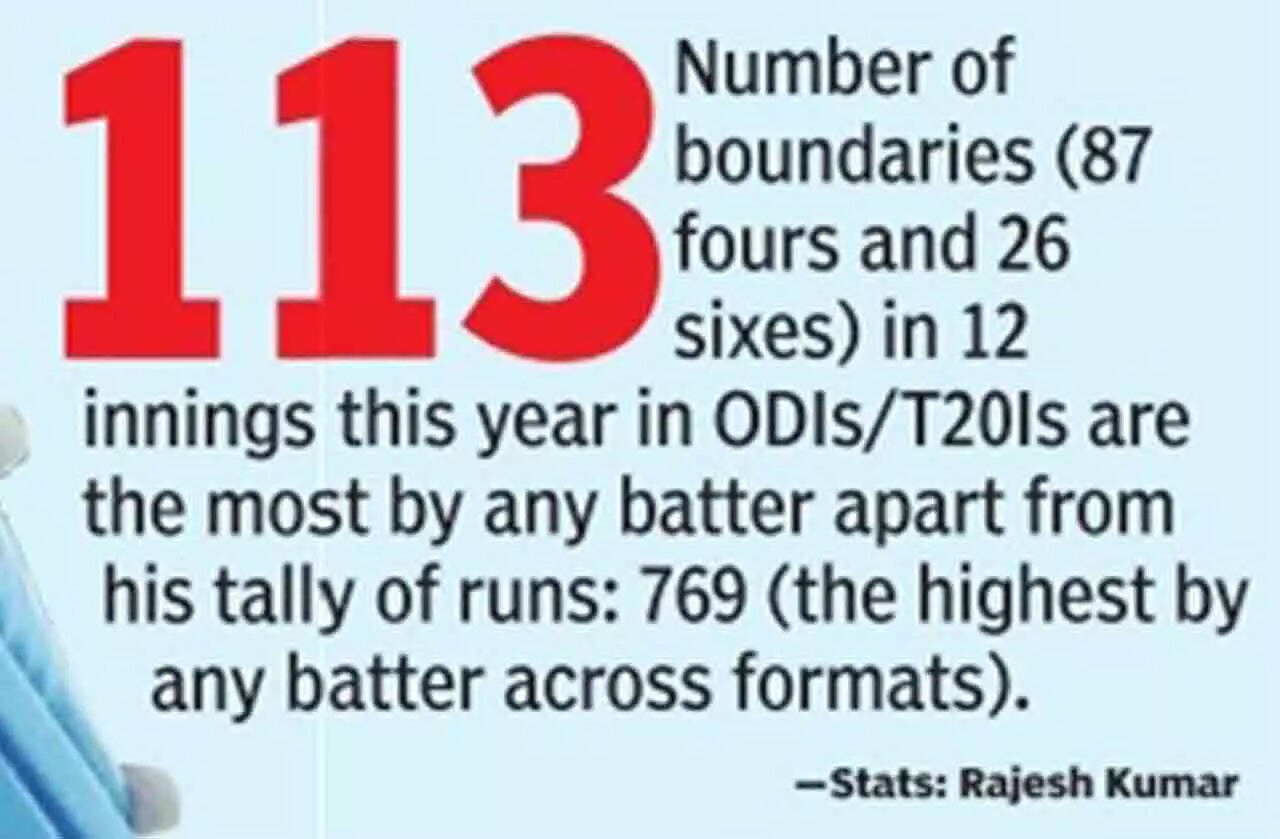 "It feels good when you practice and it pays off. I was backing myself to get the big ones even in one-dayers and T20s, and unfortunately it didn't happen for me in the Sri Lanka series and in the first couple of matches here [against New Zealand]. But happy to get the big ones for the team," Gill said.

How much he enjoys batting when the ball comes into the bat can be gauged by a single statistic that popped up during his brilliant innings-he had his 29 off 22 balls against the spinners, but blasted 94 runs off 38 balls against the pacers. The way he changed gears during his maiden T20I hundred was admirable-for his first 46 runs, he took 30 balls, while for next 80 runs, all he needed was 33 deliveries! It was sensational batsmanship, more so because he didn't appear to take too many risks, but just indulged in some effortless, sparkling strokeplay.