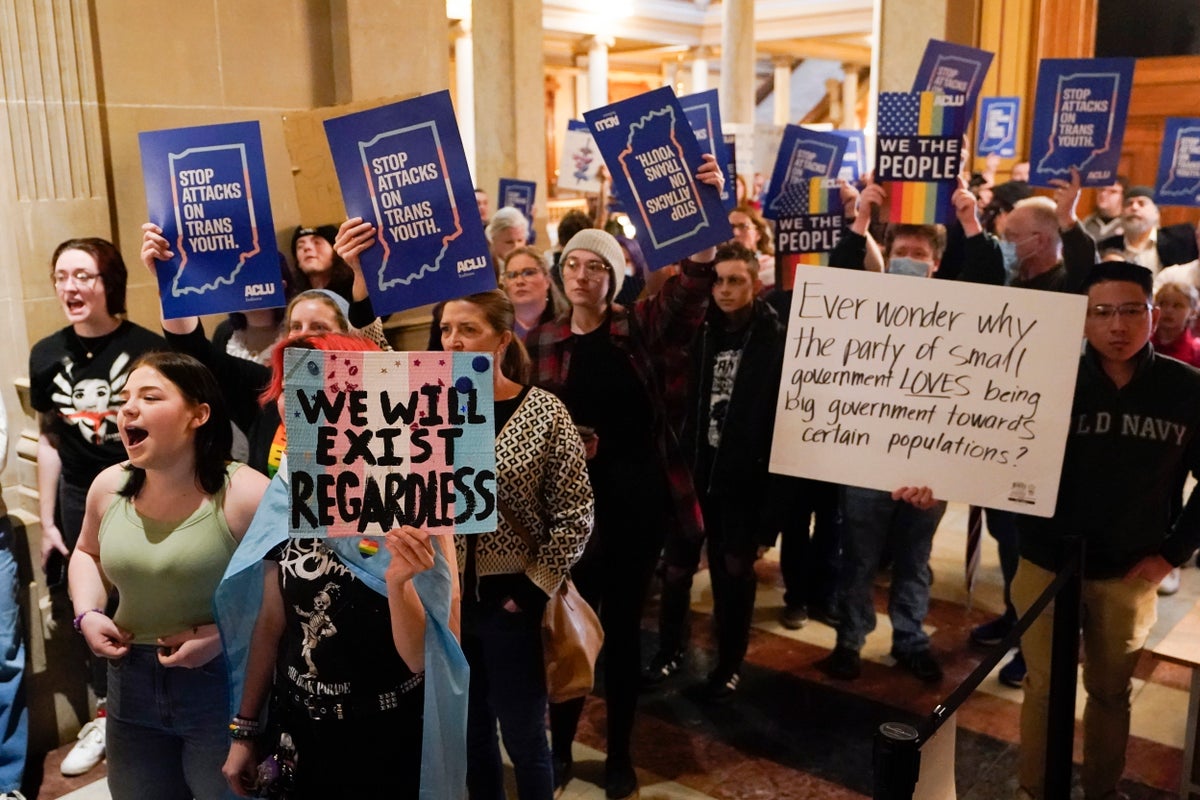 The nation's largest LGBT+ advocacy group has issued a "state of emergency" declaration for LGBT+ people in the US following volatile state legislative sessions and an unprecedented wave of bills targeting gay and transgender Americans.
The Human Rights Campaign's first-ever emergency declaration on 6 June comes on the heels of hundreds of state-level bills impacting LGBT+ people, including 220 bills specifically targeting trans and nonbinary Americans and their healthcare, according to the organisation. More than 75 such bills have been signed into law.
At least 19 states have enacted laws or policies banning affirming healthcare for young trans people, all against the guidance of health providers and major medical groups, including the American Medical Association and the American Academy of Pediatrics.
The announcement on the heels of Pride month celebrations across the US also follows reports of threats of violence, discrimination and harassment against LGBT+ communities, parallel to rhetoric that has consumed right-wing media, social media platforms and Republican elected officials.
"The multiplying threats facing millions in our community are not just perceived – they are real, tangible and dangerous," Kelley Robinson, president of the Human Rights Campaign, said in a statement.
"In many cases they are resulting in violence against LGBTQ+ people, forcing families to uproot their lives and flee their homes in search of safer states, and triggering a tidal wave of increased homophobia and transphobia that puts the safety of each and every one of us at risk," she added.
The Human Rights Campaign also released a "know your rights" guidebook with state-by-state breakdowns of discriminatory laws and healthcare access. It also includes support for finding work, financing a move, building community, and identifying "the enemy/opposition" – a network of conservative Christian special interest groups and right-wing legal firms drafting legislation and supporting legal challenges across the country.
"Our number one priority will always be ensuring that LGBTQ+ people are safe and have the tools they need to defend and protect themselves against acts of hostility, discrimination and – in the most extreme cases – violence," Ms Robinson added.
"It's also incumbent on our allies across the country to stand with us and make it clear that they won't sit idly by while extremists attack and malign LGBTQ+ people and our families," she said.
The declaration builds on publicity surrounding so-called "travel advisories" issued by civil rights groups warning against traveling to Florida after the state advanced a series of laws aimed at LGBT+ people and trans healthcare.
Nadine Smith, the CEO of Equality Florida, which first-introduced an advisory for LGBT+ travelers to Florida, said the state "stands at the forefront of the fight against these oppressive laws now proliferating throughout the nation."
"The assault on freedom is not limited to one state but permeates across America," she said in a statement. "The erosion of civil liberties by extremists to further their own political ambitions poses a direct threat to the health and safety of LGBTQ individuals. It is imperative for all of us to recognize the gravity of this moment and commit ourselves to being on the frontlines, unwavering in our fight for freedom."