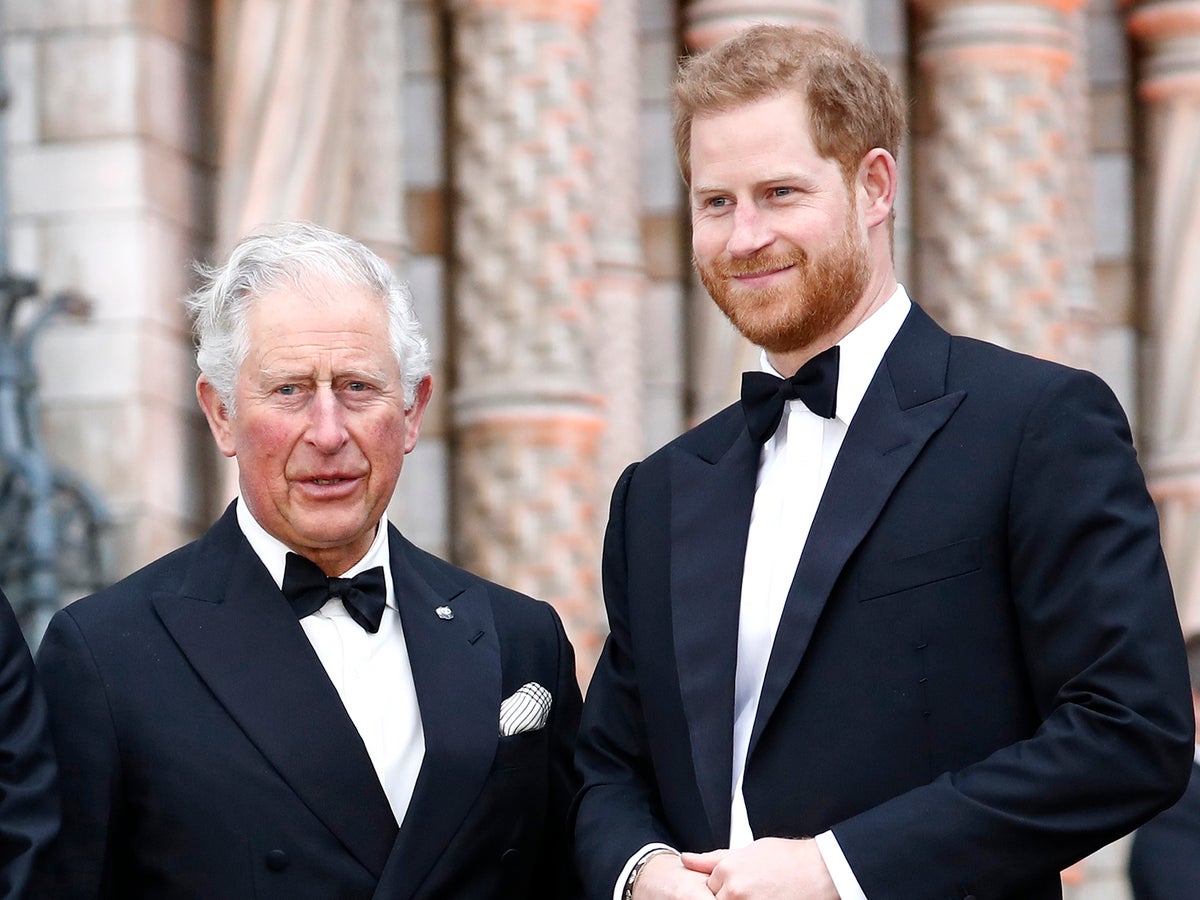 Less than half of the public thinks Prince Harry should be invited to King Charles's coronation after the duke made an explosive series of revelations about the royal family in his memoir.
Exclusive polling for The Independent by Savanta ComRes shows 43 per cent of Britons think Harry should be invited to see his father crowned on 6 May, while 40 per cent think he should not.
And 55 per cent of the public thought Harry deserved to lose his Duke of Sussex title after he used his book Spare to tell millions around the world of his strained relationships with family members.
The revelations included details of shouting matches with brother Prince William and the duke's opposition to the marriage of the King to Camilla, the Queen Consort.
Earlier this month, royal sources told The Independent that reconciliation with Harry is "impossible" because Charles, Camilla and William fear he will make public anything they say to him.
A source close to the royal family also revealed that the Duke and Duchess of Sussex would be offered the chance to attend the coronation, without formal duties, but believed they "would find a reason not to go".
Prince Harry has avoided saying if he would accept an invitation but laid out terms for any potential reconciliation, including "accountability" for the royals. Buckingham Palace has declined to comment.
Some 48 per cent of people polled said Harry should not share details about the royals and 72 per cent of people said he had damaged his reputation with the book. That was compared to 24 per cent and 8 per cent respectively who held opposing views.
Views among the 2,064 adults surveyed were split by age, with a near reverse in support for Harry's invitation between the oldest and youngest demographics.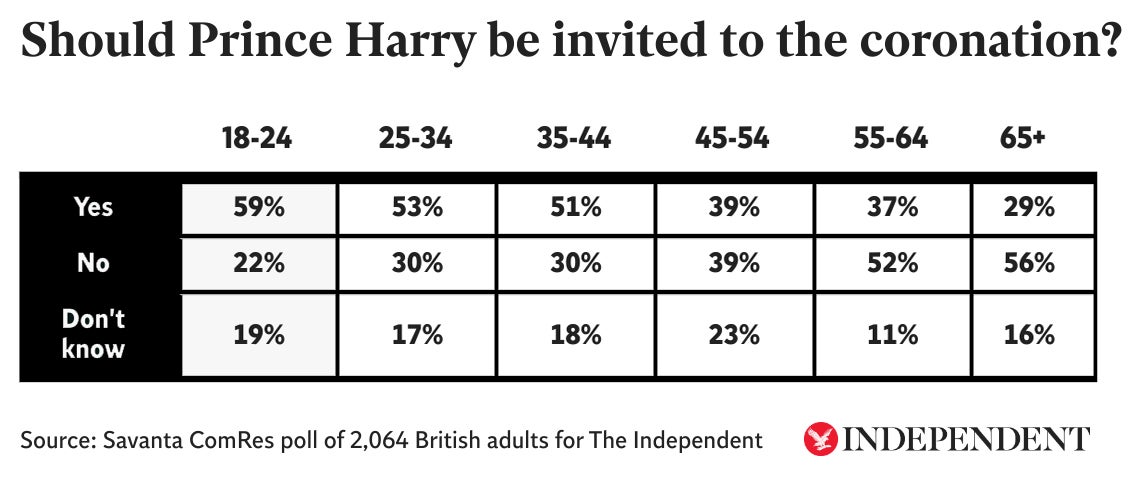 Among 18-24-year-olds, 59 per cent said he should be invited while 22 per cent said he should not be. Among those aged 65 and over, just 29 per cent said he should be invited while 56 per cent said he should not be. Older people said in polling last week they preferred disgraced royal Prince Andrew to Harry.
Political colours were also found to indicate support, with 52 per cent of Labour voters saying Harry should be invited, and 30 per cent opposed.
Conservative voters took a dimmer view of the estranged duke, with just 31 per cent supporting his invitation and 57 per cent opposing it. The party with the voter base by far most strongly opposed to Harry being invited was the Brexit Party, at 76 per cent.
Harry's memoir aired personal grievances with individual family members along with broadsides against the institution of the royal household. In one of the more shocking revelations of the book, the duke alleged that William physically attacked him in an argument over his marriage to Meghan Markle.
Despite the claims, William has come out looking better in the public eye than his younger brother. Just 17 per cent of those surveyed said William suffered the most reputational damage from the book, while more than double (36 per cent) said the same for Harry.
The Independent has contacted representatives of Harry for comment on the latest polling.