Despite everything that Kevin Costner's, Jeff Bridges', and Harrison Ford's small screen takeovers imply, the maxim about stars and television remains true. That is, famous people don't make TV shows. Television makes people famous.
The post-Trevor Noah return of "The Daily Show" proves this. Tuesday marked the first new episode of the venerable fake news rundown and the kickoff of its celebrity anchor parade starting with Leslie Jones, the first of 10 established comics and actors set to cycle through the studio over the coming weeks.
Hers was precisely the perspective we needed to make sense of The Embrace, Hank Willis Thomas' 22-foot-tall bronze sculpture depicting what is said to be Martin Luther King Jr. and his wife Coretta Scott King's arms wrapped around each other. The concept sounds better than reality, which has left many people speechless.
Not the queen of hard and fast riffing, though. "Has anyone in here ever been (bleeped) out?" she asked the "Daily Show" audience, sending them into roars of laughter. "I'm serious! I'm serious! Has anyone in here ever participated in the munchy munch munch munch? 'Cause they celebrating you right now. They are celebrating you in Boston right now."
This is classic Jones – loud, brash, and unfiltered, throwing out punchline after punchline at a high decibel. That doesn't change regardless of whether she's losing it in the presence of "The Best Man: The Final Chapters" stars Morris Chestnut, her Tuesday night guest, or endeavoring to have a conversation with Planned Parenthood President and CEO Alexis McGill Johnson, as she did on Wednesday.
Jones has been a joy to watch on "The Daily Show." She's also a specific force jammed into a system that's ill-suited for her wattage, a blazing star obscuring the familiar correspondents and contributors. Those are people who make "The Daily Show" feel, look and sound like the bedtime send-off it's been for more than 25 years.  Only on Thursday, however, did "The Daily Show" feel like a version of itself and not Jones, in her words, making its desk her bitch.
Plainly Jones was having a ball, and her energy was infectious.
This demonstrates the fundamental difference between a talk-variety show where the title delineates the host by using a preposition, "with," instead of a transitive verb, i.e, "starring." There was never a question that Jon Stewart's or Trevor Noah's "Daily Show" were manifestations of their specific visions, but their leadership also elevated the correspondent team, connecting each of them to the audience.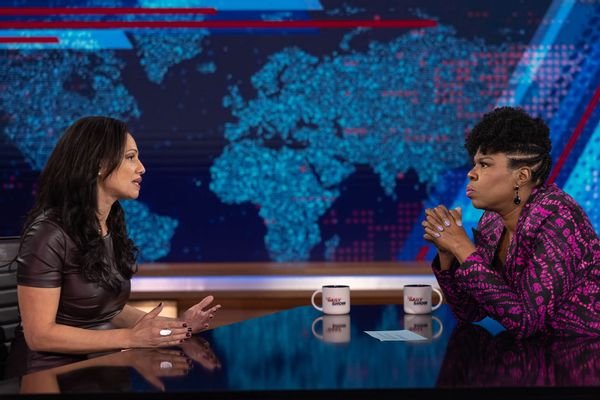 To be a famous face in this formula divides a performer from its central purpose and is antithetical to the show's joke of having "invented news." The news leads "The Daily Show," with the host acting as its embellishing conduit. But on her first two nights, Jones gleefully hijacked the program to make it hers. And she acknowledged that on Thursday night.
"Now everybody, this here is 'The Daily Show,' so I know that there's some people out there thinking, Is she ever going to take about policy? Or is she going to spend all week saying, 'Pussy, pussy, pussy?'" she joked.  "Well, don't worry. I take my job seriously. You want me to talk about the debt ceiling? I will talk about the debt ceiling. So: the debt ceiling is, uh, kind of like America's pussy."
Then, her face breaking out into a gleaming grin, she held up four fingers and said, "Four pussies in a row, I love it!"
Plainly Jones was having a ball, and her energy was infectious. Her episodes were a delight to watch. She's also as far from her show's traditional "type" as one can imagine.
She's a Black American woman sitting in a chair that's been held by two white men and a biracial South African man. She's a performer whose forte is her off-the-cuff reactions that informs her delivery of lines like, "Listen: I know Dr. King went down in history, but this is not how you show it." But her knowledge of politics and world events is minimal at best. She doesn't obscure that and spun a stupendous promotional video to set expectations on that front with the help of Roy Wood, Jr.
 Stars are stars for a reason, but they alone are not enough to hold our gaze forever.
But the main speed bump is Jones is a comedy brand unto herself, known to the audience on a level that Noah wasn't. The same is true of every upcoming celebrity guest host, with Wanda Sykes getting behind the desk for the week of Jan. 23, followed in order by D.L. Hughley, Chelsea Handler, and Sarah Silverman. (Remaining celebrity guest hosts Al Franken, John Leguizamo, Hasan Minhaj, Kal Penn, and Marlon Wayans have yet to be scheduled.)
Somewhere in this mix may be a star who fits in with the team and in that regard, the odds would seem to favor Minhaj. However, even he has a style that the show might struggle to accommodate since he's a kinetic performer who stalks the stage and may seem limited by a desk.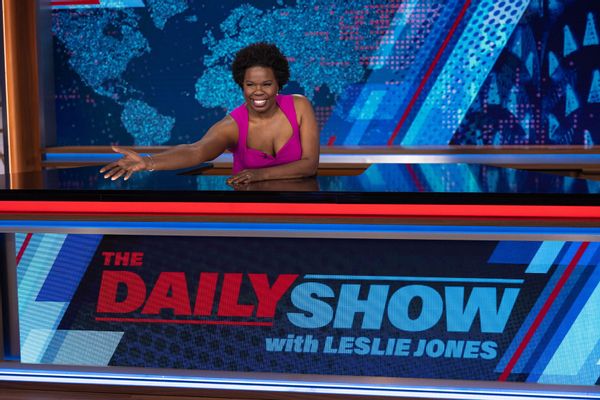 Noah's era of "The Daily Show" did not begin smoothly, but eventually, he made the show necessary viewing by building upon the foundation Stewart instituted while shaping it to speak to a new and now dominant cultural voice, one that looked at the United States in the context of global politics. The fact that he was an unknown here among stateside comedians helped with that, allowing new voices to emerge. One of the best segments of Jones' debut telecast pairs her with Dulcé Sloan, who delivered her own perspective on The Embrace.
Sloan will hopefully get her shot at the chair, as should Roy Wood Jr. and their colleagues Ronny Chieng, Desi Lydic, and Michael Kosta.
Returning to the larger point of what Jones' performance augurs, one wonders what the producers are going for in enlisting this group of heavies instead of featuring their correspondents first, as Stewart did on his way out, or bringing in today's version of Noah. Granted, we understand the obvious reason – the star factor maintains the audience's attention and keeps its ratings high.
That part of the strategy makes sense unless the goal is to land on someone who can cultivate a unified vision as opposed to being the bright sun around which everyone else revolves.
According to a Los Angeles Times breakdown of her first night, Jones "far exceeded [fan] expectations" which is . . . a positive assessment, I guess? But that review also implies how little was expected of her in the first place and underscores both how transient and hollow this exercise may soon feel.
And while I plan to enjoy Sykes, Silverman, Minhaj, Penn and the rest of the famous faces set to play anchor on "The Daily Show," one hopes that its producers land on someone who can be with the audience, and not blind us to its central vision. Many big names proved this over the years by attempting to transition to TV and failing once the audience discovered one person's gravitational pull was the only thing holding them there. Stars are stars for a reason, but they alone are not enough to hold our gaze forever.