Biologically speaking, a teenager's brain is something of a train wreck. For starters, it's low in myelin, the coating that allows various regions to communicate with one another. Meanwhile, the prefrontal cortex is developing at warp speed, so things that a child once took for granted—like the idea that their parents know what they're talking about—suddenly seem ripe for reevaluation. Thus, in addition to acting on seemingly every impulse, a teen is programmed to break away from their parents. This is natural and healthy, but that doesn't make it any easier for a parent—even a wildly successful and wealthy one, like LeBron James.
I mention this because James now has two teenage sons and, as happens for all parents who hit this point, the changes can be startling. "Hell yeah, it's bittersweet to see your kids grow into their own," he said when I brought it up this summer in his hometown of Akron, Ohio. At the time, James was sitting with his sons Bronny, 17, and Bryce, 15, and we were commiserating about brain chemistry and independence and all the rest. (I have two teenage daughters myself.) James went on to talk about his own experience growing apart from his mom, and how he now tries to focus on what matters most for his kids, "because it's hard as hell to find happiness in this life that we've been brought into."
While it's impossible for any of us to judge someone else's happiness, it would seem that, at 37 and entering his 20th year of pro basketball, James has done as much as anyone to achieve that ideal. He's evolved into a statesman and advocate; become a billionaire; plowed money, time and infrastructure back into his hometown; lifted up childhood friends; brought titles to every team he's played for; defied the ravages of time; and, along with his wife, Savannah, raised three children who seem remarkably normal, all things considered.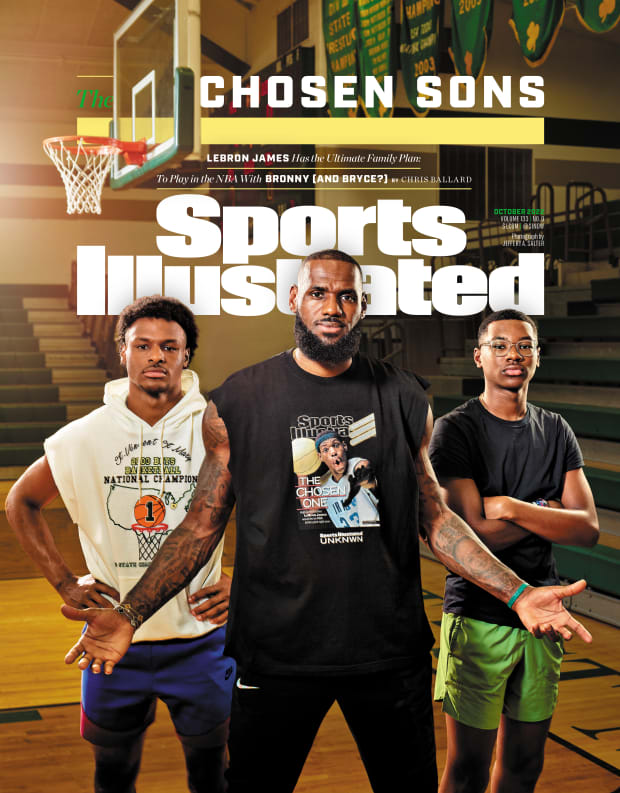 Now James is entering the next phase of his career, and his life, just as his oldest son prepares to embark on his own journey as an adult. Traditionally, this is where parent and child part ways, one receding from the spotlight as the other strides into it.
But James has something else in mind. He aims to stick around the NBA long enough to overlap with Bronny, who's currently entering his senior year of high school. If they pull it off, it would make them the first father-son duo to play together in an NBA game, and only the fourth such pairing in the four major U.S. men's sports (after Gordie played with Mark and Marty Howe in the NHL; and both Ken Griffey and Tim Raines played with their sons in MLB).
When James first floated the plan in February, telling The Athletic that "my last year will be played with my son" and that "it's not about money at that point," the NBA world set about interpreting. What did this mean for LeBron? For the Lakers? For league balance?
Of course, this scenario rests on a set of assumptions, including that Bronny, a 6' 2" combo guard who's generally ranked in the top 50 of his class, will be good enough to reach the NBA. And, furthermore, that he even wants to play basketball for a living, which has been assumed but not yet stated.
Then there are the larger, 10,000-foot questions, like: How do you feel about a father putting such public expectations on his son? And: After all this buildup, what if Bronny doesn't make the league? Or: What if he does, but it's largely due to his father's influence? Does that make this a feel-good story—supportive dad helps son reach his dreams—or a case of superstar nepotism?
Anyway, lots of people weighed in, from lots of angles, and by the time I caught up with the family in July, at a weekend basketball tournament, Bronny, whose every scrimmage and social media post was already being dissected, had moved even further into the public eye while the rest of us were left to wonder what, if any, grand scheme LeBron had in mind.
Twenty years ago, LeBron was the teenager transfixing the nation. After leading St. Vincent–St. Mary High to consecutive state titles he appeared on the cover of Sports Illustrated under the tagline THE CHOSEN ONE. The story quotes Danny Ainge saying James would go first in the NBA draft, as a junior.
That year he met Savannah Brinson, who played softball at Buchtel, a rival high school, and knew little of the basketball phenom. A group hang at Applebee's led to a date at Outback Steakhouse, and the two stayed connected through all that followed: the Cavs years, The Decision, the titles in Miami. In 2004, she gave birth to a boy, LeBron James Jr., followed three years later by Bryce Maximus. In '13, the couple married. One year later, Zhuri Nova arrived.
Throughout it all, LeBron and Savannah retained ties to Akron. They raised the boys nearby, and Bronny—who never really has gone by LeBron Jr.—attended the Old Trail School. Like all parents, they set certain rules. No cellphones until you're 13. No Instagram till 14. No playing football, for safety reasons. Savannah says they tried to be "very normal in an abnormal situation, if that makes sense." They also had to be watchful and understand that "it's a big, wide world out here, and we have to do our job to protect them."
Bronny first entered the public consciousness in fourth grade, playing with his AAU team. He zipped around the court, heaving up threes and looking a bit like a tiny version of his father. By 11, ESPN reported he had scholarship offers from Kentucky and Duke . . . which rankled LeBron because, what the hell, the kid's only 11?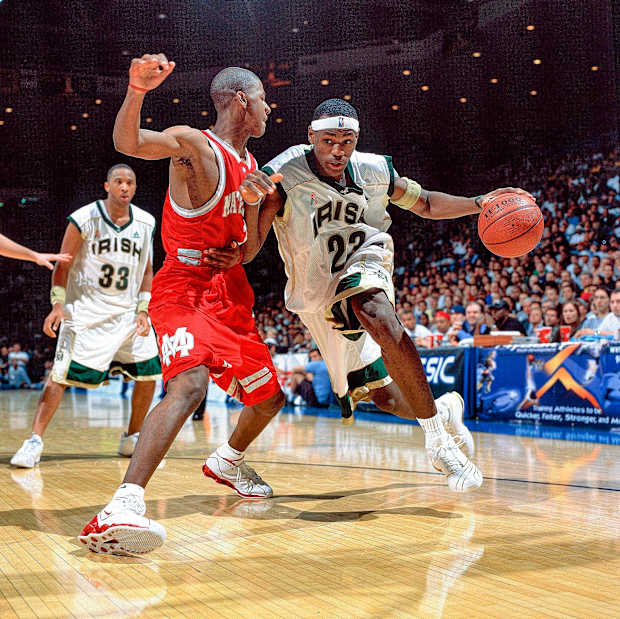 The rest of it, though, LeBron loved. He coached. He cheered. He joined the boys for layup lines, thundering home dunks as they lofted up underhand runners. When Bronny dropped one of his first in-game dunks, at 14, Dad, mainlining on parental pride, burst onto the court from his baseline seat, flexing. After his team's alley-oop, James sprinted onto the floor for a celebratory hip bump, doing so with such alacrity that he lost his shoe in the process. At the time, he drew fire from some critics, who labeled him an over-the-top sports dad run amok. (LEBRON JAMES WENT BONKERS, read one headline.) Others, though, saw goofy, paternal joy from a man who has had no relationship with his own father. (LeBron took his mother Gloria's surname.)
Either way, the attention kept coming. "It was like the Beatles," says Brook Cupps, whose son, Gabe, joined Bronny on the AAU's Blue Chips in fifth grade. Gabe was from a tiny farming town, but suddenly his games were on YouTube, where an analyst broke down his prepubescent skill set. "It was something I'd never been exposed to," he says. "All that pressure to perform."
Eventually Gabe adjusted and by high school saw it as a positive—"like he'd been swinging a heavy bat the whole time," as his dad puts it. But Gabe's experience was inherently different from his backcourt mate's, for he was on the periphery of the spotlight. And Bronny? The recruiting website on3.com recently declared him "the most famous high school basketball player ever."
Indeed, when Bronny joined Instagram, in 2019, he amassed a million followers in under 48 hours without really doing anything other than being Bronny. He's now up to 6.4 million, despite posting only 17 times. If he decides to go to college—we'll get to that later—his endorsement deals under the new NIL laws will likely break records. Industry estimates peg his value at upward of $6 million a year.
This fall Bronny will play his senior season at the Sierra Canyon School in Los Angeles, where the family moved after LeBron signed with the Lakers in 2018. He will be joined by Bryce, a sophomore. The weekend I visit, they are all returning to Ohio for The Battle, a youth basketball showcase at St. V's featuring a number of top prospects. Really, though, it's a James family event. Bronny will play with the Blue Chips in the U-17 division—the tournament format allows him to reunite with his old team—and Bryce with Strive for Greatness, a U-16 squad LeBron sponsors.
For the boys, it's a chance to hang with teammates, show out on the court and, for Bronny in particular, advance his profile. For LeBron, it's more complicated.
The father looks at his two sons. They are wilting. "Hey, we need some air over here."
An assistant blots Bronny's face, holding a tiny fan that flutters impotently in the face of the sweltering heat.
It's 3:30 p.m. on the Friday before the tournament, half an hour into a photo shoot in the empty St. V's gym in downtown Akron. And it's an anniversary of sorts: 20 years since that first SI cover. Today, LeBron has chosen to wear a cutoff T-shirt with a print of that issue.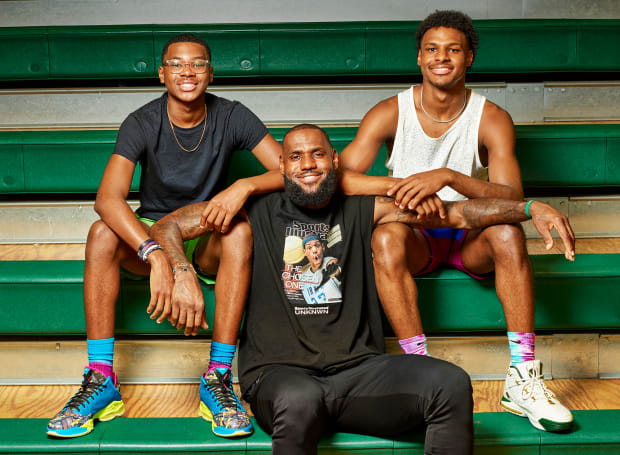 At the moment, Bronny and Bryce are posing in outfits planned by their stylist. Green shorts match green bleachers, which match green-trimmed shoes. But the sweat is intruding. LeBron grimaces. One of James's crew—there are, by my count, 11 people on hand, including a PR rep, the head of his foundation and a makeup artist—brings over an industrial-sized black fan. A torrent of air fires forth.
By now, Bronny is practiced at posing, and he cycles through various facial expressions. Bryce, who is gangly and wears glasses, looks more nervous, unsure what to do with his long arms. Fold them? Hang them by his side? He shakes them out between poses.
Gloria says that much of her son's parenting is driven by the absence in his own life—"he's always been adamant that he'd never be that [kind of] father," she says—and it shows. Throughout the afternoon, LeBron is attentive. He picks a piece of lint off Bryce's shirt. He models poses. His children watch, then imitate.
When a down moment arrives, LeBron is in motion. He grabs a ball and demonstrates a move at the top of the key, using a lighting rig as a defender—behind the back, spin move, feint, then attack with a lefty layup, narrating all the while. He grabs a yellow legal pad and starts scribbling down notes. (He shoots righty but writes left-handed.)
Meanwhile, league dynamics churn on. One day earlier, on June 30, Kevin Durant demanded a trade, then the NBA free-agent window opened and all hell broke loose. Now, dominoes are falling. During the course of the afternoon, the Jazz trade Rudy Gobert to the Timberwolves for a massive haul. Every few minutes more speculation emerges about Durant or Kyrie Irving, who is reportedly hoping to join James in L.A. (It was four years ago this weekend that James himself signed with the Lakers.)
Once upon a time, LeBron might have been glued to his phone. But those who know him sense a change—he thinks big picture, looking outside the game. So, at least for the moment, dad stuff comes first. The notes he's been scribbling throughout the afternoon? They're not trade scenarios but drills for the Blue Chips practice he'll run later in the afternoon.
Presently, the three head to the far basket, each with a ball, and fall into an easy rhythm: One shoots; the others mimic. They could be any dad and kids at the Y, only this dad is hitting over-the-backboard bounce shots from out of bounds. Wobbly lefty jumpers give way to underhand spinners and volleyball-set shots and, finally, dunk attempts. Bryce, off one foot, cradles a one-hander. Bronny explodes for a two-handed, one-step jam. Then LeBron, with the alpha-dad move, brings the full force of his 250 pounds crashing down on the rim, hanging for a moment. "All right, we're good," he proclaims, motioning to the boys. All the while, his personal videographer films, preserving the type of moments he wishes someone had captured from his own childhood.
LeBron's upbringing is well chronicled: He and Gloria going it alone, moving from couch to couch until she landed a $22-a-month apartment. Relative stability followed by intense fame. Gloria says she was not perfect, but she tried. She repeated certain mantras, "like being humble and being positive and appreciating things and not letting circumstances dictate who you are or where you go in life," she says. She also tried to gird him for what might come. "One thing I said a lot was 'Be careful what you wish for.' "
You can never know the situation another parent faces. The swirl of influences and factors. Every case is different. But for most this plays out on a micro scale. Not so James. He and Savannah must parent in front of the world, even more so than most celebrities. Because, really, how many humans are as globally recognizable as LeBron? A dozen? Maybe fewer?
So far, the James family has taken a novel approach, both overtly public and intensely private. LeBron posts Instagram videos of the family: Taco Tuesdays, dad and sons shooting hoops in the driveway, dance parties, birthdays. He tweets out the boys' highlights, with all-caps enthusiasm. In 2019 cameras began following Bronny and his Sierra Canyon teammates for Top Class, an Amazon documentary series. Even that choice of schools meant visibility; Sierra Canyon holds an annual media day, appears on ESPN and travels for international exhibition tours. Bronny has already lived much of his life in front of a camera.
At the same time, LeBron curates that exposure. He has ultimate creative control over Top Class, which is produced by his media company, Uninterrupted. Same for The Shop, his roundtable talk show on YouTube. As Gloria puts it, LeBron and Savannah act as the "buffer" between the kids and fame.
The concept makes sense: If the media and the public are going to fashion an image for your family, rather than watch it play out, why not take control? "That's why I started Uninterrupted," James says. "I got sick and tired of media changing the narrative or picking their own narrative about what I was doing."
It is, he figures, a head start he can give his kids. "I know [there's] a lot of pressure on them." But Bronny enjoys an ancillary benefit, too—one unavailable to previous generations: the value of the brand he's establishing. He could rake in that NIL money or leverage his name to push into other passions, like video games. (He's already partnered with FaZe Clan, one of the biggest names in esports.) He could even go the route of Prince Harry and Meghan Markle, break away and start his own empire.
He's royalty, too, after all.
After the photo shoot we gather at a table in the cafeteria of St. V's to talk. LeBron sits between Bronny and Bryce. It is, I'm told, Bryce's first interview, and one of Bronny's first real sit-downs. The boys are polite and well spoken but reticent. At some questions they scrunch up their faces or purse their lips; one will look to the other brother, or to Dad. Like when I ask about their mom and her role as a parent.
"Ummm . . ."
"Hmmm . . ."
Face scrunch.
LeBron jumps in, laughing. "Y'all afraid of Mommy?!"
Bronny is respectful and looks his questioner in the eye; if he's bucking for teenage independence, he's awfully good at hiding it. He addresses direct questions succinctly. So: Yes, he's sticking with hoops. "I was born into it, so I feel like the path was already chosen," he says. "But my dad is cool enough to let me take whatever path I want if I wanted to not pursue basketball. But I think basketball is going to be my thing, for sure." (Bryce says he thinks it's his thing as well, though with less conviction. "I just tried it, and it turned out I really liked it.")
And yes, Bronny says he hopes to play in the NBA, but he's not counting on it. "I'll see what happens. I'm going to be playing basketball. If [I] go down that path, then it is what it is." If the NBA doesn't pan out, "I'm cool."
Bronny is reserved in public, less so around peers. He loves gaming and snowboarding and filming pranks and dance moves. He now dates and has a license. His dad deems him "a good driver," prompting 7-year-old Zhuri, who is listening in on the conversation from a nearby seat that she keeps scooting closer, to announce, "I'm a good biker!" (Her parents say she hasn't shown any interest in playing basketball.)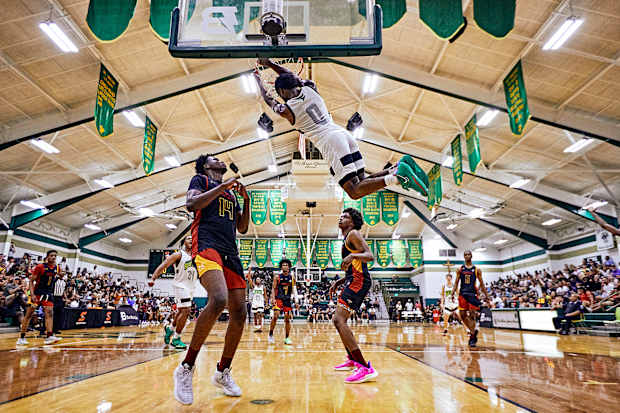 Bronny says he tried to move away from the "Junior" designation early. "I would always get nicknames. Bronny just stuck with me. But I also want to build my own narrative and take my own path and not have the same LeBron LeBron path."
Throughout our conversation, LeBron listens, prods and occasionally steps in. I get the impression he has two goals. First, to give the boys experience with an outside interview, but with Dad present—sort of like bowling with the bumpers up. Second, like any parent, James is trying to model the process. He knows his kids are watching everything he says and how he says it. In some moments it feels like he's speaking to them as much as he is to me, reinforcing family ideals.
LeBron and Savannah make a point to do this. During a recent vacation to Turks and Caicos they sat around the table at night, discussing the state of the world and translating it to the boys' circumstances. LeBron worries about daily challenges—like if his sons are ever pulled over on the road. "You can't have any expectations just because you're . . . LeBron's son," he says at St. V's. He looks at Bronny. "You have to be even more cautious, because you just don't know. And that is a scary thing, being a Black father with a kid that drives. . . . These kids are so well known, and they're leaving the house, and [our] daughter's in school." The only time he feels 100% safe, he says, is when his kids are at home.
So they draw the circle tighter. LeBron uses the metaphor of a support rope for a mountain climber. "We all know we can climb it on our own, but it's much easier when you do it together. I'm young enough to know a lot of things that they're going through, but I'm also smart enough to stay out of some of the stuff. It's not my job to be in their business all the time."
He continues. "We all support each other. We want each other to be great. My job is to send it back to him"—he nods at Bronny—"and him to send it to his little brother, little brother to his little sister."
Viewed this way, perhaps James's declaration about playing with Bronny is just another carabiner in the support rope—part of a larger, coordinated plan they cooked up.
Actually, no. Turns out that came as a surprise to everyone. Bronny says he hadn't heard about the idea until his dad said it publicly, though he deems it "pretty cool." (Neither did Savannah expect it. "No, we hadn't talked about it," she says when we speak separately. "I mean, yes, because obviously you ask the boys what they want to be when they're 10, 11 years old. I want to be in the NBA. And I think that's just something that was near and dear to LeBron's heart.")
James confirms all of this. No, he hadn't discussed it. "We don't even really talk about the future too much. I put it in the air because I like to talk to the basketball gods out there and see if things can come to fruition. I've always set out goals in my career, talked to the basketball gods, and they've listened to all of them. Hopefully they can listen to this last one, too."
Among the many, many milestones of his career, this one would be singular. Plenty of NBA players have fathered NBA sons. Rick Barry produced three. In fact, we are currently enjoying a golden age of juniors, the league teeming with Trents and Hardaways and Sabonises. The Warriors' title team alone had four second-generation players: Steph Curry, Klay Thompson, Andrew Wiggins and Gary Payton II.
But while a few dads have overlapped with their kids—like when Dell Curry, as a Charlotte analyst, called Steph's and Seth's games; or when Doc Rivers coached his son Austin, with the Clippers—none have played together, for all the reasons you'd expect: longevity and precocity, luck, and the pure math of it. James, though, has a realistic shot.
When I ask about details, he waves away the query. "I like to throw things out in the airwaves, but I'm not one to [say] what's going to happen in the next two to three years. I am a visionary, but I'm also a guy that lives in the moment."
Still, the wheels are already turning. The free-agency deals and trades swirling around us? "I'd definitely be looking at who got first-round picks in 2024, 2025, things of that nature; 2026, '27. I pay attention to that type of stuff."
I do the math—2027?—and nod at Bryce. "Is there a chance you'd stick around for this guy, too?"
LeBron smiles. "I feel like I could play for quite a while. So it's all up to my body, but more importantly, my mind. If my mind can stay sharp and fresh and motivated, then the sky's not even a limit for me. I can go beyond that. But we shall see."
It's a lot to imagine: LeBron at 43, playing in an NBA game with both of his sons. But then, Tom Brady is still rolling at 45. Why can't it happen?
The first morning of the tournament in Akron dawns warm and muggy. Normally, this would be a terrible time to hold such an event: a holiday weekend, in the middle of Ohio, during a heat wave. "Without Bronny, we'd have like five people," says Darren Duncan, the tournament's organizer.
And most of the morning, the stands are half full. By 1:30, however, the energy has shifted. Fans pack the bleachers, and a line of young men with high-tech cameras, hailing from hype sites like Slam and Overtime, materialize on the court as if framing a fashion runway, ready to upload footage within minutes. Then out come the Blue Chips, led by Bronny. Wearing his No. 0 jersey around his neck like a cape, he kicks off the layup line with a huge windmill dunk. (He is an exceptional dunker.) And now the DJ is bumping tunes; and kids in Cavs jerseys crane their necks; and at half court LeBron, wearing a Blue Chips T-shirt and a black durag, watches with approval in what is, if you think about it, a surreal scene: standing in the gym he refurbished, in the city he's helping to prop up, down the street from the public school he founded, in a state inexorably tied to him, while, for the moment, playing the role of a dad-assistant coach.
The other team, a hyperathletic all-star squad from Canada, gets out early in the first quarter. During timeouts LeBron hovers outside the huddle as Brook Cupps draws on the whiteboard. Cupps—buzz cut, glasses, steady—has done the bulk of the coaching over the years, with James dropping in when his schedule allows, providing pointers and doling out Skittles. For now, LeBron is the guy offering water and towels, asking how many timeouts are left and delivering high-fives. This LeBron is weirdly relatable, even if he's still 6' 9", with roughly 5% body fat. (It's strangely comforting that James sports a black lumbar support around his middle, a concession to age and the crappy ergonomics of folding chairs.)
James is vocal, if nothing like the early days. He encourages Bronny, always, to "Rebound and push!" He applauds defensive rotations and tells Gabe and Bronny to "Back up! Make them hit a jump shot!" He hollers, "Pass! One more! One more!" during a hockey assist.
Earlier in the morning, Bryce played his first game. At 15, he is long and stringy, and he wears goggles. Most everyone I meet in LeBron's orbit comments on how much Bryce has sprouted up over the last year or so, something the internet has also noticed. He now stands even with his older brother.
During Bryce's game, LeBron was a spectator, seated in a chair by the end line, doing his best, as all parents must, to stay in his lane. When he watches his boys play, he says, "I try to relax, but I can't." So he crossed and uncrossed his arms. Stroked his beard. Occasionally hollered about a call. On the court, Bryce hit a three and endeavored to keep pace with bigger, stronger opponents. He got frustrated at times and excited at others—basically, what you'd expect at 15. Savannah, who was All-City as a pitcher, says Bryce is more like her—"he'll clap back if you talk to him"—while Bronny is more a reflection of his dad: "calm, cool and collected."
Indeed, over the course of the weekend Bronny rarely shows emotion other than a sly smile. Smooth and graceful, he finds the open man and explodes for vertical rebounds. He misses his first three three-pointers against the Canadian team but then heats up in the second half. He finishes a backdoor alley-oop with a two-handed dunk, then chases down an opposing guard, soaring up and spiking an attempted layup, a play unnerving in its similarity to one of his father's iconic chase-down blocks. Across four games in the tourney he averages 12 points and four assists.
All of this is great, but what most people want to know is: So, how good is he going to be? That's hard to answer, at least right now. Over the years, Bronny has consistently ranked as a four-star recruit (out of five). His high school stats are not overwhelming, but Sierra Canyon is a powerhouse; two of Bronny's freshman-year teammates, Brandon Boston Jr. and Ziaire Williams, are already in the NBA. This will be the first season the team is his to lead.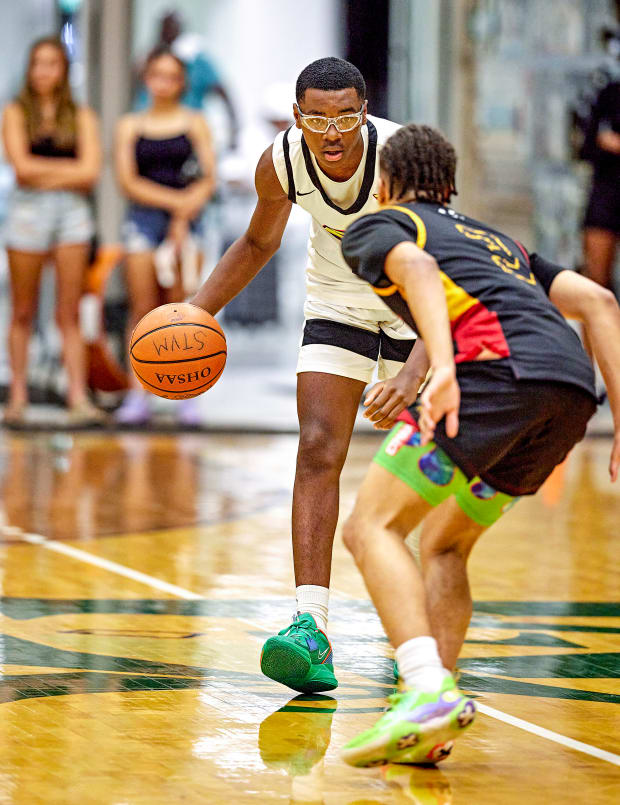 Watching him over the weekend, what sticks out is not his athleticism (though his leaping ability is elite) or his shooting (nice release; runs hot and cold) or any traditional skill set, but rather the feeling you get when watching him: This is someone I'd want to play with.
Showcase events such as The Battle are just that: showcases. Guards tend to be ball-dominant, handling and attacking and shooting. Everyone looks to get theirs. Not Bronny, though. He grabs defensive rebounds, takes one dribble and then passes ahead to open wing shooters. He flies down the court in transition and pitches out for corner threes. None of this is surprising, given his lineage, but it's still heartening to watch. Here's a kid with the weight of the world on his shoulders, and he's making the right basketball play, resisting the urge to rack up numbers.
Gabe calls Bronny "super fun to play with." It's a theme I hear echoed throughout the weekend, from youth scouts and players and coaches, like Joey Gruden of Dayton Elite. "I like his game," Gruden says after the Blue Chips dismantle his team. "Credit for not trying to do too much despite the spotlight."
Of course, there's a flip side to this, says talent evaluator Justin Brantley, a former national scouting director at NCSA Athletic Recruiting. "I see it as a gift and a curse," says Brantley, who's watched Bronny since sixth grade and is providing play-by-play for the Battle games. "He wouldn't try to take over games. He always tried to play the right way, and sometimes in grassroots basketball you need someone who's going to take over and take the next six shots. You'll see him make the right read, even when you're like, I wish he would have attacked."
For the record, Brantley thinks Bronny can succeed at the highest level—"he is so fundamentally sound, and you can imagine how good he'll be around guys who understand spacing and basketball"—but not everyone is so sure. One successful AAU director I speak to, who asks not to be named, for fear of getting on LeBron's bad side, worries about Bronny's size, based on the common assumption that, at 17, he is done growing. "I think he's a good player, but I was at the NBA combine last year and maybe two or three guys were under 6' 3", and they had 45-inch verticals and Olympic speed. At [his] size, to get to the NBA is going to be very, very difficult."
He pauses. "But LeBron is a very powerful person. Who knows what he can pull off?"
Thirteen years ago, during his induction into the basketball Hall of Fame, Michael Jordan stood at a podium and addressed his daughter Jasmine and his two sons, Jeffrey and Marcus. Jordan assured them that a support system stood ready, and that they were equipped to make good decisions. He said something else, too: "I wouldn't want to be you guys . . . because of all the expectations you have to deal with."
Some famous sports parents address this burden by dissuading their kids from following in their footsteps; others try to manage each step of the way. And, really, who are any of us to say what is the right strategy? Parenting a teenager is hard enough without the world watching. There is no playbook. My daughters are 15 and 13, multisport athletes, and they are wonderful and terrifying at the same time. Most days, I'm just doing the best I can. I've coached their teams and supported their endeavors and cut off their screen time and made mistakes and tried to learn from those mistakes but then made the same mistakes again.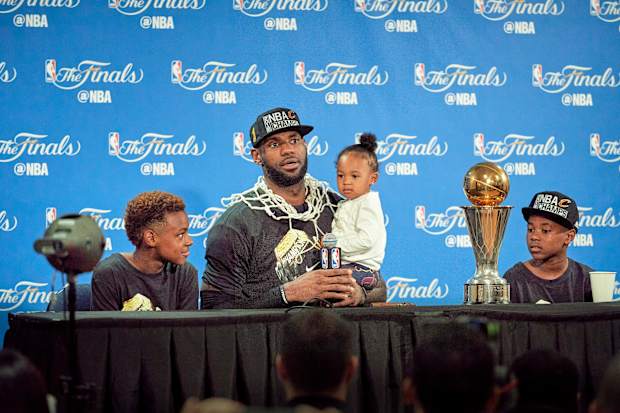 With LeBron, we know his parental dream—and, to be honest, as a dad, it sounds pretty awesome. But it also comes with particularly outsized expectations. How can Bronny meet a standard that is, by its nature, singular? To surpass his father he'd literally need to be the best ever. "It's unfortunate," says Savannah. But she also knows it's unavoidable, so she reminds her son: You don't have to do what your dad did. You don't need the same accolades. "And who's to say that he won't [reach those heights]?" she asks. "But don't blanket me with my dad's achievements and think that automatically I'm supposed to do the same thing, or even surpass it. Let me do me."
LeBron agrees. He stresses that he never told his boys to play. "I've always let them just see if they had a love for [basketball]. Because, at the end of the day, nothing is going to come to fruition if you're just doing it because you feel like it's what your parents are doing. Nah, it's going to fizzle out too fast."
He points out that he's had no mentors in this realm. He doesn't call up other NBA dads or talk shop with Dell Curry. "Nobody," he says. "My whole career has been built off trial and error. I ain't have nobody when I came in at 18 [who] had an open-door policy for me, to help guide me through what I was about to go into. So it's been trial and error . . . just being a sponge."
And what of those who say his comments about playing with Bronny place unfair expectations on his son? LeBron leans forward, animated. "I don't give a s--- what nobody says. Our quest and our journey is not predicated on what everybody said. You going to have five people that love you out of 10. Then you have five people that hate you out of 10. That's just the way of the land. No matter what you do." He's fired up now. "You can be a guy who literally goes to work at Starbucks, and there's going to be four or five customers that come in and hate the way that you made that chai tea latte. It's just how it works. And the faster you can realize that happens, the better off you'll be, because you're not going to respond or give that too much energy." ("Don't give it no energy" is a motto he mentions repeatedly.)
Instead, James tries to see each slight as an opportunity, to "let that give you drive and motivation." He picks up his phone. "I like to write down quotes." He scrolls through and finds one, from Arnold Schwarzenegger: "Everybody pities the weak. Jealousy, you have to earn."
For her part, Savannah is adamant about keeping perspective. "Of course Dad is wanting [Bronny] to play on the same court eventually, maybe on the same team. That would be the icing on the cake for his career, and probably [as] a father," she says. "But for me, I just want [Bronny] to be happy. If you are happy playing in gaming competitions in Long Beach, then that's what I want you to do. If you're happy being a franchise player for an NBA team, that's what I want you to do. . . . A lot of people are doing things and moving through life and aren't necessarily happy."
This is the sense you get from the Jameses: They understand the weight placed on their children—that burden Jordan spoke of—and they are trying to meet it head on. "[My kids] hear the narrative out there on them," LeBron tells me. "Even though they don't talk about it, they hear the narrative; they see where they are."
He pauses. "And the best thing about it? They have a prove-you-wrong mentality, like their father."
The audience they ultimately need to convince resides in NBA front offices, and in the weeks that follow I talk to various execs about LeBron's intention to play with Bronny. "I'm sure, when that day comes"—when Bronny becomes draft-eligible—"you have to think about it: Can we get LeBron for the midlevel exception?" says one front-office exec. (LeBron's recent extension with the Lakers means he'll control his own destiny in 2024–25.) "But do you draft Bronny first, even if he's not good, because you might get LeBron on the cheap? That's kind of wild." He pauses. "I don't think he's a first-rounder, but I don't think he's nothing."
Overall, the consensus is that it's too early. "People around the league aren't spending any time thinking about this right now," says one Western Conference general manager. "There's so much drama every day. Things move so fast."
Then there's the difficulty of trying to project two years ahead. Will there be a new collective bargaining agreement? Will the league add a third round to the draft? And where will LeBron and Bronny be as players? NBA teams are good at projecting upward trajectories and downward trajectories—but this? This requires plotting both Bronny's rise and LeBron's decline on the same graph, and that's particularly challenging. "You're talking about arguably the greatest player ever, so no forecasting model exists," says the GM. "[LeBron] has defied everything. For most players, you might predict a 10% decline per year at that age, but I'm not sure you can say that for him. The 40-year-old version of him might be incredible."
And also motivated. Think about it: So much of what sustains elite athletes at LeBron's age is mental. Every season takes its toll—the grueling preparation and recovery and the constant drama of the NBA. James is on track to pass Kareem Abdul-Jabbar early in 2023 as the all-time leading scorer. He's already a billionaire. He can chase Jordan's six titles, but much of that is out of his control. Playing with his son, though? Now that is a flag he can run to, a reason to stick around even if the Lakers are out of the hunt or his body is balky. It feels real. Shared. Like, I gotta be there for my kid. I can't let him down. (Also: James told me he draws inspiration from Brady. "He took a chunk of me when he retired, and then when he came back I was like, 'I needed that for sure.' ")
First, though, a decision about college looms. Bronny could essentially choose his school. Or go overseas for a year, play against grown men and toughen up. Same in the G League route. Or he could just train—and with his father's resources, that means training with the best of the best.
When I sit with them, the family is undecided. LeBron talks through the options, giving each equal weight, and says they'll decide in a family sit-down. Savannah tells me Bronny "wants to have a collegiate career," and I get the sense that she would like that as well. "I think it would be really cool for him to start with collegiate basketball, just to start his legacy there," he says.
It is, after all, one thing Bronny could accomplish that his father never did.
As the rest of the country settles into Fourth of July barbecues, Bronny cruises in his last game, on the third day of the tournament, scoring 14 points with five assists, a block and a steal. Two weeks later, he'll turn heads at the Nike Peach Jam tournament and the buzz will grow, bleeding out from the online publications that cover youth sports into larger media outlets. ESPN will speculate that Bronny is going to Duke and move him up to No. 24 in his class. Another set of talking heads will claim the opposite: After this performance, he's skipping college for sure.
Meanwhile, the highlight factories post compilations with captions like "OH MY GOODNESS BRONNY😳" and Bronny produces his 17th Instagram post and his dad is sharing it and then dropping footage of the three boys working out together, one dunking after the other, writing, "We working! That's all we know. We don't want s— giving [sic] to us, we EARN it! #JamesGang👑," and this sends a jolt of excitement through the interwebs.
Soon enough, in early August—after LeBron tells me, "The greatest thing I can see right now is my two boys on the same team"—Bryce and Bronny share the floor for the first time while playing for the California Basketball Club on an overseas tour, and LeBron is overwhelmed, tweeting, "This is INSANE!! I'm EMOTIONAL AF!!WOW." And the future is getting a bit clearer: When I check in with LeBron in late August he says that Bronny now "wants to go the college route," and later that week Bryce receives his first DI offer, from Duquesne's Keith Dambrot, LeBron's old high school coach.
By this point, the train is gaining steam, and it feels like there's no turning back. Watching it play out, I think back to a moment on the Saturday night of the tournament, after the games had finished. All the fans had gone home. Finally the players could drop their poses and relax. Bryce's team headed out for pizza, goofing off as they waited for a table. Other squads returned to the Courtyard Marriott downtown, where they commandeered the pool and ran through the hallways and had ice fights until 2 a.m., sprinting up and down the hallways, as teenagers do, reveling in that twilight moment between childhood and manhood when anything seems possible and you can still leave much of the worrying and the planning to the adults and their myelin-rich brains, trusting that, in the end, they know what they're doing.