Larry David hailed as 'iconic' after being spotted plugging his ears at New York Fashion Week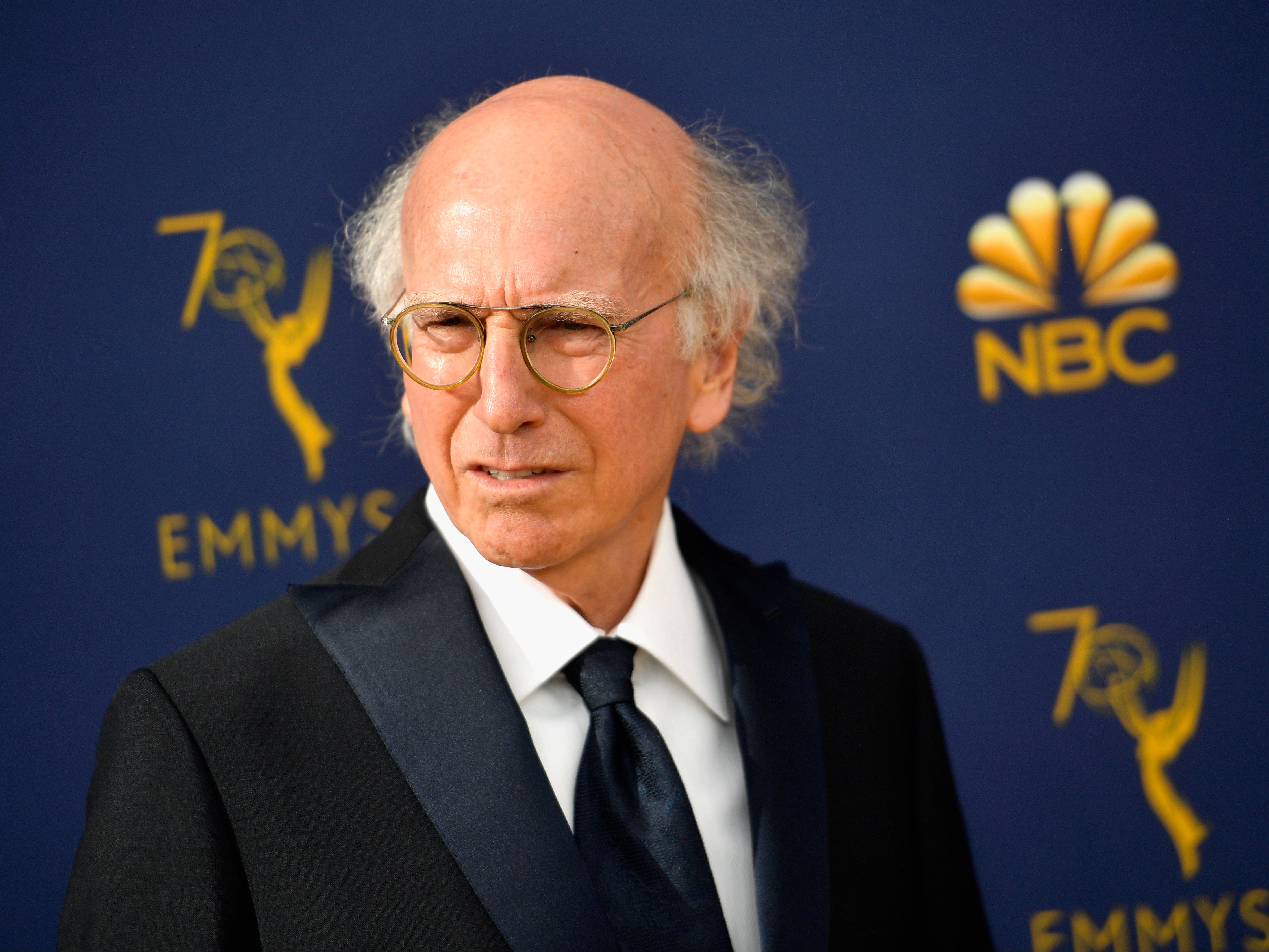 Larry David was spotted in the front row at New York Fashion Week – doing the most Larry David thing ever.
The comedy legend sent social media users into hysterics after a video surfaced online of the 74-year-old looking less-than-pleased during STAUD's Spring 22 lively fashion show on Sunday night.
The clip, which has since gone viral on Instagram with over 230k views, was captured by The Cut senior fashion writer Emilia Petrarca. 'Larry David should come to fashion week more often. I think he'd really enjoy it', she joked in the caption.
In true Larry style, the video shown the Seinfeld co-creator plugging his ears to block out the loud music. So on-brand.
Naturally, the meme-able moment has made its way across platforms and became an instant hit on Twitter with an influx of hilarious responses.
"We love seeing Larry David in situations he obviously hates. Maybe he'll make an appearance at Coachella. Can't wait to see where he turns up next", one said.
Another tweeted, "I want to be Larry David and just go to fancy events and put my fingers in my ears."
While other users were slightly confused with his connection to the fashion world. "I'm sorry larry david went to MULTIPLE nyfw shows?!"
I'm about as interested in your drama as Larry David is in NYFW

— Kelly Kreth (@kellykreth) September 13, 2021
Larry David is never not a mood #NYFW

— Lo French (@lofrench3) September 13, 2021
Haha I met Larry David at a Christmas party and he looked at me like I was a piece of shit he stood in. And it's exactly what I wanted from Larry David interaction. Haha https://t.co/aceZj1J4qR

— michael (@bisping) September 13, 2021
The video of Larry David plugging his ears as he sits front row at NY Fashion Week is my kind of energy

— Lawrence "Watts" Watling (@LawWatling) September 13, 2021
Once again, Larry David wins my respect. https://t.co/XLg1kvD4Lx

— MK Duffy (@catsntigers1) September 13, 2021
nyfw, us open, if i don't see larry david plugging his ears at the met gala i'm gonna be pretty, pretttayyy, pretttayyyy mad pic.twitter.com/JFiLbcInef

— Nicole Rovine (@nicolerovine) September 13, 2021
The Curb Your Enthusiasm star later attended the US Open Women's Singles final over the weekend. Unsurprisingly, he pulled the meme-able move yet again after footage showed him blocking out the crowd cheers.
Protect Larry David at all costs! pic.twitter.com/qhbwCwi8cV

— Wu-Tang Is For The Children (@WUTangKids) September 12, 2021
The Twitter reactions were reignited and did not disappoint.
"Plugging your ears during a f*cking tennis match is the most Larry David thing i've ever seen LOL that's up there with guys who put toilet paper around their toilet seat if it's too cold", one tweeted.
Larry David no doubt complaining about the food/toilets/parking 😍 pic.twitter.com/xKTLrD1ByG

— sarahjane (@sarahjane792) September 11, 2021
Going back to rewatching Curb Your Enthusiam.

Larry David at the US Open final is making me do it.

— Drew Tabori (@DrewTabori) September 12, 2021
Next up for Larry: Coachella.