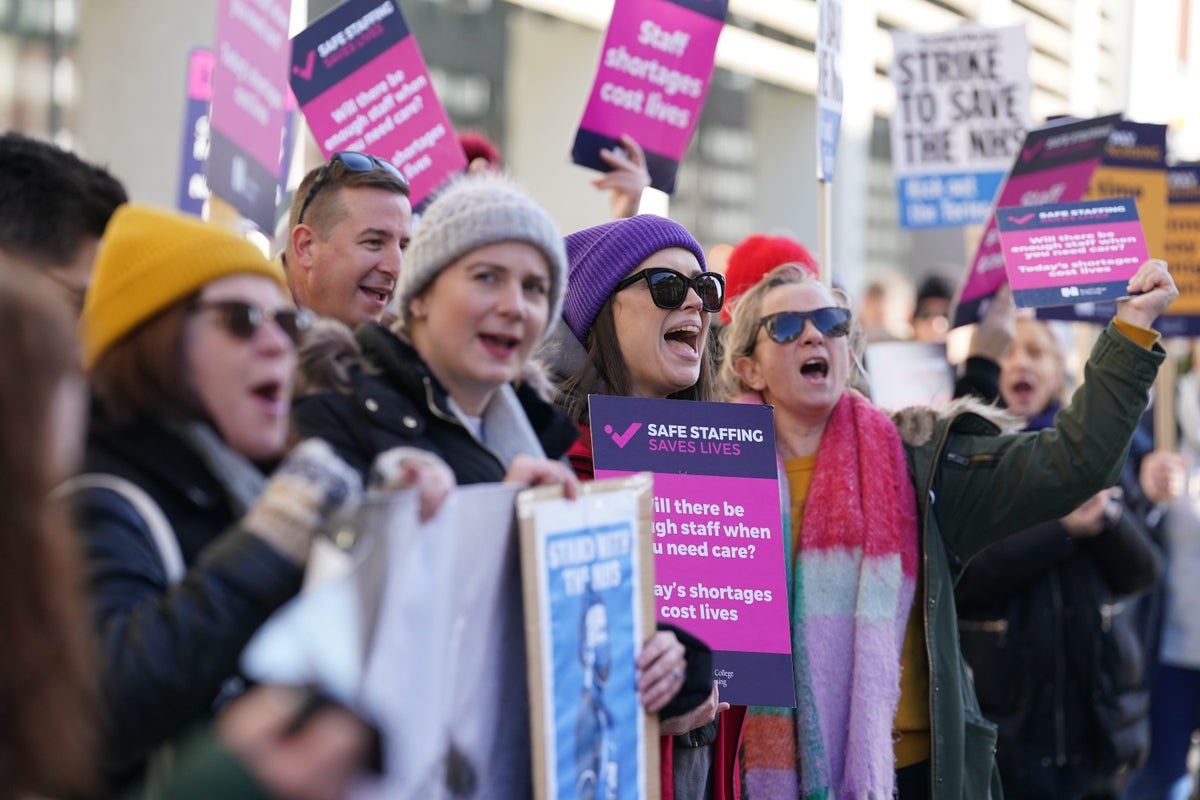 The NHS is facing a "hugely disrupted day" after tens of thousands of workers began the biggest walkout in the service's history.
The Royal College of Nursing (RCN) said strikes will continue for "as long as it takes", while the Unite union warned of a "constant cycle" of industrial action.
Union leaders have implored the Government to act to prevent further strike action but ministers in England have indicated that they will not budge on one of the main points of contention – pay for 2022/23.
Upheaval is expected across England as nurses from the Royal College of Nursing (RCN) stage walkouts alongside GMB and Unite paramedics, call handlers and other staff at ambulance trusts.
It is the first time ambulance workers and nurses have walked out on the same day.
Nurses will strike again on Tuesday, ambulance workers again on Friday and physiotherapists on Thursday.
NHS leaders said it will be the "most disruptive week of strikes to date" – but urged people to seek urgent and emergency care if they need it and attend appointments as planned unless they have been contacted in advance.
Unions in Wales largely suspended similar action after the Welsh Government came forward with an improved pay offer on Friday.
Saffron Cordery, deputy chief executive of NHS Providers, which represents NHS trusts, told Sky News: "I think it's going to be a hugely disrupted day across the NHS. It's going to be incredibly challenging.
"With both nurses and ambulance staff out on strike today, and nurses again tomorrow – and we've got physiotherapist later in the week and some ambulance staff again on Friday – we're planning for an incredibly disrupted week."
She urged the Government to negotiate with unions on 2022/23 pay.
"I hope it ends by the Government coming around the table to negotiate a settlement for this year's pay for NHS staff," she said.
"I think that we need to recognise that NHS staff have faced soaring costs, (the) cost of living has gone up, inflation has gone up, and the settlement from this year's pay review body was made at a time when inflation wasn't at the levels it's at at the moment.
"So I think it's really important that we focus on getting a deal for this year, as well as then thinking about what next year's pay deal looks like."
But during a visit to Kingston Hospital in south-west London, Health Secretary Steve Barclay appeared to rule out coming to a new agreement on 2022/23 pay.
"We have been discussing this coming year – from April – pay with the unions," he said.
"We have this process through the pay review body; it's an independent process and we're keen to get the evidence so that that reflects the pressure that the NHS has been under and the wider context in terms of inflation.
"I don't think it's right to go back to last year, back to April, retrospectively. We should be looking forward to the pay review body that is taking evidence now and working constructively with the trade unions.
"It's right to recognise that there's been ongoing pressures on the NHS, inflation has been higher since last year's pay review body process than was originally forecast in the spending review 2021."
He added: "We accepted in full the recommendations made last year, we're now submitting evidence to the pay review body for April and onwards.
"We want to work constructively with the trade unions in terms of this evidence, and that's why we've been discussing these issues with them."
Meanwhile, Downing Street said it wants to look forward and "not backwards" when it comes to negotiating on pay with health unions.
The Prime Minister's official spokesman, asked what is Rishi Sunak's plan for ending the strikes, said: "We want to keep discussing how we can find a path forward with the unions.
"Our long-standing position is that above-inflation pay rises are not acceptable, given the impact it would have on taxpayers and the risk of increasing inflationary pressures.
"But we do want to find a path forward. We think the right way to do that is to talk about this year's (2023/24) pay offer prior to evidence being submitted to the pay review body."
Asked whether unions should "give up hope" of negotiating on 2022/23 pay, the No 10 official said: "I think we would say we want to keep talking about ways forward.
"We think it is right to focus on this year's pay and not look backwards. As the minister said this morning, our door remains open."
Health minister Will Quince said around 88,000 procedures or outpatient appointments have been postponed because of industrial action over the last eight weeks.
Answering an urgent question from Labour in the Commons on Monday, he said: "Over a million NHS staff have been given at least a £1,400 increase in their pay, representing a 9.3% rise for those on the lowest salaries.
"Last year NHS staff also received a 3% pay rise even when pay was frozen across the rest of the public sector. We've done this because we know how hard NHS colleagues work and we recognise that there are cost-of-living pressures on NHS staff.
"Our goal has always been for a resolution that is fair for colleagues and fair for the country, to find a way forward that ensures that we are spending money where it's needed most, helping the NHS recover from the pandemic, and not on pay hikes that would stoke the inflation and ultimately make us all poorer."
But Labour accused ministers of "sitting this one out" when it comes to negotiating with striking nurses and ambulance workers in England over pay.
Party leader Sir Keir Starmer, speaking to broadcasters at Airbus in Filton, near Bristol, said: "The widespread strikes today are a badge of shame for the Government.
"Nobody wants to see these strikes, nobody wants to be on strike – the last thing nurses want to do is to be on strike.
"What they do want is a Government that can show leadership, get around the negotiating table and settle this dispute.
"I think many people listening to this will be absolutely flabbergasted that the Government is still sitting this one out, not showing any leadership in the middle of a cost-of-living crisis, making the situation much worse than it otherwise would be."
Labour shadow health secretary Wes Streeting said there has not been "a single minute of negotiation on pay".
Asking an urgent question in the Commons, Mr Streeting said: "It looks to the country like the Prime Minister and the Health Secretary are the ones on strike. Where is the Prime Minister? Where is the Health Secretary?
"In the week of the biggest strikes in the history of the NHS, during the biggest crisis the NHS has ever faced, the Health Secretary wasn't available for interviews this morning, he's not available to MPs today."
Mr Barclay was reportedly attending a Cobra meeting and therefore not present to answer urgent questions in the Commons.
And Welsh health minister Eluned Morgan encouraged the UK Government to sit down to "talk and listen" with unions after strikes in Wales were largely suspended thanks to a new pay offer.
"I do think that there's a lesson here for the UK Government – (the) UK Government needs to understand that in order to get any kind of deal you need to sit down, you need to talk and you need to listen," she told the PA news agency.
"They're not doing any of that, and I would encourage them to do that."
RCN general secretary Pat Cullen told PA: "They (nurses) are trying to bring their NHS back from the brink and they will continue to do this for as long as this Government takes to listen to them."
Speaking at a picket line outside St Mary's Hospital in Paddington, west London, Ms Cullen added: "They will continue to do this for as long as it takes for this Government to actually wake up and listen to their voice and listen to their voice on behalf of patients and do the decent thing.
"We are in a situation today where this Government has chosen to punish the nurses of England instead of getting round a table and talking to me about pay in the same way as they've done in Wales and Scotland."
Sharon Graham, general secretary of the Unite union, told PA: "There isn't going to be any other way to end this dispute until they come to the table and talk about pay.
"What we need is the talks to happen with (Prime Minister) Rishi Sunak and/or Steve Barclay on pay, we can get an offer and then we can put that off to the members.
"That's what needs to happen. Until that happens, we are in this constant cycle of having strike action, which obviously nobody wants."
On 2022/23 pay, Ms Graham added: "They can't just always sing 'la la la la la' and hope that the year goes by and we will forget what's happened. This year's pay needs to be addressed."
Mental health minister Maria Caulfield suggested it would cost "billions of pounds" to reopen this year's pay settlement for nurses in England because the Government would have to do the same for other public sector workers.
She told BBC Radio 4's Today programme the "door is firmly open" to further talks with health unions regarding next year's pay process.
Meanwhile, Dr Adrian Boyle, president of the Royal College of Emergency Medicine, told PA: "While strikes may disrupt emergency care and pose a risk for patient safety, we know that patient safety has long been at risk as a result of years of under-resourcing, under-funding, lack of staff, lack of beds, and inadequate and insufficient community and social care.
"This is why it is absolutely critical that every effort is made to retain existing staff in the health service, working on the front line and delivering for patients.
"As colleagues take industrial action, patients should be reassured staff in hospitals will continue to deliver care and ensure the protection and safety of patients."
The RCN, which is staging two days of action, said nurses are set to strike at 73 trusts in England, up from 55 during January's strike days and 44 in December.
Ambulance crews and call handlers will return to work on Tuesday but are due to walk out again on Friday.