Landlines, Coalition & Corruption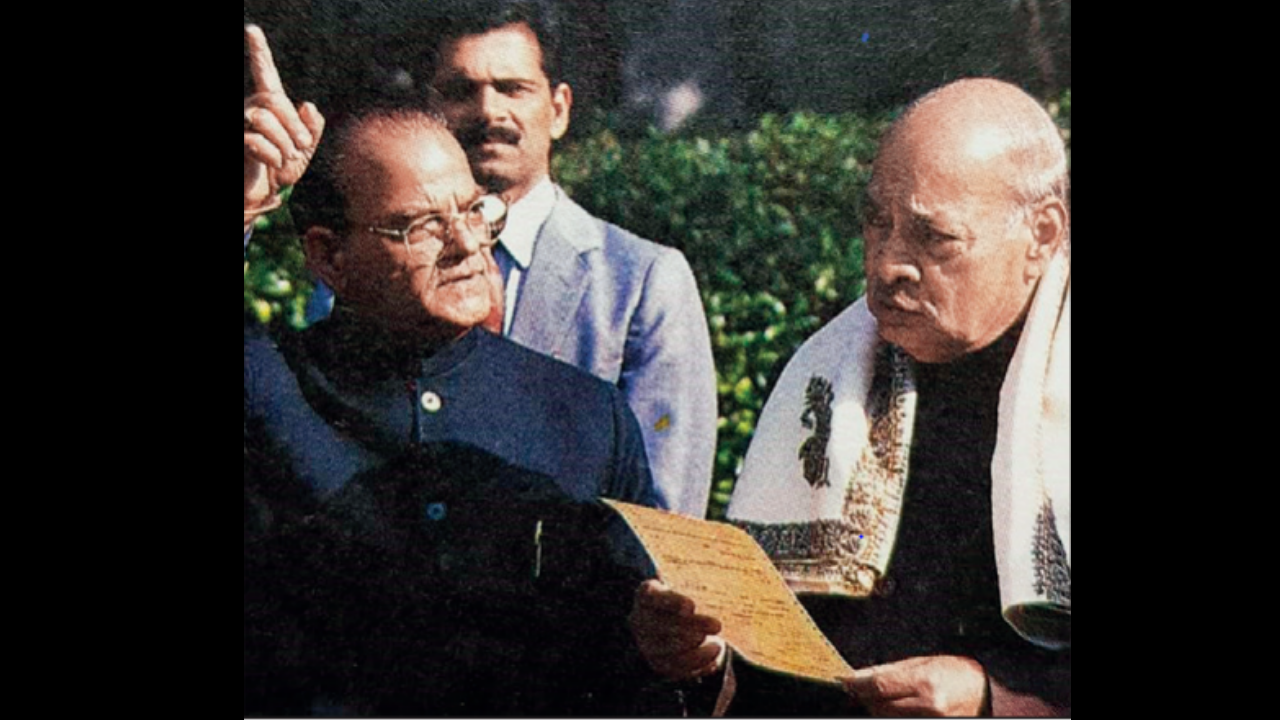 One among the 10 children of a poor family in Arnyana village of Mandi district in Himachal Pradesh, Sukh Ram, born on July 27, 1927, rose fast and high in Indian politics.
After studying law at Panjab University in Chandigarh and Delhi University, he started his career as a lawyer in Mandi district courts. His political career was launched by his victory as a member of Territorial Council of Himachal Pradesh in 1962. He remained an MLA from 1963 to 1985 with stints as minister with charge of portfolios finance, power, PWD, agriculture, housing and irrigation and public health and more during 1967-72 and 1980-85.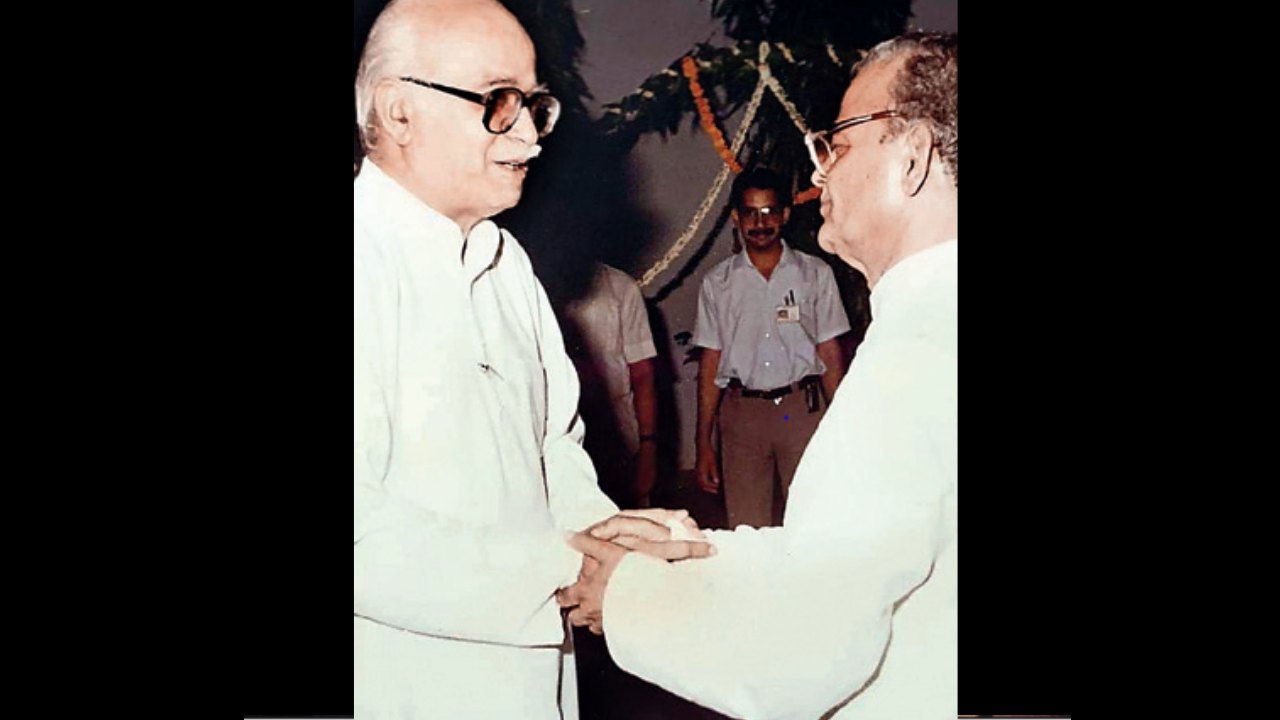 In 1985, he was elected to the eighth Lok Sabha. From September 1985 to October 1986, he remained Union minister of state (defence production and supplies); from October 1986 to February 1988, Union minister of state (planning); and from February 1988 to December 1989, Union minister of state (food and civil supplies) with independent charge.
In 1991, he was re-elected to the 10th Lok Sabha and from July 1992 to January 1993 he served as Union minister of state (planning) with independent charge. From January 1993, to May 1996, he remained Union minister of state for communication with independent charge. His efforts at ensuring telephone connectivity even in far-flung areas of Himachal won him a lot of praise and popularity.
In 1996, he was elected to Lok Sabha for the third time. His constant rise hit a road bump the same year, when CBI raided his premises following registration of case against him and recovered cash and other valuables. A case against Sukh Ram was registered on August 27, 1996, on the written complaint of CBI DSP B S Jakhar alleging that in his capacity as public servant during the period from June 20, 1991 to August 16, 1996, Sukh Ram had amassed huge assets.
He was suspended from the Congress and later in 2009 convicted on corruption charges. He always denied the allegations and, during his time away from the Congress, blamed his rival in the party, former CM Virbhadra Singh, for the CBI action.
In the 1998 assembly election, he floated his own political outfit 'Himachal Vikas Congress', and won five seats. He became a kingmaker as BJP and Congress both won 31 seats each. He gave birth to the first and only coalition government that Himachal has ever seen, by siding with Prem Kumar Dhumal-led BJP.
The situation changed in next five years and in the 2003 assembly election, he could win only one seat. In 2004, he merged his party into the Congress, right before the parliamentary election. He continued to win assembly elections on Congress ticket— in 2007 and 2012. This despite his conviction in three corruption cases by then.
However, before the 2017 assembly election, he joined BJP with his son Anil Sharma and grandson Aashray Sharma. After winning on the BJP ticket from the Mandi Sadar assembly seat, his son Anil became a minister in chief minister Jai Ram Thakur-led government.
Sukh Ram lobbied with BJP for a ticket for Aashray from the Mandi parliamentary seat. When refused, the grandfather and grandson returned to the Congress, while the son (Anil) stayed a minister in the BJP government.
The ambitious family probably overreached with this move. Aashray fought on the Congress ticket in the 2019 parliamentary election and faced defeat by a margin of over 4 lakh votes. Anil was removed from the state cabinet. The switch to BJP and the Congress just before elections in 2017 and 2019 gave the critics of Sukh Ram and his family a chance to call them opportunist and weakened the family's hold on Mandi voters.
In the byelection of the Mandi parliamentary seat held last year, the Congress fielded Pratibha Singh, who won. While appointing Pratibha as the state party president, the Congress high command has appointed Aashray the chairman of publicity and publication committee for coming assembly election.
In the meanwhile, the political future of Sukh Ram's son Anil is hanging fire in BJP. Will Sukh Ram's political dynasty survive as his rival Virbhadra's seems to have? HP voters may take a call on that within the next few months.
Unabashed rivalry
Two stalwarts of the HP Congress — former chief minister late Virbhadra Singh and former Union minister Sukh Ram — remained lifelong rivals. The competition truly kicked-off in 1993. Owing to his proximity to then Prime Minister P V Narasimha Rao, Sukh Ram was hopeful of becoming the CM. Sukh Ram managed the support of around two dozen MLAs, but Virbhadra won that round by parading more MLAs, including some independents.
Over the years, the rivalry continued as Virbhadra's stature grew in state politics and Sukh Ram's in national politics. The CBI raid in 1996 on his premises put a break on the race for Sukh Ram.
However, after the 1998 assembly election, Sukh Ram became the kingmaker and went with BJP, and Prem Kumar Dhumal became the CM. This apparently cost him dear in the long run as even after returning to the Congress fold, his grandson Aashray Sharma lost from Mandi parliamentary seat. The reason, some say, was that the teary-eyed union of Sukh Ram and Virbhadra did not convince the voters that they had put the past in the past.
Supported second grandson's film career
Pandit Sukh Ram Sharma's family extended into Bollywood. The former Union minister's grandson Aayush Sharma is an actor and is married to Salman Khan's sister Arpita Khan Sharma. They tied the knot in 2015. There was talk of Salman attending the cremation on Thursday, but it later turned out to be false. Sources said he was expected to reach Mandi later to meet the mourning family. Sources said the former Union minister had always supported Aayush, be it his acting career or marrying Arpita.