Labour MP Zarah Sultana praised for powerful speech about Islamophobia in Britain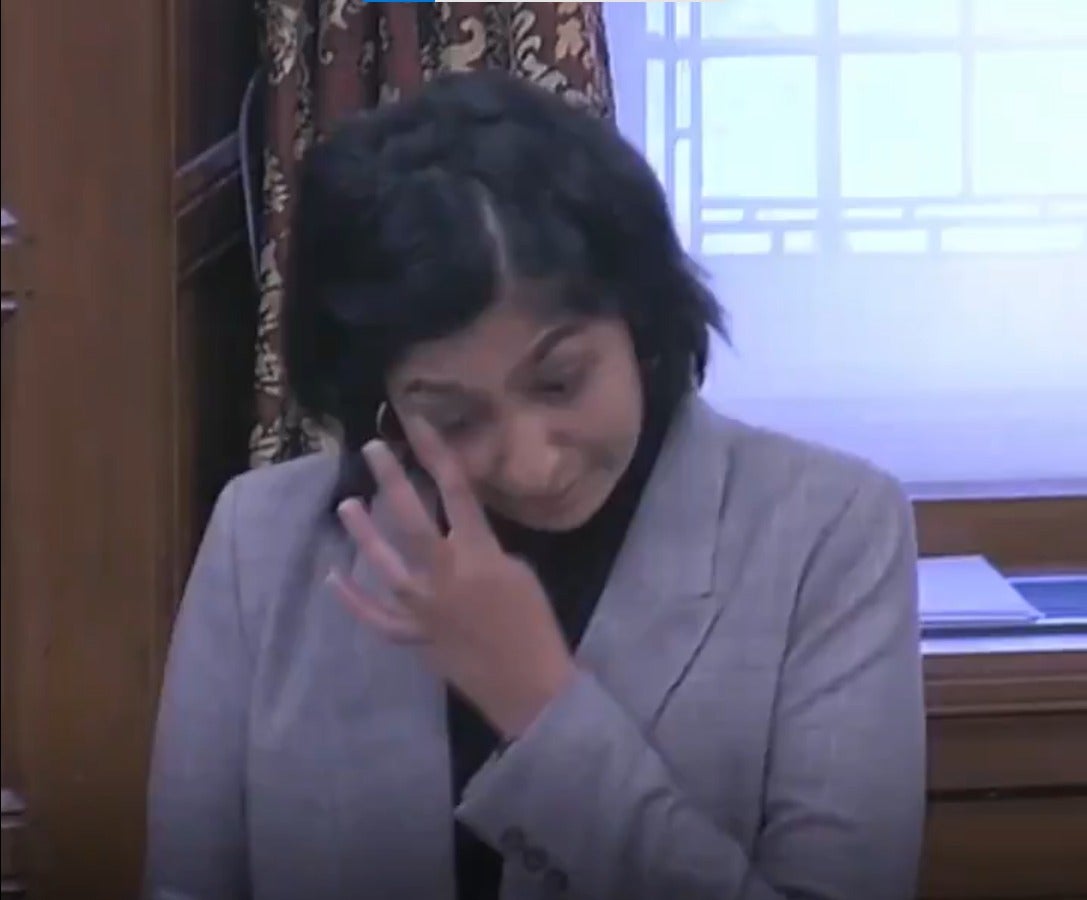 Labour MP Zarah Sultana has received praise after delivering a moving speech about Islamophobia in Britain including abuse she herself faces.
The representative for Coventry South became emotional as she read out examples of abusive letters she has received and spoke about her experience of being a Muslim woman in the public eye.
This wasn't an easy speech to give, but I can't be silent about Islamophobia. pic.twitter.com/lU26RsmSez

— Zarah Sultana MP (@zarahsultana) September 9, 2021
She said: "Before being elected, I was nervous about being a Muslim woman in the public eye. Growing up I had seen the abuse prominent British Muslim were subject to. I knew I wouldn't be in for an easy ride.
"And today I'd like to say that I was wrong to be worried. When young Muslim girls ask me what it's like I'd like to say there's nothing to worry about, that they would face the same challenges as their non-Muslim friends and colleagues.
"But Madam Chair in truth I can't say that. Because in my short time in Parliament that has not been my experience."
Sultana read out examples of Islamophobic abuse she has received from members of the electorate while an MP, including someone who called her "a danger to humanity" and another suggesting she might sympathise with the Taliban.
As a result, she added: "I have discovered, that to be a Muslim women, to be outspoken and to be left-wing is to be subject to this barrage of racism and hate. It's to be treated by some as if I were an enemy of the country that I was born in. As if I don't belong."
Sultana criticised Boris Johnson and said infamous comments he made comparing Muslim women to "letterboxes and bank robbers" have legitimised racism. She also said that, since 9/11, people have seen Muslims as a "security threat" and reflected on comments minister Victoria Atkins made about her "tone" during a debate about racism.
"Growing up, I might have hoped that things would have been better but if anything its got worse," she said.
"I've always known what it's like to face racism and through my political life, I've come to better understand this bigotry, to see it in its different forms and to recognise the need to confront and challenge it wherever its found.
"Islamophobia is very real in Britain today. It's something I know too well. But it can't be defeated in isolation. The people who are spreading this hate don't just target Muslims they target black people, they target Jewish people, they target Gypsy, Roma and Traveller communities, they target migrants and refugees.
"There is safety and solidarity and it is only through uniting our struggles that we will defeat racism."
Responding to her speech, Labour MPs including former leader of the party Jeremy Corbyn praised their colleague:
Thank you Zarah for being brave, courageous and insightful. Your perspective is refreshing. Not only do you deserve a hug right now but you are making a huge difference. Keep going

— Claudia Webbe MP (@ClaudiaWebbe) September 10, 2021
Love, rage and solidarity sis. This took real courage ❤️

— Nadia Whittome MP (@NadiaWhittomeMP) September 9, 2021
Brilliant and brave. So powerful a message of empowerment to all of us fighting racism in all its forms. Well done Zarah!

— Jeremy Corbyn (@jeremycorbyn) September 9, 2021
And not an easy speech to listen to. Credit to @zarahsultana for speaking up and out against racism as she consistently does. Solidarity, sister. https://t.co/yHpDQPAFaH

— Kim Johnson MP (@KimJohnsonMP) September 10, 2021
Reliving abuse one receives just for doing ones job isn't easy.

Well done Zarah, sorry for the abuse you get. You're an amazing MP. Take care.... Aunty Dawn x

— Dawn Butler MP✊🏾💙 (@DawnButlerBrent) September 9, 2021
And she also received praise from other public figures and people on social media:
Amazing speech from Zarah. Racism must and will be defeated. #Solidarity https://t.co/Op1cMTzdSx

— Labour Socialists (@LabourSocialis1) September 10, 2021
People like Zarah renew my faith in politics and the socialist left, what an unbelievably brave and important speech.

The best of Britain. https://t.co/GD7OUAs4CX

— Callum (@CallumGR1874) September 10, 2021
Solidarity Zarah. Sorry to hear you're receiving such vile abuse. Stay strong

— Angela Perrett 💙 (@AngelaPerrett) September 10, 2021
A remarkable young woman, we could do with a few more MPs like Zarah https://t.co/zrDHOHGUYc

— Penny Jackson (@Jarvoscope) September 10, 2021
Zarah, I'm so sorry. There's no denying that being a Muslim woman makes you a target, people often don't realise the toll the abuse takes. Please know there are many that support you. You're one of the few people in Parliament who give me any hope. Solidarity always x

— Faiza Shaheen (@faizashaheen) September 9, 2021
Full solidarity to you, Zarah. Keep up the good work and I hope we can all fight to stamp out of poison of Islamophobia.

— George Aylett (@GeorgeAylett) September 9, 2021
Hopefully her comments raise awareness and go some way to stamping out racism.