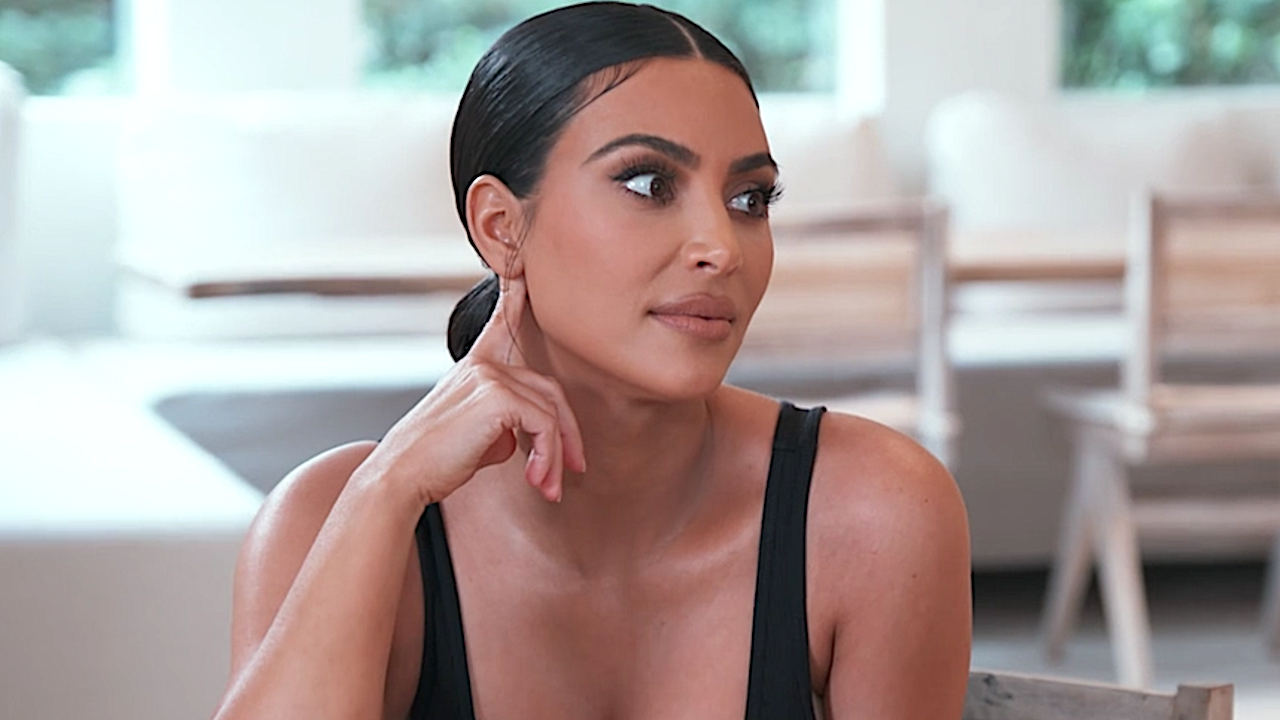 The Kardashian-Jenner family may be collectively worth billions of dollars with their array of businesses, have a stronghold on social media platforms like Instagram and boast multiple private jets, but from time to time they also like to remind us that they can be relatable. Whether it's Kylie Jenner shopping at Target or the siblings trolling each other, sometimes the famous family members really do appear to be just like us. Kim Kardashian seemed to prove this recently, when a photo of her in a pub on St. Patrick's Day went viral. What's more relatable than grabbing a pint to celebrate the March holiday? The reality of the situation, however, was a little different.
Fans were excited to see the denim-clad reality star living it up on St. Paddy's Day by grabbing some Guinness and a shot at a London pub, shoulder-to-shoulder with the locals, as it appeared in one bar patron's photo on Twitter: 
How's my mate just bumped into Kim K at the boozer??? pic.twitter.com/cACTQ1Au26March 17, 2023
Several people were excited about this relatable version of Kim Kardashian, including the possibility of "bumping into" the celebrity while out at the pub. This fan seemed surprised that the reality star looked like one of the "average girlies," tweeting: 
Can you imagine running into Kim Kardashian in a bar and her asking if you're using this chair? She actually doesn't look out of place at all in the above photo amidst the Londoners. In fact, many comments and retweets of the photo said as much, noting how easily The Kardashians star seemed to fit in with the pub crowd: 
Look at her cosplaying a British person – @VersaceVenus_
Lol she is so me for this😭 – @Popstar0606
the way she looks like a standard hun is sending – @leoliveeeeee
It's weird because in a pub setting she actually kind of blends in. Currently on my break and I think I've served 5 women who look like this already haha – @DanSelwood1
Unfortunately, as is so often the case with reality TV, the picture we were shown was not the full story. Another pub patron tweeted a photo from the same bar with a wildly different perspective on what was going down: 
A friend just sent me this from a pub in London. Told him to ask @KimKardashian about #UFOs and the new @blink182 album. Fingers crossed! Quite the crowd forming. pic.twitter.com/zO1u3N83McMarch 17, 2023
That low-key night with a few pints of Guinness just took quite the overwhelming turn, didn't it? Rather than grabbing a quiet drink, as the first photo might have us believe, it looks like Kim Kardashian had a whole Hulu camera crew with her, with what looks like at least seven camera and sound operators. So much for being relatable!
We should all know that it would be absolutely impossible for Kim Kardashian to quietly grab a pint, right? Just look at the mob of people who showed up when she visited the Dolce & Gabbana store during her trip to Italy for Milan Fashion Week. 
Maybe we'll get to see more of the SKIMS founder's London adventures — including her night at the pub — when The Kardashians returns for Season 3. Keep an eye on the 2023 TV schedule for that, and in the meantime, you can catch up on the first two seasons with a Hulu subscription.