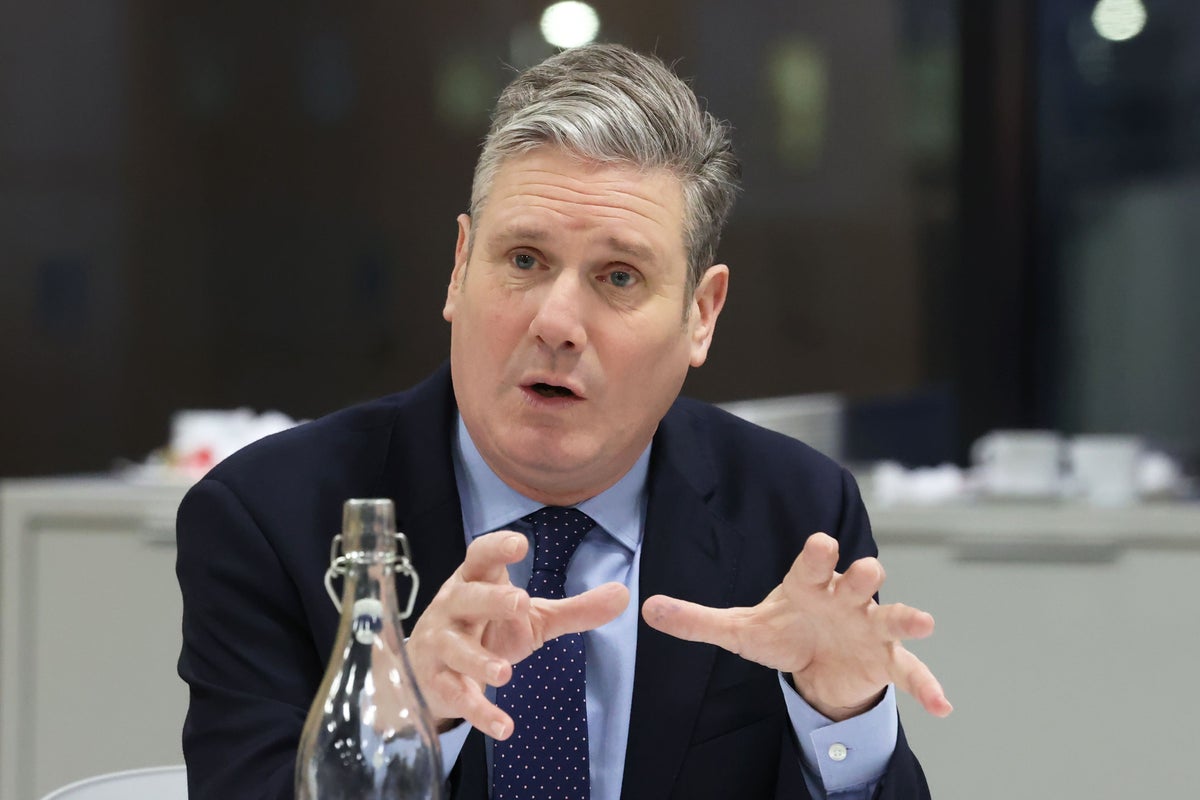 Sir Keir Starmer will invoke Tony Blair as he tells the super rich in Davos the UK is "open for business" on Thursday.
The Labour leader and his shadow chancellor Rachel Reeves will point to the economic record of the last Labour government as they stress they want to attract more overseas business investment to Britain.
Rubbing shoulders with the global elite will be seen as a way for Sir Keir to draw a line under accusations that his party has been anti-business in the past. He is due to meet the CEOs of Goldman Sachs, Morgan Stanley, JP Morgan, who Mr Blair went to work for after he left office, and BlackRock, who once employed George Osborne. He is also expected to meet the Irish prime minister Leo Varadkar as well as a former ally of David Cameron, the Dutch pm Mark Rutte.
The Labour pair will not have to compete with Rishi Sunak or Jeremy Hunt at this year's World Economic Forum event in Switzerland, as neither are attending.
The government is instead represented by cabinet ministers Grant Shapps and Kemi Badenoch, although former Conservative prime minister Boris Johnson is also there. Sir Keir will be the first Labour leader to attend the meeting at the Swiss ski resort since Ed Miliband. While in Davos he will criticise the Tory government's record on growth, a sore spot after the crisis left by former Tory pm Liz Truss's attacks on her own party's failings in that area.
Ms Truss and her allies this week launched a new 'Conservative Growth Group' in parliament to keep pressure up on Mr Sunak over the issue.
As Sir Keir landed in Davos, Labour said that when the party was last in power the UK accounted for an average of 8 per cent of world foreign direct investment, but since 2010 that number has fallen to 4 per cent.
Labour want to use the event to promote Labour's Green Prosperity Plan, which it says will allow the UK to lead the world on some of the green industries of the future.
Ahead of the trip Ms Reeves said: "With Labour in government, Britain will be open for business. We have the ambition and the practical ideas to have our country lead on the global stage again, especially in those green industries of the future that are so vital for our energy security.
"We will restore economic growth to the UK, improving living standards and creating jobs, and bring global investors back to drive our economy forwards – all built on the rock of economic stability and certainty.
"Labour will work in partnership with business to boost investment in the UK economy, to make sure the jobs of the future are in the UK, and to ensure the UK is a world leader in the climate transition."