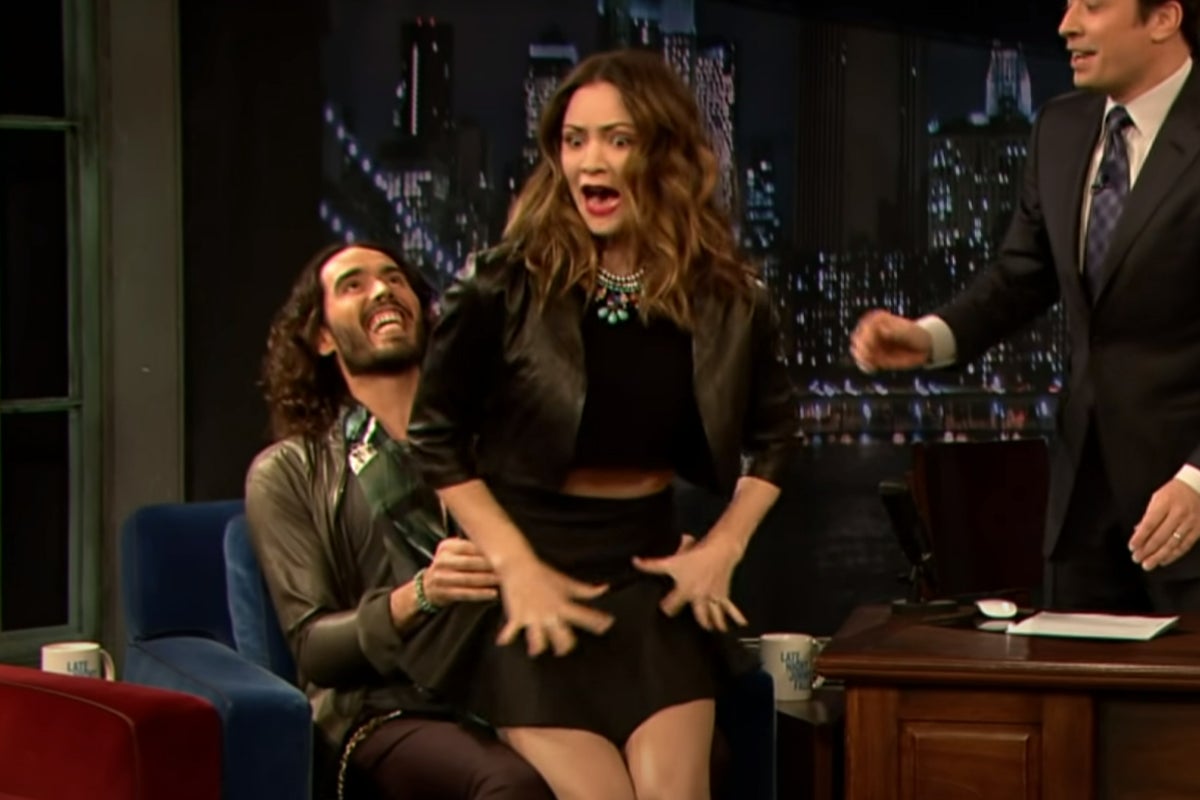 Katharine McPhee has responded after a clip of Russell Brand flirting with her on Jimmy Fallon's late-night show in 2013 was resurfaced on social media.
Old footage of Brand has begun circulating online after the comedian was accused of rape and sexual assault by four women.
The incidents are alleged to have taken place between 2006 and 2013, when Brand was at the height of his fame and presenting on BBC Radio 2 and Channel 4.
In a video released ahead of the report being published, the 48-year-old vehemently denied all allegations and maintained that all of his sexual relationships were consensual.
Follow The Independent's live coverage for the latest updates. If you have information in relation to the allegations against Russell Brand that you would like to share with The Independent's reporting team, please email yourstories@independent.co.uk
In the wake of the allegations against Brand, one clip resurfaced from a 2013 episode of The Tonight Show with Jimmy Fallon.
In the footage, Brand encouraged Smash star McPhee – both of whom were guests on the show – to sit on his lap. He later admitted to finding her "very attractive", while Fallon told him to "please stop".
And was shared by The Daily Mail on Instagram, with the caption reading: "She looks so uncomfortable."
Foster's response

— (Katharine McPhee/Instagram)
In the comment section, however, McPhee, 39, responded: "I know nothing [about] what you are trying to claim here but this specific incident was over 10 years ago and it was harmless."
"Please don't try and use me for whatever purpose you are trying to serve," she added.
In the clip, first guest of the night Brand was shown refusing to move out of the chair when incoming guest McPhee arrived on stage.
The Get Him to the Greek star then grabbed her hand, saying: "She's welcome to sit here." McPhee jokingly sat on his lap, before leaping up when Brand began to bounce her on his lap. Brand then grabbed McPhee's hand and the actress jokingly sat on his lap.
Fallon appeared visibly stressed, running a hand over his face as Brand told the American Idol star, "You're beautiful." "Russell, please stop. Look away," Fallon admonished him. Brand, however, said that he would "just sit here with my sexual charisma".
He later said: "As you know, I've announced it, I find Katharine very attractive and I think when she said 'exchange numbers,' I thought of things I'd like to exchange with her… Numbers. Genes. Genetic info. Data."
In the wake of the allegations against Brand, both the BBC and Channel 4 have announced investigations into the presenter's alleged behaviour.
Content containing Brand has also been removed from their respective streaming services.
Rape Crisis offers support for those affected by rape and sexual abuse. You can call them on 0808 802 9999 in England and Wales, 0808 801 0302 in Scotland, and 0800 0246 991 in Northern Ireland, or visit their website at www.rapecrisis.org.uk.
If you are in the US, you can call Rainn on 800-656-HOPE (4673)